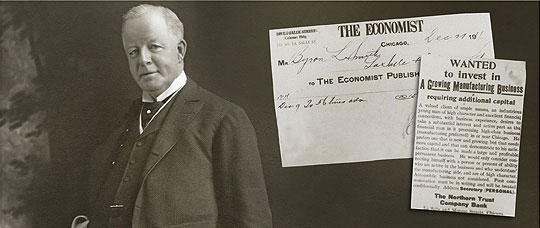 Source: ITW
Thesis
Illinois Tool Works (ITW) stock has dropped buy more than 20% this year, underperforming the SPDR® Dow Jones Industrial Average ETF (DIA) and the Industrial Select Sector SPDR® ETF (XLI) which have declined by 1.24% and 10% respectively.
The more the company's stock has declined, the more I have continued to buy. In this report, I will explain why the company has remained being my biggest holding among the dividend stocks that I own.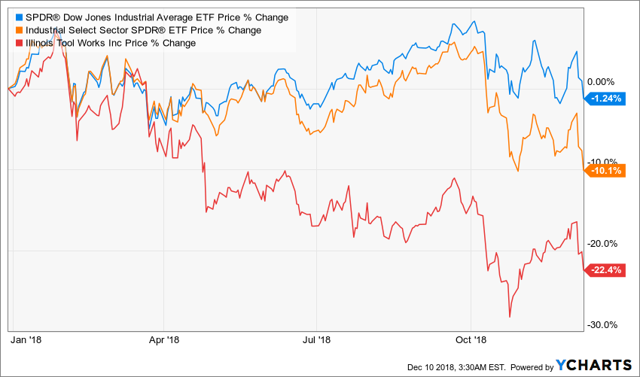 Source: YCharts
Introduction
ITW is a rarely covered industrial company started in 1902 after the founders won a funding contest by Chicago billionaire Byron Smith. Byron created a banking empire as the founder of Northern Trust Company (NTRS). Since then, the company has continued to grow through internal R&D and acquisitions. Today, the company is among the biggest conglomerates in the US with annual revenues of more than $14 billion, assets of more than $16 billion and a market capitalization of more than $44 billion. It operates within seven segments, whose performance in the past three years is as shown below.

Source: 10K
This year, the stock has declined by more than 20%. One of the reasons for the decline is the trade conflict between US and China which has affected the confidence in the manufacturing sector and rise in raw material prices like steel and aluminum. For ITW, global uncertainty is a concern because the company derives much of its income from international markets as shown below.

Source: 10K
The uncertainty of trade and the impacts of tariffs have led the company to lower guidance, which has attracted downgrades from Goldman Sachs (GS), Credit Suisse (CS), and Seaport Global. To address the tariffs issue, the company has announced price increases, which has helped slightly improve margins. In the previous quarter, the management said this about the tariffs and how it is addressing the challenge.
For 2019, we estimate the impact of tariffs at around $60 million, which is based on all announced tariffs and tariff increases as well as any carryover from 2018. And we continue to expect that our pricing actions will continue to offset raw material cost inflation, including tariff impact on a dollar-for-dollar basis.
While the company continues to face challenges, I will now outline the four main reasons I am bullish on the stock.
Reason #1: A Dividend Aristocrat
ITW is a double dividend aristocrat having raised dividends for 52 consecutive years and shows no signs of slowing down as its free cash flow has continued to increase. Since 2012, the company's free cash flow has increased from under a billion dollars to the current $2.337 billion. At the same time, its payout ratio of 56.3% has had only a modest growth in the past ten years. This is in the same range as the average of its peers.
Dividends are not the only thing the company has executed well. It has also done a lot to reduce the share count through repurchases, which has helped it more than double the earnings per share in the past eight years. Since 2011, the company has spent more than $13 billion repurchasing its own stock.
Prudent management of cash flow has also helped the company avoid the acquisition binge that other companies have done fueled by low interest rates. In fact, in the past ten years, the company has only done six relatively small acquisitions. While M&A are good at accelerating companies growth, some research has showed that most M&As fail to meet the desired objectives.
The chart below provides a good overview of the company's dividends, EPS growth, payout ratios, and shares outstanding.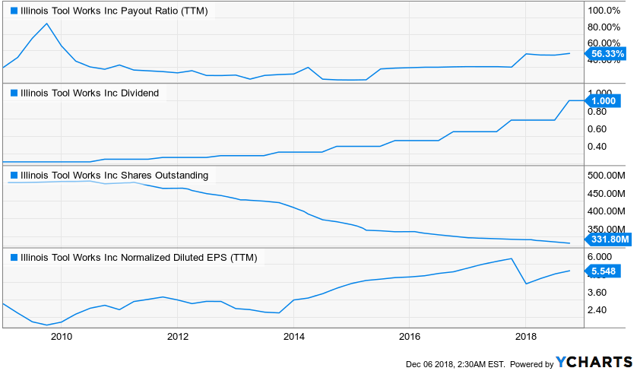 Source: YCharts
Reason #2: Potential Margin Expansion
In the past ten years, the company's revenues have been pretty stable. This is what you would expect for a 100+ year old company that is growing organically. In 2016 and 2017, the company's revenues were flat at $14.82 billion. This year, analysts expect it to generate revenues of $14.81 billion. This is expected to grow to $15.1 billion and $15.38 billion in 2019 and 2020.
Even with the slow growth of the revenues, the company's margins have been expanding as shown below.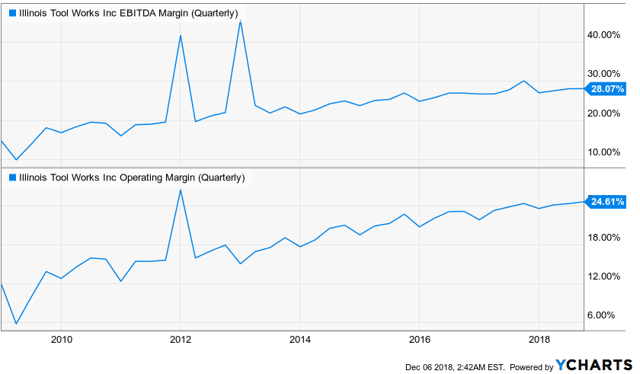 Source: YCharts
A comparison of the company's margins with that of its 'close' peers show that it is doing better by far. I put quotes on close because the company operates in diverse industries making it difficult to find its closest peers.

Source: YCharts
Better still, the company has more room to expand its margins. One way it can do this is by spinning-off some of its lagging divisions.
For example, the company could diversify some of its lower margin businesses. While no such divestiture has been announced, the company could shed-off its polymer and fluids segment. The segment has operating margin of 20.7% from revenues of more than $1.7 billion.
As a separate public company, this segment would likely be worth more than $2.5 billion (i.e. 7X annual net income). This multiple is the average of the would-be peers in the industry which include Trinseo (TSE), Brunswick Corp (BC), and Aptar Group (ATR), Chemours (CC), and Albermarle (ALB). This is not the first time such divestiture has been suggested. In 2015, fellow SA contributor Michael Boyd wrote this:
The most obvious assets to combine and spin-off as a separate entity would be the Automotive OEM and Polymers & Fluids segments. Separating these two segments, which both primarily serve the auto industry, would create an entity that generates nearly $1B in operating income, massive in its own right. Such income generation would put the company equal to industrial powerhouses like BorgWarner (NYSE:BWA)
This would not be the first time ITW has divested some of its businesses. In 2008, the company announced the divestitures of the decorative businesses and its click commerce industrial software businesses.
In 2014, the company sold-off its industrial packaging business to The Carlyle Group (CG) for $3.5 billion. In August this year, the company announced that it was exploring selling its 49% stake in Wilsonart. The deal will be valued at more than $2.75 billion. This is after ITW sold 51% stake in Wilsonart to Clayton, Dubilier & Rice in 2012.
As conglomerates become leaner by the day, I believe that ITW could break-up its business with the goal of creating more value to shareholders.
It's a stigma to be called a conglomerate. It makes you sound confused… - Jerry Davis
Reason #3. Valuation
Illinois Tool Works has a market capitalization of $44 billion. At its peak, it had a market value of slightly above $57 billion. Its current enterprise value is $49 billion. At the current valuation, investors are paying 16X its forward earnings. This is in line with the average of the peer companies I compared it with but it is close to the three-year lows as shown below. These are: Emerson Electric (EMR), Ball Corp (BLL), 3M (MMM), HoneyWell (HON), Dover (DOV), and Arconic (ARNC). The same is true with its EV to EBITDA numbers, and the price to cash flow. While these multiples are relatively similar to those of the peers, the company's excellent management team, attractive dividend yield, and the ongoing share repurchases make it attractive.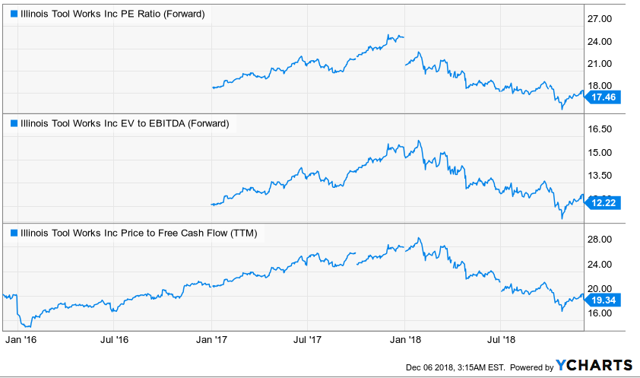 Source: YCharts
This low valuation has been caused by the two earnings miss and the lowering of the guidance. I strongly believe that the difficult business environment will not continue in 2018. This is because with the 2020 election being around the corner, and with the US markets nearing the red for the year, Donald Trump will be under pressure to do a deal with China, Japan, and the European Union.
A relatively low valuation multiple is not always necessarily a good thing for a company. This is because it can stay relatively cheap if there are no catalysts for growth. However, as I mentioned above, the prospect for margin expansion and the likely divestitures could lead to a better performance.
Reason #4: Moat
Warren Buffet likes investing in industries with high barriers to entry and those with excellent moats. While industries are being disrupted, it is difficult to see how a new startup will create alternatives to most of products manufactured by ITW. While they can do that, scaling would be a difficult thing because of the relationships the company has created in the multiple industries it operates in. Therefore, most of its competition comes from large competitors. This competition has existed for years, making it possible for the company to co-exist with its peers. This is more so because its customers are large companies, which like predictability and who are less likely to find alternatives. While a bit dated, the table below shows the increasing backlog in 2016 and 2017.

Source: 10K
Better still, the company's moat extends to its diversification which I mentioned above. In this, its revenues are divided equally between North America and international markets.
Final Thoughts
This year, I initiated my purchases of shares of ITW and made it the biggest constituent of my basket of dividend stocks. I first bought the stock in April, when it reached $140 and continued to buy the stock. My average cost for the stock was about $144 and I plan to hold the company for a long time.
If you like this article, please click the 'Follow' next to my name above. I am always to expand my network. I always appreciate all my followers. In case you have comments about my research style, please leave a comment below or send me a private message. Thank you.
Disclosure: I am/we are long ITW. I wrote this article myself, and it expresses my own opinions. I am not receiving compensation for it (other than from Seeking Alpha). I have no business relationship with any company whose stock is mentioned in this article.