Neometals is building a vertically integrated lithium supply business, a lithium-ion battery recycling business, and offering investors a "demerge" of their large high grade Barrambie Titanium Vanadium Iron Project.
Neometals [ASX:NMT][GR:9R9] (OTCPK:RRSSF) - Price = AUD 0.255, USD 0.20
Neometals 5 year price chart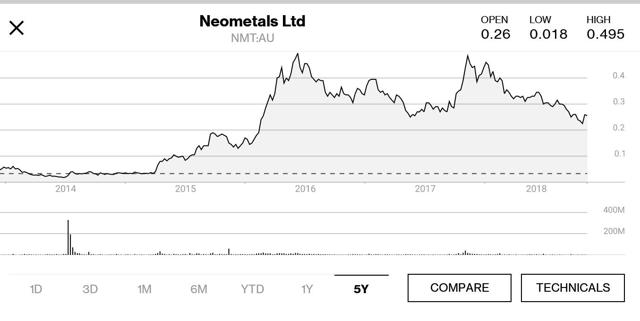 Source: Bloomberg
For a background on Neometals my previous article is linked below:
Note: Despite reaching profitability and solid progress on their other projects the stock price has drifted lower in 2018 along with the poor market sentiment for EV metal miners.
Mt Marion spodumene mine - Neometals 13.8%, Jiangxi Ganfeng Lithium [SHE:002460] [HK:1772] 43.1%, Mineral Resources [ASX:MIN] (OTCPK:MALRF) 43.1%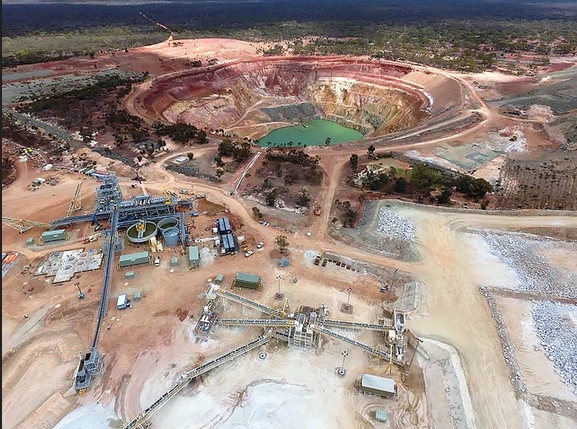 Takeaways from my past article
Neometals have four key projects and their other bets (mostly Intellectual Property [IP]):
1) Lithium - 13.8% of the Mt Marion spodumene mine in Western Australia. H1 FY18 Profit A$7.35M (NMT share). Forecast to produce 450ktpa of spodumene in the next year all at 6% LiO2.
2) Lithium processing - 100% of the Kalgoorlie Lithium Hydroxide Facility. In Feasibility Study stage.
3) Lithium-ion battery recycling - 50% of the IP. Pilot plant built in Canada. Scoping study operating costs were US$4.45/lb cobalt.
4) The Barrambie Titanium Vanadium Iron Project - 100%. A very large high grade titanium (and vanadium, and iron) deposit in Western Australia. Contained 25mt TiO2 and 1.2mt V2O5.
5) Other bets - ELi process (70% of the IP), Lithium Titanate Anode Production (100%), Alphamet - Neomet Process (100%). Amenable to licensing royalties.
NB: The company also has some other investments including a 36% share holding in Hannans [ASX:HNR], which has a 20% free carry interest in a potential Lithium spodumene project next door to Kidman Resources [ASX:KDR] at Mt Holland. They also 100% own a lithium spodumene and historical nickel mine at Mt Edwards, also in Western Australia.
Neometals lithium projects and interests location map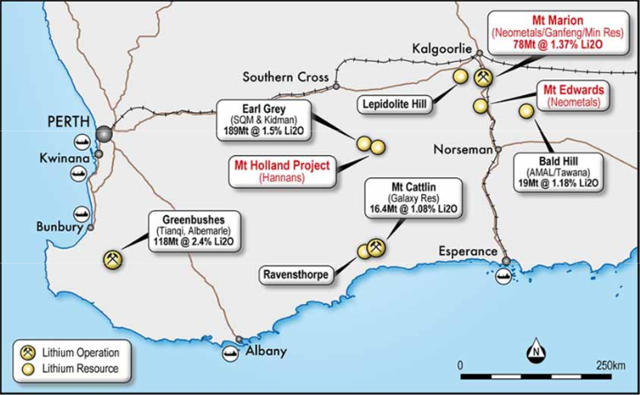 NB: The Barrambie project and non-lithium IP will be demerged to form a separate company of which Neometals shareholders will get a stake. Barrambie is the world's second-highest grade titanium deposit with 53 million tonnes @ 21% TiO2, plus vanadium and iron. Neometals shareholders essentially get this for free, which is quite amazing given the titanium and vanadium prices.
The Barrambie Titanium Vanadium Iron Project location map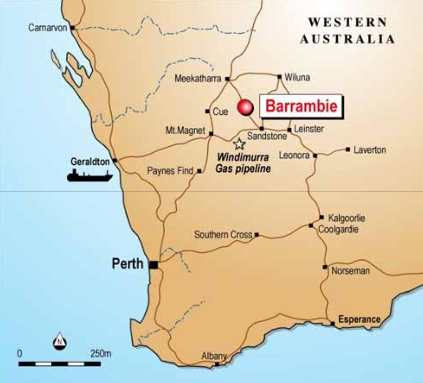 2018 developments for Neometals
Updated Barrambie mineral resource estimate." Highlights include:

"Total Indicated and Inferred Mineral Resource estimated to be 280.1 million tonnes at 9.18% TiO2 and 0.44% V2O5 to 80m vertical depth.
Contained Titanium Dioxide (TiO2) in Total Mineral Resource estimate exceeds 25 million tonnes.
Contained Vanadium Pentoxide (V2O5) in Total Mineral Resource estimate exceeds 1.2 million tonnes.
High Grade Titanium subset of Total Mineral Resource estimate of 53.6 million tonnes at 21.17% TiO2 and 0.63% V2O5.
High Grade Vanadium subset of Total Mineral Resource estimate of 64.9 million tonnes at 0.82% V2O5 and 16.90% TiO2."
Founder and Managing Director Chris Reed stated:
Barrambie is globally significant in both size and grade, and offers significant optionality in terms of timing, scale and commodity focus for optimal development.
Neometals Ltd is pleased to announce details of the nickel Mineral Resources at the Mt Edwards tenement holding. As announced on 15 March 2018, Neometals has executed binding agreements to acquire a package of tenure and mineral rights including lithium and nickel rights comprising the Mt Edwards Project. The tenement package is located 40km south of the Mt Marion Lithium Project. Mt Edwards nickel Mineral Resources estimated at 3.05 million tonnes at 1.6% Ni for 48,200t of contained nickel.
On May 25 Neometals announced: "Neometals declares 1 cent unfranked dividend. In addition, Neometals has recently concluded on market share buy‐back program under which ~$6.2 million worth of shares were bought back by Neometals."
On June 6 Neometals announced: "MoU for Kalgoorlie lithium refinery site and infrastructure. Kalgoorlie lithium hydroxide refinery is part of Neometals' strategy to realise maximum value from its lithium feedstocks. FEED study for the refinery is in progress, process testing completed."

On June 20 Neometals announced: "Completion of Mt. Edwards lithium project." Neometals "has now completed the acquisition of the tenement and nickel rights package referred to in those announcements from Apollo Phoenix Resources Pty Ltd."

On July 31 Neometals announced: "Quarterly activities report for the quarter ended 30 June 2018." Highlights include:

Integrated Lithium Business Unit:

"Strong operational performance at Mt Marion mine–109kt of concentrate produced (~65% of 6% Li2O and 35% of 4% Li2O) with shipments totaling ~95kt (13% increase QoQ). Flotation circuit expansion progressing.
Neometals Lithium Hydroxide production process validated by vendor test results from run-of-mine spodumene concentrates. High-purity battery quality lithium hydroxide chemical produced.
German engineers M&W Group engaged to complete Front-End Engineering Design [FEED] Study for the production of Lithium Hydroxide at a new Lithium Refinery - Results will be integrated into a Feasibility Study.
Option agreement executed with City of Kalgoorlie-Boulder for sub-lease of 40-hectare site for the proposed Kalgoorlie Lithium Refinery.
Azure Capital engaged to advise on the financing of the Lithium Hydroxide Refinery.
Completion of Mt Edwards lithium project acquisition (transaction also included nickel rights).
Mt Edwards lithium project interim and updated JORC 2012 nickel resource delineated (7.4Mt at 1.7% nickel for 123,340t of contained nickel)."

On August 16 Neometals announced:
Neometals to demerge Barrambie Titanium‐Vanadium Project and associated non‐lithium technology assets, subject to shareholder/regulatory approvals and third‐party consents. Neometals shareholders to receive shares in the new entity via an in‐specie distribution. Demerger expected to be completed in the March 2019 quarter, subject to approvals and consents."
On September 5 Neometals announced: "Neometals successfully converts lithium residue into valuable engineered material. Neometals test‐work with CSIRO confirms synthesis of commercial grade zeolite from spodumene leach residue. 2017 global market for synthetic zeolites (molecular sieves for adsorbents and catalysts) valued at US$13.7B."

On October 29 Neometals announced:
Mt Marion maiden profit distribution. Neometals Ltd is pleased to announce that it has received A$6.21 million as a fully franked dividend from Reed Industrial Minerals Pty Ltd, owner of the Mt Marion project. With all joint venture shareholder loans repaid and the Mt Marion Project operating at steady state, Neometals welcomes the commencement of profit distributions (dividends) going forward.
On October 31 Neometals announced: "Mt Marion Mineral resource update. Mt Marion Mineral Resource is currently 71.3 Mt at 1.37% Li2O as at 1 October 2018."
Neometal's growth plan
Neometals aims to create a sustainable high-margin lithium business by moving up the value chain and developing their own lithium hydroxide facility. Or as Managing Director Chris Reed states to "get down the cost-curve while (lithium) prices are high". Meanwhile they have built up their spodumene supply sources in preparation.
The planned Li-ion battery recycling business will essentially mean Neometals will become a small cobalt producer, among other battery metals.
By spinning of the Barrambie Titanium Vanadium project to a separate ASX listed company that should allow the project to raise capital separately and to be valued correctly. Neometals management will still take an active interest, and all Neometals shareholders will benefit.
Continue to develop their IP/technologies that support material opportunities by driving down costs, de-risking, attracting partners and creating potential licencing revenue royalty streams.
Neometals is moving towards high margin businesses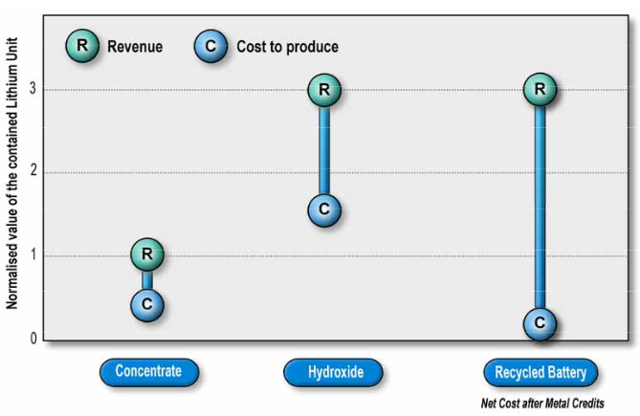 Neometal's lithium supply sources for their future lithium hydroxide facility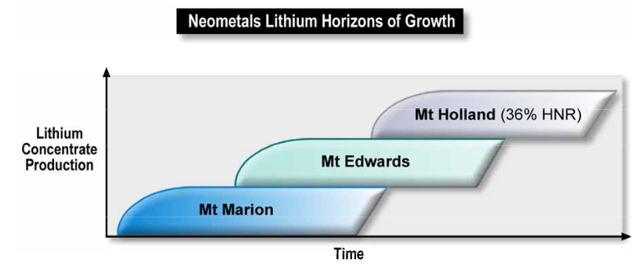 NB: At Mt Marion Neometals has off-take rights for a minimum 12.37% production from 2020.
Valuation update
Neometals has a current market cap of AUD 139m, with 544m shares outstanding. As at March 30 2018, the Company had AU$40m in cash, and no debt. 2018 PE ratio is 6.8.
My model has a conservative end 2019 price target of AUD 0.53 for Neometals as it is only considering the Mt Marion 13.8% share of the lithium business with no consideration for the other business segments. I have assumed a spodumene selling price of US$800/t. At a spodumene price of US$700/t my price target drops to AUD 0.39.
Note: I have not included any valuation for the future lithium processing plant, Li-ion battery recycling plant, the Barrambie Titanium-Vanadium-Iron Project, or any of their IP.
I was unable to find any analysts' estimates at this time; however I have quoted below several recent broker price targets.
A key point to understand with Neometals is that the company is being valued purely on it's Mt Marion lithium business and cash reserves, and ignoring all the other assets and future near term businesses. And even then Neometals valuation is very low with a current PE of 6.8. The only explanation is poor market sentiment and some concern spodumene prices may fall due to recent new supply coming online. My thought is that the Barrambie value once unlocked can be at least as large as Neometals current market cap. Added to this is the nickel value at Mt Edwards, the lithium at Mt Edwards, their 36% share in Hannans (Mt Holland lithium project), and their IP.
Euroz state in their September 2018 research report:
On our analysis, the demerger makes sense, with the market paying nothing for the remainder of the NMT business outside of its 13.8% stake in the Mt Marion lithium mine plus cash.
Arlington state:
We believe that the market tends to value the company only on its 13.8% share in the Mt Marion lithium mine, and not much else. We believe that that approach is significantly undervaluing the company.
Euroz research report valuations (Sept. 2018) - Bear/Base/Bull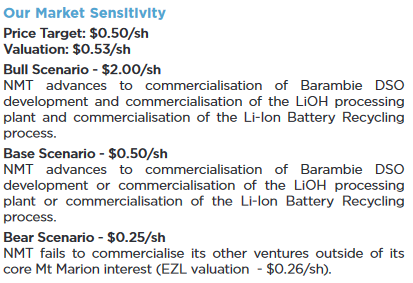 Top shareholders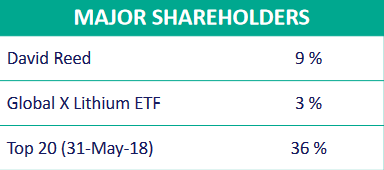 Upcoming Catalysts
December, 2018 - Kalgoorlie Lithium Hydroxide Facility - Release of FEED study.
March 2019 quarter - Neometals shareholders to receive shares in the new entity (Barrambie) via an in‐specie distribution.
End Q1 2019 - Feasibility Study results for Kalgoorlie Lithium Hydroxide Facility.
Mid 2019 - Kalgoorlie Lithium Hydroxide Facility - Final investment decision subject to finance and off-take.
2019 - Mt Marion - 450ktpa (100% project basis) of lithium spodumene supply all at 6% due to the new flotation circuit coming online Q4 2018. This will boost revenue and profits.
2021 - Plan to commence lithium hydroxide production in Kalgoorlie, Western Australia.
?2020/21--> Lithium-ion battery recycling plant to commence in Montreal Canada.
Risks
Lithium prices falling. In the short term lithium spodumene prices may fall back a bit. This is factored into the current stock price.
The usual mining risks - Production risks, partner risks.
Risks associated with getting new projects up and running such as funding risk.
Management and currency risk.
Sovereign risk - Australia is low risk.
Stock market risks - Dilution, lack of liquidity (best to buy on local exchange), market sentiment.
Investors can view the latest company presentation here, a Euroz research report here with an AUD 0.50 price target, and an excellent video here.
Conclusion
In my March 2018 original article on Neometals I summarized by stating:
Neometals offers investors so much more than just a share in a very successful lithium mine that is growing its production volumes steadily. Investors really get at least three other excellent growth opportunities for free. That includes a share in a future lithium hydroxide plant, a lithium-ion battery recycling plant, and a titanium-vanadium project. All three of these projects can be online by 2021 and be very significant earners for Neometals. Added to this can be licensing and royalty agreements on the IP as it is adopted by others following in their footsteps.
Since then Neometals has become cash flow positive, trades on a very low PE of 6.8, has progressed all their projects, and picked up Mt Edwards (lithium and 123,000 tonnes of contained nickel). Additionally the Company has decided to spin out their Barrambie Titanium Vanadium iron project as it is not being fairly valued at present. This will mean investors in Neometals will get two companies for the price of one, and continue to get the future growth projects (lithium hydroxide plant, lithium-ion battery recycling plant) essentially free.
Poor sentiment has meant Neometals is currently very oversold, and trading well below any fair valuation.
Risks are fairly low given Mt Marion is cash flow positive, and Neometals has plenty of cash and no debt. The main short term risk revolves around lithium spodumene prices falling. Managing Director Chris Reed is top tier and shareholder friendly, as seen by the 1 cent dividend.
I continue to view Neometals as a strong buy for mid to long term investors.
As usual all comments are welcome.
This article first appeared on Trend Investing on November 9 2018; therefore all data is as of that date.
Trend Investing
Thanks for reading the article. If you want to go to the next level, sign up for Trend Investing, my Marketplace service. I share my best investing ideas, latest trends, exclusive CEO interviews, chat room access to me, and to other sophisticated investors. You can learn more by reading "The Trend Investing Difference", "Recent Subscriber Feedback On Trend Investing", or sign up here.

Disclosure: I am/we are long NEOMETALS [ASX:NMT], JIANGXI GANFENG LITHIUM [SHE: 2460]. I wrote this article myself, and it expresses my own opinions. I am not receiving compensation for it (other than from Seeking Alpha). I have no business relationship with any company whose stock is mentioned in this article.
Additional disclosure: The information in this article is general in nature and should not be relied upon as personal financial advice.
Editor's Note: This article covers one or more microcap stocks. Please be aware of the risks associated with these stocks.