2019 Outlook: Be More Active And Selective
Includes:
AADR, AAXJ, ACWF, ACWI, ACWV, ACWX, ADRA-OLD, ADRD, ADRU, AFTY, AGD, AGGAX, AIA, AIIEX, AIIQ, AOD, APB, APF, ASEA, ASHR, ASHS, ASHX, AUSE, AXJL, AXJV, BBAX, BBCA, BBEU, BRGL, CAF, CHAD, CHAU, CHIE, CHII, CHIM, CHIQ, CHIX, CHN, CIZ, CN, CNHX, CNXT, CNYA, CQQQ, CWEB, CWI, CXSE, DAX, DBAP-OLD, DBAW, DBEF, DBES, DBEU, DBEZ, DBGR, DBIT, DBKO, DBSE, DBSP, DBUK, DDBI, DDLS, DDM, DDWM, DEEF, DEFA, DEW, DEZU, DFE, DGT, DIA, DIM, DIVY, DLS, DNL, DOG, DOL, DOO, DPK, DTEC, DTH, DTN, DVYA, DWLD, DWLV, DWM, DWMF, DWX, DXD, DXGE, DZK, ECNS, EDEN, EDOM, EEA, EEH, EFA, EFAD, EFAV, EFG, EFNL, EFO, EFU, EFV, EFZ, EIDO, EIRL, ENOR, ENZL, EOD, EPHE, EPI, EPOL, EPP, EPS, EPV, EQL, ERUS, ESGD, ESGF, ESGN, ESGW, ETG, ETO, EUDG, EUDV, EUMF, EUMV, EURL, EUSC, EVT, EWA, EWAS, EWC, EWCS, EWD, EWG, EWGS, EWH, EWI, EWK, EWL, EWM, EWN, EWO, EWP, EWQ, EWS, EWT, EWU, EWUS, EWY, EZU, FAUS, FCA, FCAN, FDD, FDT, FDTS, FEEU, FEP, FEUZ, FEX, FEZ, FGD, FGM, FHK, FIEE, FIEG, FIEU, FIHD, FKO, FKU, FLAU, FLCA, FLCH, FLEE, FLFR, FLGB, FLGR, FLHK, FLIO, FLIY, FLKR, FLQD, FLQG, FLQH, FLTW, FNDC, FNDF, FPA, FSZ, FWDD, FWDI, FXI, FXP, FYLD, GAB, GCOW, GDV, GF, GGZ, GLCN, GLIN, GLQ, GREK, GSD, GSEU, GTNDX, GVAL, GWX, GXC, GXF, HAHA, HAUD, HAWX, HDAW, HDEF, HDEZ, HDMV, HEDJ, HEFA, HEUV, HEWC, HEWG, HEWI, HEWL, HEWP, HEWU, HEWY, HEZU, HFXE, HFXI, HGSD, HSCZ, HUSV, IAE, IAF, IDEV, IDHQ, IDLB, IDLV, IDMO, IDOG, IDV, IDX, IEFA, IEUR, IEUS, IEV, IF, IGRO, IHDG, IIF, IMTM, INCO, INDA, INDL, INDY, INTF, INXX, IOO, IPAC, IPKW, IQDE, IQDF, IQDG, IQDY, IQLT, IRL, ISCF, ISZE, IVAL, IVLU, IVV, IWL, IWM, IXUS, JHML, JKD, JPEH, JPEU, JPGE, JPIH, JPIN, JTA, KBA, KF, KFYP, KGRN, KLDW, KOR-OLD, KORU, KWEB, LVHI, LVL, MCHI, MFDX, MFLA, MVIN, NFTY, NORW, OASI, OBOR, OEUR, ONTL, OTPIX, PAF, PAK, PDN, PGAL, PGJ, PID, PIN, PIZ, PLND, PPDM, PSQ, PTEU, QCAN, QDEU, QEFA, QGBR, QID, QLD, QQEW, QQQ, QQQE, QQXT, QWLD, QXGG, RESD, RFAP, RFDI, RFEU, RGT, RODM, ROSC, RSP, RSX, RSXJ, RUSL, RUSS, RWM, RYARX, RYRSX, SCHC, SCHF, SCHX, SCIN, SCZ, SDIV, SDOW, SDS, SFLA, SH, SMCP, SMEZ, SMIN, SMLL, SPDN, SPDW, SPEU, SPGM, SPLX, SPUU, SPXE, SPXL, SPXN, SPXS, SPXT, SPXU, SPXV, SPY, SQQQ, SRTY, SSO, SWZ, SYE, TAO, TDF, THD, TLTD, TNA, TQQQ, TTAI, TUR, TWM, TWN, TZA, UDOW, UDPIX, UIVM, UPRO, UPV, URTH, URTY, UWM, VEA, VEU, VFINX, VGK, VIDI, VIGI, VNM, VOO, VPL, VSS, VT, VTWO, VV, VWID, VXUS, VYMI, WBIA, WBIB, WBIC, WBID, WBIE, WBIF, WBIG, WBIL, WCHN, WDIV, XINA, XMX, XPP, YANG, YAO, YINN, YXI
by: Neil Dwane
Summary
As the global economy becomes less synchronised and more divergent, investors should aim to be more active and selective.
The U.S. economy will likely slow after Trump's tax cuts' effects wear off, but a divided Congress may not significantly alter his economic policy; no U.S. recession expected yet.
Concerns over Brexit and the direction of European politics may reduce confidence and fuel market uncertainty in Europe.
China will keep transitioning its economy to one driven by consumption and services,but it may be hampered by trade frictions and the emerging "tech cold war" with the U.S.
With QE mispricing many asset classes, diversification alone may not be sufficient; contrarian ideas and out-of-consensus themes may come into favour.
Higher interest rates in the U.S. – and less quantitative easing from the US Federal Reserve and European Central Bank – will likely reduce liquidity and create higher market volatility for investors in 2019. Because navigating the markets successfully may take greater skill, we believe investors should consider actively selecting where to invest, rather than passively accept market returns – understanding there is no guarantee that any type of strategy will outperform.
The global economy – which has been doing fairly well – is likely to become even less synchronized and more fragmented. This would continue a trend that began in earnest in 2018 as market returns turned negative. Trade tensions and political uncertainty are set to be primary drags on performance, while high oil prices and tight labour markets in the US, UK, Germany and Japan could heighten fears of rising rates and inflation.
In recent years, investors have been able to follow the herd as markets have risen, but continuing that approach now will likely destroy value rather than create it. As we enter into a period of lower cross-asset correlations, higher volatility and lower returns – particularly for equities – active asset allocation and active security selection is likely to become increasingly important.
Four key themes for 2019
1. A new "tech cold war" could disrupt global supply chains
During 2018, the Trump administration identified China as a strategic technological threat. This has led to fears in China that American technology may ultimately become unavailable, which would be a strategic threat to China's own economic security. This may prompt both the U.S. and China to build their own discrete tech ecosystems. The result could be a "tech cold war" that lowers profit margins, inhibits innovation and disrupts the global supply chains of tech companies in Asia and the U.S.
Takeaways for investors
Consumer sectors and large parts of the tech industry could be hurt by a tech cold war; this could lead to higher prices for consumers and less innovation globally as fewer high-tech developments are shared.
However, more high-tech assembly and manufacturing work could return to the U.S., which could be somewhat positive for supply chains for the consumer discretionary, healthcare, and information technology sectors.
Artificial intelligence, big data, and the internet of things will still be strong long-term investment themes on both sides of the tech cold war.
2. Quantitative tightening could mean less growth and higher volatility
Central banks have finally started easing back on the stimulus they pumped into the global economy in the wake of the financial crisis. In the U.S., the Fed is raising interest rates and beginning "quantitative tightening" (QT) by reducing its bond holdings. As this approach is replicated around the world, we expect to see higher volatility.
Following President Donald Trump's success at turbocharging an already hot U.S. economy, more governments are looking to pump fiscal stimulus into their economies. That means more sovereign bonds could be issued in markets where central banks are already trying to unload their holdings. This will likely raise rates for borrowers and hurt the more indebted parts of the global economy, particularly emerging markets. If this happens, expect slower growth and a higher prospect of defaults.
Takeaways for investors
Higher U.S. interest rates would make dollar-denominated debts more expensive to service, which could spark an outflow of capital from emerging markets.
Just as quantitative easing boosted many asset classes, creating an environment conducive to risk-taking, QT may expose overstretched valuations and make markets more volatile.
Higher volatility may create opportunities for those investors who can navigate the new environment. Assets are more likely to be over or underpriced, and active managers can focus on companies, sectors and geographies with stronger overall outlooks in these conditions. Without volatility, opportunities like these are scarcer.
3. ESG is becoming mainstream, as investors recognize the potential for managing risk and driving performance
Environmental, social and governance (ESG) factors have become a primary concern for investors. Companies that manage their ESG profiles well – focusing on areas such as strong governance, climate change and board diversity – are likely to strengthen their positions in the coming years. Investors who examine these ESG factors can gain an additional layer of insight for identifying opportunities in a marketplace that increasingly demands selectivity.
Yet the rising interest in ESG has coincided with an increase in categorization to address different philosophical positions and investor requirements, so it is important to be clear about what the different labels mean.
"Integrated ESG" – which embeds the consideration of ESG factors into an existing investment process – is gaining traction. We take a rigorous approach to ESG integration: rather than relying entirely on external ESG ratings and third-party methodologies, our investment professionals question potential holdings with low ESG ratings and contribute to a firm-wide debate. Because our portfolio managers can own "risky" ESG companies, we are in a unique position to engage with those firms to drive changes that seek to reduce risk and enhance performance potential over the long term.
Other investors are looking to direct capital in such a way as to achieve extra-financial as well as attractive financial returns. This could be through negative screening or – increasingly – through positive screening that helps to create a broader social impact.
ESG in its different guises will be a significant investment theme in 2019 and beyond. To establish ESG investing as a mainstream activity, asset managers will need to be clear on labeling and how they can address clients' differing needs and expectations.
Takeaways for investors
To be more selective, investors will need to take a greater range of risk factors – including ESG considerations – into account; understanding a company's fundamentals at a deep level is critical.
At Allianz Global Investors, we expect to engage more with our clients on ESG issues. It is part of what separates active from passive investing. Fully incorporating ESG factors into investment decisions adds value that is difficult to replicate in index form.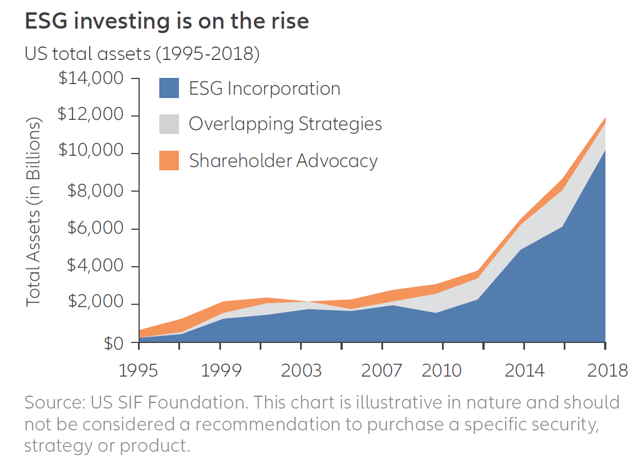 4. Rising inequality is hurting economies and transforming politics
The economic inequality that has been growing in societies around the world is a significant factor in driving anti-globalization sentiment, and it looks like the trend could get even worse. Inequality is a political issue that has helped spur the rise of nationalist and populist parties. It can also drag down growth, destabilize social systems and stress government budgets.
Rising inequality is bringing to the ballot box more voters who are disillusioned with the status quo, which could result in new policy proposals that further increase market volatility. Millennials are also set to become an increasingly powerful political force in the next decade – and as a demographic group, they are more likely to demand fairness, transparency and an understanding of how companies contribute to the greater good.
Takeaways for investors
Corporations have the ability to address economic inequality by focusing less on profit maximization and labour arbitrage – and more on fair pay and worker training. Investors can encourage management teams to close the gap.
Investors can choose to work with asset managers who direct capital into initiatives that are likely to promote future growth in a more sustainable and equitable way.
2019 regional outlooks
United States
President Trump will increase his focus on his 2020 re-election campaign. This may set up a battle between Mr Trump – as he pushes for more fiscal spending, lower taxes, and new infrastructure projects – and the Fed, as it guides the U.S. economy's late-cycle turn.
Until now, Mr Trump's stimulus package has had the upper-hand: the booming economy reduced the unemployment rate to 3.7% in late October – a 48-year low. But overall inflation is likely to grind higher as tight labour markets push up wage inflation. This makes continued rate rises all the more likely, and the more cyclical parts of the U.S. economy – like autos and housing – could react negatively. Moreover, continued trade tensions between the U.S. and other countries could hurt all parties involved.
We expect the U.S. economy to cool back down to a 2% growth rate, though we see no immediate signs of recession in 2019. A divided Congress may find common ground to revamp healthcare costs, increase infrastructure spending and curtail Chinese access to U.S. technology. Yet it will likely not pass additional tax-reform measures that would boost fiscal stimulus but further raise the deficit.
United Kingdom
It is a year of reckoning for the UK, as 29 March 2019 marks its official exit from the European Union. How much of an exit deal is agreed by that point – and what decisions are kicked into the long grass – remains to be seen, but the country is likely to see further economic weakness if Brexit uncertainties drag on. The "tail risk" of a change of government will also add nervousness.
In the event of a "no-deal" outcome, the British pound and bond yields are likely to be down. UK assets in general are currently unloved and under-owned. How they perform in 2019 will depend as much on the end of the economic cycle as it will on Brexit uncertainty. Large, diversified exporters with significant non-EU business may be best-positioned.
Europe
While the region is currently doing fairly well, there are fault lines:
Signs of export weakness are hampering the German economic machine. A weakened German chancellor Angela Merkel, who has announced her political departure in 2021, may spell more trouble for Europe's largest economy.
Tensions in Italy – and the showdown with the EU over its budget plans – may well prevent the EU from making much-needed reforms on the capital markets union, deposit union and common fiscal policies.
The May 2019 European Parliamentary elections will be an existential moment for the continent – a struggle between Eurosceptic populists and more mainstream, establishment candidates.
Where the EU goes from here will become a pressing topic, as it has yet to strengthen sufficiently the essential foundations that were shaken in the euro-zone crisis of 2010-2012. The EU remains sensitive to the growth momentum in the global economy, since exports underpin much of the region's activity and investment.
China
China is committed to rebalancing its economy, emphasizing consumption and services over exports. The country also wants to wean itself off high levels of debt – and encourage state-owned enterprises to maximize profits over employment. With these challenges, China certainly does not need a trade and tech war with the US.
Nevertheless, we believe China's government can accomplish its goals in many ways. Its clear policies, determination and strong centralized leadership should help the country meet its economic targets. Large Chinese tech firms may be more willing to align themselves with their own government than their US counterparts. Ultimately, China needs to avoid the low-income trap that has afflicted many emerging markets. That is why it is so focused on its "Made in China 2025" policies as it moves up the value-added chains of industry.
Asia Pacific
Japan and the rest of Asia are linked to China's fortunes, particularly as U.S. influence in the region wanes. China's "one belt, one road" series of strategic investments are an important source of funding for major infrastructure projects throughout the region.
Reform is another important theme – particularly in India and Indonesia, both of which will hold elections in 2019. Across the region, governments will strive for further economic liberalization and structural reforms to underpin their growth. Those that succeed should find their efforts boosted by a young, hard-working millennial population.
Investment implications
Don't write off entire regions or markets based on one event – Brexit, for example. It's important to understand which stocks/sectors will be favoured based on specific scenarios.
Globally, inflation pressures are rising as consumer prices increase; investors should consider equities, commodities and real estate as natural inflation hedges. Global equities and commodities still look well-positioned as a whole.
The hunt for income remains pressing in a world still experiencing low interest rates. Investment-grade and high-yield bonds in the U.S. and Europe may be challenged in the coming year, though credit fundamentals are stable globally.
Diversification as a strategy is not working as well, as QE has mispriced many asset classes; contrarian ideas and out-of-consensus themes may come into favour.
Disruption of politics and technology is creating clear winners and losers globally; active research and analysis can improve the chances of finding alpha.
For more on this topic
Read Neil Dwane's 2019 outlook on allianzgi.com.
Disclosure: I/we have no positions in any stocks mentioned, and no plans to initiate any positions within the next 72 hours.