Introduction - U.S. Critical Minerals
Last month, I was asked to preview the now-released new book: Groundbreaking! America's New Quest for Mineral Independence by Ned Mamula and Ann Bridges. Groundbreaking! is a balanced and thorough look at the dire economic and military situation that the U.S. currently finds itself in due to a dependency on other nations, mostly China, for a host of critical minerals and metals - 35 of them to be exact. The book is an easily digestible and informative read well worth the time of any Patriot who wants to understand just how "critical" the situation really is.
There is a movement underway to rejuvenate the U.S. mining industry, and Groundbreaking! lists a number of policy prescriptions that will help do the trick. Investors can also participate by financing the development of quality projects. In this article, we will take a look at a miner with the potential to provide up to 10% of the barite (barium sulfate - BaSO4) consumed annually by the U.S. along with several other industrial metals.
Barite is an essential mineral to the U.S. oil & gas industry. In its report, Barite - A Case Study of Import Reliance on an Essential Material for Oil and Gas Exploration and Development Drilling, the U.S. Geological Survey (USGS) noted the following about barite:
Barite plays an essential role as a weighting material in drilling muds used in oil and gas drilling, primarily to prevent the explosive release of gas and oil during drilling. The Nation's efforts to become more energy independent are based largely on the domestic oil and gas industry's ability to explore and develop onshore and offshore fuel deposits. These activities include increased efforts by the United States to locate and recover oil and gas within unconventional deposits, such as those in the Bakken, Eagle Ford, and Marcellus Formations, using advanced drilling technologies.
In Groundbreaking!, Mamula and Bridges pointed out the importance of mining "gateway" metals, such as copper and zinc, as one of the solutions to solving the critical minerals crisis. This is exactly the case with Constantine Metal Resources [CEM.V] (OTCQB:CNSNF), which I will cover in this article. By mining copper and zinc at their Palmer project in Alaska, meaningful amounts of barite will also be produced. This not only helps relieve the critical minerals deficit of barite but notably, for investors, increases the economic value of projects like Palmer with critical mineral by-products. In the case of Constantine, I estimate the barite by-product could increase Palmer revenues by 15%.
Constantine is set to release the first economic study (the preliminary economic assessment - PEA) for its Palmer project in Q1 2019. The results will be boosted by its potential to produce a significant amount of by-product barite. I am estimating a very robust outcome, and I think now is a good time for investors to take a position.
Palmer Project
Constantine is a Canadian-based junior explorer/developer with their flagship project being the Palmer copper-zinc-gold-silver-barite project in coastal southeast Alaska. (Yes, a lot of U.S. mining assets are controlled by non-U.S. based companies and have their primary listing on non-U.S. exchanges which demonstrates just how far U.S. mining finance has also fallen.) Palmer is the company's main focus at this point in time, however, they also hold the Johnson Tract gold-zinc deposit in coastal southcentral Alaska and the Timmins Area gold projects in Ontario. The following maps show (1) the location of all of Constantine's projects and (2) a close-up of the Palmer project which is near Hecla's (HL) Greens Creek mine: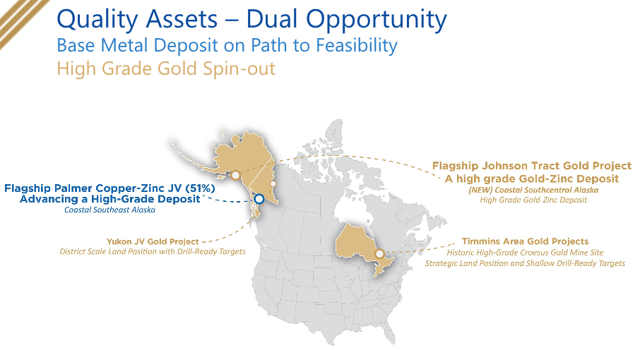 Source: Constantine investor presentation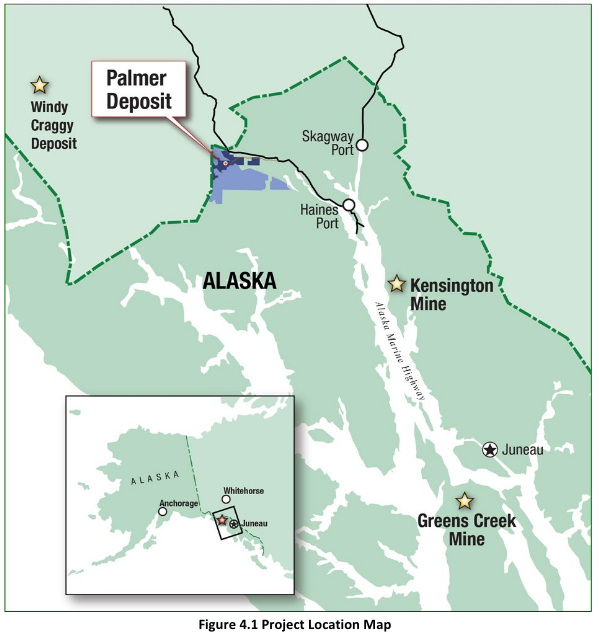 Source: Constantine November 2018 43-101 Technical Report
The emphasis of this article will be the Palmer project. More specifically, the South Wall deposit at Palmer which is the focus of the current economic study. The company is also considering a spin-off of the other 2 primary gold projects which could be an additional area of future value creation for shareholders. The following photograph shows the location of the South Wall deposit on the side of a mountain within the Palmer project boundary: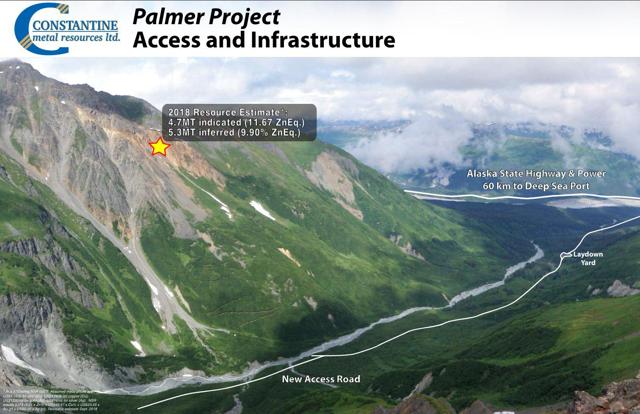 source: constantinemetals.com
South Wall is a volcanogenic massive sulfide (VMS) deposit which is common in the region and typical for North American zinc deposits. It looks intimidating (see picture below), but it can actually be mined from the bottom up which means gravity may help reduces costs.
The following aerial photo of South Wall is my favorite mining photo. (I would not want to be working on that pad! Notice also the smaller one at the top.) They have to position the drilling rig with a helicopter.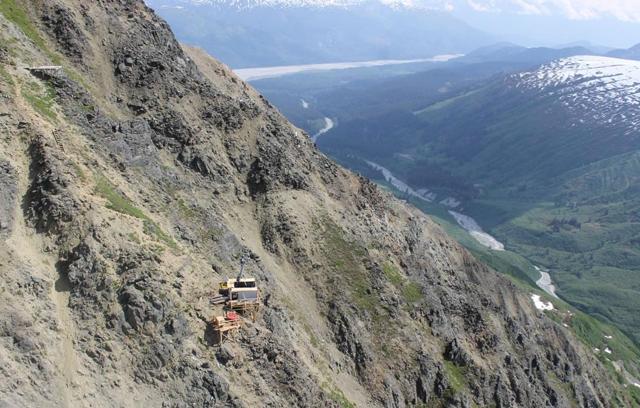 Drill rig precariously located on the heights of South Wall; source: constantinemetals.com
The first photo shows the Alaska State Highway in the background demonstrating the proximity of the project to existing infrastructure. The saying in real estate is, "location, location, location." The same could be said about mining projects. One of the primary advantages of Palmer is that it is not buried in a remote region of America's largest state (or Canada), but conveniently located only a few miles from a major highway and only about 40 miles from the deep sea port at Haines. This proximity to existing infrastructure gives the project an important advantage right out of the gate. To show how the market is confirming this, I am going to compare the resource size and market capitalization ("cap") of Constantine with that of Fireweed Zinc (OTC:FWEDF) whose Macmillan Pass zinc project is located further north in a more remote region of the Yukon: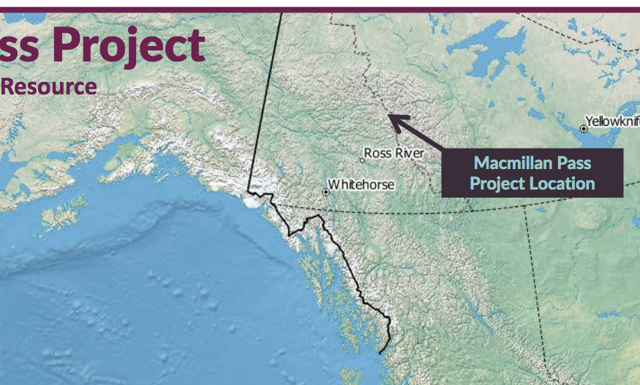 Source: extract from Fireweed Zinc Investor Presentation
The following table provides the comparison:
| | | | |
| --- | --- | --- | --- |
| Deposit | Tonnage | Zinc Equivalent Grade | Market Cap (USD million) |
| Palmer - Southwall | 9,984,000 | 10.76% | $20.5 |
| Tom & Jason (Macmillan Pass) | 50,672,000 | 9.9% | $23.3 |
(Note: the Southwall resource estimate uses a slightly higher net smelter return estimate so when compared equally to Tom & Jason it is actually about 623,000 tonnes larger.)
Despite having a Resource that is 5 times the size of Palmer with a similar zinc equivalent grade, Fireweed Zinc's market capitalization is only a few million $USD higher. In reality, the market is actually giving a much higher valuation to Constantine because it only owns 51% of the Southwall resource.
Here is a more detailed look at the Palmer Indicated & Inferred resource: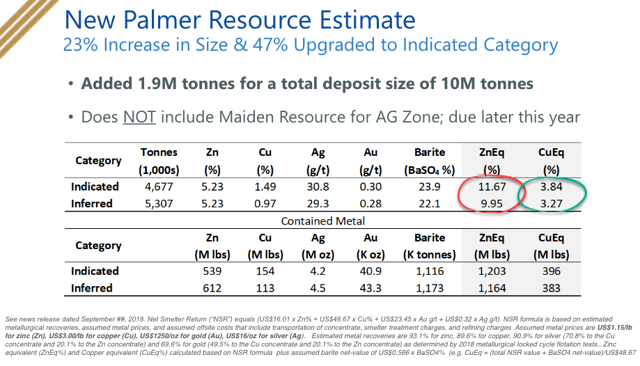 Source: Constantine investor presentation
The copper equivalent grade of the combined Southwall deposit is 3.5%. To my knowledge, this places South Wall as the second highest grade undeveloped project in the world on a copper equivalent basis after Ivanhoe's (OTCQX:IVPAF) Kamoa-Kakula project in the Congo.
The South Wall tonnage at Palmer is relatively small, but the grade is so robust that this project could cumulatively produce close to 1 million tonnes of zinc on an equivalent basis. If this were hypothetically mined for 10 years, it could produce 82,000 tonnes of zinc equivalent per year. To put this in perspective, there are only about 21 mines in the world that are slated to produce more than 100,000 tonnes of zinc this year.
Dowa Joint Venture
The robust economic potential of the Palmer project is evident in the fact that Constantine already has a joint venture (JV) partner. Dowa Metals & Mining Co., Ltd., a subsidiary of the larger Japanese firm Dowa, owns 49% of the deposit. Constantine is the operator. Constantine still controls 100% of the surrounding district-scale land package, so they will have 100% ownership of any new discoveries outside the JV zone. The following map shows what portion of the property is subject to the joint venture: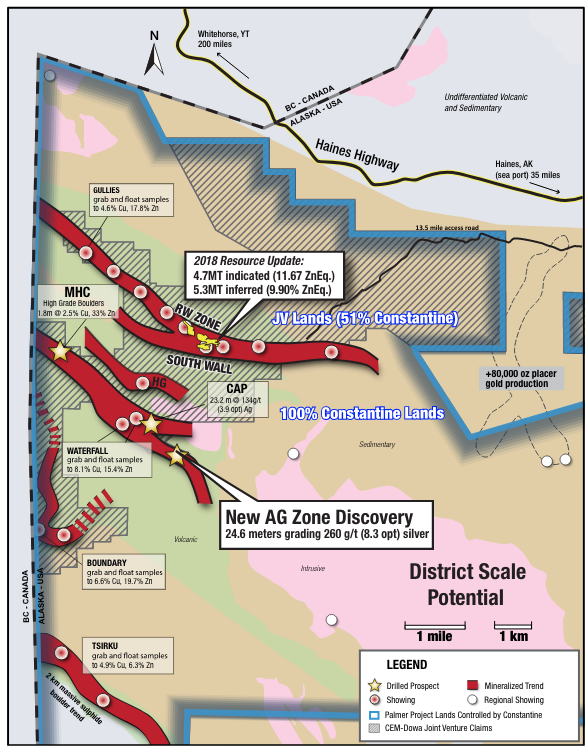 Source: constantinemetals.com
The greater Palmer project is large (100 square miles or 260 square kilometers). This is always something I look for in a junior because this is typically what a mid-tier or major wants - boosting the attractiveness of the project from an acquisition standpoint. It is more cost-effective for majors to acquire a property where they can potentially find additional mineable deposits and utilize the existing infrastructure. Deposit quality, strong economics and property scale in a good jurisdiction are what majors are looking for. Palmer has all four. This reality is already playing at Palmer as the quality drill results from the new AG Zone discovery (see map) continue to come in. Constantine is planning on including a maiden resource estimate for the AG Zone in the forthcoming PEA for the South Wall deposit.
Dowa Metals & Mining operates the largest zinc smelter in Japan and they also own about 30% of the largest copper smelter in Japan. They got involved in the project for the zinc concentrates, but they may also be able to take the copper concentrates (zinc and copper concentrates are processed separately). Dowa also owns 6.25% of Taseko's (TGB) Gibraltar mine in British Columbia which is a copper producer.
The involvement of Dowa is important for the Palmer project for several reasons:
The deposit is earmarked for development because Dowa wants additional zinc concentrate feed for its smelters. Zinc concentrates are currently in high demand. This seems obvious, but a lot of juniors lack the expertise to move a project from exploration to development in a timely manner which greatly impedes their ability to generate value for shareholders. Confirming this is the fact that Constantine recently appointed Ian Cunningham-Dunlop to the position of Vice President, Advanced Projects as the company transitions to the more advanced stage evaluation work necessary to prepare the project for development. Dowa's involvement should continue to provide the additional impetus needed to move this project down the development path.
Dowa is a large established firm. They contribute half the capital to advancing the project so this reduces the financing burden for Constantine.
With its network of smelters and history of proven metallurgical expertise, Dowa's work on the Palmer metallurgy provides an extra layer of assurance that an optimal outcome will be designed. Increased metallurgical confidence also helps de-risk the project.
Financial Modeling
I put together a financial model for the hypothetical production of the South Wall resource using $3.17 per lb. copper, $1.13 per lb. zinc, $18 oz. silver, $1,300 per oz. gold, and $150 per tonne barite. My model assumes that ~90% of the of the Indicated & Inferred resource gets mined over a 10-year mine life by a 2,500 tonne per day (912,500 tonnes per year) operation. The following table provides the production details:
| | | | |
| --- | --- | --- | --- |
| | Grade Mined | Recovery | Average Annual Production |
| Zinc | 5% | 93% | 42,035 |
| Copper | 1.15% | 89% | 9,316 |
| Gold | .26 (g/t) | 70% | 5,867 |
| Silver | 27 (g/t) | 90% | 46,922 |
| Barite | 22% | 91% | 182,683 |
South Wall will produce separate zinc and copper concentrates. The expected recoveries of gold and silver are higher than those of many comparable zinc mines because the gold and silver will mostly report to the copper concentrate where the miner receives almost full payment versus typically only 60% to 65% payability from a zinc concentrate. So, not only does South Wall have quality grades of both copper and zinc, but high recoveries of by-product precious metals and the critical mineral barite. At an estimated price of $150 per tonne, the barite would add $27.4 million of annual revenue to the project.
For capital and operating costs, I assume the following:
$150 million of upfront capital expenditures (CAPEX)
$42 million of sustaining CAPEX over 10 years
$50 per tonne operating costs
6% royalty on net smelter revenue
These capital and operating costs were derived from comparisons of similar mining projects, such as Kutcho Copper's (OTCPK:KCCFF) Kutcho project in nearby British Columbia. The South Wall deposit will be mined from the bottom up with gravity doing most of the work, whereas the typical underground mine requires the construction of a vertical shaft, which is more expensive. This should result in a lower upfront CAPEX requirement.
The following table puts it all together and provides my estimates for the resulting financial impact:
| | | |
| --- | --- | --- |
| | Annual Projections (in $USD millions) | Notes |
| Revenue | $206 | |
| Smelting, Refining, & Freight | ($41) | |
| Operating Costs (Mining, G&A) | ($46) | $.48 per lb. Zn equivalent C1 costs |
| Royalties | ($10) | 2.5% prospector; 3.5% Alaska Mental Health Trust |
| Depreciation & Amortization | ($15) | |
| Operating Income | $94 | 46% operating margin |
| Income Tax | ($22) | 21% Federal & 3% Alaska |
| Net Income | $72 | 35% profit margin |
| Free Cash Flow | $83 | 40% FCF margin |
These projections result in an after-tax net present value (NPV) of $316 million for the project using a 10% discount rate and including interest costs for the first 3 years at a 10% rate. Constantine owns 51% of the project, so their share of the NPV would be $162 million.
Assuming $170 million of upfront capital will be needed to put South Wall into production ($20 million additional to get to final feasibility) and 70/30 debt/equity financing, Constantine would need to raise $26 million of equity. 70% debt financing may seem high on the surface. However, this would still only give the project a 1.1 debt to EBITDA ratio. Furthermore, there will likely be several options available to the company to further support this level of debt financing, including but not limited to the following:
The Alaska Infrastructure Development and Export Authority (AIDEA) helps fund infrastructure for mines. AIDEA is familiar with the Palmer project and may help support its development.
I noted that South Wall is expected to have high precious metals recoveries. The project would have $8.5 million in annual precious metals revenue using my target prices. This future precious metals production could be used to facilitate a streaming deal with a royalty company to provide upfront financing.
Although Dowa has not made any commitments to provide future funding, the fact remains that the project cannot be developed until Constantine obtains their 51% share of the project funding. Given my projection for a structural deficit in zinc moving forward (see below), I expect zinc concentrate demand to remain strong well into the future. If Dowa shares my outlook, they could conceivably step in to provide financing to help procure these concentrates faster.
For these reasons, I see a higher ratio of debt in the financing mix as likely for the project.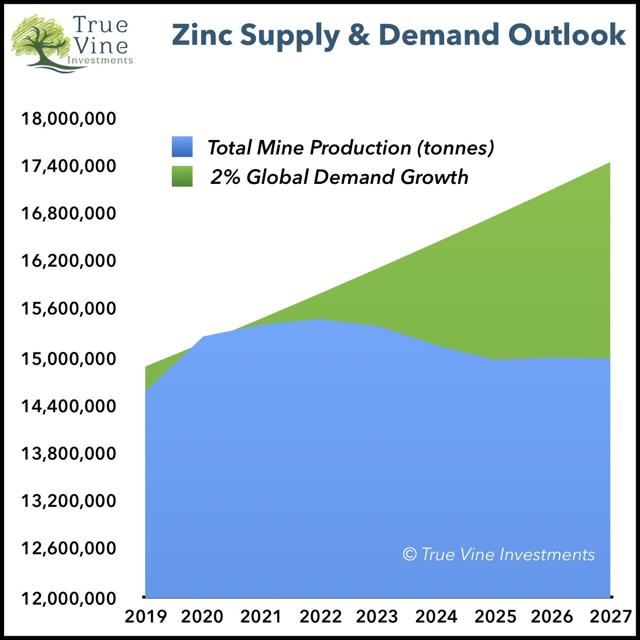 The key question for valuing the stock is at what share price will Constantine be able to eventually price the equity they will need to raise? The U.S.-listed shares of the stock are trading for $.33, but not too long ago, shares were trading for around $.60 per share, as shown here: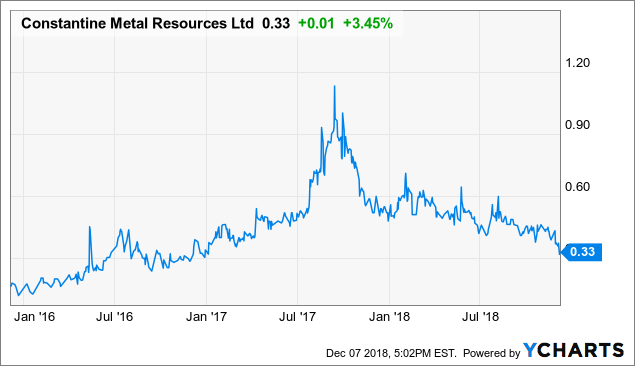 One of the reasons that shares of junior developers are so volatile is the interplay between the share price and equity financing. A rising share price makes equity financing less dilutive which tends to further support the share price. Conversely, a falling share price makes equity financing more dilutive, which tends to further weigh on the share price. This is why sentiment is such a huge factor for the junior market and why I personally spend a lot of time on the supply & demand fundamentals for my subscribers. Analyzed correctly, the fundamentals will reveal future sentiment.
Right now, I am very bullish on zinc. Global exchange stocks are at a 5-year low below 200,000 tonnes which is only 5 days' worth of supply in a 14.8 million tonne market and continuing to decline. I am projecting a deficit next year of about 300,000 tonnes (see chart above) before the market returns to a slight surplus in 2020 (although with inventories still ravaged). It is my view that a V-shaped recovery in zinc is presently underway. For reference, here is a WEEKLY chart of zinc: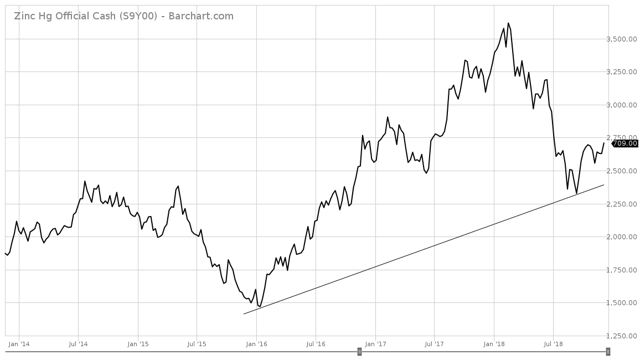 Chart courtesy of barchart.com
It is hard for me to not see a panic spike higher in zinc in 2019, especially given that the rate of inventory decline continues to align with my deficit projection. I think we are soon going to see a significant sentiment shift in zinc miners.
Constantine is currently trading for 17% of my estimate for the NPV of the South Wall project (their 51% share). I expect the combination of higher zinc prices and the release of the PEA in early 2019 to get this stock moving higher. At only 30% of my NPV estimate, the stock would be worth $.78, which is 136% upside. At 50% of my NPV estimate, the stock would be worth $1.30, which is 293% upside. The higher the stock goes the less dilution will be required for equity financing. At the very minimum, just using the current market value and accounting for the $26 million of equity financing I value the stock at $.77 which is 70% upside.
Strategic Conclusion
I expect the PEA for the development of the South Wall deposit at Palmer to be exceptional and get the attention of mining investors, and I expect this to also happen as the zinc price is kicking down the door and surprising people. You earn big returns by investing before the move. I think we have a classic contrarian setup here for Constantine. I see a minimum of 70% upside with the potential for multiples more depending upon how events play out.
For those interested in investing in U.S. critical minerals or simply a highly economic junior prospect, Constantine is low-hanging fruit from my vantage point. Furthermore, the company continues to hit large amounts of barite in its exploration drilling at the 100% owned AG Zone, including 33.5 meters of 41.5% barite, 34.4 meters of 63.6% barite, and 43.3 meters of 41.1% barite. Including the barite in the soon-coming resource estimate for the AG Zone could lead to surprising high equivalent grades from this silver-zinc-gold-lead-copper-barite deposit.
There are 2 additional catalysts for shares of Constantine that I did not cover in this article.
First, Palmer clearly has the potential to host another significant silver and/or zinc discovery as the glaciers continue to recede there, and the company continues to drill test new targets. There is an element of exploration upside here. In fact, it is my understanding that the first drill results for one yet untested target (Boundary Prospect) are to be released very soon.
Second, Constantine may spin off their Johnson Tract and Timmons projects into a separate precious metals-focused company. Given the following historical drill results at Johnson Tract:
102.6 meters grading 10.9 g/t gold and 8% zinc
71.4 meters grading 20.9 g/t gold and 5.2% zinc (including 8.9 meters of 88.5 g/t gold)
99.7 meters grading 10.1 g/t gold and 6.3% zinc
112.2 meters grading 10.3 g/t gold and 5% zinc
such a move could deliver a lot of financing capital for Constantine to invest in Palmer. To the extent that further shareholder dilution can be avoided, the upside potential for Constantine increases dramatically.
Mining is a difficult business, and junior miners are very volatile. It is important to pick companies that have the tailwind of exceptional economic potential. My analysis points to the fact that Constantine is just such a company.
Important Disclosure
I am an investment adviser and owner of True Vine Investments, a Registered Investment Advisor in the State of Pennsylvania (U.S.A.). I screen electronic communications from prospective clients in other states to ensure that I do not communicate directly with any prospect in another state where I have not met the registration requirements or do not have an applicable exemption.
Any investment advice or recommendations involving securities referenced in this article is general in nature and geared towards a readership of sophisticated investors. This article does not involve an attempt to effect transactions in a specific security nor constitute specific investment advice to any particular individual. It does not take into the account the specific financial situation, investment objectives, or particular needs of any specific person who may read this article. Individual investors are encouraged to independently evaluate specific investments and consult a licensed professional before making any investment decisions.
All data presented by the author is regarded as factual, however, its accuracy is not guaranteed. Investors are encouraged to conduct their own comprehensive analysis.
Positive comments made regarding this article should not be construed by readers to be an endorsement of my abilities to act as an investment adviser.
My clients always come first. I reserve the right to buy or sell any security at any time, often for reasons not related to my articles, in order to properly manage their portfolios.
Industrial Minefinder™
I hope you found this article on Constantine Metal Resources insightful. If you are interested in more analysis like this, then check out my Industrial Minefinder™ Marketplace service. Industrial Minefinder™ covers the industrial metals & mining sector (everything but primary gold producers) where I present what I think are the best opportunities across the full spectrum of majors, intermediates, and juniors. Subscribers especially like how I put numbers on junior miners and provide peer comparisons.
If you are interested in subscribing to Industrial Minefinder™, you can sample my work by reading my "author's picks" accessible from my Seeking Alpha profile. Do not hesitate to direct message me with any questions you may have.
Disclosure: I/we have no positions in any stocks mentioned, and no plans to initiate any positions within the next 72 hours. I wrote this article myself, and it expresses my own opinions. I am not receiving compensation for it (other than from Seeking Alpha). I have no business relationship with any company whose stock is mentioned in this article.
Additional disclosure: Constantine Metal Resources is a holding in some client portfolios that I am compensated for the management of. I have an economic interest in the stock.