Capital Product Partners (CPLP), a diversified ship leasing company, announced a rather creative deal in an attempt to help the market realize the value of its assets. My guess is it will work, but only after significant turmoil. CPLP's income investor base is initially likely to feel "cheated" by the lower combined distribution. Over the intermediate term, however, this investor base should rotate and lead to a higher overall valuation.
CPLP has been one of the Rodney Dangerfields of shipping.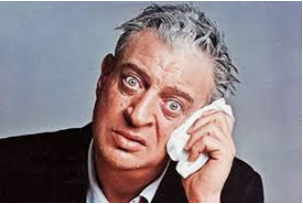 It gets no respect for its significant dividend covered by relatively stable cash flows. Cash flows which were stabilized by a mix of staggered lease expirations periods, and diversified ship types, but never really seemed to be fully appreciated by investors.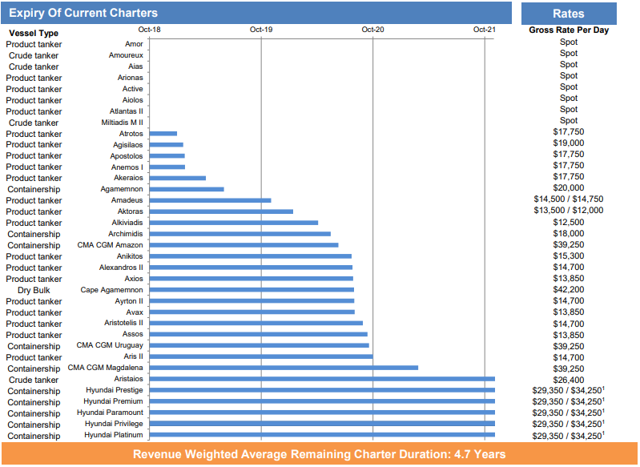 Source: Q3 Earnings Presentation
The company also got little respect for the long-term profitable leases on its containerships and bulk carrier, nor for the significant optionality the staggered lease MR and crude fleet represented. Indeed its biggest shipping sector, MR product tankers, is currently seeing improving rates: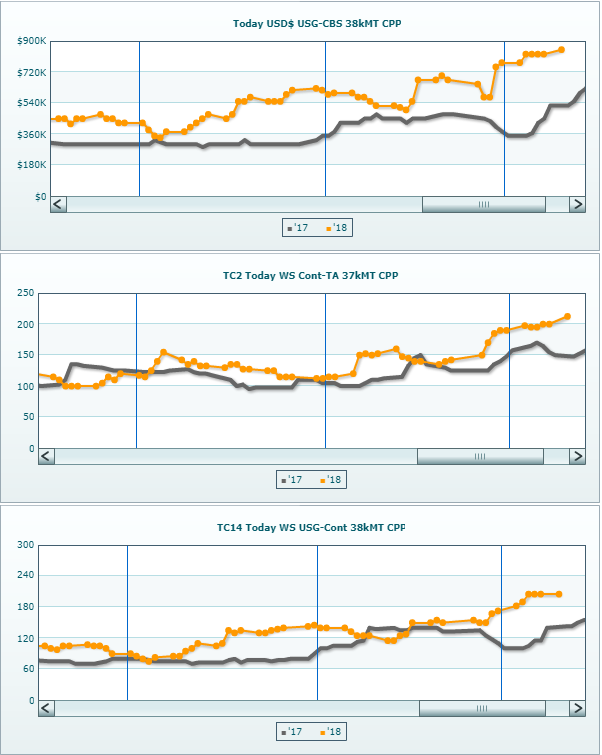 Source: TheWeberReport
December's monthly average spot is currently quoted at strong $24,492/day.
Admittedly, the market's lack of respect for CPLP was partially self-inflicted. Management shot itself in the foot with an at-the-market offering plan 'ATM' which accomplished little while adding to general market mistrust, and by using a quite conservative representation of distributable cash flow 'DCF' that included significant "reserves" used to pay down debt.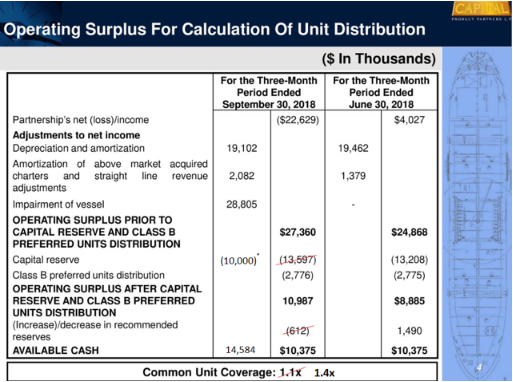 Source: CPLP Earnings presentation with adjustments by author.
Capital Maritime, however, has always been excellent at both buying and selling ships, as well as running a shipping company. Mr. Marinakis (CEO of Capital Maritime) and Mr. Kalogiratos (CFO of Capital Maritime and CEO of Capital Maritime Partners) have a long history of making shrewd timely deals. From a strategy point of view, there was nothing wrong with the original CPLP construct, investors just never fully accepted that it would be able to provide a stable and growing dividend.
Here, by splitting the firm into two parts - a more volatile spot tanker company, and a long-term charter income vehicle - the picture should become more clear to investors. This in turn should allow each part to realize valuations comparable to other shipping companies with similar holdings. Granted these other comparable fleets are themselves receiving low valuations relative to NAV, but the net would still be a meaningful improvement to CPLP's current valuation.
The Diamond S Shipping (DSSI) Part of the Deal:
As you will see in the chart below, post-deal the newly trading Diamond S fleet is going to look pretty similar to the "average" of other publicly traded tanker fleets. (I'll use DSSI for shorthand as there is no stock symbol yet.)

Source: Company Presentation and Author's Calculations
Scorpio (STNG), Torm (TRMD), and Ardmore (ASC) are primarily product tanker fleets. International Seaways (INSW) and Tsakos (TNP) lean more towards crude but with product tankers also having significant representation. DSSI will be 76% product, and 24% crude.

Source: Company Presentation
In the conference call reviewing the deal, management let us know the Diamond S portion of the deal would represent $691 million in NAV with about 33% of that belonging to CPLP shareholders ($236 million). This represents about $1.82 per share in NAV value from the spin-off going to CPLP shareholders. (Note, when I did the math I came out with $1.85 per share, but will go with the number management provided as it has more accurate data than I do.)

Source: Company Presentation and Author's Calculations
If we apply the market average 24% discount to NAV, .76 P/NAV, to this $1.85 NAV value it implies a $1.38 price benefiting CPLP shareholders for their portion of the DSSI deal. This will of course change by the time the deal is complete depending on market sentiment; however, it is what the DSSI portion of this deal represents for CPLP shareholders as of this writing (a time I might note when the market has been doing poorly overall and is decidedly negative on this sector).
The pool I pulled from, however, is very comparable with similar debt/assets, dividend yield, market exposure, ship types mix, average number of ships, average age of ships, etc. So whatever ratio ultimately gets applied there I expect DSSI to also warrant. If anything, DSSI might be awarded a higher multiple than average. It will be run by experienced US-based management (Craig Stevenson), and listed on the NYSE. So to the extent there is management trust or alignment issues with some of these other shipping names, a valuation multiple towards the higher end of the range may be applied.
DSSI management, however, has not indicated what the new dividend will be other than to say it would be small. For now I have put in 1¢ - an amount that matches the token 0.7% dividend yield of the average comparable tanker firm.
This low distribution is likely to be a disappointment for CPLP investors used to double-digit payouts. I thus also expect a significant rotation of the original CPLP shareholder base out of DSSI once its shares are available, with new more growth-oriented investors taking their place. This could cause a swoon in the month immediately following DSSI listing, followed by a recovery as the new investor base rotates in.
We also need to realize part of the reason for DSS going public is to provide fungibility for its private equity 'PE' investors. Thus, six months down the road when their lockup period ends we need to be prepared to possibly see another temporary swoon as the lockup period on their initial tranche of shares ends. Were these events to occur, they might present another opportunity to potentially add. It will depend on company value vs. the perceived future prospects for the sector at the time. Ultimately I expect these shares to trade back towards multiples similar to or better than other firms in the tanker sector.
The Remaining Capital Product Partners portion of the Deal:
Post split CPLP will compare to other shipping companies in the container sector:

Source: Company Presentation and Author's Calculations
Here I initially assigned what I consider a conservative 0.7x P/NAV, half the market average, in order to arrive at a 10% yield on the 18¢ planned dividend (1.8x expected coverage with the preferred paid off). This is because CPLP has frequently traded with a double-digit yield and continues to do so currently. We shouldn't count on the post-split company initially deviating too much from that double-digit yield demand; however, eventually the market should notice this would represent the lowest P/NAV valuation of any comparable containership firm. The only two other containership companies with a dividend - Costamare (CMRE) and Seaspan - both trade a much higher P/NAV ratios, and with much lower distribution yields. Indeed, when comparing the "new" CPLP to CMRE or SSW it should be pointed out CPLP will have the youngest fleet of ships, the best-covered dividend (1.3x), and the longest secured lease terms, and significant positive growth prospects.
Thus, I don't expect CPLP to trade at multiples below CMRE and SSW for very long. Not only will CPLP's sponsor, Capital Maritime, have a number of ships with multi-year charters prepped for dropdown.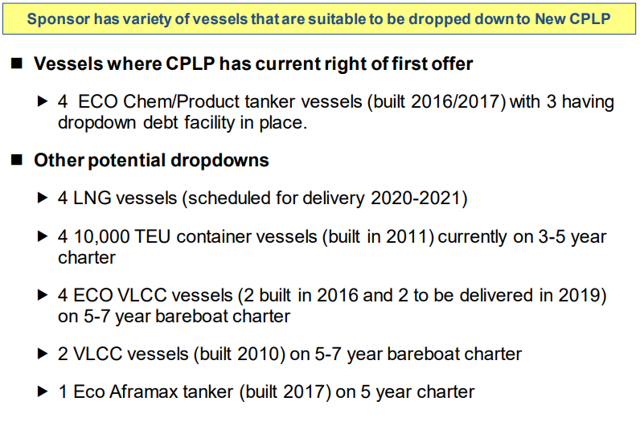 Source: Company Presentation
CPLP will also have eliminated all preferred debt in this deal plus have $60M in cash available to take those drop-downs.
So from the get-go, both availability and capacity will be there to grow the distribution accretively. In my opinion, this is the real reason Capital Maritime is doing the deal; it wants to restart its Capital Maritime to Capital Maritime Partners drop-down strategy. This deal should accomplish that quite effectively for them.
Assuming CPLP eventually trades at similar yield and P/NAV multiples as CMRE and SSW, we should see significant further upside potential there also:

Source: Company Presentation and Author's Calculations
Combining the $1.38 DSSI initial valuation plus the $1.80 initial CPLP valuation (based on a 10% yield), we get a $3.18 target initially. This represents a 33% gain from CPLP's current $2.40 price.
If we, however, assume the "new" CPLP eventually trades up to its containership peers - CMRE and SSW - we instead arrive at a combined value of $4.21 (= $1.38 + $2.83). All else being equal, that's 75% potential upside to the current price. However, there's likely to be significant volatility between here and there in the transaction specifics themselves, as well as the sector. A gradual building of trust or realization of value disparity will be necessary to achieve this higher level, and of course during this time ship leasing rates will change.
Conclusion:
Though interests between shareholders and CPLP management have not always been as aligned as I would wish, here we once again are seeing CPLP management is an expert at the art of the deal. In this case, what's good for them is also ultimately good for us. This deal has the ability to help Mr. Market realize he values CPLP shares too cheaply; however, one should expect significant investor rotation and sector-related volatility between here and there.
Click the Follow Button for more
Coverage includes:
Archrock (AROC) - A 5.3% yielding DGI stock with almost 3x coverage last quarter. The dividend is expected to continue to grow by about 10-15% per year.
Capital Product Partners - A 13% tax advantage yield with no K-1!
Ladder Capital (LADR) - A 7.6% dividend which benefits from interest rate increases.
Leave the get emails button checked to receive notice of blog posts. We occasionally release short timely blog posts on opportunities such as this before they become full articles.
Disclosure: I am/we are long CPLP, INSW.PA. I wrote this article myself, and it expresses my own opinions. I am not receiving compensation for it (other than from Seeking Alpha). I have no business relationship with any company whose stock is mentioned in this article.
Additional disclosure: This article was previously released to members of Cash Flow Kingdom, the investment service where, "Cash Flow is King". The article discusses a risky investment in the volatile shipping industry. I do not know your goals, risk tolerance, or particular situation; therefore, I cannot recommend any specific investment to you. Please do your own additional due diligence.