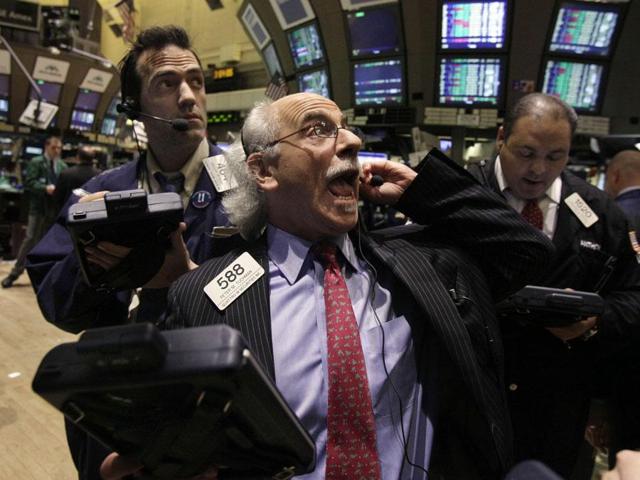 Source: BusinessInsider.com
5 More Reasons We May Be In A Bear Market Already
The S&P 500 (SPY) as well as stocks in general continued to be under pressure last week. In fact, the S&P 500 gave up roughly 6.5% in its last 3 trading sessions as various economic and political concerns continued to mount. This brings the S&P's total "correction" decline to roughly 11%, and its year-to-date performance to about -2.5%, putting the S&P 500 on track for its worst year since 2008.
S&P 500 5-Year Chart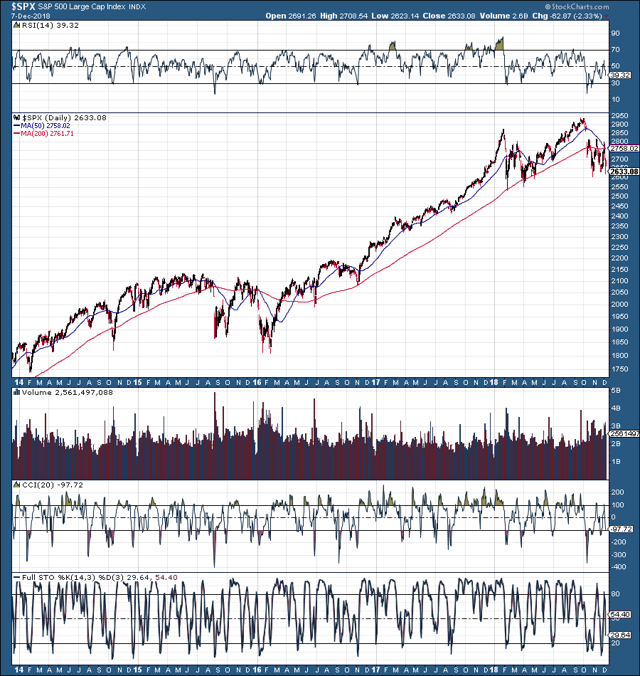 Source: StockCharts.com - In this chart, the S&P 500 appears to be hanging on the edge of a cliff.
Also, while the overall S&P 500 declines may seem "relatively modest," many of America's favorite and most widely held stocks are down by 20%, 30%, 50%, or even more in some cases.
So what is it with stocks? The $64,000 question now is whether this is just another correction or if we are indeed in the midst of a bear market already.
1. Sector Performance: Bearish Price Action Continues
The S&P 500 is not alone in its declines, and while the most widely watched stock market average is down by about 11% from its highs, others are faring even worse. The Nasdaq 100 (QQQ) is off by around 15%, and the Russell 2000 (IWM) is off by about 17%. The only major market average faring slightly better than the S&P 500 is the Dow Jones (DIA), which is off by about 9.3% from its highs achieved earlier in the year.
Other notable weak spots have become evident, Financials (XLF) are down by about 14% from recent highs, Retailers (XRT) are down by about 19%, and Oil Services (OIH) are down by a whopping 44% from their highs earlier in the year.
Remarkably, the FAANNG+M+BAT names, those same ones that have been leading the bull market higher in recent years. are off by about 36% on average from their highs earlier in the year.
So essentially, we have the market leaders, high alpha, and smaller cap stocks leading the declines. And now, we see other crucial forward-looking sectors like banking, retail, oil services and others accelerating their declines.
What's Not Tanking?
So what is looking good right now? Well, the first segment that comes to mind is Utilities (XLU), now up by more than 21% from the lows early in the year. One key factor to mention is that utilities were amongst the hardest hit sectors in the first correction earlier in the year but have outperformed substantially since then.
A similar phenomenon can be observed with Consumer Staples (XLP), now up by about 15% from the lows achieved after the first correction. Real estate, another safety haven appears to be outperforming. "Defensive" dividend paying stocks like Procter & Gamble (PG), now up by 32% from its 52-week low, Pfizer (PFE), now up by 33% from its 52-week low, and other perceived "safer-bets" have been outperforming for months now.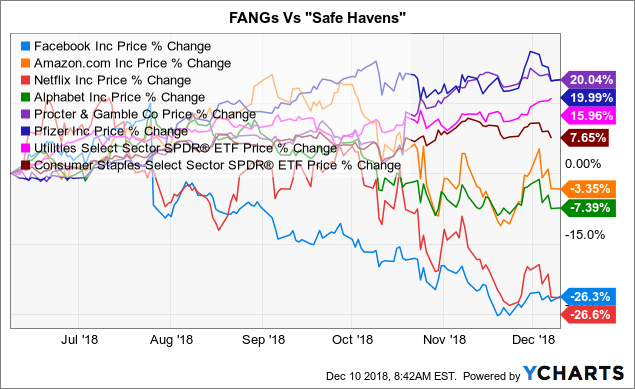 Moreover, this does not appear to be just a phase, it is a trend that started earlier in the year. In fact, I wrote about this back in May in my "It's Time To Add Some Recession Proof Dividend Stocks To Your Portfolio." The article focused on how FANGs were substantially overbought, and many defensive names were relatively cheap and were likely to outperform going forward.
Thankfully, I followed my own advice, reducing positions in FANG-related names, and substantially increasing holdings in Pfizer, Procter & Gamble, and other "safe haven" names, stocks that I have not owned throughout this bull market.
The ultimate point here may be that while the FANG debacle has been going on for some time, this trend of lower risk, defensive, and dividend paying equity exposure is probably just starting. Also, there is an increasing chance that stocks may be in the early stages of a bear market, and even if stocks do rebound to make new highs, gains are likely to be very limited, and the risk reward ratio is skewed significantly to the downside now.
Therefore, it makes sense to stay with the trend of lower higher alpha/higher multiple exposure, and higher defensive "recession proof" dividend paying exposure. Also, there is a mounting body of economic evidence that points to slower growth for the economy, continued rocky times for the stock market, and possibly even a recession on the horizon.
2. Economic Readings: Slowdown Already Here
Many key economic readings including employment, the consumer sector, manufacturing, orders, and so on have been lower than expected in recent weeks. In fact, there is a lot of red lately in this report, especially concerning the "important data." This is a stark difference to the sea of green usually witnessed when going through recent economic readings in the U.S. economy.
Even with some housing data bouncing back recently, it still doesn't look very promising due to much lower than expected results in recent months, lowered estimates, and the likelihood for a slight, transient rebound in this sector. Furthermore, the employment image appears to be souring, as last month's nonfarm payrolls missed by quite a large margin, nearly 50,000, or 22.5% lower than expected, also, 35% below last month's figure.
With the unemployment rate steady at 3.7% we are very likely past the point of peak employment in the U.S (as far as how the government measures employment). It's also important to mention that the current 62.9% labor participation rate is about at its lowest since the 1970s and is nowhere near the 66-68% rate witnessed between 1990-2008.
Also, the way the unemployment rate is computed is somewhat misleading in my view. The government appears to only account for those people who either have a job or have looked for work in the past 4 weeks. This essentially leaves millions of people out of the labor statistics. These are mostly people who want to work but have given up on looking for a job or have not sought out work in the last month. This means that the real unemployment rate is much higher, and considering that roughly 5.5 million people who wanted jobs were excluded from these statistics, today's unemployment rate could be around 7-8%, and not the advertised 3.7%.
Furthermore, employment is a lagging indicator, and given that nonfarm payrolls are starting to miss by substantial margins, the trend is likely to continue, and even the official government unemployment rate is likely to start to tick higher going forward. Given that employment is one of the primary statistics used to gauge the health of the economy a softer labor market will likely create an additional headwind for stocks going forward.
GDP Print: Growth Fizzling Out
GDP data is another crucial data point used to gauge the overall health of the U.S. economy, and is also a lagging indicator. GDP got off to a strong start earlier in the year, with a robust Q2 4.2% reading following the lackluster 2.2% Q1. There was talk, estimates even for close to a 5% Q3 surge, but that did not materialize. In fact, Q3 came in at an unimpressive 3.5%, and could get revised even lower going forward. Also, Q4 was being drummed up to be a big quarter, with initial estimates above 3%, then 2.9%, then 2.7%, now just 2.4%.
Growth is clearly fizzling out, and it is in part due to the phenomenon of late cycle stimuli I've talked about in previous articles. Tax cuts, infrastructure spending, and other initiatives introduced by the Trump Administration are having a very limited and transient effect on the overall economy.
Despite the well-intentioned gesture, implementing substantial fiscal policy so late in an economic cycle was a mistake in my view. It was a mistake from not only an economic standpoint but from a political one as well.
Essentially, all we received for the massive tax cut and fiscal spending is a slight extension of the current growth story. GDP increased modestly and temporarily, some jobs were created (mostly shorter-term), and many people who were already wealthy become even wealthier.
The significant downside risk now is that growth is drying up, and an economic slowdown, possibly even a recession, appears increasingly more likely. Perhaps the worst factor is that the U.S. budget has been depleted due to the premature stimuli, the country is looking at increasingly high deficits, as well as a staggering national debt.
3. National Debt and Budget Deficits are a Real Problem
For context, the U.S. federal budget deficit is at $841 billion (perpetually rising), and the national debt is approaching $22 trillion (about 106% of GDP). The major problem is that this debt needs to be serviced continuously, and as interest rates rise so do servicing payments which require additional funding from the depleted budget. The national debt is a serious problem and will continually to weigh more and more on the U.S. economy creating yet another substantial headwind for stocks.
Contrary to what Dick Cheney and other people in government may think, deficits do matter and can only be stretched so much before the increasing debt burden begins to weigh on the economy and on the living standards of ordinary Americans. Furthermore, due to the blown-out deficits government fiscal stimulus is likely to be much more limited during the next crisis. We are essentially looking just towards the Fed and monetary policy to inflate our way out of the next economic crisis.
4. Bond Inversion: Sign of Lower Rates to Come
Speaking of the next economic crisis, bonds are signaling that it may be much closer than expected. Bond rates have been narrowing for a while now, signaling that market participants don't expect rates to continue rising for much longer. Recently however, an inversion happened. This is a relatively rare occurrence and appears when a shorter dated bond begins to yield more than a longer dated one.
Currently the 2-year is yielding 2.72%, more than the 2.7% for the 5-year treasury. Typically, it makes sense for longer dated bonds to yield more. Say you want to hold this paper long-term, 30-years, then you should receive a relatively high yield for lending out your money for such an extended period of time. On the flipside, if you buy bonds (essentially lend money) for a shorter period of time like 3-months than the yield should be substantially lower.
Well, now the difference in yield between a 3-month, and a 10-year treasury is about 45 basis points, which is fewer than half of one percentage point. Also, there is only about a quarter of 1 percent difference between a 3-month and a 5-year T-note, and we know that the 2-year just past the 5-year yield.
We can also see that shorter dated bonds have been moving up substantially recently, while longer dated bonds have been underperforming. If you want to see something remarkable in the market, take a look at the 30-year which is down by about 20% over the last 5 years, currently yielding 3.15%, and the 3-month, which has surged from essentially yielding nothing from 2009-2016, to now yielding 2.4%. Another shorter-term rate, the 2-year has gone from just 0.32% to 2.72% in recent years.
30-Year T-Note 5-Years

Source: CNBC.com
3-Month T-Note 5-Years

This dynamic strongly implies that interest rates are going to go lower relatively soon. Investors are essentially looking to lock in the rate they can now on longer term bonds before the Fed causes rates to drop again. What will make the Fed reduce rates in the near future? A substantial economic slowdown or a recession.
5. Fed Tightening Likely to Continue
But for now, the Fed is still likely to continue its path towards "normalization". Currently, the chance for another rate hike 10 days from now (Dec 19th) is about 72.3%. The odds of a non-move is about 27.7%. The odds of a rate hike have decreased slightly in recent weeks due to the carnage in the stock market, and some of the subsequent statements made by Fed officials including Fed Chair Powel. Nevertheless, the Fed is still likely to raise rates, which would be another negative headwind for stocks.
Chances of Rate Increase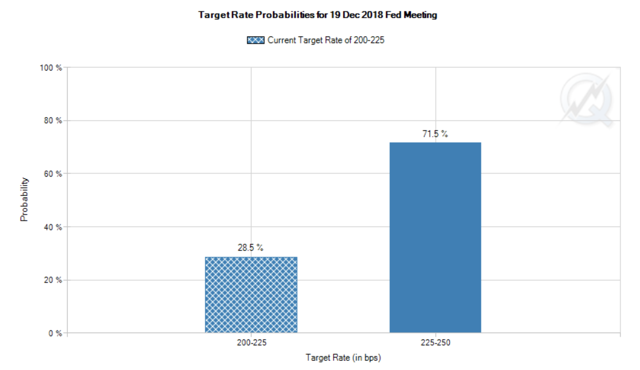 Source: CMEGroup.com
Also, even if the Fed chooses to hold off it may be perceived as weakness, and an indication that the economy is not doing nearly as good as advertised. Furthermore, there is the issue of not looking like the Fed is being influenced by President Trump and the White House.
The Fed is undoubtedly in a difficult position, and it may not be so much about raising rates to "cool" the economy right now, as it is to gather dry powder ready for the next crisis.
Being able to lower interest rates and institute some kind of bond buying program is instrumental in stimulating a falling economy in this age. Well, it typically takes monetary stimulus from the Fed, and fiscal stimulus from the government, but since the fiscal stimulus has already largely been spent, it puts extra pressure on the Fed to have appropriate monetary instruments on hand when needed.
Therefore, the Fed may be boxed in a corner and will likely need to continue with its bond selling QT program, and rate tightening well into next year. As this amounts to liquidity being sucked out of the market it will likely not reflect positively on stocks.
The Bottom Line: Outlook for Stocks Discouraging
Market internals, recent economic indicators, bond yields, the Fed's trajectory, burgeoning deficits and mounting debt, as well as various other factors are painting an ominous image regarding the stock market. Additionally, there are plenty of additional risks like the end result of the Mueller investigation, a potential government shutdown, a non-breakthrough concerning the China trade deal, near peak corporate profits, and much more that could put further pressure on stocks in the future.
Given the extraordinary obstacles confronting stocks right now we may very well be in a bear market already. Furthermore, even if new highs are reached in future months, they will very likely be extremely limited and the risk reward ratio is skewed substantially to the downside here in my view.
Therefore, I suggest continuing lightning up on long positions, especially the high multiple, high flyer names. Many sectors that may appear relatively inexpensive like financials, retail and others could also continue to underperform going forward.
Possible sectors/stocks to be overweight in include consumer staples, utilities, and high quality "recession resistant" defensive, dividend paying names like Pfizer, Procter & Gamble, and others. Additionally, the precious metals sector, including gold mining stocks may perform relatively well going forward. It's also possible to implement protection strategies by utilizing various hedging tactics designed to deliver extra yield, or profits when stocks move sideways or lower.
In any case, protect your gains, never be afraid to cut losers or take profits on the way up, and I wish everyone the best in navigating these stormy waters successfully.
Disclaimer: This article expresses solely my opinions, is produced for informational purposes only, and is not a recommendation to buy or sell any securities. Investing comes with substantial risk to loss of principal. Please conduct your own research, consult a professional, and consider your investment decisions very carefully before putting any capital at risk.
Want more? Want full articles that include technical analyses, trade triggers, trading strategies, portfolio insight, option ideas, price targets, and much more? To learn how to best position yourself for a rally in stocks please consider joining Albright Investment Group.
Subscribe now and receive the best of both worlds, deep value insight coupled with top-performing growth strategies.
Enjoy access to AIG's top-performing portfolio that has outperformed the S&P 500 by 40% over the past year.
Take Advantage of the limited time 2-week free trial offer now and receive 20% off your introductory subscription pricing. Click here to learn more.
Disclosure: I am/we are long SOME STOCKS IN NASDAQ, AND THE S&P 500. I wrote this article myself, and it expresses my own opinions. I am not receiving compensation for it (other than from Seeking Alpha). I have no business relationship with any company whose stock is mentioned in this article.