When I was writing that AK Steel (NYSE:AKS) shares "will be in the penalty box until the next earnings release" back at the end of October, I was rather skeptical about the short-term perspectives of the company's stock, but I surely did not envision the magnitude of the downside that followed: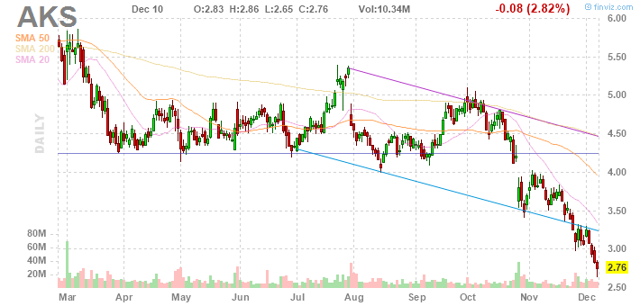 AK Steel stock faced a perfect storm. Of course, missing Q3 earnings expectations and presenting disappointing Q4 guidance was already a problem for the company's shares. This was exacerbated by volatility in the general stock market, U.S. – China trade war, correction in spot steel prices, Steel Dynamics' (STLD) decision to add more to U.S. supply and general distrust towards many steel names.
As a result, AK Steel now trades at less than 4 forward P/E. The same valuation is "enjoyed" by U.S. Steel (X). Steel Dynamics, which was typically perceived by the market as a better managed company, gets a valuation of less than 7 forward P/E in today's market. Can it get any cheaper?

AK Steel earnings estimates. Source: Yahoo Finance
The current valuation implies that earnings estimates will continue to drop – otherwise, there is no rational reason why a company can be valued so cheaply. Also, such valuations often imply liquidity problems. In AK Steel's case, the company does carry a notable debt load of $2 billion, but the near-term maturity schedule does not present significant problems:

Source: 3Q 2018 10-Q report
Given the fact that the company generated $250 million of operating cash flow in the first nine months of this year in what is widely considered as a disappointing performance, I do not see any serious concerns for the company's financial health in the near term.
Here are a few practical implications that I see:
AK Steel is in no near-term visible financial

distress. The shares can go lower if pressure on the steel names continues or the general stock market dives further, but the downside will likely be limited as valuation is getting cheaper and cheaper even as earnings estimates are corrected to the downside.

Being down about 50% year-to-date, the company is likely

a target of a year-end selling by investors who need to fix their losses on the stock.

A short float of above 20% (as per Finviz) suggests that short sellers also contribute to the stock price decline. If things go in AK Steel's favor, the relatively high short interest will serve as fuel for upside.
Given the sheer number and diversity of negative headlines (from U.S. – China trade war to new supply from Steel Dynamics), the market will demand tangible evidence of improvements from AK Steel before any sustainable upside can be achieved.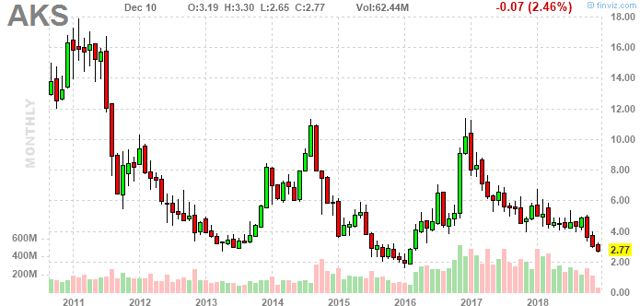 In my opinion, perspectives for Santa rally in AK Steel remain muted, although the stock may experience some technical rebound. However, due to the current low and, arguably, oversold levels, the stock deserves to be put on the "speculative buy for 2019" watchlist. While the fundamental part of the story is far from stellar (the company has disappointed investors many times), valuation will play an increasing role if the stock stays at current levels or even dives further due to year-end selling. Stay tuned.