Several big deals involving the Eagle Ford shale play have been announced this year. That includes BP plc's (NYSE:BP) $10.5 billion all-cash deal to buy BHP Billiton Limited's (NYSE:BHP) onshore oil & gas assets in America, and Chesapeake Energy Corporation's (NYSE:CHK) $4 billion almost all-stock purchase of WildHorse Resource Development Corporation (NYSE:WRD). Premium pricing for oil produced in South Texas and access to ample capacity on regional midstream infrastructure are the driving forces behind these transactions. Let's dig in.
Macro overview
According to the US Energy Information Administration, crude production in the Eagle Ford play peaked in 2014, but the gathering systems, takeaway pipelines, condensate splitters, and other midstream infrastructure constructed to support those volumes were left behind. This enables virtually all of the oil produced in the Eagle Ford play to reach out-basin markets where crude sales fetch preferential prices. Oil production in the Eagle Ford has been steadily creeping up since 2017, but is still a ways off from its peak, while natural gas production is back to the play's 2014/2015 peak. Natural gas realizations for upstream Eagle Ford players tend to be roughly on par with Henry Hub.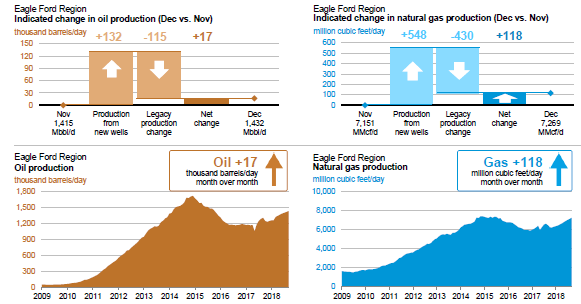 Source: EIA
Eagle Ford oil supplies have access to the Louisiana Light Sweet benchmark, which is based on oil deliveries to the Capline Pipeline in Louisiana. As LLS trades at a nice $6 per barrel premium to WTI as of this writing, upstream Eagle Ford operators are often selling their oil production for 10-12% more than the WTI benchmark. What makes this particularly important is that in most of America's unconventional oil & gas plays, crude is selling for significantly less than WTI.
For instance, Bakken crude is trading $5/barrel below WTI based on the pricing benchmark for those supplies in Clearbrook, Minnesota. Wyoming Insight notes the Wyoming Sweet to WTI differential stood at $4/barrel for most of November 2018. In the Permian Basin, pipeline bottlenecks are forcing upstream oil producers to sell some of their crude production for $8 per barrel less than WTI.
Selling crude below WTI makes the recent crash in oil prices all the more painful, and why having the ability to get premium realizations for that output can make a world of difference. Arguably, this is the main driver for the ongoing revival in the Eagle Ford. ConocoPhillips (NYSE:COP) was previously planning on ramping up its Permian developments activities starting this year. However, when the Midland-WTI differential exploded, Conoco directed that capital towards developing its Eagle Ford position instead.
BP joins the party
BHP started seriously contemplating selling its unconventional oil & gas division last year, representing a complete reversal in its strategic priorities. The metals giant spent $20 billion since 2011, acquiring assets to bulk up this portfolio, including its $12.1 billion purchase of Petrohawk Energy in 2011. Elliot Management, an investment management firm led by multi-billionaire Paul Singer, pushed BHP towards the sale.
For $10.5 billion in cash, BP acquired producing properties in the Eagle Ford, Permian Basin, and Haynesville regions. Just under half of the 190,000 BOE/d (barrels of oil equivalent per day) net BP acquired from BHP is pumped out of the Eagle Ford. During BP's latest quarterly conference call with investors, management communicated that the British energy giant would first allocate capital to the Eagle Ford before allocating additional resources to the Permian Basin. This deal closed on October 31, 2018.
Betting it all on the Eagle Ford
Embattled upstream player Chesapeake Energy announced it was going to acquire WildHorse Resource Development on October 30, 2018, in a deal that will primarily be funded with equity if it gets approved. Chesapeake Energy offered WildHorse Resource shareholders either 5.989 shares of CHK or 5.336 shares of CHK and $3 in cash for each share of WRD outstanding. The cash portion of this deal is being covered by Chesapeake's revolving credit facility and is estimated to cost the firm between $275 million-$400 million.
Chesapeake's pro forma acreage footprint in the Eagle Ford would almost triple in size to 655,000 net acres. The combined entity is producing around 150,000 BOE/d net, 60% of which is crude oil (as of Q2 2018 levels).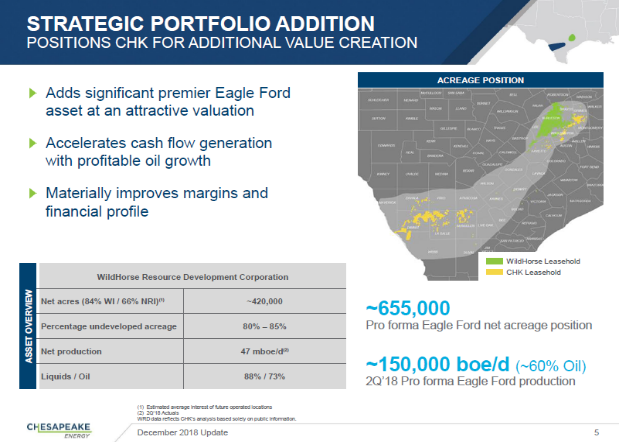 Source: Chesapeake Energy Corporation
In the past, Chesapeake has tried and failed to make liquids a larger part of its production base. That may finally change with the addition of numerous liquids-rich well locations to its inventory. Chesapeake expects that crude will represent 30% of its production mix by 2020, up from 19% at the time of the announcement. We'll see.
Chesapeake's management team is hoping a combination of operational synergies, premium oil prices, and rising crude production volumes will enable the firm to get a better handle on its $9.4 billion debt burden (as of the end of the third quarter of 2018). Unfortunately for Chesapeake, WildHorse Resources' net debt position rose from $930 million at the end of the second quarter to $1.1 billion by the end of the third quarter of this year. Fortunately for Chesapeake, its debt coverage metrics should still improve materially if the almost all-equity deal gets approved. This transaction is expected to close in the first half of 2019.
Final thoughts
Now that West Texas Intermediate is back down close to $50/barrel, expect to hear a lot more from the upstream industry about how happy they are to develop their "core" Eagle Ford positions. After factoring in transportation expenses, oil realizations in almost all shale/unconventional plays in America are now below $50/barrel. Except in the Eagle Ford, where the LLS premium (minus modest transportation expenses) will allow upstream players to continue getting per barrel oil realizations in the mid-$50s. Maybe that will stimulate additional M&A activity in the play, we will have to see. Thanks for reading.
Disclosure: I am/we are long BP. I wrote this article myself, and it expresses my own opinions. I am not receiving compensation for it (other than from Seeking Alpha). I have no business relationship with any company whose stock is mentioned in this article.