If you are on the prowl for a cloud-based software company with super-charged growth that is still in the early stages, then I have the one for you.
HubSpot (NYSE:HUBS) sells online marketing software.
They are the one-stop for CRM (client relationship management), email and sales automation, pretty landing pages, social media marketing, keyword research, website analytics, and lead generation tools all on one platform.
In general, HubSpot targets the SMEs (small and medium enterprises) and offers an intuitively designed product adding value to over 50,000 firms.
They even have a freemium package allowing newbies to sample the power the software tools possess.
This service starts its pricing at $50 per month for the basic package and it may not seem like much.
But then there are the add-ons that guarantee lead to a wave of additional upselling - a boon to quarterly revenue.
The initial price base is usually followed with price increases into the thousands because business needs more contacts to slot into its data silos and features to harness elaborate marketing campaigns.
This is all the cost of doing business and signals that HubSpot has the ability to carve out even more revenue than the starter packages they offer.
If companies are moaning about the boost in costs, I would lash back and say the added costs are warranted because of the enticing surge in productivity that scaling and better tools offer marketers leading to higher performance.
Plus, HubSpot isn't the only cloud-based software company offering add-on tools to massage the customer's demands.
These demands are multiplying by the day as marketing software becomes more complicated and sellers require hybrid-solutions to seal the deal with the end-buyer.
Sequentially, HubSpot's revenue is expanding ferociously up 35% from last quarter.
On a 3-year basis, HubSpot has demonstrated it can uphold a furious pace of growth averaging a 42% growth rate during this time.
The company is still smallish with a market capitalization of $5 billion, but that won't last for long as revenue expansion will reward shareholders with a higher share price.
Some of the positives from this marketing software are that its quality is highly competitive with other industry players such as Infusionsoft.
There will be certain companies that fit different software as marketing software is incredibly diverse.
The way that developers approach certain tools will naturally result in a different product altogether.
Specifically, I favor the centralization of HubSpot's tools.
The holistic nature of HubSpot's software makes the sum of the parts more valuable.
Online marketing is not just a one-day fly-by-night operation. Industry professionals would admit it's an arduous grind. They must commit to one platform because HubSpot has made it hard to hop around.
Specifically, I like that HubSpot locks up companies with 1-year contracts instead of a rolling month-to-month contract that encourages companies to jump ship whenever there is an incremental upgrade elsewhere.
This has the effect of smoothing over revenue with the recurring billing helping the CFO plan the future allocation of the company and, most importantly, retaining its core customer base.
HubSpot also charges for technical support topping up its revenue by deciding to avoid giving this service for free. Professional guidance shouldn't be free and, in digital marketing, you pay for what you get, period.
Catering towards its lower-end customers, HubSpot offers a comprehensive training and extensive support material making the platform easy to maneuver around from the get-go.
HubSpot is also integrated into Salesforce showing that it doesn't have to be the star of the show all the time but can play the role of supporting actor just as well.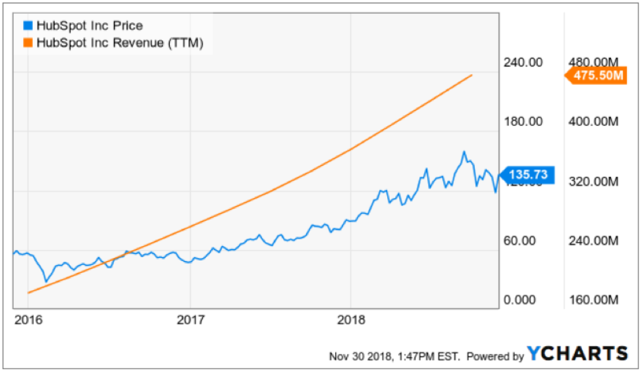 Revenue is revenue.
But I would personally go even further and claim that HubSpot's functionality not only blows Infusionsoft's, an online marketing competitor, out of the water, but it pushes omnipotent Salesforce (CRM) to its limits.
All of this means that HubSpot is predicted to surpass revenue of $500 million in 2018 after posting revenue of $375 million last year.
HubSpot doubled sales revenue in just two years.
Even though they are expanding from a small base and is blown out of the water by Salesforce on this metric, they are doing exactly what companies this size should be doing in the tech industry.
Stalling growth like over at Venice Beach at Snapchat's (SNAP) headquarter is a bona fide red flag.
Accelerating revenue is the most pivotal deal-clincher for investors and separates the men between the boys.
Technology is one of the few industries in the economy that have a panoply of companies able to accomplish this feat.
Like it or not, online marketing is one section of tech that is not going away.
Have you realized the heavy stream of emails alerting you to different services and products?
There is a high chance those emails originated from HubSpot and this trend is not going away.
Marketing email volume will only climb until the cost of emails rises substantially which I highly doubt.
Technology is getting cheaper and so is the cost of running a business because of this technology.
Being able to offer poignant tools to its customer base has led to a heavy dose of R&D spending increasing 63% YOY. Even with these higher expenses, HubSpot was able to deliver a stellar EPS beat last quarter posting 17 cents when the consensus was a minuscule 5 cents, beating the forecast by more than three times.
The future looks rosy for this company because we are just in the early innings of the digital revolution for smaller companies.
They will have to migrate or die out.
Even the IT staff at the Mad Hedge Fund Trader has integrated HubSpot into our bevy of software tools and there are no complaints.
The bottom line is that HubSpot grew its customer base 40% YOY to over 52,500.
That is hard to beat.
On the downside, lower average revenue per customer is a concern. The 4% drop is not in tune to what growth companies should demonstrate but I believe the reacceleration of investment into its marketing tools will bear fruit and elevate this dragging number.
That being said, the $9,959 per customer is not a shabby figure at all, and a certain reversion to the mean was due to take place at some point. I would be worried if this drop happened at a much lower average number.
When you delve deeper into the numbers, it appears as if the culprit was HubSpot offering too many teaser starter packages to lure in new business.
Therefore, a slight pricing hiccup for this online marketing company is a one-off and can easily be rectified by upselling its pricing packages from a more advantageous starting point.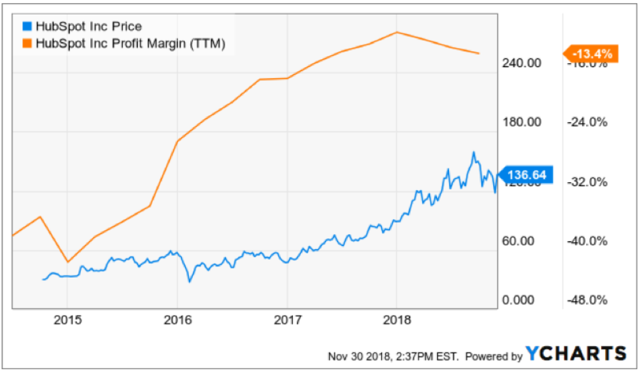 HubSpot doesn't need to dig deeper into the lower end of the bush league and pull out all the nasties.
Moving forward, the roadmap looks fruitful as HubSpot plans to migrate from the smaller companies to higher end and more lucrative business boding well for margin expansion and future average revenue per customer.
This will feedback growing capital into its R&D to develop even more shiny tools for these more advanced marketers.
Shares of HubSpot are a little frothy at this point, and if shares pull back to $120, it would serve as a premium entry point.
Online marketing works well and new business will be up for grabs as a whole slew of companies pivot towards online marketing giving HubSpot a chance to slice off another massive chunk of business powering up annual revenue.
If you have a small business and are considering traversing into the world of online marketing, then visit HubSpot's website at HubSpot | Inbound Marketing, Sales, and Service Software