Investment Thesis
Paycom Software (NYSE:PAYC) is a fast-growing U.S. cloud-based human capital management software company which shares have recently corrected from their all-time high. Even though the company's valuation seems to be currently stretched, its shares could continue advancing if the current PS multiple does not deflate.
Corporate profile
Paycom Software is an operator and distributor of a cloud-based human capital management software which ranked number five on this year's list of Fortune's 100 fastest growing companies in the world. According to Glassdoor employer evaluation portal, Paycom belongs to one of the best companies work for with over 900 employer reviews, albeit one of the most difficult companies for prospective employees to get an interview. The company has over 20,000 clients, none of which accounted for more than one percent of total revenue.
Founder as a CEO
According to conclusions of several academic studies, companies with their founder in the role of the CEO or other considerable influence on the business tend to substantially outperform their lacking-founder-as-a-CEO peers. Two years ago, global management consulting company Bain & Co. analyzed a few hundred founder-led companies and identified three elements that set the companies apart - a business insurgency, a front-line obsession, and an owner's mindset. The founder and CEO of Paycom Software is Mr. Chad Richison. Going forward, this is a desired characteristic that has the potential to get reflected in the share price and positively impact all the company's shareholders.
New office openings and targeting larger clients ahead
As discussed during the latest quarterly earnings call, Paycom plans to continue expanding current relationships and considers opening new offices in new markets. The company's intention with respect to its growth strategy is to open 10 to 14 new sales offices over the next two years. As described in the company's latest 10-K annual report, this is usually done through relocation of an experienced sales manager to a new location where he sets up a new office and recruits new hires. Besides opening new offices, the company also plans to target larger clients which contribute to a faster revenue growth.
Exceptional profitability metrics
Over the last five years, Paycom's profitability measures have soared reaching an all-time high in the second half of 2017. According to Reuters financial data, the company's trailing twelve months ROA, ROI and ROE currently amount to 4.7, 27.1 and 39.8 percent respectively. This represents approximately 1.8 to 2.3 times improvement from the company's five-year average figures.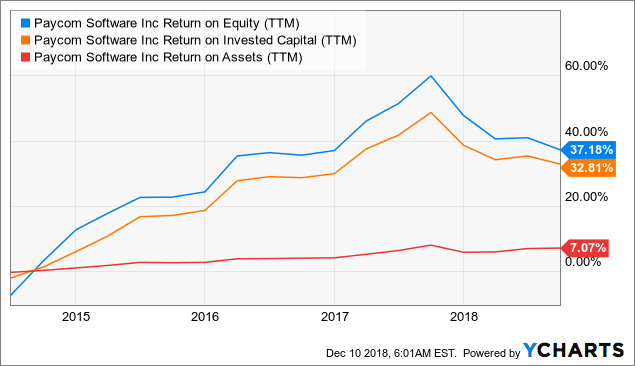 Stock repurchases are negligible
Although the company's management highlighted its commitment to keep returning value to its stockholders through repurchase programs, their effect on the overall number of shares outstanding has been negligible o far. In the third quarter of 2018, the company repurchased over 30,000 shares which have, however, represented just a tiny fraction of the company's total share count and therefore seems to be more of a marketing effort.
Valuation
Plugging-in Paycom's financial statements' figures into my DCF template, the company appears to be overvalued. Under perpetuity growth method with a terminal growth rate of 2 percent, constant 40 percent annual revenue growth over the next five years and 16 percent EBIT margin growing by 1 percent annually, fair value of the stock comes at US$50.5. Under the EBITDA multiple approach of a discounted cash flow model, the intrinsic value per share value of the company stands roughly at US$71 if we assume that the appropriate exit EV/EBITDA multiple in five years' time is around 10x.

Source: Author's own Excel model
Based on different valuation technique commonly-called as Peter Lynch earnings line, Paycom's shares look currently overvalued. Using the Fast Graphs forecasting calculator with a 26.9 percent adjusted operating earnings growth rate assumption, the company's intrinsic value by the end of December FY2023 is forecasted to reach US$146, which implies a total annualized rate of return upside potential of around 2 percent.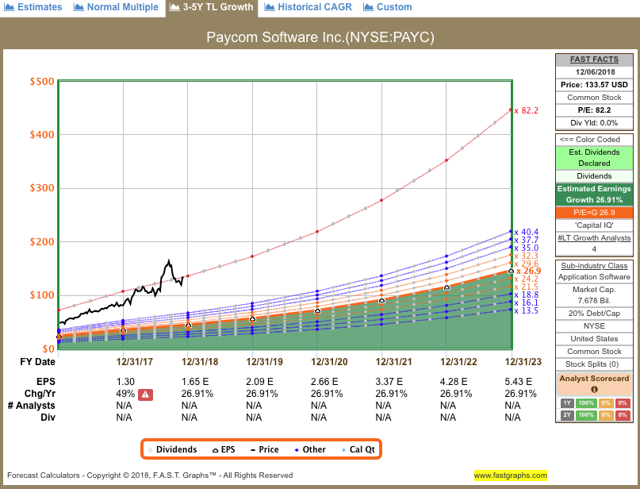 Source: F.A.S.T. Graphs
Lastly, in the light of revenue variation of Paycom's popular earnings line for the projection of intrinsic per share values of the company, Paycom's shares appear to provide a lot of room for both depreciation and appreciation. According to my model, assuming 40 percent annual revenue growth, zero percent annual equity dilution factor, a price-to-sales PS ratio of around 14x, the company's per-share estimation of intrinsic value by the end of 2021 could reach US$395. This suggests an average potential annualized rate of return of up to 30 percent in the following years. On the other hand, a scenario with PS ratio deflation to a level of around 2x produces a negative rate of return potential.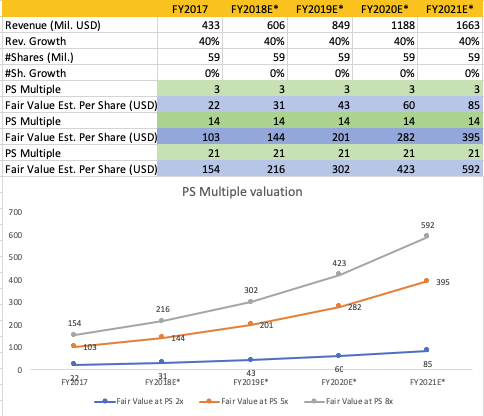 Source: Author's own Excel model
Key Risks
Changes in laws, government regulations, policies could adversely impact the company's operations and financial results.
If the company's security measures get breached or clients' data are misused, the company's reputation may be harmed.
Any disruption of the company's technical infrastructure or data centers could negatively impact the company's financial results.
The human capital management software market is highly competitive and if the company fails to compete effectively, the company's financial results could be negatively affected.
If the company fails to meet clients' needs, its financial results could be negatively impacted.
If the company fails to innovate and develop enhancements and keep pace with technological developments, its business can be negatively impacted.
If the company fails to retain or attract new qualified personnel, its business can be negatively impacted.
The company's acquisitions could divert the company's management attention and adversely impact financial results.
The company's growth is in part dependent on the success of the company's third parties such as various financial institutions, accounting and other related parties.
Adverse economic conditions negatively impact the company's financial results.
The issuance of additional stock could dilute the company's shareholder value.
The bottom line
To sum up, Paycom is an exceptional software company with outstanding profitability metrics. Nevertheless, based on three different valuation techniques, I perceive the company's valuation as stretched, particularly in the short term. In case the company's valuation remains stretched over the longer period of time, the company's shares could still provide an outsized return.
Disclaimer: Please note that this article has an informative purpose, expresses its author's opinion, and does not constitute investment recommendation or advice. The author does not know individual investor's circumstances, portfolio constraints, etc. Readers are expected to do their own analysis prior to making any investment decisions.