Key points
We have upgraded our call on U.S. government bonds to neutral on the view they should play a bigger role in balancing portfolio risk and reward.
Financials led developed market equities down. The minimum-volatility factor outperformed and the U.S. yield curve further flattened.
We see low probability of the UK parliament passing the government's Brexit withdrawal arrangement but still view a "no-deal" exit as unlikely.
Markets are becoming increasingly sensitive to any hints of an economic slowdown as we approach a late-cycle phase. The upshot for investors: a need for extra diligence in balancing risk and reward. We see U.S. government bonds playing a bigger role as portfolio ballast and have upgraded our view to neutral.
Chart of the week
Average 12-month returns in periods preceding U.S. recessions, 1978-2018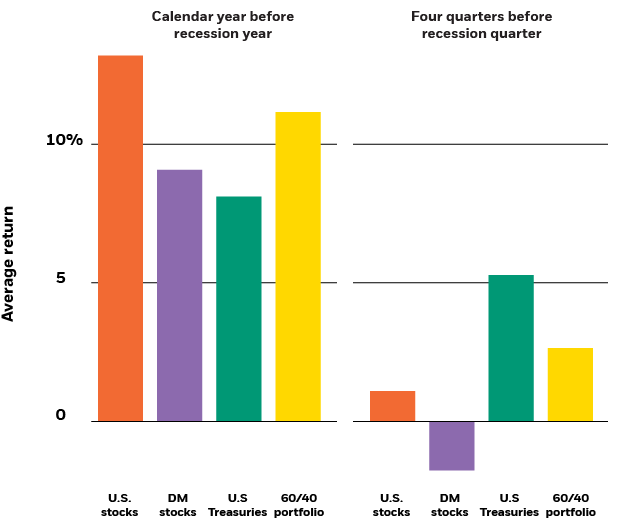 Past performance is not a reliable indicator of current or future results. It is not possible to invest directly in an index.
Sources: BlackRock Investment Institute, with data from Bloomberg and NBER, December 2018. Notes: The bars show average returns in selected assets in periods before U.S. recessions. The left-hand bars show the average returns in calendar years before the year in which a recession started. The right-hand bars show the average returns in the four quarters preceding the quarter in which a recession started. Recessions are as defined by NBER, with five recorded over the 40-year period. U.S. stocks are represented by the S&P 500 Index, DM stocks by the MSCI World Index, U.S. Treasuries by the Bloomberg Barclays U.S. Treasury Total Return Index. 60/40 refers to a hypothetical portfolio of 60% S&P 500 and 40% Bloomberg Barclays U.S. Treasury Total Return Index, weighted monthly. Equities reflect price returns and bonds total returns, all in U.S. dollar terms.
A U.S. recession is not imminent, in our view, yet trade-related uncertainty and fears of a slowdown challenging for risk assets. Our analysis puts recession probabilities as low for 2019 but rising to just above 50% by the end of 2021. We find equities have historically done well in late-cycle slowdowns. This includes even the calendar year preceding an economic downturn, as shown in the chart. Equity performance generally deteriorated as recession drew nearer, with U.S. Treasuries taking the lead as investors turned to perceived "safe havens." History may not repeat. The averages mask a wide range of market outcomes around recessions given differences in starting valuations and the character of each downturn. Yet history often can be informative.
Renewed focus on portfolio ballast
Still-easy monetary policy, few signs of economic overheating and a lack of elevated financial vulnerabilities point to ongoing economic expansion. Yet the U.S. economy is entering a late-cycle phase, and the likelihood of temporary risk-off events is higher with elevated uncertainty. Trade frictions and a U.S.-China battle for supremacy in the tech sector hang over markets. We see trade risks more fully reflected in asset prices than a year ago but expect the twists and turns of trade talks to cause bouts of anxiety. And we worry about European political risks in the medium term against a weak growth backdrop. See our 2019 Global Investment Outlook for more.
As a result, we see U.S. government bonds playing a greater role in portfolios. For one, they can cushion against any late-cycle selloffs of risk assets. In addition, the Federal Reserve's policy path may create a relatively benign environment for Treasuries. We see the Fed pausing its rate-hiking cycle at some point in 2019 to assess the effects of slowing economic growth and tightening financial conditions.
We prefer short- to medium-term bonds. Higher yields and a flatter curve as a result of the Fed's rate increases over the past three years have made shorter maturities an attractive source of income for U.S. dollar-based investors. Short- to medium-dated Treasuries now offer nearly the same yield as the benchmark 10-year Treasury, we find. Core European government bonds (such as German bunds) appear less attractive, as the European Central Bank's still-easy monetary policy pins down their yields at low levels.
Bottom line: Rising risks call for carefully balancing risk and reward: exposures to government debt as a portfolio buffer, twinned with high-conviction allocations to assets that offer attractive risk/return prospects such as EM equities. We prefer stocks over bonds, but our conviction is tempered. In equities, we prefer quality - free cash flow, sustainable growth, and clean balance sheets. We favor up-in-quality credit. We steer away from areas with limited upside but hefty downside risk, such as European stocks.
This post originally appeared on the BlackRock Blog.