This week hasn't let up as far as volatility goes. Bears seem to have the upper hand at the moment. Even with Monday's sharp reversal, there are still few people seemingly eager to buy stocks here. But let's zoom out for a minute and consider the bigger picture. I see the S&P 500 (SPY) hitting 3,000 next year. Here are some major bearish talking points, and why I'm not worried about them.
China
Every week, we get new headlines about the situation with the so-called trade war with China. Sometimes, more than once a week. The latest scare involves the situation with the Huawei CFO, and there will no doubt be more trade war headlines to fret over soon.
To me, the most clear analogy for this situation would be the long-running Greek drama. In 2011, when negative stories about the Greek debt and banking situation hit, stocks would make dramatic declines. Over time, the magnitude of these moves became smaller and smaller as market participants shrugged and said we've heard this before.
The same situation is setting up with this issue. You're probably thinking that China is way more important than Greece, and that's true. However, the EU, collectively, still has a GDP on par with the U.S, and as such, is significantly larger than China. Had the Greece situation ended in a sharply negative scenario, it could have caused a major run on European banks and sent other struggling states like Italy packing. Since those hypothetical events didn't occur, it's easy to look back and laugh at people who dumped stocks on those worries.
But arguably the same thing may be happening today. Sure, if the doomsday scenarios came to pass, and the U.S. and China froze trade relations, it'd usher in a deep global recession. But the odds of that are minimal. The longer the tariffs go on, the more disruption there will be. However, how bad is that really?
I'd argue the trade war isn't making a big difference, at least so far. There have been some earnings misses in industrials and materials (those sectors constitute just 12% of the S&P 500 in combination) but in general it doesn't seem to be having a large impact on American companies' earnings. On conference calls, you see it mentioned as a cop-out for bad results in the same way that management likes to blame the weather, the dollar, high gas prices, and other such excuses for poor results. At the margins, higher input prices are causing a slight erosion in profitability for some companies, but it doesn't see to be a major problem at this point.
So much of the rhetoric around the trade war seems based in politics, not economics. Those who oppose the policy use hyperbole to play up the risk and make the president seem foolish and incompetent. Those who support the policies point to the jobs created and saved, and ignore the real negative externalities. As an investor, however, it's important to put your political preferences aside and try to analyze the situation rationally.
When doing so, what we see now is a strong U.S. economy that can easily weather a slight increase in commodity costs due to tariffs. And for what it's worth, we know Mr. Trump is preoccupied with falling stock prices, so that should motivate him to get a deal done as quickly as possible. Over in China, they have more serious issues at the moment. The Yuan is struggling, and has probably required significant intervention to hold at the crucial 7.0 technical level. It's rumored that the banking system has large hidden losses, and that a great deal of capital is fleeing the country. Chinese equities listed in China have had a bad year. And so on.
If China continues to amp up the rhetoric with the U.S., they face an increasing risk of losing control of their currency and banking system. Since investors have so little access to hard data out of China, the country must keep up the appearance of success and progress. Lose that, and investors will panic and pull their funds. As such, it is imperative that China keep its best foot forward toward foreign investors. That includes making some sort of compromise with the Trump administration.
For a previous example, consider Mexico. The whole NAFTA renegotiation thing was a performance. As outlined in The Art Of The Deal Trump starts with a ridiculous way-over-the-top bargaining position, and then negotiates to something much more reasonable that still (in his view) picks up several favorable clauses or concessions. The new NAFTA deal after so much market panic and worries about "the collapse of Mexican-US relations" among other things ended up being largely the same as the old one. Hardly anyone even discusses it anymore.
It's unclear how long the trade spat with China will go on. Given the relative differences in the strength of the U.S. and Chinese economies at the moment, the longer it goes on, the more it should favor the U.S.' bargaining position. I fully expect both sides to come to a workable agreement in coming months, and stocks to rally sharply when they do.
The Fed
This is a very real risk to the market. The Fed has hiked excessively in the past, leading directly into a recession, see 2005-8 for an example. It generally takes about 9-12 months for Fed hikes to really reverberate through the economy. Thus when they hike a bunch of times in succession, often the economy is still digesting previous hikes while the Fed is hitting the brakes even harder. Since the Fed relies so much on data, which is generally backwards-looking, they can fail to see that they've overdone it until it is too late and credit losses start mounting in the financial system.
Is that happening this time? I'd say the jury is still out. The new Fed chair Powell appears to be more of a hawk by constitution than Yellen or Bernanke was. And so far, he's showed more backbone sticking to his policy plans despite a steep sell-off in emerging markets and an strong U.S dollar this year.
That said, it appears that even he will be forced to let up on the rate hikes. The Fed has markedly softened their language in recent weeks. The market is also pricing in far fewer 2019 hikes than it was in October.
And arguably more importantly, the market is becoming skeptical that long-term interest rates are heading much higher. Here are 10-year bond yields: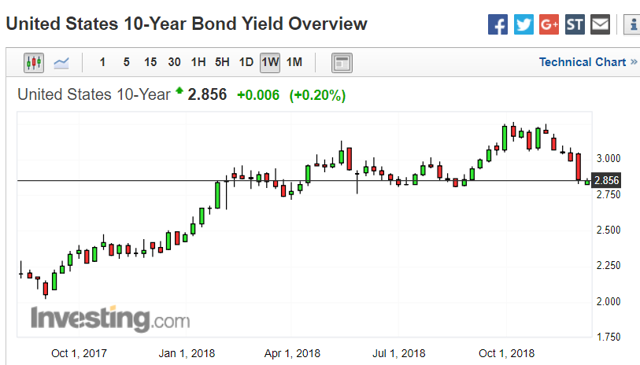 The 10-year yield first hit 3.1% early this summer, and has traded in a sedate range since then. Things got dicey for a moment at the beginning of October, as rates moved slightly higher, but they've fallen back into the range as stocks retreated.
Ultimately, rates will probably keep advancing for the time being once this stock market dip passes. But the pace at which they're moving is hardly a major concern. We were at 2.9% in March for example. Since then, interest rates haven't moved up even a single basis point more.
The Fed could very well be the cause of the end of this economy expansion and/or stock market boom. But it is unlikely to end things in the near future. The Fed would need to keep hiking steadily in 2019 to really concern me. At this point, interest rates are not sufficiently problematic to cause a bear market.
Other Assorted Factors
Regarding oil, the move to $80 earlier this year required some optimistic thinking about OPEC's intentions. But there's little evidence that we have a massive supply glut such as what led to $27 oil a few years ago either. I expect oil to settle down in the $50-$70/barrel range and not have a major impact on the broader stock market.
Moving on to earnings, this is the key tenet of the bullish argument. Corporate earnings are amazing right now. I think most market participants underestimate just how huge a deal the corporate tax cut was for the market.

Source: Yardeni.com
The bears had a decent argument in 2014-15 as earnings had stopped going up. Since the stock market's long-term value is driven by earnings, once earnings stop increasing, you have increasingly ripe conditions for a fresh bear market.
However, in late 2016, earnings started steadily picking up again. And then, as you can see, the corporate tax cut set off a huge move higher. In one quarter, S&P forward earnings went from $140 to $160, and are over $175 now. If you value the market at 15x forward earnings - a reasonable number - the S&P's fair value went from 2,100 a year ago to 2,650 now. Put another way, at historical median market PE ratios, the S&P is now worth 550 points more than it was a year ago. Stop to think about that for a second. Bears are fighting a massive wave in shorting the market here. That's even before we consider the huge share buyback programs that will sop up sellers.
Additionally, for all the talk of a supposed revenue slowdown, it's only occurred in select industries and sectors. Overall, corporate revenues are booming, and in fact, the speed of the incline is accelerating.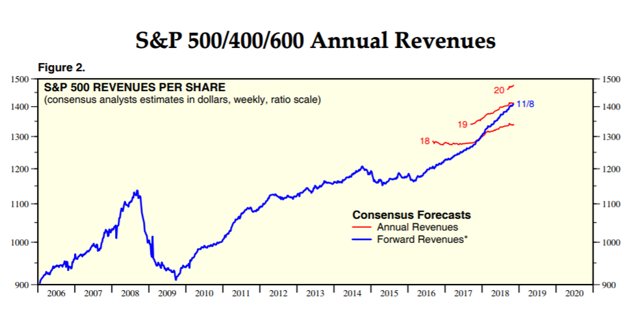 Compare this to the major correction in 2016, where earnings had flatlined and revenues had actually declined somewhat since late 2014. Conditions are far healthier now than they were then; on a purely economic fundamentals basis, the market had much more reason to drop then than it does now.
To be fair, you could argue that this isn't a fair comparison since both revenues and earnings from the energy sector collapsed in 2015. It's a reasonable point. But money tends to recirculate; one company's falling oil revenues is another company's improved consumer sales. I'd argue the economy is clearly far stronger now than it was in early 2016, and also that we're not on the brink of another massive plunge in oil either.
How will things play out going forward? Traditionally, markets tend to rally heading into New Year's; December is the most bullish month of the year on average. We've gotten off to a rough start this December, but there's still plenty of time for a Santa rally.
Beyond that, however, we may trade in a range for awhile. Market participants are reasonably nervous, and the things triggering this concerns, such as interest rates and China tensions, are unlikely to resolve in the next few weeks. Also, it's worth considering that the U.S. Dollar has had a strong year, and on top of that, most foreign stock markets and struggled in 2018 (data through November 16th) (note that the returns are in US dollars, not local currency):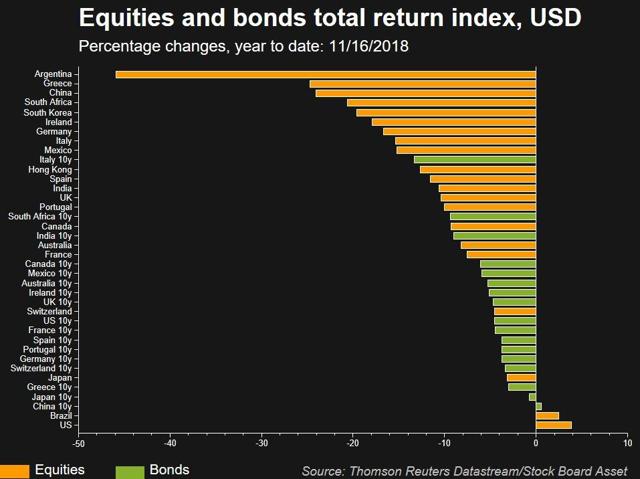 Long story short, for U.S. Dollar based investors, only U.S. stocks, Brazilian stocks, and Chinese bonds have produced positive returns year-to-date out of major countries. It would not surprise me at all if U.S. assets take a bit of a pause, while beaten down foreign markets put in a recovery. The divergence between U.S. stocks (orange line) and the Vanguard Total World Stock ETF (VT) is getting rather dramatic - especially since VT itself is about 50% U.S. stocks: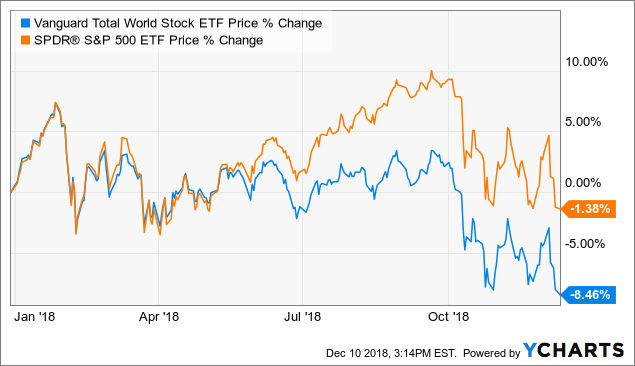 That said, after a pause, I expect stocks to move higher and find fresh new all-time highs around 3,000 in the first half of 2019.
Sentiment
This is a chart from the American Association of Individual Investors, which measures their members' outlook on the market every week. Many professional investors watch it as a potential contrary indicator. The chart below is the net of bullish investors minus bearish investors (ignores those that respond neutral):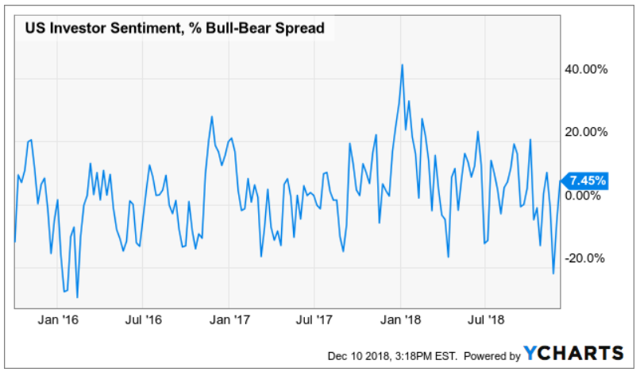 As we can see, there have been only three real sustained periods of unusually strong sentiment over the past three years. The first was in early 2016, when we came (arguably) the closest that we've been to a bear market since 2011. Had the China situation spiraled a little more, stocks could have easily gone past the -20% bear market threshold. In hindsight, however, fading the crowd was the correct call, January '16 was an excellent time to buy stocks.
In late 2016, sentiment spiked and remained elevated for quite a few weeks. This came about with the surprise election of President Trump. In this case, the crowd seems to have done alright - those who bought stocks at this time enjoyed solid returns.
Finally, sentiment spiked early this year as the S&P 500 roared up 5% in a month to start the year. In hindsight, this was a lousy time to buy stocks; the market tanked in February, and has not advanced since bouncing back from the February lows.
Sentiment during this correction has not reached 2016 level troughs, but the spike down last week did break the -20% threshold for the first time in almost three years. You can make a case that things got negative enough for this to have been capitulation selling. Especially heading into a dead period of holiday trading, it's unlikely that markets will plunge here. And what doesn't go down will go back up. Sharply higher earnings will continue to be a powerful tailwind for the stock market heading into 2019 once the current market jitters pass.