Shares of global jewelry retailer Tiffany (TIF) have fallen off a cliff recently due to troubling third-quarter numbers which affirmed broader slowdown concerns across the whole jewelry industry. As of this writing, TIF's stock trades about 40% off recent highs. We have been warning about this slowdown for several months now (see here and here), and do not believe the worst is over yet. There are many headwinds working against Tiffany here and now. Those headwinds do not project to ease anytime soon. As such, the "buy the dip" thesis on TIF's stock lacks conviction in the near to medium term, and this stock should be weaker for longer. That being said, once the dust settles, this stock does have healthy upside from here in a long-term window.
In late August, following Tiffany's stellar second-quarter earnings report which caused the stock to pop to all-time highs, we warned that not all was perfect in the Tiffany kingdom, and that the pop was unsustainable. Namely, we pointed out that despite headline beats, U.S. comparable sales growth slowed from 9% in Q1 to 8% in Q2, despite what was broadly perceived as an uptick in consumer strength during that stretch. We warned that if global comparable sales growth followed U.S. comparable sales growth and slowed, too, the stock could be due for trouble, since the stock trades on global comparable sales growth. When that metric is trending higher, the stock trends higher. When it's trending lower, the stock trends lower.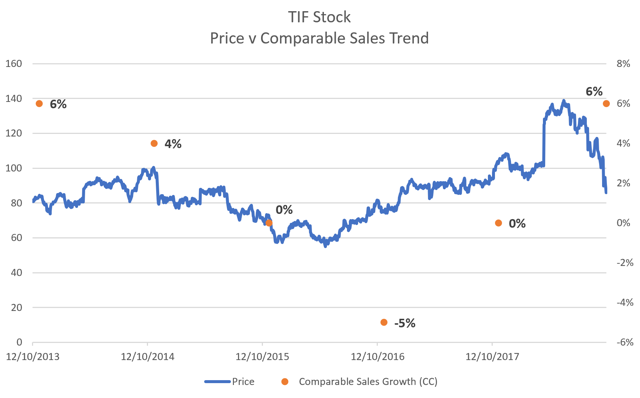 (Source: SEC Filings, note: most recent 7% data point is for first half 2018)
Fast forward a few months, and growth is slowing. In Q3, U.S. comparable sales growth in the Americas slowed to 5%, from 8% the prior quarter. Similar slowdowns happened in the APAC and Japan regions. Meanwhile, total comparable sales growth slowed to 3%, from 7% the prior quarter.
Overall, it has become increasingly clear that Tiffany and the entire jewelry industry are suffering from a broad and significant slowdown. The catalysts behind this slowdown are quite obvious. Rates are going up. That is hampering big-ticket demand by bringing up borrowing and financing costs. Jewelry purchases fall under that big-ticket umbrella. Meanwhile, trade war headwinds are creating cost and supply issues for Tiffany, while clearly weighing on greater Asia demand (APAC and Japan average comparable sales gain slowed to 3% in Q3, versus 9% in Q2).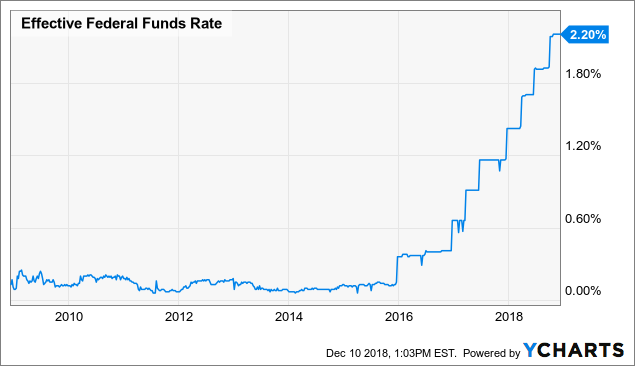 These headwinds aren't going to ease anytime soon. While the Fed is taking a more cautious, wait-and-see approach to rate hikes, rates are still projected to go higher from here. The higher rates go, the more jewelry demand will be adversely impacted. Moreover, while the U.S. and China have struck a ninety-day trade war truce, nothing material has happened on the trade war front since, and it looks increasingly likely that trade war headwinds are here to stay for a lot longer.
As such, the headwinds that have slowed Tiffany's growth over the past few months will persist. That means Tiffany's growth rates will continue to come down. As seen in the chart above, that is bad news for TIF's stock. The lower comparable sales growth rates go, the lower the stock goes. Ultimately, that means you don't want to buy TIF's stock here and now. Comparable sales growth trends will continue to drop, and as they do, they will bring TIF's stock lower. Until those growth trends find a floor, you don't want to buy TIF's stock.
But, those growth trends will inevitably find a floor at some point in the future. We do not know when that will be. Historically, such sales downdrafts last no more than two years, if that, so 3 to 8 quarters of slowdown feels like a reasonable estimate.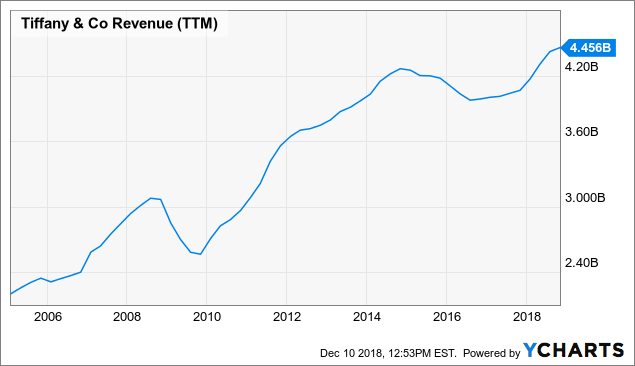 At that point in time, once comparable sales stabilize, TIF's stock will become a buy. We think this is a company that has staying power in a enduring demand industry, mostly due to its brand value among millennials. Millennials may not be buying diamonds in bulk as much as their parents, but when they do buy jewelry, they are buying it from Tiffany. This has been true for multiple years, and we don't see this trend reversing any time soon. Tiffany is the millennial favorite brand in the jewelry sector, and this positions the company favorably for growth over the next decade.
Thus, with the stock's valuation sitting at a multi-year low near 18 forward earnings, the long-term buy thesis looks compelling. But, near-term risks are high, so we will hold off on buying this dip until comparable sales trends normalize. We don't see that happening any time soon. As such, TIF's stock will remain weaker for longer.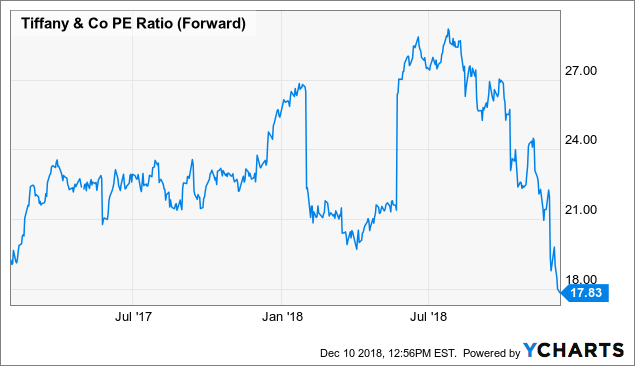 Disclosure: I/we have no positions in any stocks mentioned, and no plans to initiate any positions within the next 72 hours. I wrote this article myself, and it expresses my own opinions. I am not receiving compensation for it (other than from Seeking Alpha). I have no business relationship with any company whose stock is mentioned in this article.