My investment career is still very short (roughly 2.5 years) and as such the volatility we are now experiencing daily in the markets is certainly new to me. That said I have been actively watching how the stock markets behaved from 2007 - 2010 and although I am deeply regretting it not to have started investing back then I at least have seen how emotions eventually drive the markets.
Right now stocks are trading in a up-and-down range of at least 1% on a daily basis with sharp up and down swings during the day. Concerns on economic growth and a shaky trade truce exact an increasing toll on the market amid rising inflation and interest rate woes. Anxiety is mounting and market commentary is shifting increasingly bearish due to rising recession risk, wider corporate credit spreads and a yield curve feared to be inverting.
Previously, when markets dropped like 10% from their highs the "buy-the-dippers" showed up but this time it increasingly looks as if new lows are about to come.
Buy the Dip or Sell the Rally?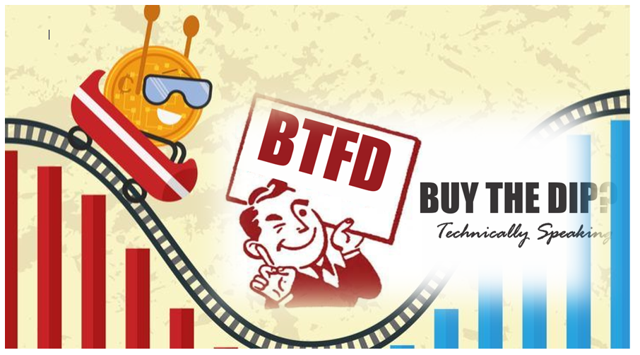 Image Source: Yahoo Finance, Real Investment Advice (all image courtesy remains)
In such an environment I take great relief from the fact that from a dividend investor's point of view all this does not matter as long as the companies can support their, hopefully, growing payouts. It helps focus on what really matters, i.e. not to dump shares at prices previously considered bargains but instead either add but at least hold my core positions. This sounds easier said than done and although on a portfolio level I certainly stick to this I still sometimes get dragged into some spontaneous selling and buying of individual shares being torn between raising cash in case of further downside and thinking long-term. In the end I know that I will never be able to get the timing right and as I would regret far more missing out on a huge bull market than on a temporary 30% or more bear market the direction to take is crystal clear.
Portfolio Changes | 0 new stocks, 2 sales, and 19 repurchases
I deployed a rather tepid $1,600 in fresh capital in November as the aggressive buying throughout the year has taken its toll. Now that many of my favorite stocks are trading at very attractive valuations I only have limited capital available to "exploit" that but that's definitely a learning for the future.
So what I did was to sell my remaining shares in Omega Healthcare Investors (OHI) as that stock has had such a phenomenal rally since hitting $25 earlier in the year and I feel that the fundamentals have not improved in line with that massive rally. This means that I realized a sizable loss with my Omega investment of around 15% as I already sold half of my holdings when the stock crashed to $27. Had I continued to hold these shares and sold them now I would have realized a sizable gain but in hindsight everything is easy. I still believe that the decision was right and that Omega is a very risky business to be invested in. I will miss that dividend income for sure but I have redeployed the proceeds of the sale into Main Street Capital Corporation (MAIN), Ares Capital Corporation (ARCC) and Shell Midstream Partners (SHLX).
I also closed my position in Albemarle (ALB) at a healthy $105 as it provided little dividend income and was one of the few stocks in the green in my portfolio. Right now that timing seems to be excellent with the stock trading a full $15 lower which makes this stock already tempting again to be bought back but that currently applies to a lot of shares., especially in the tech sector.
Apple (AAPL), one of my largest positions, got crushed in November and December and has almost erased all of its gains as it tanked from $235 to $165 within a few weeks on various concerns which I all do not really share. Analysts and investors are fearing an "i-Phonecalypse" but I rather view Apple's current price as an excellent long-term buying opportunity. No matter what happens with the current iPhone generation, I am very confident that Apple will continue to be the most profitable business raking in massive amounts of cash flow and returning it to shareholders. Although for the stock, every new iPhone needs to be a blockbuster, for the company that is certainly not the case as it has more than enough firepower to nail the next one again. I do not give a lot of thought to what is happening in Apple's supply chain or whether Apple cannot grow the number of iPhones it sells. What is more important in the long run is that customers will flock into Apple's ecosystem, stay there and generate predictable and rising income for Apple. And investors not buying the "Services" story should always consider that Apple's R&D spending has been rising continually and sooner or later it will release an entirely new product category. And if that does not work out, it can simply buy into new markets and design a superior product. Thus, I added to my holdings but only slightly as my capital to be deployed was very limited in November.
I trimmed my holdings in Nvidia (NVDA) right after the earnings call and before the stock reached its recent low of $146 as I was expecting worse to come. This was a deliberate short-term trade and has nothing to do with my long-term road to financial independence. I doubled my small position in Activision Blizzard (ATVI) right before and after the earnings release which in hindsight was very bad timing as the stock dropped far more in the followings weeks than I had expected. It does not alter my long-term view on the company but rather shows me that it may make sense to wait a few days after a big drop as mostly an initial sell-off is further accelerated by subsequent downgrades and other negative commentary from Wall Street analysts.
I deployed most of my capital into Royal Dutch Shell (RDS.B), one of my largest portfolio holdings, as I was very impressed by the company's recent quarterly earnings and surprised about the negative market reaction coupled with declining oil prices. As a result Shell was back yielding over 6% and I took advantage of that. Shell's free cash flow generation is already second to none and only expected to get stronger in the coming years as the company proceeds with divesting non-core and underperforming assets as well as investing in cash flow generating future projects. The oil price will always be important for Shell's results but the level at which Shell is able to operate profitably is much lower compared to before it acquired British Gas. For dividend-hungry investors, Shell's current yield produces ample dividend income. Once the transitional phase of divestments, stock repurchases and lowering the gearing is complete I expect Shell to quickly return to dividend growth making it an even better investment. By the time this point has been reached though the stock is likely to be substantially higher and thus today's setup presents one of the best long-term investment opportunities.
Repurchases
My repurchases break down as follows:
1) Continue ongoing monthly stock savings plans: These are routine investments between $50 and $115 each into Wells Fargo (NYSE:WFC), Visa (NYSE:V), McDonald's (NYSE:MCD), Johnson & Johnson (NYSE:JNJ), Apple and the lesser-known Commonwealth Bank of Australia (OTCPK:CBAUF).
2) Invest in dividend and growth stocks:
One additional share in Alibaba (BABA) following strong business results which continue getting overshadowed by tariff fears and economic growth concerns.
Three more shares of Altria (MO) as the stock tanked on fear of a menthol cigarette ban and even tougher regulation. It has been a very disappointing investment so far but I continue to believe in the prospects of the company, especially in the vaping and cannabis space. People will continue to smoke, the only thing that changes is probably what. As long as I have this thesis, I will hold the stock.
Two more shares in AbbVie (ABBV), yet another dividend growth stock getting crushed and trading at very low valuations. I do know about the risk that Humira sales could fall off a cliff but there is risk with every company. Every successful company has to constantly manage risk, innovate and adapt its business model. Not investing because there is risk would mean not to invest at all which I consider to be a much bigger risk.
All net purchases and sales in November can be seen below: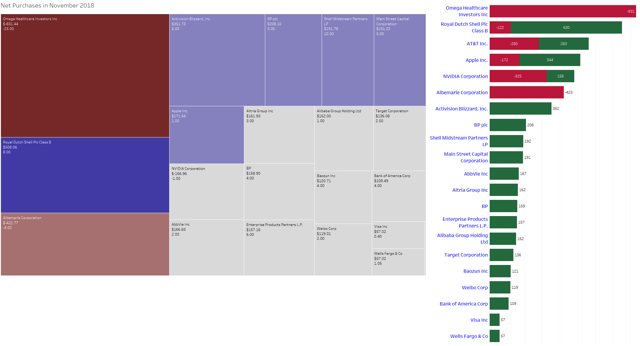 Dividend Income: What happened on the dividend side?
My income from 22 corporations amounted to $238 in dividends, up 30% Y/Y and up 16% sequentially.
That is the bright spot in my portfolio and the main reason for what I am doing what I am doing as otherwise I would simply by some broad market ETFs and not care about individual stocks. However, seeing how the payouts from individual companies continue to increase over time due to a combination of dividend raises and continued purchasing is a very rewarding experience.
In November almost 50% of income is attributable to stocks which have deeply underperformed either in recent weeks or during the entire year: AT&T (T), AbbVie and Apple. This "AAA Group" of stocks provides sizable dividend income in my portfolio but each of these businesses faces big business risk, at least according to the markets. For AT&T the stakes couldn't be higher as it is game on in the streaming wars. For AbbVie, it is the potentially sharp sales decline once its blockbuster drug Humira sees its patent expire. For Apple it is concerns about slowing or even declining iPhone units as demand for its ultra-expensive XS/XR series seems to be lagging. While all these risks are real all these companies have been dealing with risks for decades and always emerged stronger. I am carefully monitoring the situation and currently continue to view these big sell-offs as exaggerated overreactions.
All dividends break down as follows: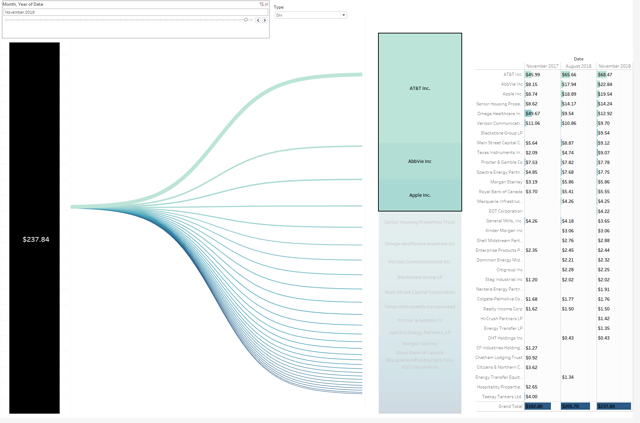 The dashboard above shows how the monthly dividend income breaks down into individual stocks. It also shows the change in income versus the previous quarter and year.
I also created a new dashboard which shows all-time dividends by stocks clustered in a tree map which best shows the relative importance of each holding. Let me know in the comments section if you think this is a useful visualization.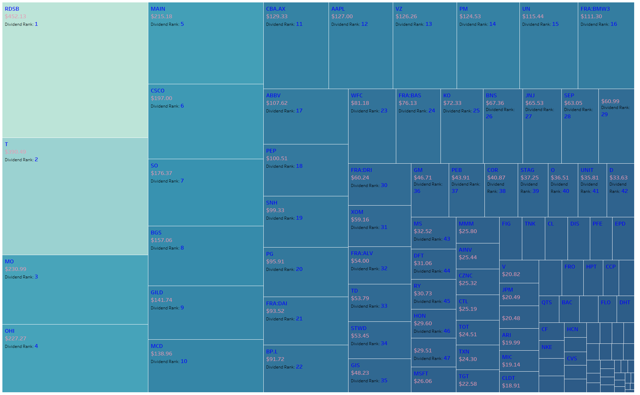 Here is a look at my favorite chart: the net dividend income development by month over time between 2015 and 2018, where you can easily see the development of my dividend income as well as the average annual dividend in a given year: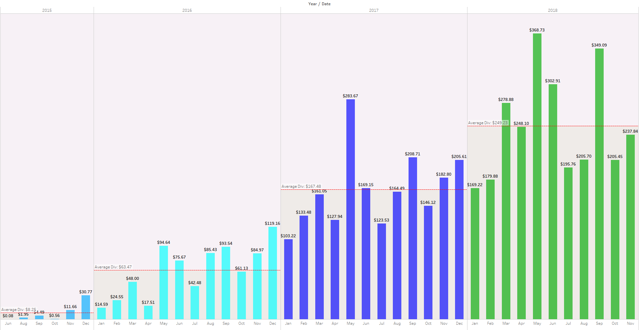 Next, I have scattered all the individual dividend payments I have ever received and colored them by year, rearranging the years side by side rather than horizontally as in previous updates: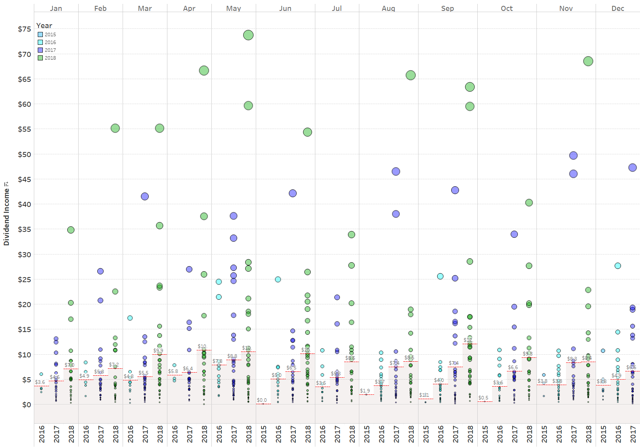 The readability of the numbers is rather poor, as there is so much data, but the bigger picture becomes apparent regardless of these numbers. I am just looking at the size and quantity of the bubbles as they keep on climbing higher and expanding in size.
It remains fascinating to watch how all these metrics develop over time. Right now, as I am still in the early stages, these metrics are not that impressive but the growth is truly striking, and all these instruments help me measure it and provide meaning to it.
Speaking in terms of meaning, another way to express the monthly dividend income is in terms of Gifted Working Time (GWT). I am assuming an average hourly rate of $25 here. My annual target is to replace 120 hours of active work with passive dividend income. This translates to $3,000 in annual net dividends, or around $250 per month.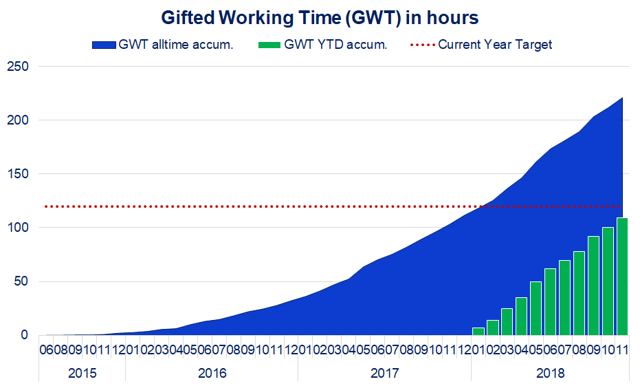 What this shows is as follows:
All time (blue area) - Around 221 hours, or 27.7 days, of active work have been replaced with passive income since the start of my dividend journey. Assuming a 5-day work week, that equals more than 5 full weeks, or more than an entire month, of vacation funded via dividends.
YTD (green bars) - Around 110 hours, or 13.7 days, of active work have been replaced with passive income in 2018 already. If the target of 120 hours is achieved by year-end, this represents a total of 15 days, or three full weeks, of active work to have been replaced by passive income. We are at 91% of our annual goal, and with 8.3% of the year remaining, we remain right on track to hit and potentially exceed it by accounting for a strong quarterly finish in December.
My portfolio composition
As of end of November, based on cost basis and previously mentioned clustering, my portfolio is composed as follows:
Value - 54% (+1pp)
Growth - 40% (+1pp)
Speculative - 6% (unchanged)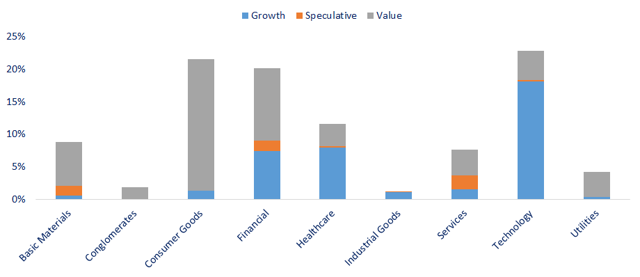 By holding, it looks like this:
| | | |
| --- | --- | --- |
| AT&T Inc. | (T) | 5.52% |
| Apple Inc. | (AAPL) | 5.00% |
| Royal Dutch Shell Plc Class B | (RDS.B) | 4.71% |
| Altria Group Inc | (MO) | 3.47% |
| Cisco Systems, Inc. | (CSCO) | 3.13% |
| Gilead Sciences, Inc. | (GILD) | 3.04% |
| Micron Technology, Inc. | (MU) | 2.94% |
| Mcdonald's Corp | (MCD) | 2.83% |
| AbbVie Inc | (ABBV) | 2.65% |
| Commonwealth Bank of Australia | (ASX: CBA) | 2.56% |
| Southern Co | (SO) | 2.35% |
| Main Street Capital Corporation | (MAIN) | 2.20% |
| Johnson & Johnson | (JNJ) | 2.05% |
| Wells Fargo & Co | (WFC) | 2.04% |
| 3M Co | (MMM) | 1.84% |
| Daimler | (OTCPK:OTCPK:DDAIF) | 1.77% |
| B&G Foods, Inc. | (BGS) | 1.72% |
| Siemens Healthineers | (SHE) | 1.68% |
| Philip Morris International Inc. | (PM) | 1.61% |
| Texas Instruments Incorporated | (TXN) | 1.38% |
| Microsoft Corporation | (MSFT) | 1.37% |
| Toronto-Dominion Bank | (TD) | 1.35% |
| Bank of Nova Scotia | (BNS) | 1.35% |
| Baozun Inc | (BZUN) | 1.29% |
| Bank of America Corp | (BAC) | 1.27% |
| PepsiCo, Inc. | (PEP) | 1.25% |
| Canadian Imperial Bank of Commerce | (CM) | 1.24% |
| Bayerische Motoren Werke AG Preference Shares | (OTCPK:OTCPK:BMWYY) | 1.22% |
| Dominion Energy Inc | (D) | 1.19% |
| Honeywell International Inc. | (HON) | 1.14% |
| Verizon Communications Inc. | (VZ) | 1.11% |
| Alibaba Group Holding Ltd | (BABA) | 1.03% |
| Intel Corporation | (INTC) | 0.99% |
| Procter & Gamble Co | (PG) | 0.96% |
| The Coca-Cola Co | (KO) | 0.94% |
| BASF | (OTCQX:OTCQX:BASFY) | 0.91% |
| Morgan Stanley | (MS) | 0.91% |
| Senior Housing Properties Trust | (SNH) | 0.87% |
| NVIDIA Corporation | (NVDA) | 0.81% |
| Wirecard AG | (OTCPK:WRCDF) | 0.79% |
| Spectra Energy Partners, LP | (SEP) | 0.77% |
| General Motors Company | (GM) | 0.74% |
| Target Corporation | (TGT) | 0.72% |
| Sixt | (OTC:SXTSY) | 0.71% |
| Blackstone Group LP | (BX) | 0.71% |
| Facebook, Inc. Common Stock | (FB) | 0.71% |
| Royal Bank of Canada | (RY) | 0.71% |
| BP | (BP) | 0.67% |
| Tableau Software Inc Class A | (DATA) | 0.65% |
| Ares Capital Corporation | (ARCC) | 0.63% |
| JPMorgan Chase & Co. | (JPM) | 0.62% |
| General Mills, Inc. | (GIS) | 0.62% |
| Bayer AG | (OTCPK:OTCPK:BAYZF) | 0.61% |
| Allianz SE | (OTCQX:OTCPK:AZSEY) | 0.57% |
| Drillisch | (OTC:OTC:DRHKF) | 0.56% |
| HUYA Inc - ADR | (HUYA) | 0.54% |
| Nike Inc | (NKE) | 0.54% |
| Walt Disney Co | (DIS) | 0.48% |
| Advanced Micro Devices, Inc. | (AMD) | 0.47% |
| Exxon Mobil Corporation | (XOM) | 0.47% |
| Stag Industrial Inc | (STAG) | 0.46% |
| Pfizer Inc. | (PFE) | 0.46% |
| Realty Income Corp | (O) | 0.46% |
| Enterprise Products Partners L.P. | (EPD) | 0.43% |
| Pebblebrook Hotel Trust | (PEB) | 0.43% |
| Fresenius SE | (OTCQX:OTCQX:FSNUF) | 0.43% |
| CoreSite Realty Corp | (COR) | 0.42% |
| Citigroup Inc | (C) | 0.41% |
| IQIYI Inc | (IQ) | 0.39% |
| Activision Blizzard, Inc. | (ATVI) | 0.36% |
| Starwood Property Trust, Inc. | (STWD) | 0.35% |
| QTS Realty Trust Inc Class A | (QTS) | 0.35% |
| Teekay Tankers Ltd. | (TNK) | 0.34% |
| Centurylink Inc | (CTL) | 0.33% |
| Colgate-Palmolive Company | (CL) | 0.33% |
| EQT Corporation | (EQT) | 0.32% |
| Shell Midstream Partners LP | (SHLX) | 0.31% |
| Walgreens Boots Alliance Inc | (WBA) | 0.30% |
| Uniti Group Inc | (UNIT) | 0.30% |
| Lanxess AG | (OTCPK:LNXSF) | 0.29% |
| Kinder Morgan Inc | (KMI) | 0.27% |
| Consolidated Edison, Inc. | (ED) | 0.27% |
| Osram | (OTCPK:OSAGF) | 0.25% |
| Macquarie Infrastructure Corp | (MIC) | 0.25% |
| Vonovia | (OTCPK:VONOY) | 0.24% |
| Nextera Energy Partners LP | (NEP) | 0.24% |
| Omega Healthcare Investors Inc | (OHI) | 0.23% |
| Atlassian Corporation PLC | (TEAM) | 0.18% |
| Dominion Energy Midstream Partners LP | (DM) | 0.18% |
| MediGene AG | (OTCPK:MDGEF) | 0.18% |
| Fresenius Medial Care | (FMS) | 0.17% |
| Apollo Commercial Real Est. Finance Inc | (ARI) | 0.13% |
| Apollo Investment Corp. | (AINV) | 0.13% |
| Weibo Corp | (WB) | 0.12% |
| JD.Com Inc | (JD) | 0.12% |
| Hi-Crush Partners LP | (HCLP) | 0.12% |
| DHT Holdings Inc | (DHT) | 0.12% |
| Brookfield Infrastructure Partners L.P. | (BIP) | 0.12% |
| General Electric Company | (GE) | 0.11% |
| Incyte Corporation | (INCY) | 0.08% |
Disclosure: I am/we are long ALL STOCKS MENTIONED. I wrote this article myself, and it expresses my own opinions. I am not receiving compensation for it (other than from Seeking Alpha). I have no business relationship with any company whose stock is mentioned in this article.
Editor's Note: This article discusses one or more securities that do not trade on a major U.S. exchange. Please be aware of the risks associated with these stocks.