Summary
The global economy is slowing dramatically.
8 countries, including several major economies, contracted in the most recent quarter.
The US economy is slowing as well which makes this global slowdown in growth far from just a blip.
Let's Talk About Growth - 8 Countries Don't Have It
The conversation has moved from globally synchronized growth to a global slowdown in a matter of weeks. First, the shift started as a global slowdown excluding the United States as many analysts believed the US could remain decoupled from the rest of the world but that has since dissipated.
Most media outlets and pundits are fully aware of the global growth slowdown (including the US) but my fear is that most are simply looking at prices and believe there is a slowdown only recently as prices of nearly every equity market has come down.
In Q3, eight economies contracted. Most of this data is for the months of July-September. Equity markets did not start to tumble domestically until October.
Even now, bullish analysts claim that this is simply a soft patch in global growth and the expectation is for a rebound.
Below I wanted to highlight the eight countries that did not show any growth in their last reported quarter. Some economies are small and quite troubled, not surprisingly showing large contractions, but others are bellwether economies that should make investors nervous about the health of the global economy.
Argentina has many issues including a currency crisis. It is rather unsurprising to see a large contraction in growth in Argentina.
Argentina GDP QoQ Growth Rate:

Source: Bloomberg
Turkey has been one of the weakest equity markets in the world falling over 40% year-to-date according to the iShares MSCI Turkey ETF (TUR). Turkey is not an insignificant economy and the social and political risk has escalated.
Source: Bloomberg
Japan, the world's third-largest economy also contracted, falling 0.6% in their latest quarter. The iShares MSCI Japan ETF (EWJ) has fallen roughly 11% year-to-date in response to weak economic conditions.
What is important to remember is that many analysts are quick to shift all the blame for the global weakness on tariffs and trade wars but nearly all the countries mentioned here are not heavily involved in trade negotiations.
Source: Bloomberg
Germany, the fourth-largest economy also showed a negative growth rate in the latest quarter. Germany is supposed to be the strongest economy in Europe but social and political unrest also plague the automaking nation in addition to a recent economic slowdown.
The iShares MSCI Germany ETF (EWG) is down 21% year-to-date and is one of the worst international market performers.
I submit that if the world's third and fourth largest economies contract at the same time, there may be something to this global growth slowdown story.
Source: Bloomberg
Switzerland, often looked at as a beacon of stability, showed a negative growth rate in Q3 as well. The iShares MSCI Switzerland Capped ETF (EWL) has fallen nearly 8% year-to-date as the global economy cools.
Switzerland GDP QoQ Growth Rate:

Source: Bloomberg
Sweden printed a contractionary growth rate in Q3 as well, declining 0.2%. The iShares MSCI Sweden Capped ETF (EWD) has dropped 14% year-to-date.
Source: Bloomberg
Italy has been riddled with economic trouble for many months including ongoing budget battles with the EU and one of the most unhealthy banking systems in the entire world. The contraction in growth out of Italy is not surprising although it is not insignificant as Italy has one of the largest sovereign bond markets in the world.
The iShares MSCI Italy Capped ETF (EWI) has plunged 17% year-to-date.
Source: Bloomberg
Lastly, Saudi Arabia has printed several negative quarters of GDP in the past two years. The recent decline in the price of oil is unlikely to help many oil-dependent nations. Typically countries that rely on oil pump more aggressively for cash flow when their economy starts to slip and this could result in lower prices.
The recent OPEC+ meeting resulted in a consensus supply cut of 1.2 million barrels per day but the question of adherence is always up in the air when it comes to cartels.
As of this writing, oil has given back all of its OPEC+ gains and is trading just above $51/barrel.
Saudi Arabia GDP QoQ Growth Rate:

Source: Bloomberg
When it comes to the performance of various assets, the most important factor is growth and inflation or more specifically, the rate of change in growth and inflation.
If growth moves from 5% to 2%, sure, that is still 'growth' but don't expect any asset linked to that economy to perform well. The trending direction of growth is the most important factor and what asset prices respond to.
Many investors, in my opinion, like to overcomplicate the approach to assets, moving beyond growth and inflation or even worse, not including them in their analysis at all.
Growth and inflation are more powerful forces than tax cuts, buybacks or other ancillary factors that cause a bullish narrative.
If growth and inflation are trending lower, expect weak equity performance. The table below of 33 international equity ETFs demonstrates that to be true.
No Growth = Weak Equity Performance: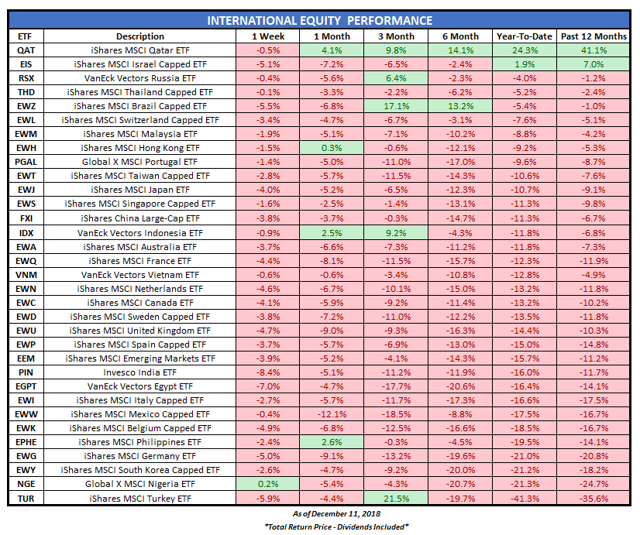 Source: EPB Macro Research
Asset prices have declined dramatically in 2018 due to a global slowdown in growth and inflation.
Many investors make the mistake of waiting for a recession and claim that although growth is slowing, it is not contracting. That is a critical error. Assets respond to slowing or accelerating growth, not positive or negative growth.
If you are looking to see a reversal in global assets, ask yourself one simple question, "Is growth going to continue to slow or will it accelerate in the months ahead?"
If you believe growth will continue to slow from here around the globe, you can expect continued weakness in asset prices. If we are at a trough and global growth is going to re-accelerate throughout 2019, you may be at a great entry point into some beaten down international markets.
Currently, with the data on hand, I am in the former camp, suggesting the global economy will continue to decelerate in growth rate terms for at least the next two quarters. That thesis will be updated with each additional data point that rolls in.
At EPB Macro Research, we use a strictly data dependent approach to global and domestic economies/markets.
Risk Management & Portfolio Allocation Strategy
EPB Macro Research uses macroeconomic data to identify inflection points in the economy and provides two asset allocation models that are best suited for the current environment so that your portfolio is always protected from the next downturn.
If you would like to see the complete asset allocation model with exact percentages, consider joining EPB Macro Research.
There is no risk in trying EPB Macro Research for a free two weeks.
Be prepared for the next major market move.
Disclosure: I/we have no positions in any stocks mentioned, and no plans to initiate any positions within the next 72 hours. I wrote this article myself, and it expresses my own opinions. I am not receiving compensation for it (other than from Seeking Alpha). I have no business relationship with any company whose stock is mentioned in this article.