The story behind the interview:
Stocks (SPY), gold (GLD), and crypto (OTCQX:GBTC) all seem to be covered in bad news and beaten down prices. When can investors expect things to turn around? Brian and Avi discuss what sentiment is saying about the future and how investors can potentially benefit.
For those who prefer to read, my full interview notes are copied below.
Note: Views expressed in interviews and notes are those of interview guests and may or may not reflect those of the author.
Link to Avi Gilburt's original article:
Sentiment Speaks: Are We Approaching A 'Once-In-A-Century' Type Event In The Stock Market?
Interview notes:
Many people looked at 2008-09 event and view it as the major market collapse that we have seen in our lifetime. Avi does not see it that way. He believes the true top was hit in early 2000 and since then we have spent over 8 years in consolidation (2000-09). This was a 4th wave consolidation which has him looking for a 5th wave higher with a minimum target of 3000.

We are still completing a rally that began in the 1940s. 2000 was the peak of the 3rd wave within the longer term 3rd wave. This is leading up to the 5th wave to complete the 3rd wave of the 1940 bull.

Avi's minimum target higher is 3225 with the potential of 4100 but need to complete the current 4th wave before having more clarity.

In 1940 Ralph Nelson Elliott made the best market call of all time by calling for an 80-year bull market..."[1941] should mark the final correction of the 13-year pattern of defeatism. This termination will also mark the beginning of a new Supercycle wave (NYSE:V), comparable in many respects with the long [advance] from 1857 to 1929. Supercycle (V) is not expected to culminate until about 2012."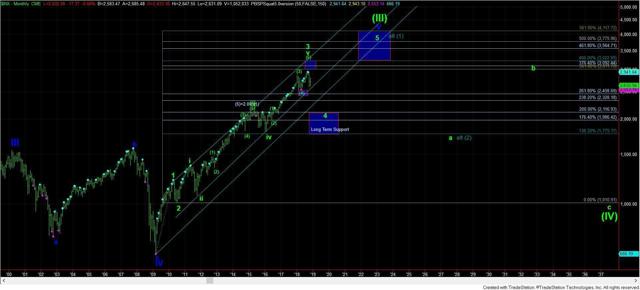 Avi is looking for a 4th wave down beginning in 2020ish. The 2nd wave down was the great depression and the 4th wave down could be more devastating than great recession (2008).

Some further detail breakdown:

A wave was 2000-02, B wave was 2002-07, and C wave was 2007-09. He is looking for a similar pattern to play out here but to a bigger degree.

As a bigger picture view, the 2030s will be where the real pain will be felt and the early to mid-2020s (maybe 2022-24) will be the beginning of the A wave (ex: 2000-02) and 2030s will be the C wave (ex: 2007-09) where the real pain begins.

2008-09 was much more painful to masses than 2000-02

Avi is looking for a rally for here that will set up for a bigger downside. This rally will set us up for a drop down to around 2100-2200. This will be in 2019 then a multi-year rally into 3200 or more.

Within these moves up and down, there are shorter term opportunities for trades, etc

Elliott wave is not 100% but has around 70-80% accuracy.

Views on Precious Metals

The market is very bifurcated at this point and looks very similar to the end of 2015 where some stocks are signaling major bottoms and others have yet to bottom. All of this creates a push and pull on GDX.

Longer-term views still hold. The HUI (gold bug index) is similar to the DOW in 1940. The HUI actually hit its low at 100 as the Dow did back in ~1940. Avi expects a bull market in gold similar to the 80-year bull we've seen in the Dow.

Avi's bullishness on gold is unchanged, just a matter of time for a breakout and notes that gold and silver could still hit lower lows from here.

His ideal target on GLD was 109 but sees potential to fall as deep at 105-6 in coming months. As long as it stays over 104 the bull move should be intact, falling below this would delay for several years.

Views on Bitcoin and Crypto

We are in a bottoming scenario on Crypto and Avi has a very bullish view going forward (ex: Ethereum to $6000).
To have interviews delivered to your mobile device, please subscribe on iTunes.
Disclaimer: This article is for information purposes only. There are risks involved with investing including loss of principal. Brian and Investor in the Family make no explicit or implicit guarantee with respect to performance or the outcome of any investment or projections made. There is no guarantee that the goals of the strategies discussed by Brian and Investor in the Family will be met.
Disclosure: I/we have no positions in any stocks mentioned, and no plans to initiate any positions within the next 72 hours. I wrote this article myself, and it expresses my own opinions. I am not receiving compensation for it (other than from Seeking Alpha). I have no business relationship with any company whose stock is mentioned in this article.