Part 2 of the stock "dump" series starts now (Part 1: 'The Micron Dump'). Today I'm going to show my Netflix (NASDAQ:NFLX) short at 14+X sales and the 385 gap retracement. After an interesting experience walking readers through Micron (MU), I have learned a few things....
Some people were willing to accept there are other ways to look at the market beyond strict fundamental analysis
Some were interested in learning even though they were down big
Some felt I was gloating
Some were completely undeterred and dug further into their approaches.
Let's first address the gloating issue. For the who were offended, I apologize. Please see my background. I'm a lifelong student of the market, and have the lumps to show for it. These trades were all done in real time and given away for free on my Twitter feed. They are the culmination of my work over decades and I enjoy sharing them for educational purposes only.
Many complain about the overvaluation of markets, excessive monetary policy and so forth, but then claim we can't know when it ends. My focus is on understanding all this, and still trying to time it.
Further post Micron, I'm happy to answer questions/comments. I enjoy it. I won't answer any "great tell us what's next" or "hindsight is 20/20" stuff. I have found these are often people looking to go backward, not forward. I will engage with those who have realistic questions about approach, markets, valuation, products, company prospects and so forth. Happy to do so.
For those who can see ahead a little bit, the comments on my Twitter threads and on other articles can be incredibly illuminating for investors when done correctly.
Netflix
Today let's look at Netflix. This should hopefully go down smoother as I suspect many readers understood there was a lot of hot air in this name. I'm sure plenty were neutral or short. Furthermore today I will add credit dynamics so we further bolster the fundamental approach as well, while still tying in the chart for proper timing. Here we go....
Netflix Short
September 23rd
The trade started on Sept. 23 when price retested the upper gap after breaking trend. This is a key area of weakness when a trend breaks (detailed technical readers look up volume on the gap down).
Two weeks later on Oct. 10 the price began to break. Note I mentioned to study how momentum dies. This was a critical part of my analysis. One thing these pieces are designed to do is not only help think about how to short stocks, but also when to sell stocks. Momentum is the most fickle thing in the market, and many are only focused on the good side. The turn is where the good money also is made, particularly after a big rally.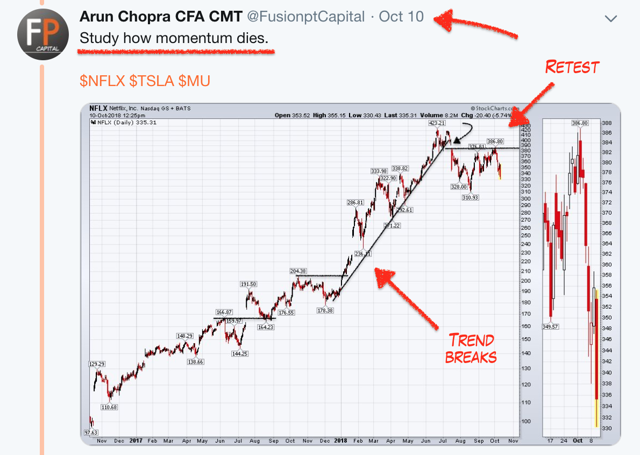 October 14th
Switching gears a bit to the fundamental side of the ball, I commented four days later on the broadening out of the valuation. Now, this is not traditional fundamental or technical analysis. It's just analysis of valuation and thoughts on behavior.
I mentioned however that this makes sense when you think about it from a distribution standpoint. Outside the scope of today, but volume analysis during the time the valuation was broadening suggested serious distribution.
From a selling standpoint this makes sense in terms of lightening up on an expensive position over time. It is done over time at a variety of levels, trying to find an average price/value to get out at overall.
On the 17th Netflix reported earnings. The "beat" was initially seen as good in the following days trading. I instead said the following as it was clear to me there were big issues (beyond the chart and gap which still loomed).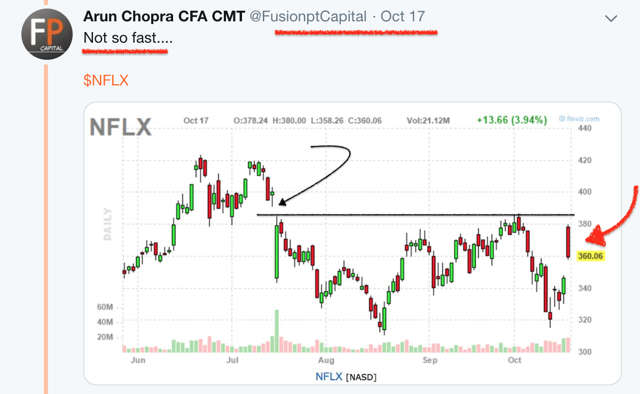 The issue with the fundamental numbers was the clearly increasingly levered landscape. I put this chart out on the same day, the 17th. The important thing here is to see the fusion between the technical picture and the fundamental issue.
The bottom line, price was sitting on a longer term trendline while interest expenses were rising and cash flows continue to deteriorate (yes due to content library). This at a time the stock was still priced for relative perfection (11X sales).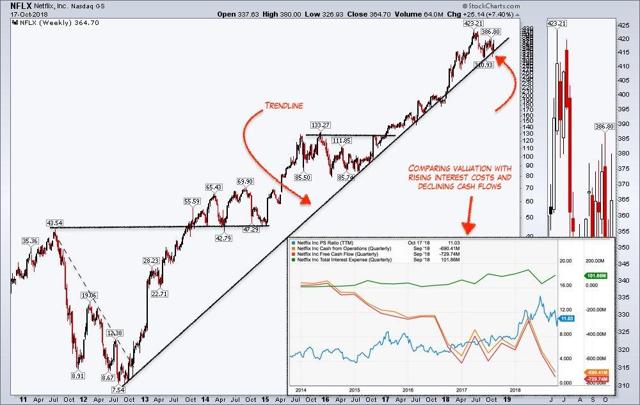 Two days later the price had stalled and I switched to the weeklys and commented that maybe the narrative was changing. The news was starting to be digested and price action proved it was becoming uncertain. The doji on a weekly basis was suggestive of a market that wasn't comfortable with the report. That's because the stock traded a wide range up and down. This is what candle data can tell us when fused with fundamental knowledge.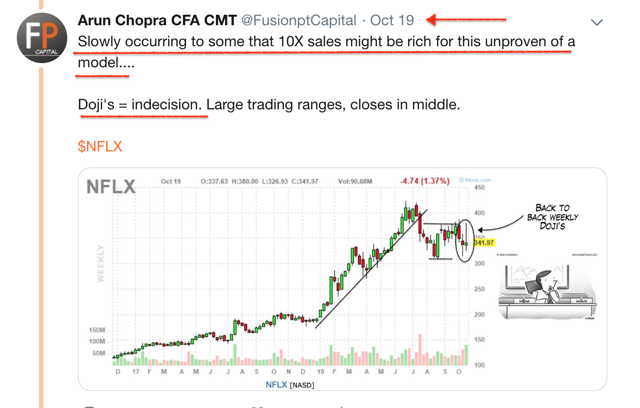 Credit Dynamics and the Fed
The big underlying issue with Netflix equity was naturally credit. Although subscriber numbers were growing, the dynamics of funding this beast are in flux. I showed the bond market already had been backing up on them to the tune of 6%-plus on the longer dated maturities.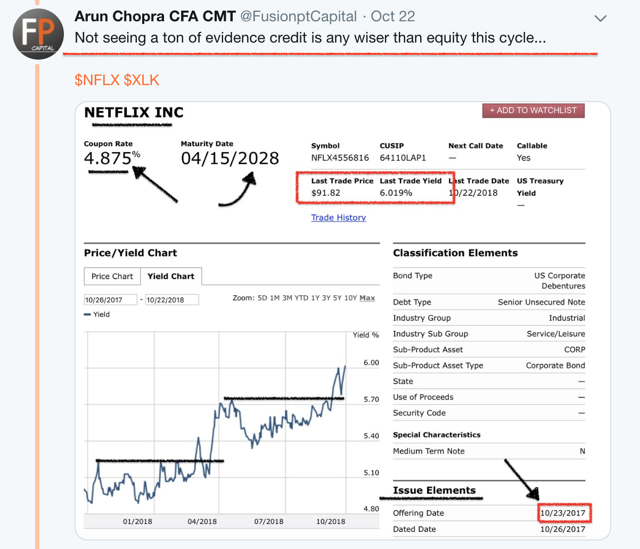 Related to credit and for the more fundamentally orientated thinkers, here's another thought on why these stocks got clobbered on a price and premium basis.
Channel Surfing
Now let's take a slight step back but a much easier way to analyze the combination between fundamentals and technicals. Every now and then price and valuation just line up to perfection. I pulled this post earnings but before the real price dump. The below is a monthly chart with the trend channel on Netflix since the start of the company. You can see the extremes.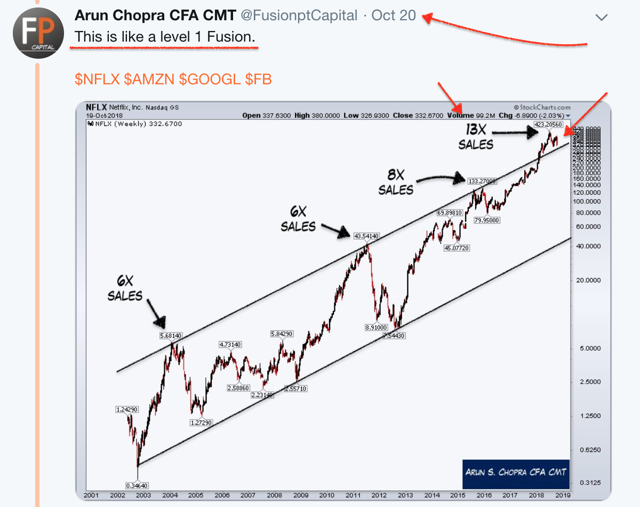 This channel concept is one I highlighted in real time at the top in bitcoin and in my article "The Bitcoin Bonnanza."
Ultimately price outside a long-term channel is a real problem as momentum generally surges and sentiment is high. If valuation is extreme then it's about as fat a pitch as one sees.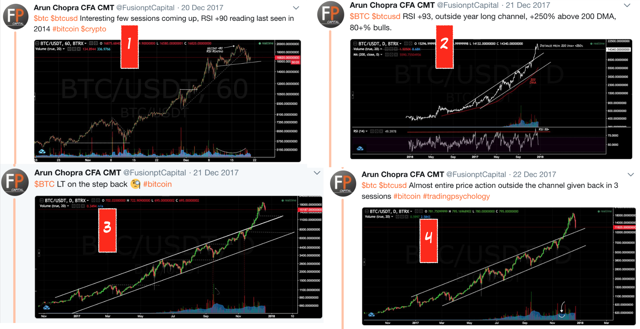 Fast forward one month and as we know Netflix has been hit for over 30%-plus.
And one last chart for good measure, tying back the relationship between credit (HYG) and Netflix.
Conclusion:
Netflix was an easier short out of most of the setups we've seen in the back half of the year. This was due to a combination of the following:
All time high valuation
Defined trend break, gap down and retest
Falling credit
Falling cash flows
Rising interest rates
Today the stock still sits in its upper long term channel, however the valuation has been cut nearly in half to 8X sales. Note this is still above the 15-year-plus trend, although obviously this is a different business today than the past (outside the scope of today).
Again, the combos of credit concerns, Fed action, and overvaluation, and extreme price action has led to this.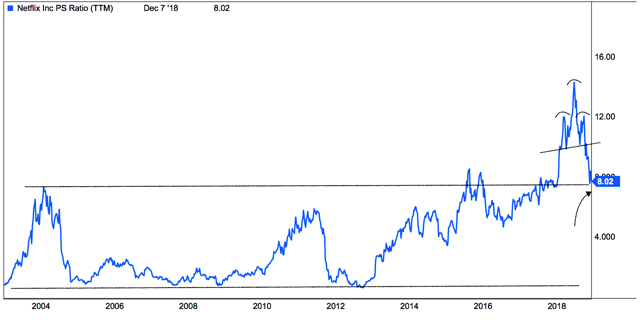 Thanks for reading.