A strong dollar is still a concern for gold investors, yet it's not the dominant concern for the metal's immediate outlook. Instead, there are other factors which support gold's continued turnaround effort and should – temporarily at least – eclipse gold's currency component. We'll discuss these supporting considerations in today's report.
Monday's abrupt rally in the U.S. dollar index (DXY) was a reminder that gold's main headwind in recent months is still a concern, albeit not a dominant one. After testing the psychologically important 50-day moving average, DXY shot up by 0.60% and closed above its 15-day moving average in the latest session. The dollar remains close to a high for the year, which is definitely putting a limit on gold's immediate-term upside potential. However, gold has something in its favor which it hasn't had in many months. This factor by itself is strong enough to keep the gold price buoyant for now even as the dollar remains strong. The factor I'm referring to is gold's fear component.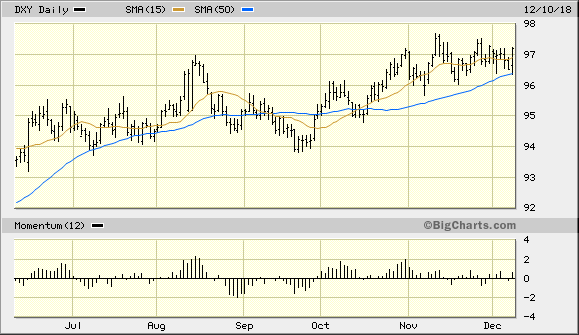 Source: BigCharts
The increase of fear can be seen in the fact that global growth concerns continue to have increasingly weighed on equity prices recently. However, those same concerns are benefiting gold as safety-related demand has increased in the last few weeks. Although gold was slightly lower on Monday, the gold price is still near a 5-month peak in spite of a strong dollar. For much of this year, dollar strength was gold's biggest enemy as it consistently forced prices lower between April and August. Yet the dynamic has changed as investors are now inclined to ignore the potentially negative impact of a stronger greenback. Instead, investors' focus is on gold as a hedge against financial market volatility and global economic slowdown.
One indication of just how attractive gold has become compared to equities in just the last few months can be seen below. This shows the ratio of gold's price versus the S&P 500 Index (SPX). For most of the last year, the gold price dramatically underperformed the U.S. stock market. This relative underperformance served to deter fund managers from buying gold. Now, however, gold's relative price strength versus equities has shown dramatic improvement and institutional investors therefore have another reason to give gold a closer look as a worthwhile investment.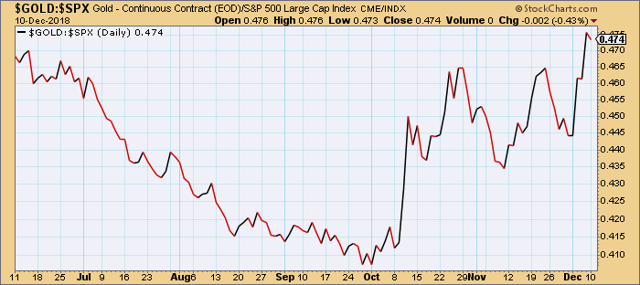 Source: StockCharts
Another variable which currently supports a bullish intermediate-term (3-6 month) gold outlook is the diminished outlook for rising interest rates. Indeed, higher rates served as another major deterrent for gold in the months leading up to the August price low for bullion. The market's growth concerns are also reflected in the dramatic plunge in the 10-Year Treasury Note Yield Index (TNX), below. With investors less confident that the Federal Reserve will continue to hike rates in the face of a slowing global economy, the opportunity cost of owning bullion is decreased.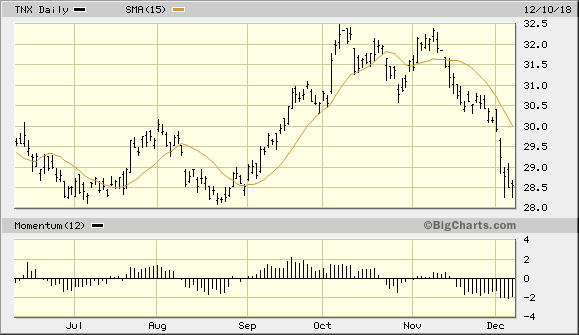 Source: BigCharts
While the continued strength in the dollar index remains a near-term headwind for a sustained gold price rally, the following graph shows that gold's currency component is not the big concern for investors that it was in past months. The following chart shows that gold's relative strength versus the dollar index is holding its own instead of declining. If this indicator were in decline then there would be no justification for holding gold right now. As long as gold's relative strength versus the dollar is at least stable, the metal can still make strides in the coming weeks based on the fear factor alone.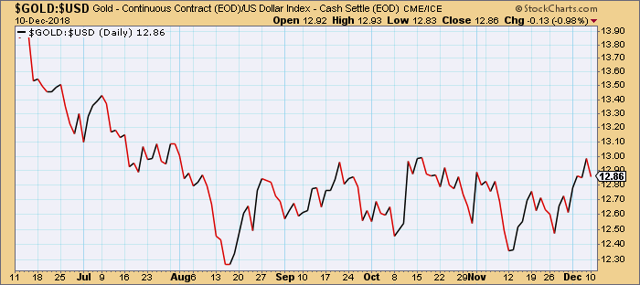 Source: StockCharts
Meanwhile, the iShares Gold Trust (IAU) remains on a buy signal and is still in strong hands as evidenced by its continued strong performance since bottoming in August. After jumping above its 15-day and 50-day moving averages on a weekly closing basis in late November, the gold ETF has never looked back and has made impressive strides ever since then. I've emphasized lately that a close above the late Oct. 26 high of $11.92 would confirm a trading range breakout for IAU and would likely result in some additional short covering. This level was broken on the upside on a weekly basis on Dec. 7, which should pave the way for some additional follow through in the immediate term. At any rate, I expect to see some additional strength in the coming weeks.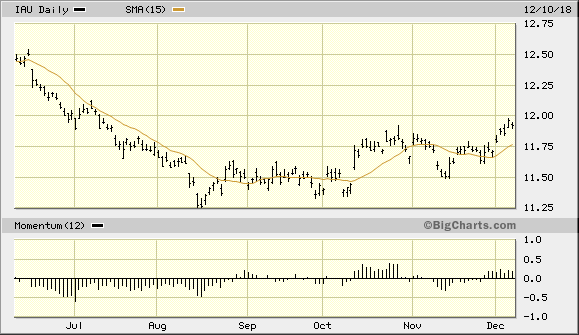 Source: BigCharts
Meanwhile, I recommend raising the stop-loss for this trading position to the $11.50 level on an intraday basis. A violation of this level would break the ETF's immediate-term upward trend by slicing through the 15-day MA as well as reversing the bullish stair-step pattern. However, IAU has clearly established a stair-stepping pattern of higher lows, which suggests that the ETF is laying the groundwork for a more substantial intermediate-term turnaround.
While the intermediate-term outlook for gold continues to brighten, patience is still the order of the day for investors. For now, investors should continue to walk slowly and expect a continuation of the lateral range in the gold price until the dollar index drops sharply. In the meantime, traders can remain long the gold ETF mentioned above, while long-term investors should hold off on initiating new long positions in gold until the dollar shows greater weakness.