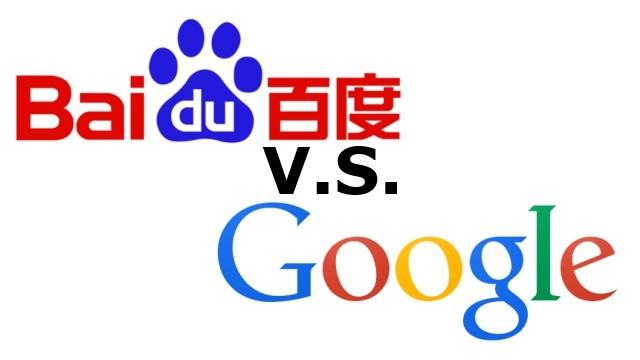 Baidu (BIDU) currently trades at a large discount relative to its historic valuation. In the past, Baidu's P/E ratio has hovered around 40x trailing twelve months earnings; however, today it sits at around just 14x earnings. Obviously, the decline in valuation has not occurred in a vacuum, and in this article, I will delve into the reasons for the decline. I firmly believe these temporary issues will vanish in the coming years, and as such, Baidu's current valuation is extremely attractive for investors with a long-term horizon.
There are a few reasons for Baidu's discount, each of which, as I will demonstrate, carries virtually no weight. Should Baidu's earnings and cash generation from its core search business continue to grow as they have, then Baidu's current price will prove to be a rare opportunity a few years down the road.
Reasons for Discount
The Chinese - U.S. Trade War
Alphabet's Project Dragonfly
Ballooning operating expenses
The Trade War
President Trump's trade war has weighed heavily on the Chinese tech sector, including Baidu and its share price. If the Trump administration achieves its stated goal of preventing the theft of intellectual property and leveling the playing field for American technology firms globally, then Baidu and its cohort of Chinese technology firms may, indeed, suffer.
"Future American laws limiting information sharing with China could clamp down on the U.S. technology sector, said John Vinh, equity research analyst at KeyBanc Capital Markets. That could limit the spread of 5G internet connectivity, which has been led by American companies like Qualcomm (QCOM) and Texas Instruments (TXN)," reported Anita Balikrishnan and Sara Salinas in a CNBC article. By "clamping down", Mr. Vinh means that technology the U.S. innovates may not be able to reach China, thereby hindering innovation and slowing technological growth for the country.
The uncertainty revolving around what the administration may do to inhibit Chinese IP theft and alter Chinese protectionist policies continues to plague Baidu's share price and the share prices' of other firms like Tencent (OTCPK:TCEHY), JD.com (JD), and Alibaba (BABA). Whether President Trump's plan to eliminate IP theft will succeed in the way he hopes is yet to be seen; however, if he fails in breaking down the great Chinese firewall, which is most likely, Baidu will continue to maintain its monopolistic position in the Chinese search engine market.
Alphabet's Project Dragonfly
Aside from the threats Baidu faces from the trade war, it also faces threats from Alphabet's (GOOGL) (GOOG) latest project, entitled "Dragonfly". Dragonfly bills itself as a search engine that will operate in accordance with China's strict censorship laws.
Even if Google were to gain entrance into the Chinese search market, despite employee dissidence, it's not certain that they would have smashing success due to the hurdles foreign companies face when operating in China. In fact, Google existed in China prior to 2010; however, a series of issues have been cited as the cause for its departure. From a moral perspective, many saw leaving as the right thing to do, a scenario playing out similarly today.
Additionally, hackers were alleged to have stolen search technology from Google in 2010, a threat that continues to plague the business landscape in China even today. Coincidentally, these two primary issues are at the core of Google's reentry into China today, and it seems incredibly unlikely, given the structure of the present political environment which President Xi Jinping played a central role in constructing, that much will change to any significant degree.
With that being said, Alphabet's current ability to make a superior search offering cannot be completely ignored. Alphabet today is much different than the Alphabet of a decade ago financially. Alphabet's R&D budget in a year is approximately 1.33x Baidu's entire revenue over the course of the same time. Alphabet's entry into the market would certainly look different (read: significantly stronger) than it did 10 years ago, which isn't helping Baidu's current valuation.
But therein lies the opportunity present in Baidu's current valuation. The concern around a reemergence of a Google search offering has caused Baidu's shares to trade at a steep discount. But Alphabet's "Dragonfly" will likely never thrive in China, due to the issues cited in previous paragraphs, if it ever even has the chance to try without an employee revolt and severe negative publicity. Thus, the worry that has negatively impacted Baidu, although understandable, is unwarranted, and as such, the company should trade at its historic valuation, creating an opportunity for long term investors.
Baidu's Two Revenue Streams
Baidu reports its revenues in two segments: Baidu Core and iQIYI (IQ). Baidu core represents the company's search offering and related products like Baidu email. This segment lies at the heart of my investment thesis for the company and makes the company highly investable. On the other hand, iQIYI is a high growth business, with less appealing financials, that has been described as a combination of YouTube and Netflix.

As can be seen in the snippet above, iQIYI currently operates at a loss. Its cost of goods sold exceeds its revenues, and as such, its operations act as a drag on Baidu's financials.
Despite its poor financial showing heretofore, iQIYI isn't all bad for Baidu. As can be seen above, Baidu's iQIYI arm grew its top line at 39.6% quarter over quarter from 2017 to 2018. However, as can also be seen, it currently does not generate positive cash flow.
iQIYI's net cash flow positive business model is yet to be demonstrated. In fact, the same issue for YouTube and Netflix persists in America. Therefore, I cannot advise investment in Baidu based on the growing revenues of iQIYI. I can, however, advise investment in Baidu based on its core business of search and related products.
Ignore the Noise: Focus on Core Operations
Baidu dominates the internet search market in China. With approximately 76% market share as of April 2017, the search engine essentially operates without any significant rival, with its closest competition garnering a mere 8.78% market share.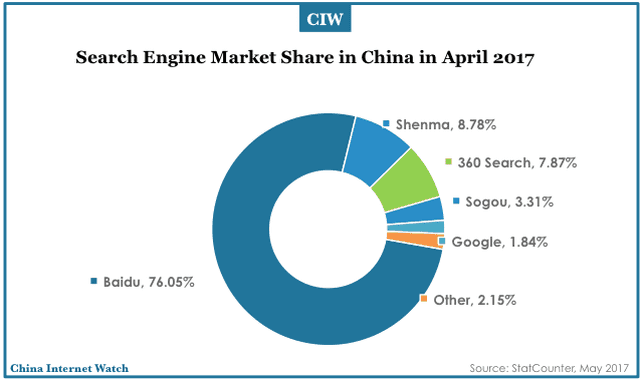 Source: www.chinainternetwatch.com
As such, Baidu truly fits within the framework of my investment philosophy: it has market power due to its ingrained, popular brand and it represents a combination of growth and value. As made popular by the great Peter Lynch, Growth at a Reasonable Price is epitomized by Baidu.
I reviewed the latest Q3 10-Q to find some pertinent data to support my GARP thesis. "Total revenues were RMB 28.2 billion ($4.11 billion), increasing 27% year over year. Total revenues of Baidu Core were RMB 21.6 billion ($3.15 billion), increasing 25% year over year." If you read my profile, you will see I search for companies that demonstrate top line growth of around 20% but trade at lower relative valuations. Baidu fits the bill.
Total revenues grew at 27% year over year, yet it's valued as if they grew at 3%. Costs have ballooned in the last year, as we see on page five of Q3 10-Q, but nevertheless, their core competency (search) continues to exhibit robust, high margin growth. "Operating income of Baidu Core was RMB 7.0 billion ($1.02 billion), increasing 26% year over year, and operating margin was 32%, similar to the third quarter of 2017."
Bottomline: Buy the Stock and Hold for a Decade
To recap, Baidu's share price has fallen, along with the share prices of its peers, largely as a result of President Trump's trade wars, which will eventually end (maybe not in 90 days though). Additionally, Alphabet's threat of entering the Chinese search market has scared investors, but it seems unlikely that they will successfully enter China and steal market share. And lastly, Baidu has experienced temporary ballooning operating expenses as it mirrors its American counterpart, Alphabet, in entering into new ventures such as self-driving vehicles and AI voice technology. However, the underlying business remains strong and these temporary elevated costs are associated with entries into new markets.
Despite the temporary headwinds, I view Baidu as a conviction-buy. My entire buy thesis is predicated on the growth of Baidu's core, high margin search offering, although over 20% of its revenues now comes from other sources. I view search as a long term investment that, especially in China, has a massive runway for growth when we account for the level of internet penetration in China thus far.
"According to the Chinese government, 802 million people are now actively using the internet, 57.7 percent of the population. The data was published by the China Internet Network Information Center (CNNIC) which is a branch of the country's Ministry of Industry and Information. By comparison, the United States has an estimated 300 million internet users."
Internet has only reached 57.7% of the Chinese population; therefore, Baidu's search product will have decades of future profitable growth ahead of it.
Disclosure: I am/we are long GOOG, BIDU, BABA. I wrote this article myself, and it expresses my own opinions. I am not receiving compensation for it (other than from Seeking Alpha). I have no business relationship with any company whose stock is mentioned in this article.
Editor's Note: This article discusses one or more securities that do not trade on a major U.S. exchange. Please be aware of the risks associated with these stocks.