This is my second DavidsTea (DTEA) research piece and a followup to my original piece: DavidsTea: Management Is Dumb As A Fox. As I originally noted on September 20th, I was initially just attracted to the idea of writing juicy covered calls and collecting a 20% return in one month. And although we did take advantage of that unique setup, given the then extraordinary high volatility that translated in those juicy call premiums, the more I started to kick the tires, the more I started to like the idea as an investment.
In this piece, I will explain why shares are exceptionally cheap in the high $1.80s. As I type this now, shares are changing hands at $1.80 per share. I want to cover three important aspects as to why shares are selling at fire sale prices:
The historical financials
The proxy fight and potential pivot to the mass channel
The technicals
Understanding all three aspects is critical to acquiring the necessary "courage and conviction" to either put more money to work in this name or to buy an initial position. And as an aside, I love unique small cap situations where there is virtually no analyst coverage or Wall Street interest.
The Financials
(All numbers are in Canadian dollars unless otherwise noted)
To understand the financials and how they move, I invested the time to go through every 10-Q and 10-K, since the June 2015 IPO and in sequence, and I charted the key merits in my excel spreadsheet. Although this approach is much more time-consuming than downloading data from a financial software package, when you invest the time to plot the data yourself, it is easier to gauge the rhythm.
A) What jumps out at me is the fact that as of August 4, 2018, DTEA had net working capital of CAD $65.7 million (or $50 million USD using a 0.76 exchange rate), no long term debt, and current market capitalization of only $47 million (26 million shares x $1.80 per share)! You are buying the business for $3 million discount to its net working capital (as of August 4th), at $1.80 per share.
B) Moreover, despite six consecutive quarters of very poor performance and poor operational execution, in FY 2017, the company's cash flow from operations (before changes to working capital) was CAD $15.4 million. And this was in spite of the full year FY 2017 comparable sales being down 6%.
C) This is a very seasonal business and DTEA generates significantly more revenue during the cold holiday months (Q4: Usually, November through January 31st).
D) Gross margins are very healthy, but SG&A costs have been mismanagement and/or gone unchecked. It is pretty logical that some of those costs could be reduced.
E) Because of the nasty proxy fight (more on that in the next section) between Mr. Segal and former management, Q2 2018 Adjusted EBITDA got dinged by $3.4 million ($2.7 million for the proxy fight and $717K for severance expenses). Moreover, as prior management team was fighting to keep their jobs, clearly, they got distracted and hence the -14.8% comparable store sales figure in Q2 2018. It isn't exactly a stretch to suggest that a better and more focused management team, without the proxy fight distractions, can do better.
F) Taking a step back, this business and its annual operating cash flow profile is positive. Given the valuation, you might have expected an actual or higher cash burn rate. And again, remember the seasonality, so you make your money in Q4. So, you can't blindly extrapolate a terrible Q1 and Q2 2018 for the second half of 2018.
FY 2015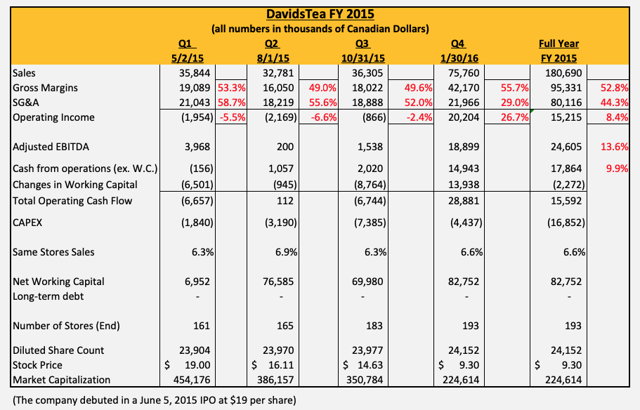 FY 2016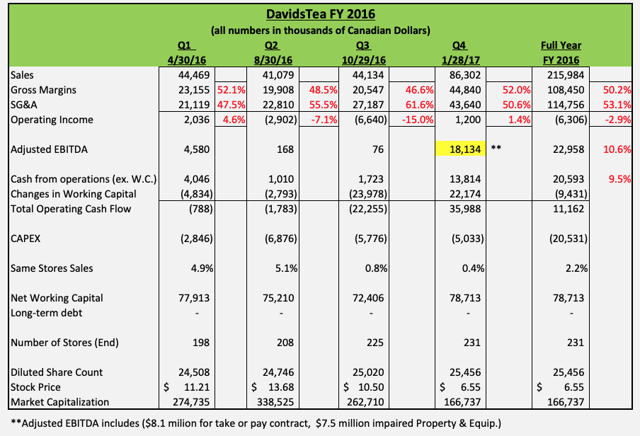 FY 2017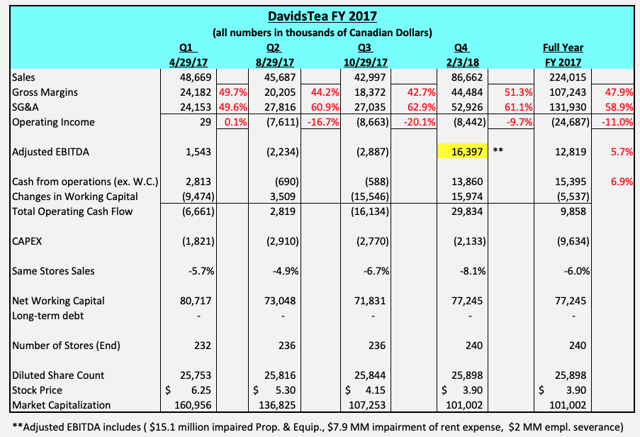 FY 2018
The Proxy Fight
In this section, I will briefly discuss the proxy fight and how the Co-Founder, Herschel Segal, has come back to right the ship.
If you read this April 25, 2018, press release (see here), Mr. Segal explains why he resigned from the board on March 5, 2018, in order to propose a new slate of board members at the June 14, 2018, annual shareholders meeting. During a combative proxy fight, which Mr. Segal won, he wanted to pursue his vision of executing an operational turnaround and brand revival as opposed to "pursuing strategic alternative" (i.e. selling the company).
So, this press release and the fact that Mr. Segal hasn't really sold much stock since the IPO, back in June 2015, as he originally loaned the company the money back in 2012 (and that capital was converted into an equity stake) prove he believes in the brand and business.
Herschel Segal resigned from the Board of Directors of DavidsTea on March 5 due to his belief that a majority of the current Board members do not share his vision for a financial turnaround of DavidsTea through a focus on improving operations; they instead consider a continuing strategic review process to be DavidsTea's priority. Mr. Segal concluded that in order to revitalize DavidsTea's operations, RDI had to propose a slate of new directors sharing his vision for, and long-term commitment to, DavidsTea.

Mr. Segal believes that DavidsTea must focus on an operational and financial turnaround that positions DavidsTea on a sustainable path and creates long-term value – for shareholders, customers and employees. With a new, unified Board of Directors sharing this common vision, Mr. Segal believes that DavidsTea can aspire to a great future as an iconic Canadian brand.

Herschel Segal's fundamental conviction is that good products and satisfied customers are basic ingredients for a profitable business. The leadership of DavidsTea needs to rebuild the corporate culture, from the boardroom to the store and online sales channels, to deliver a variety of quality products priced as a good-value proposition for the consumer, and with empathetic, enthusiastic communication with the customer. These straightforward principles will lead to a strengthening of DavidsTea's retail operations in Canada and the United States, as well as the virtual online shopping experience.

DavidsTea is at a critical juncture; the status quo is not an option. Herschel Segal wants, and DavidsTea needs, a unified Board of Directors committed to an operational and financial turnaround built upon straightforward, fundamental principles. It's time to get to work on turning around DavidsTea
If you take the few minutes to read the press release, Mr. Segal is convinced that he can improve the operational execution and cut costs.
The Technicals
I must admit that I made an oversight in my first piece (Dumb As A Fox), as I didn't work out that Porchlight Capital had a name change and they manage the Highland Consumer Partners funds. When I went back and looked at the final (F-1/A form) filed ahead of the DavidsTea IPO, I realized that Highland Consumer Partners (managed by Porchlight) invested in DavidsTea back in 2012, well before the IPO. Moreover, note that Herschel Segal, post IPO, owned 12.5 million shares, and still owns 12.036 million shares as of today.
If you go back to the final F-1/A document, filed on May 26, 2015 (see here), here are the details: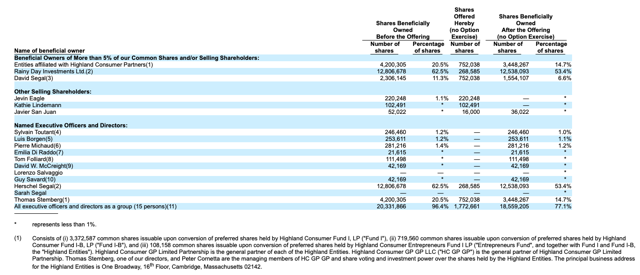 Source: DavidsTea F-1/A May 26, 2015 (pg. 101)
Look at the Bloomberg holders from late September 2018.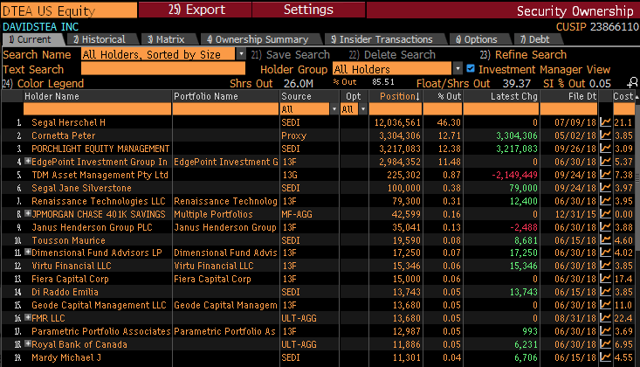 Source: Bloomberg
So, what is really technically interesting is that since September, the big three institutional longs that opposed Mr. Segal (TDM Asset Management (3.16 million shares), Porchlight Equity (3.304 minion shares), and EdgePoint Investment Group (2.984 million shares)) have all thrown in the towel and sold their shares. I provide the detailed snapshot and corresponding sec.gov SC 13 links in the appendix section.
Therefore, from a technical perspective, this means that the market was forced to absorbed 9 million shares of selling, in a roughly five-week time period, no less. Essentially, the old guard, folks have simply taken their medicine, and who were unsuccessful trying to stop Mr. Segal's proxy fight have taken their capital and moved on.
I don't think that the market has fully worked out what has occurred. Of course, for any stock, if 35% (9 million out of 26 million shares were sold in this case) of the entire stock float get sold in a compressed time period, naturally, the stock price will be under constant technical pressure until those shares are absorbed by the market. However, on a more positive forward looking basis, this also means there aren't any big holders left to sell, and as of yet, there haven't been any new 5% holders that have filed. Putting it all together and the shares are now diffused into many different hands.
Silver Lining - Loblaw
And finally, on August 14th, DavidsTea announced (see here) a deal to sell its teas in Loblaw (OTCPK:LBLCF) stores.
MONTREAL, Aug. 14, 2018 (GLOBE NEWSWIRE) -- DAVIDsTEA Inc. (Nasdaq:DTEA) is pleased to announce the introduction of some of its iconic flavours in tea sachets at select Loblaw Companies Limited [TSX:L] banner locations across Canada. Products are expected to start hitting the shelves in the coming weeks.

"We are excited to leverage our strong brand awareness to reach new customers in the grocery aisle through this partnership with Loblaw, the nation's leading food retailer. Among our wide variety of over 130 high-quality teas, this is an opportunity for new customers to discover some of our popular blends in tea sachet format at their local grocery store, while also providing added convenience to our existing loyal customers," said Herschel Segal, Executive Chairman and Interim CEO of DAVIDsTEA.

Once fully launched, DAVIDsTEA Sachet Packs of 15 will be available in a wide range of Loblaw banner locations including: Loblaws® Ontario, Independent® in Ontario, Western Canada and Atlantic Canada, Zehrs ®, Valu-Mart®, Atlantic Superstore®, Dominion®, Provigo® and Fortinos®.

The initial selection of DAVIDsTEA Sachet Packs of 15 will represent some of the company's best sellers and customer favourites, including Buddha's Blend, Cinnamon Rooibos Chai (Organic), Cold 911 (Organic), Cream of Earl Grey (Organic), Detox (Organic), Forever Nuts, Green Passionfruit, Just Peachy, Mother's Little Helper (Organic) and Peppermint Amour (Organic).
For perspective, Loblaw has a CAD $23.4 billion market capitalization. Per the company's FY 2017 annual report, they have 559 corporate owned stores in Canada (see here).
So, although we don't have any specific about the deal economics and what it means for DavidsTea's financials, I would argue that a pivot to the mass channel, at least in theory, should be much more profit than running DavidsTea stores in expensive malls. The market might be missing this angle entirely.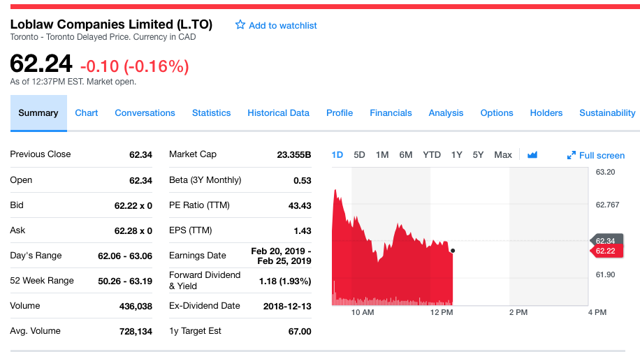 Source: Yahoo Finance
Takeaway
At $1.80 per share, DavidsTea stock market capitalization is trading at a $3 million discount to its August 4, 2018, net working capital balance. If you really examine the historical financials, this is a seasonal business, and it generates decent EBITDA and operating cash flow, in spite of the horrible execution, bloated SG&A, and poor same stores sales. Moreover, because of the cash balance and the cushion this provides, we don't have to worry about dilutive equity raises. In other words, we have plenty of turnaround runway. Outside of valuation, because the stock has had to absorb north of 9 million shares of stock being sold on the open market, it isn't surprising that it is acting weak. However, there aren't any other big sellers that own any material amounts of stock left to sell. And finally, the Loblaw deal and pivot into the mass channel is very encouraging, assuming the economics are somewhat favorable.
The risk/reward, notably at $1.80 per share, is asymmetrically skewed to the upside for the longs.
Appendix
Here are the SEC filings notices, before and after.
On May 21, 2018, TDM owned 3.163 million shares.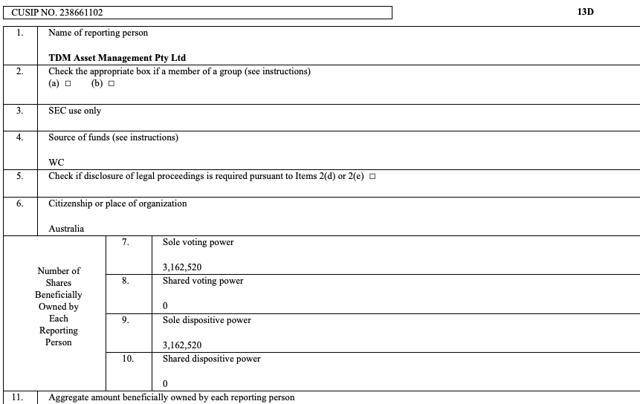 Source: Sec.gov 5/21/18
On September 25, 2018, TDM reduced its stake down to 225K shares.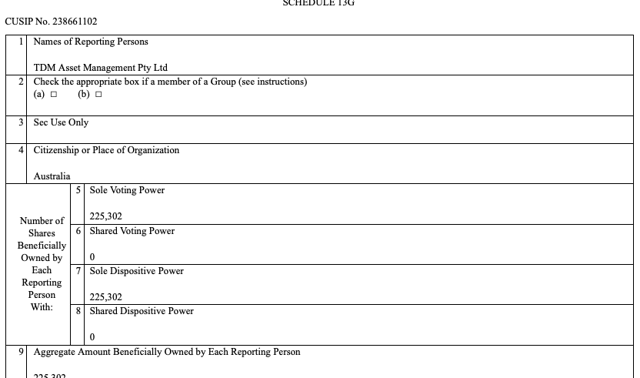 Source: Sec.gov 9/25/18
On January 9, 2018, EdgePoint Investment filed that they owned 2.984 million shares.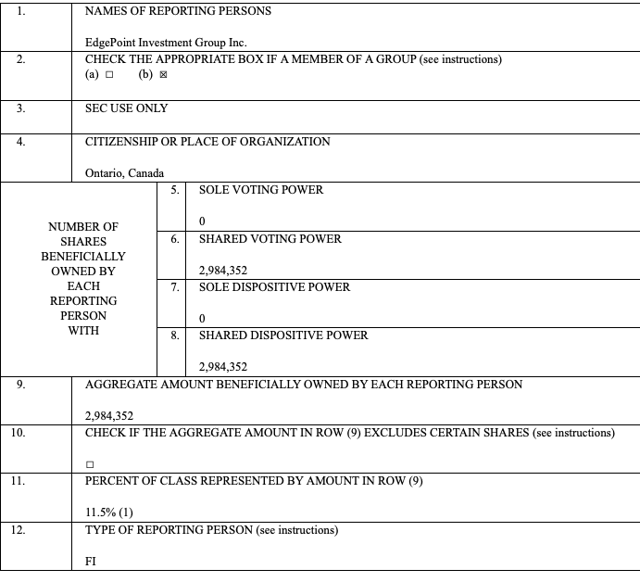 Source: Sec.gov 1/9/18
On October 9, 2018, EdgePoint filed that they liquidated their entire position.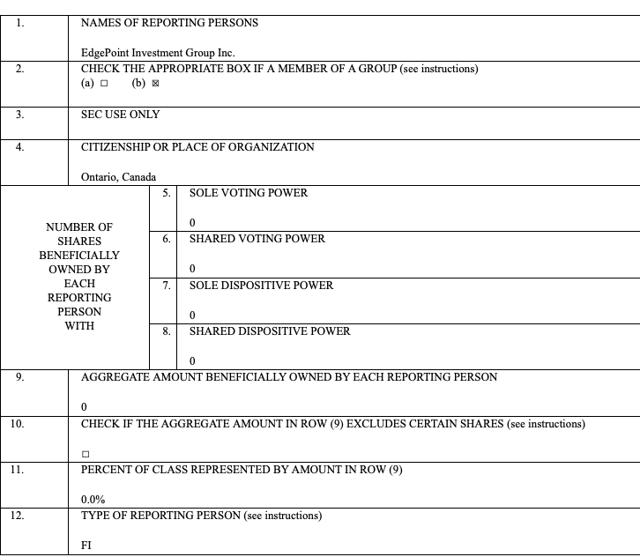 Source: Sec.gov 10/9/18
On February 16, 2016, Highland Consumer Fund filed that they owned 3.304 million shares of DavidsTea.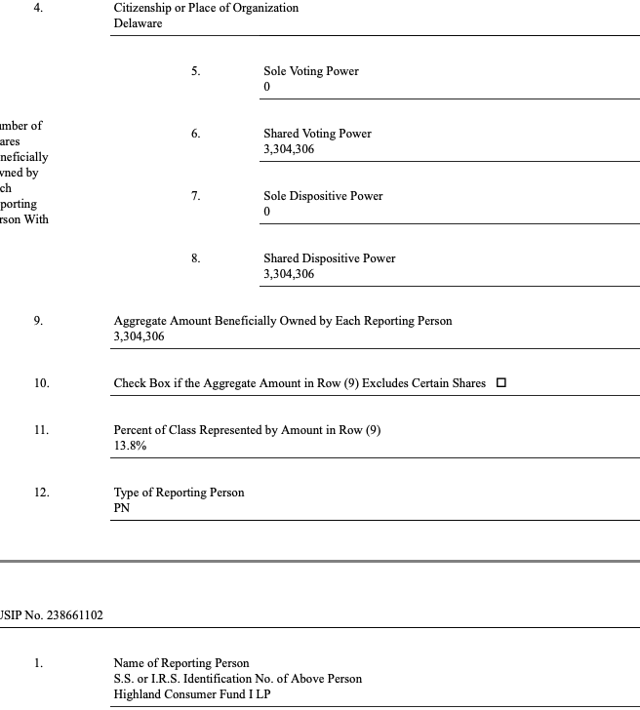 Source: Sec.gov 2/16/16
On October 29, 2018, Highland Consumer filed that they sold their entire stake in DavidsTea.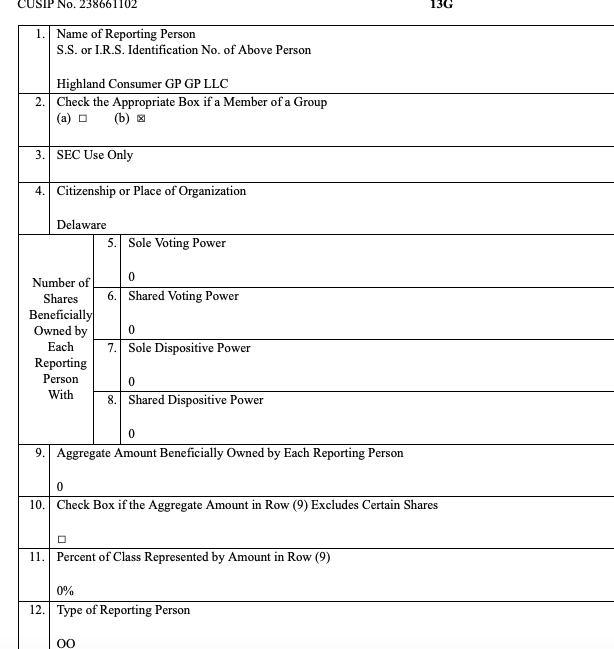 Source: Sec.gov 10/29/18
As a full-time investor, I look for new ideas for my portfolio every day and I always eat my own cooking. I manage three portfolios (Tactical Value, High Octane, and Buy and Hold). Tactical Value is a very diversified portfolio and focused on more conservative ideas. High Octane and Buy and Hold are value based, but target pure capital appreciation.
Disclosure: I am/we are long DTEA. I wrote this article myself, and it expresses my own opinions. I am not receiving compensation for it (other than from Seeking Alpha). I have no business relationship with any company whose stock is mentioned in this article.