I have been quietly watching, from a distance, how Target's (TGT) stock has behaved recently. Once a confident bull (at $55/share, TGT was my Cheddar TV idea of the month in August 2017), I sold my shares one year later when I believed the stock was fully valued at $83 apiece.
Since then, TGT has given up 20% of its value, making me wonder: is this stock worth picking back up at the current price?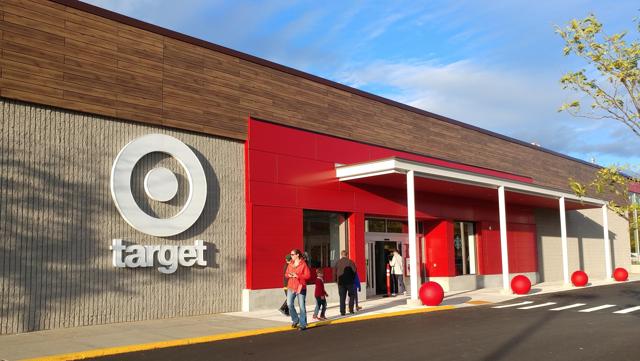 Source: Seven Days
To take a swing at answering this question, I turn to the income statement. Last year, Target began to show noticeable top-line improvement from its turnaround efforts very early in the transformation process. Online sales had started to pick up the pace as investments in the digital channel accounted for over four-fifths of total company comp improvement as early as 2Q17.
Initiatives like in-store order fulfillment and curbside pickup in key locations, along with a strategic shift towards busy, more affluent urban markets, ensured an impressive rebound in sales almost immediately after Target's announced restructuring efforts, in early 2017. Today, the management team speaks of "gains in market share across all five core merchandising categories," suggesting that top-line momentum has not waned.
See trailing-twelve-month revenue and YOY sales growth trends below. Notice the clear upswing that started in early 2017 and continues to push forward.
Target deserves credit for noticing the shift in retail towards a physical-digital model and, mainly, for its ability to react nimbly in response. I have little doubt that the company will not only survive, but thrive in what I have called the large "all things to all consumers" sub-segment of the retail world - perhaps as a respectable number three player, behind mammoths Amazon (AMZN) and Walmart (WMT).
My main concern, however, pertains to margins. Last year, I expected fierce price competition to be the new norm for the transformed retail chain, along with some loss of profitability driven by the higher fulfillment costs associated with the digital channel. I expected to see gross margin deterioration at first, followed by stabilization in 2019 as Target lapped the early phases of the restructuring process. This is in fact what happened in 2018, but I am now much less comfortable making predictions for the upcoming year.
Around the corner are headwinds that I had not quite anticipated roughly 12 months ago. Retailer price inflation seems more likely today, particularly if higher proposed tariffs push the cost of inventory up. A bit further down the P&L, wage pressures don't seem likely to subside in the near future, especially since Target has committed to increasing its minimum wage to $15/hour by 2020 from $11/hour in 2017 - with most of the hourly rate increase yet to happen. Much less concerning but also impactful to future earnings are non-cash depreciation expenses that should increase as the company continues to expense the heavy capital investments made in the recent store renovations.
I see little in terms of meaningful forces that could push op profits up from current levels, as I believe expense growth should outpace the modest increase in revenues through 2020. As a result, I have adjusted my 2020 P&L model to reflect more conservative margin assumptions.
See table below.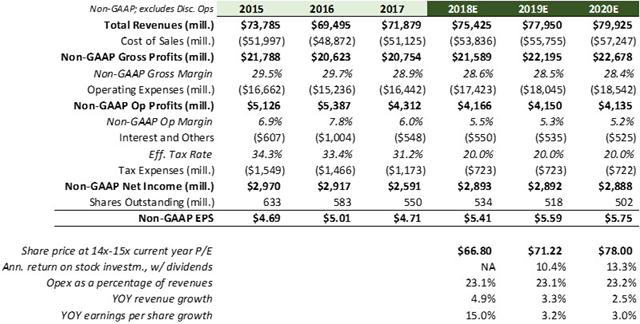 Source: D.M. Martins Research, using data from company reports
My key takeaway
With my model adjusted for the factors described above, I now see Target delivering $5.75 in EPS by 2020 vs. my previous projection of $5.94. In addition, I scale back on my earnings multiple assumption. Whereas I once believed that P/E would expand to 15x as Target continued to execute successfully against its turnaround plans (and it did for a moment, between August and early October 2018, see graph below), I believe investors will discount this stock more harshly for as long as margin concerns linger, eventually offering to pay 13.5x forward earnings on shares once the dust settles a bit.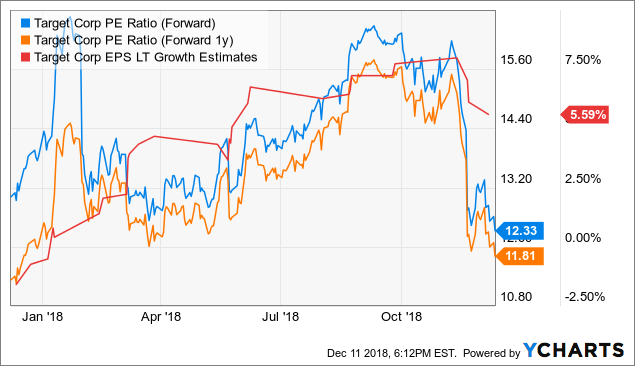 All accounted for, I see TGT fairly valued at $78/share by 2020. In my price target I bake in what I consider to be base-case assumptions. However, I cannot rule out the risk that macroeconomic deterioration or market-wide bear sentiment could prove me overly optimistic about the direction of this stock, at best tossing the stock around a bit as volatility continues to be a reality.
Should TGT head to $78/share within the next 24 months, the implied 8% annual return plus dividends do not look too bad of a deal for a low growth company like this. Yet, in order to accept exposure to the associated risks of owning the stock, I prefer to see shares dip further towards $60 before I can consider buying them once again.
Note from the author: Even if I am not a TGT buyer today, I believe there are many more opportunities in the market to be further explored - in fact, I can think of a couple other retailers that I prefer over TGT today. To learn more about how I have built a risk-diversified portfolio designed and back-tested to generate market-like returns with lower risk, join my Storm-Resistant Growth group. Take advantage of the 14-day free trial, read all the content written to date and get immediate access to the community.
Disclosure: I/we have no positions in any stocks mentioned, and no plans to initiate any positions within the next 72 hours. I wrote this article myself, and it expresses my own opinions. I am not receiving compensation for it (other than from Seeking Alpha). I have no business relationship with any company whose stock is mentioned in this article.