Market Intro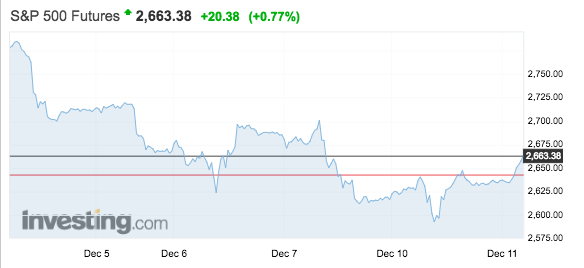 Clunk! US equity futures on major averages (SPY, DIA, QQQ, IWM) dove out the gate on Sunday's pre-market, then recovered. From there, the bottom fell out, and the Dow fell about 500 points. The S&P hit the lowest levels it's seen going back to about mid-April.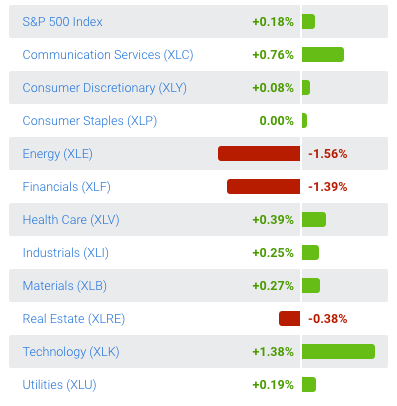 SectorSPDR.com
Then a recovery took hold, led by Apple (AAPL) and the tech sector (XLK). What had started as a very negative Monday session open quickly morphed into a victory for the bulls. The question now becomes whether "Buy-The-Dip" has retained its credibility as a trading strategy.
If so, then any reversal can be put behind us and the market can move forward. That's the key. I see major challenges with equities just being in a testing zone as it was similar to late 2014 through mid-2016. In my view, market action will either resolve higher or lower, but not flat.

The GBP now trades at 20-month lows vs. the greenback (FXB). Brexit news seems to be taking to the fore these days, while the dollar (UUP) broadly gathers strength.
Thoughts on Volatility

Agreed. I fall into the camp that the messaging here is far more important than the action. The March decision in that sense is far more important than the upcoming December policy response.
The Fed really needs to assert independence in order to hold on to the only true asset in its possession: credibility. Sometimes that means letting some of your important constituents sweat it out some.
As Mr. Peterson points out, maybe equities actually want a little tough love, with some clearer understanding that the Fed isn't going to overdo it.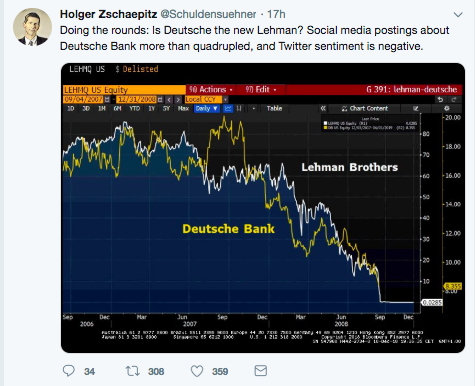 I can't help but draw parallels between what is happening with DB and also GE. These two big-name powerhouses are both flagging at around the same time, and arguably over the same basic reason: excessive leverage combined with questionable holdings/operations.
Some might assert that risk asset volatility is excessive here, but we must remember that in the long passage of history, realized vol is not that high. I have difficulty believing that the current environment is not in fact one of average or higher volatility.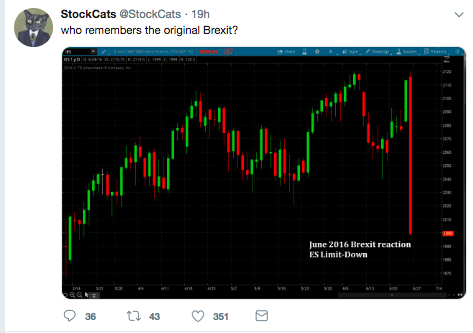 Recall that it was the rather drastic and immediate policy responses that played a key role in the knee-jerk reversal post-Brexit. Policymakers in June '16 had no particular love for drama, and so risk assets caught a bid and equities recovered swiftly. One must question whether policymakers are as committed to quelling any and all fear today, as they were 30 months ago.
Brexit (EWU) negotiations are arguably only beginning in earnest, and as such this could be a new and important hurdle for vol shorts (SVXY, ZIV) to get past in the weeks and months ahead.
Term Structure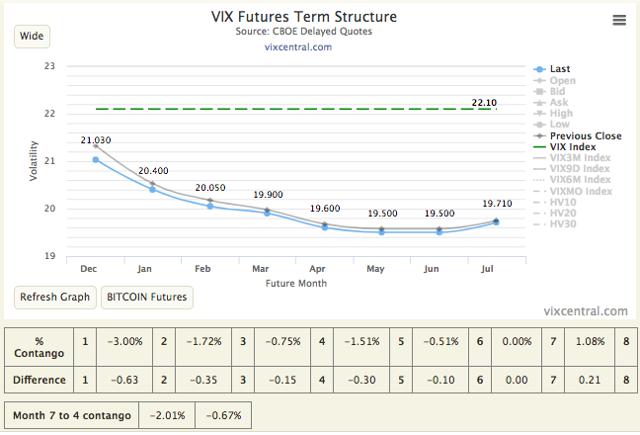 The term structure as of Monday close is a little milder than Friday, but is still backwardated. Roll decay is fairly modest at present, favoring vol longs (VXX, UVXY).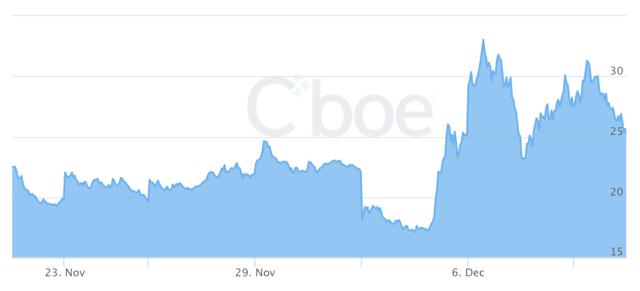 CBOE: VIX9D one-month chart
The whippy nature of the short-term implied vol gauge, VIX9D, indicates to me here that individual contracts on the term structure are going to move more independently of one another than they have over the last couple months.
It goes without saying that the various contracts will still trade in relation to one another, but I am claiming that the term structure is more likely to take on some fairly odd shapes in the near future and that new (likely higher) ranges are very much in the cards.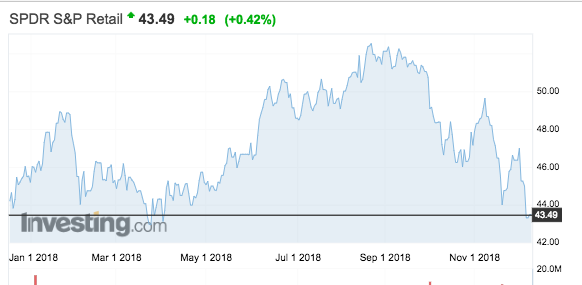 What could re-ignite animal spirits? Some strong retail figures, and reports on a resilient consumer. The retail ETF XRT, displayed above, tells the story of a pretty gruesome drop (much of this attributable to AMZN). A sustainable rebound on concrete positive news would likely serve as an important catalyst to get vol trading back at the lower end of its range.
Conclusion
If this is your first time reading Market Volatility Bulletin, thanks for giving it a try. If you're a regular, I thank you for your ongoing contributions in the comments section.
Thank you for reading.
Disclosure: I/we have no positions in any stocks mentioned, and no plans to initiate any positions within the next 72 hours. I wrote this article myself, and it expresses my own opinions. I am not receiving compensation for it (other than from Seeking Alpha). I have no business relationship with any company whose stock is mentioned in this article.
Additional disclosure: I actively trade the futures and options markets, potentially taking multiple positions on any given day, both long and short. I also hold a more traditional portfolio of stocks and bonds that I do not "trade". I do believe the S&P 500 is priced for poor forward-looking returns over a long timeframe, and so my trading activity centers around a negative delta for hedging purposes.