Note: This article was originally published December 6th on Value Investor's Edge, a Seeking Alpha subscription service.
Overview
2019 is almost upon us and with that comes increasing uncertainty in the global container shipping market.
Some of the container ship companies traded in the U.S. market include Seaspan Corporation (NYSE:SSW), Costamare, Inc. (NYSE:CMRE), Diana Containerships, Inc. (NASDAQ:DCIX), Global Ship Lease, Inc. (NYSE:GSL), Danaos Corporation (NYSE:DAC), Ship Finance International Limited (NYSE:SFL), and Navios Maritime Partners L.P. (NYSE:NMM).
Headlines over the past few years have been dominated by a surge of mega box ships hitting the water creating a historic supply glut and consequently low charter rates which led to several high profile bankruptcies and bailouts of major companies.
But this supply glut was met with above average trade growth mitigating some of the damage. Indeed, this demand proved to be the saving grace and without it, much more hardship would have been imposed upon the segment.
However, those demand side tailwinds are waning and concerns are growing.
Free Trade
According to the International Maritime Organization, the UN body overseeing maritime trade, "over 90% of the world's trade is carried by sea."
There is little doubt that free trade has brought greater volumes to the global maritime industry. This is due to liberal trade policies which significantly dismantled tariffs, restricted domestic subsidies, and curtailed quotas. The 1990's provided proof positive of this development as several free trade agreements were in full swing or came into effect and global trade grew over twice as fast as the global economy.
The World Maritime News reports:
With regards to the containerised trade, the GATT and WTO trade deals and the entry of China into the WTO are widely credited as having accelerated international trade in general and ocean-borne trade in particular.
The concept is simple. Less expensive goods sourced from overseas were increasingly likely to penetrate developed economies, but often at the expense of domestic producers.
Additionally, firms increasingly utilize global supply chain management to expand their resource base, reduce costs, and integrate diverse network capabilities.
A recent IMF study calculated that a 1 percent increase in global growth increased trade volumes by 2.5 percent in the 1990s. IMF's Managing Director, Christine Lagarde warns that "Curbing free trade would be stalling an engine that has brought unprecedented welfare gains around the world over many decades."
However, the UN recently noted that "nationalist rhetoric, protectionist arguments and a beggar-thy-neighbour outlook are dominating economic discourse. Growing inequalities feed this xenophobic turn, which provides a convenient "other" to blame for everybody's problems."
Unfortunately, we find the two most important nations with regard to container shipping volumes leading the way in this protectionist movement.
It's of great concern to the containerized shipping segment since China and the USA have an important relationship regarding the trade of finished products.
In fact, there is no greater route of importance than the China to North America trade when it comes to containerized cargo.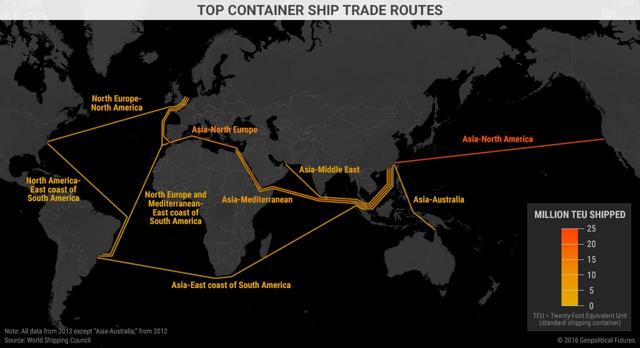 Source: Geopolitical Futures
In terms of "goods only" the US Census Bureau notes that China is the number one supplier to the USA at $505.6 billion in 2017, accounting for 21.6% of the USA's total imports.
But it's not just a one-way street. USA exports to China came in at the number three spot behind Canada and Mexico totaling $130.4 billion, representing 8.4% of the USA's total exports.
Total trade comes in at $636 billion or 16.4% of the total trade conducted by the United States.
To look at it another way, according to the World Shipping Council, in 2014 the number of TEUs shipped around the world totaled 127.6 million. China and the USA were responsible for 36 million and 11.9 million, respectively. That comes out to 37.5% of total containerized trade volumes between just these two nations.
Since the announcement of tariffs by the US, and retaliatory tariffs by China, there has been a steady trend of US importers pulling cargoes forward to avoid tariffs, which has kept port volume growth strong and charter rates showing only minimal losses. That might all change very soon if a truce isn't called soon.
Side Note
Before I go further it's important to note something in that last statement. Despite record port volumes in several major US East and West coast ports, charter rates have shown only minimal losses. This situation reflects a slowing of global trade in several other key areas around the globe which will be discussed in the second section. So if trade between the US and China also begins to slow, as anticipated, this will add further to a deteriorating demand side situation.
Pulling Forward
Returning to the US-China trade relationship, the strong cargo volume can be largely attributed to pulling cargoes forward in an effort to avoid tariffs. However, this comes at the expense of future cargoes.
Allow me to draw a parallel to a similar situation we recently saw unfold in the crude and product segments. While crude prices were low, courtesy of a major supply glut, opportunistic stockpiling took place for both crude oil and associated refined products. Normal trade flows were altered as increasing demand for crude and product tankers came from this stockpiling. This was one main reason we saw high charter rates for both segments around that same period. But as stockpiling reached its limits around the same time that crude prices started to rise we saw a drop in demand for tankers as inventory drawdowns began. The short story is that pulling cargoes forward altered normal trading patterns in a beneficial way, but the utilization of those stockpiles altered it in the exact opposite manner.
Pulling cargoes forward in containerized trade will result in a similar pattern. But how do we know cargoes are being pulled forward? Simply because ports across the US are spelling it out in no uncertain terms.
For example, the Port of Charleston shows that imported containers have increased 10.1% during the first four months of the fiscal year (which began on July 1). Included in the top import commodities are tires, furniture and auto parts — all of which are due to be affected by taxes on Chinese goods set to go up in January from 10% to 25%.
Port Strategy reports:
According to South Carolina Ports Authority president and chief executive Jim Newsome, on top of a robust economy, there is growing evidence that the spike in imports is because of customers advancing shipments to avoid levies planned to go into effect in January.
The Port of Los Angeles processed more than 952,500 twenty-foot equivalent units, or TEUs, last month representing a 27.2% surge over October 2017 totals. The prior monthly record was set last November with 924,225 TEUs.
FreightWaves quotes Todd Fowler, analyst for Keybanc Capital Markets:
The key variable was the level of inventory "pull-forward" as U.S. companies scramble to lock in purchases from China ahead of the expected tariffs and tariff hikes.
Fowler estimated that pull-forwards may account for 10% to 15% of the port's fourth-quarter import volumes, or about 400,000 containers. Simple math suggests that if he is correct than port volume growth may actually be fairly bleak.
A report by the National Retail Federation and maritime consultancy Hackett Associates seems to agree that if this forward pull had not occurred trade growth would have been fairly weak:
"President Trump's trade war with China and the threat of even higher tariffs in 2019 have created a mini-boom in imports and businesses have rushed to bring goods into the country ahead of the tariffs. We are clearly in a politically motivated trade environment."
What's more, Hackett wrote that the rate of organic import growth in 2018 is set to be slower than 2017, with 2019 expected to be weaker, barring an agreement being reached between the United States and China.
Looking forward, Phillip Sanfield, a Los Angeles port spokesman stated:
The advance ordering, combined with the economic impact of the tariffs themselves, may hamper the port's first-quarter results.
Danish giant Maersk Line echoed that sentiment, "U.S. import volumes from China could drop precipitously in January should the tariff increases take effect."
However, an eleventh hour deal was struck to postpone the tariff hike from 10% to 25% for 90 days to allow additional negotiations. This may once again add to headhaul volume as importers further seize a window of opportunity to avoid additional levies.
Pushing Back
A not so rosy picture comes when looking at outbound cargoes.
The Port of Charleston reports that during the fiscal year's first four months, exports have declined 1.1%.
The Port of Los Angeles reported an outbound volume drop, albeit in another fashion, noting that "empty" containers, boxes that normally sail back empty to Asia for subsequent cargo stuffing, rose 25% to 292,906 TEU. This indicates fewer goods being shipped over to China.
Chinese imports from the United States were down 25% to 30% in the third quarter compared to last year, Maersk shipping data indicated.
China has orchestrated a much more coordinated response to the current trade war as a collective effort to reduce US imports is gaining traction. These sliding backhaul volumes should is a major concern as they represent a growing trade imbalance. Since President Trump has made the trade deficit a major issue in the ongoing trade war, the fact that the trade deficit is expanding means the US is losing ground on a very high profile issue. An issue that President Trump won't be able to comfortably be able to back away from without admitting defeat.
Calming Waters
As we were nearing what was supposed to be the beginning of increasing tariffs carriers were already reporting a slowing in cargo demand.
The Loadstar reports:
The transpacific demand spike has eased, with carriers expecting a drop in forward bookings. And container lines have reacted to the softening in demand by blanking a number of sailings this month.
Carriers already anticipate a drop in bookings, with at least six sailings due to be cancelled from week 49 onwards, said Alphaliner. The Ocean Alliance had announced the cancelation of four sailings from Asia to the US this month, while THE Alliance plans to withdraw two voyages.
As a result of this slowing, the Shanghai Containerized Freight Index has been experiencing considerable weakness, with a near triple digit decline in recent weeks.

Source: SSE
The SCFI is composed of several routes, but the most important are the US West Coast at 20%, the US East Coast at 7.5%, and Europe at 20%. The recent rise and fall can largely be attributed to activity between the US and Asia.
In fact, this increased activity between the US and China may be hiding something that should be of great concern, slowing global trade at large.
Which brings us to the global outlook.
Global Ports
In a recent Value Investor's Edge report on a potential bearish structural shift for the dry bulk segment, I was asked a question which led me to share my thoughts on the global economy.
"On a global level, 3 out of the 4 largest economies are suffering right now. Activity has slowed almost everywhere. Collective global monetary policy has shifted and QE is becoming a thing of the past. OECD has estimated that this year alone trade policies have shaved .1-.2% off global GDP. Next year the impact will be much larger if this continues as consumers are hit harder with price increases - which will be compounded by inflation. Additionally, falls in global stock prices in October took more than 9% off the MSCI World Index leaving consumers the world over feeling a bit less wealthy, not to mention less secure in their future. Spending is tied to a consumer's future expectations of the economy. If they feel secure they spend, if they are riled by an increasingly bearish outlook they spend less."
I could have gone on citing slowing industrial growth in several key economies, diminishing forward export orders out of China, vulnerability of emerging economies to fluctuations in the U.S. dollar, etc. but I think the point is well taken.
All of this translates into slowing demand for containerized freight.
Forward prospects are especially concerning as the Shanghai International Shipping Institute's Global Port Development Report of Q3 2018 found global terminal operators had a "mediocre" performance in Q3 with container throughout at 92.57m TEUs handled, merely increasing 2.7% year-on-year.
In fact, the Business Insider reported that "not only is overall global trade growth slowing, but in many areas it is actively shrinking."
New data from the Swiss freight giant Kuehne + Nagel shows that global trade was up 0.3% in November compared with the previous month. It's a massive shift from November 2017, when world trade grew 3.1% month-over-month.
Their World Trade Indicator paints a picture of a solid downward trend.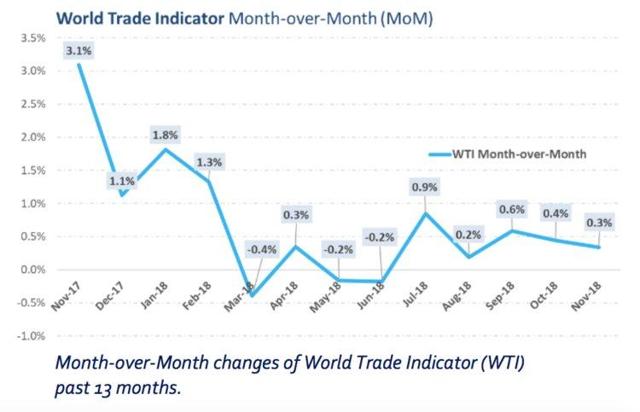 Source: Kuehne + Nagel
Europe has become a primary concern as some forecasts call for flat growth in 2019.
Ben Hackett, writing in an editorial piece for his company Hackett Associates, predicts that next year's volumes for ports in north Europe are expected to be no more than this year's volumes for both exports and imports.
Looking at comparisons in volume changes for key ports provides an extra bit of analysis into why this forecast likely isn't too far off the mark.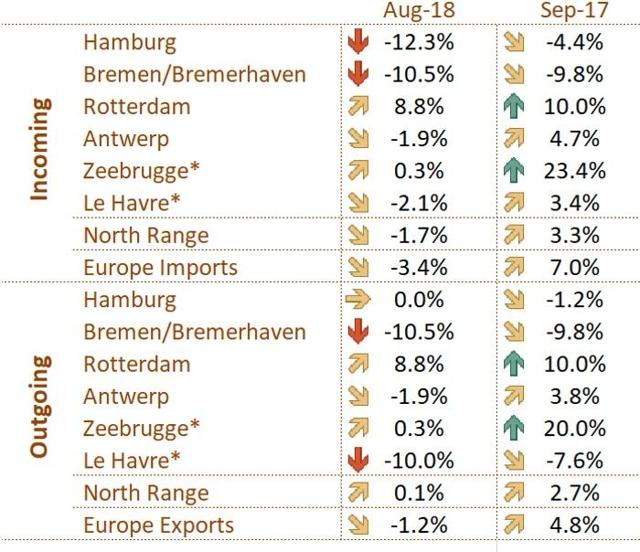 Source: Global Port Tracker: Europe Trade Outlook, November 2018, ISL, Hackett Associates
Will other areas around the globe provide some relief?
Probably not. The Shanghai Shipping Exchange, in their weekly reports, is consistently reporting weakness out of other key areas such as South America, the Persian Gulf, Australia/New Zealand, and Japan.
Now, take into consideration the fact that the cargo pulling out of the US has altered trade flows much to the disadvantage of future cargoes.
All this looks to be spelling out a very tough 2019 for containerized shipping.
Conclusion
Slowing global growth coupled with a potentially escalating trade war is sure to impact container shipping demand.
Both developed and developing economies are seeing revised estimates for GDP growth.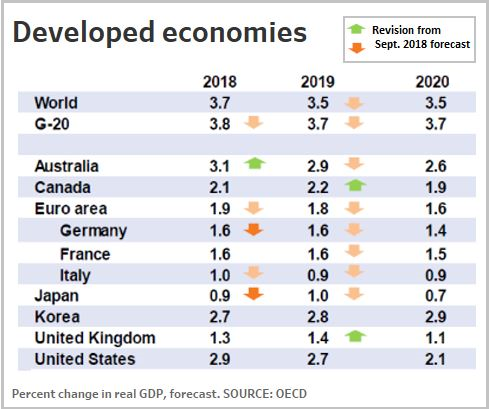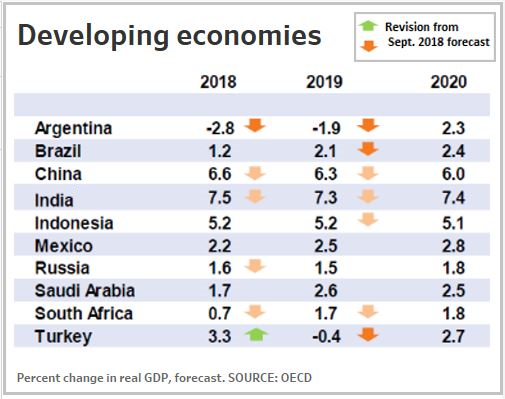 Source: CNBC/OECD
GDP growth is a key indicator as to how containerized trade will fare. Revisions to the downside keep coming and the possibility exists for further reductions.
While Trump says trade wars are easy to win, he is surely not looking at it from a container shipping perspective. Volumes from the US to China have dropped, and while imports into the US remained strong for the start of this battle, the pulling forward of cargoes has its limits and indications are that we are reaching that point.
Pulling cargo forward comes at the expense of future cargoes so even if a halt to the trade war is called tomorrow, normal trade flows will not resume automatically. Retailers will have to work through the extra inventories they have stockpiled in order to avoid the tariffs before trade normalization occurs.
The good news is that the global container fleet is set to grow by approximately 3% in terms of net capacity, which in recent years past would have trailed demand growth.
But Maersk said the combined effect of all trade restrictions introduced during 2018 could reduce global container trade by 0.5% to 2% during 2019-20. Adding a slowing global economy into the mix means we may just be treading water in 2019. That is unless we can wrap us this trade war while seeing significant shifts in the global economic sentiment, especially out of Europe.
As of right now, it looks like next year will see the container segment just muddle along.
Thank You
If you are wondering what is the best way to invest in maritime trade please visit Value Investor's Edge.
Value Investor's Edge
Value Investor's Edge is a top-rated research service dedicated to offering actionable trades and strategic income opportunities. We now cover a variety of deep value and income-driven sectors, while maintaining our focus and very profitable record of shipping industry coverage. Members receive exclusive access to over a dozen reports per month, including regular shipping and commodity macro analysis from James Catlin, exclusive content by top-tier deep value analyst J Mintzmyer, industrial and MLP ideas from Michael Boyd and international insights from Ian Bezek. This winning team has developed a dedicated following of highly knowledgeable investors and industry professionals who also share their own thoughts and ideas.
Disclosure: I/we have no positions in any stocks mentioned, and no plans to initiate any positions within the next 72 hours. I wrote this article myself, and it expresses my own opinions. I am not receiving compensation for it (other than from Seeking Alpha). I have no business relationship with any company whose stock is mentioned in this article.