Navios Maritime Acquisition Corporation (NYSE:NNA) is a 41.6% subsidiary of Navios Maritime Holdings Inc. (NYSE:NM), and it owns a 59% economic interest in Navios Maritime Midstream Partners LP (NYSE:NAP) through its GP and Subordinated Units. It is an affiliate and joint venture partner in Navios Europe I and II of Navios Maritime Partners LP (NYSE:NYSE:NMM).
NNA is in the process of completing a merger with NAP and the preliminary results on the choice of merger compensation by the unitholders of NAP were released December 11th. The Merger was analyzed in depth in "Deep Dive- Part I" and "Deep Dive- Part II." Both should be read as primers to this article. The following is a description of the vote that was included in "Deep Dive I."
The Merger Between NNA And NAP
NNA is acquiring NAP in a common stock for common units exchange that is detailed in this Prospectus. Since NNA controls 59% of NAP through its GP and common unit shares, it has already delivered a written consent to approve the merger. The Prospectus describes the merger transaction and provides common unitholders with an option to receive NNA common stock or to receive preferred stock. The deadline for making the election is December 10, 2018.
The deadline for making an election will be 5:00 p.m. New York time on December 10, 2018, (unless Navios Acquisition provides notice of a later date). If a holder of Navios Midstream Public Units does not properly make an election by the election deadline, he or she will be deemed to have elected that form of Merger consideration (i.e., Common Stock Consideration or the Preferred Stock Consideration, referred to as the "Merger Consideration") elected by the majority of Navios Midstream Public Units for which proper elections are made.
The election to receive the preferred will not be effective in the following circumstance:
For each Navios Midstream Public Unit in respect of which no election is made by the holder thereof (or in respect of which a properly completed Election Form is not submitted), the holder will be deemed to have elected to receive the form of consideration (i.e., Common Stock Consideration or the Preferred Stock Consideration) elected by the majority of Navios Midstream Public Units for which proper elections are made. If holders elect (or are deemed to have elected) to receive the Common Stock Consideration in respect of 80% or more of the Navios Midstream Public Units outstanding prior to the closing of the Merger, all outstanding Navios Midstream Public Units will be converted into the right to receive the Common Stock Consideration and no Preferred Stock Consideration will be issued in the Merger.
The following was my prediction of the vote:
Approximately 41% of NAP is publicly owned. It is likely that the majority of the common unitholders making an election will choose the NNA common stock since the economic terms are better in comparison with the preferred stock (i.e., a better exchange ratio). An investor would only choose the preferred stock if they were willing to forgo some of the economic upside of owning NNA because they perceived the risk of NNA defaulting on its debt and therefore wanted to be a rung higher on the capital ladder to improve its recovery. With the outrageously optimistic projections for both NNA and NAP contained on page 47 of the Prospectus (more on that later), most investors are unlikely to perceive any risk (Risk? What risk? The combined companies are projected to generate $216 million of EBITDA during 2019!) and will choose the common stock option. Who can blame them with such a disingenuous projection proffered by management. In addition, if you were that concerned about the default risk, wouldn't you just sell the stock rather than opt for the preferred?
Vote Results
Since the merger was already a fait accompli due to NNA's voting control of NAP and most common unitholders were unlikely to understand the voting construct, common unitholder voting was extremely light.
As of December 10, 2018, there were approximately 20,947,418 Navios Midstream common units outstanding, of which approximately 41.9% are publicly held. Based on available information as of the Election Deadline, the preliminary merger consideration election results are as follows:

Holders of approximately 22.2% of the outstanding publicly held Navios Midstream units, or 1,950,969 Navios Midstream units, elected to receive common stock.
Holders of approximately 2.7% of the outstanding publicly held Navios Midstream units, or 239,220 Navios Midstream units, elected to receive preferred stock.
In total about 25% of the roughly 8.8 million common units publicly held (i.e. not owned by NNA) participated in the vote. Given the inferior economics of the preferred stock, close to 90% of the common unitholders voting selected common stock. If you voted for preferred stock, unfortunately, you are going to be crammed with NNA common stock.
Pursuant to the definitive acquisition agreement, holders of approximately 75.1% of the publicly held Navios Midstream units (6,586,779 Navios Midstream units) who failed to make a valid election are deemed to have elected to receive common stock. Furthermore, since more than 80% of the outstanding publicly held Navios Midstream units elected, or are deemed to have elected, to receive common stock, it is anticipated that the common stock will be issued to all holders of the publicly held Navios Midstream units.
Recent Stock Price Performance
Since the October 7th announcement of the merger, NAP and NNA have experienced some fairly dramatic swings in ratio based closing stock price since the deal was announced, which is surprising since the merger compensation was a fixed ratio of common units to common stock. The following graph is a relative performance graph beginning on Monday, October 8th through December 11th, the date the vote results were released. There have been several periods of notable performance divergence. It remains to be seen whether the discount that NAP currently trades at will be resolved by a continued price decline in NNA.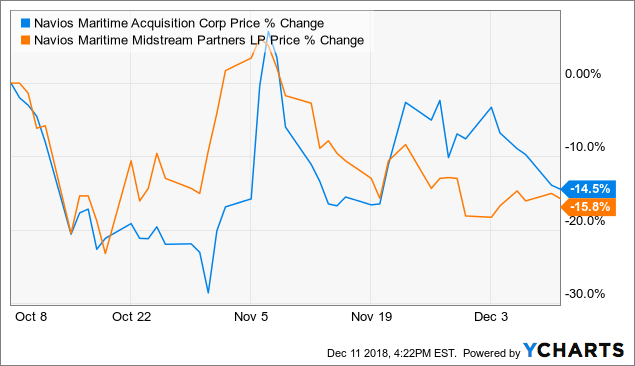 The exchange ratio for the Merger was .42 shares of NNA for each common unit of NAP. The following graph tracks the ratio of NAP unit price/NNA common stock price. At the close on December 11th, the ratio was approximately .376, a fairly sizable discount for a deal due to close in the near future and that has been voted upon.
The three-day relative performance graph below shows the price of NNA fell by almost 15% relative to NAP and dramatically reduced the discount, relative to the fixed exchange ratio, that NAP was trading at. It was interesting that the discount was partially resolved by NNA trading down rather than NAP trading up. On a value traded since October 7th basis, NNA and NAP traded approximately the same amount, $11 million versus $11.7 million. When the deal closes, expect the initial volume of NNA trading to spike and this divergence in pre-close ratios to be resolved.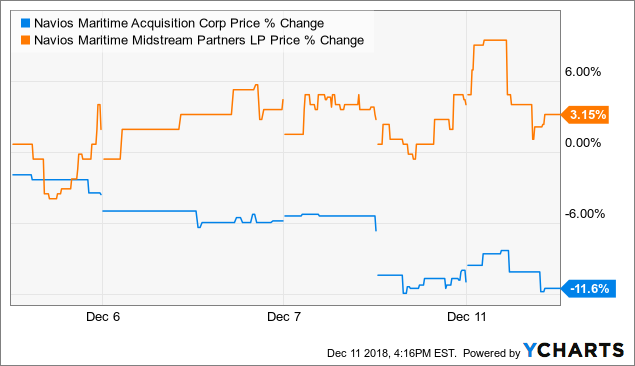 Recent Spike In MR Rates
The rates for MR vessels has enjoyed a price spike that is beyond the seasonal increases experienced during 2016 and 2017. This is illustrated in the last graph of page 1 of this Weber Weekly Tanker report. This is great for companies that have floating rate exposure or had unfixed days at the beginning of the rate run-up during November. Unfortunately, NNA will not capture 100% of the rate spike. A review of NNA's Fleet list indicates that 11 of its LR and MR vessels have 50/50 profit sharing after floating rates exceed certain rate levels.
9 vessels are chartered at fixed rates (NNA will not derive any benefit from the recent rate increases). Please note that charter expiration dates are estimated at the midrange of possible expiration dates. Charterers will keep vessels to the latest date possible when floating rates exceed the chartered rates. NNA has 7 vessels that are 100% floating rates. So it is a mixed bag for NNA.
The Company will definitely benefit from the November to December rate spike, but it will be far less than expected due to the fixed price and 50/50 profit-sharing charters. Depending on what rates do during the remainder of December, the quarter could enjoy revenues $9 to $10 million higher than the vessels would have earned if the seasonal price increase had tracked 2016 and 2017 for the MRs and LRs. This sounds great, but, put into context, prior to the unexpected rate increase in Q4 to date, NNA was heading towards a cash burn range of $60 to $70 million for the year.
If rates follow the normal seasonal trend beginning in Q1 2019 and begin to decline, the Q4 rate spike will have provided NNA with another 7 or 8 weeks of additional liquidity during 2019 assuming a burn rate approaching 2018. This will be a positive for NNA but it is not enough to change the complexion of its 2019 liquidity challenges.
Conclusion
All NAP unitholders will become common stockholders of NNA at the close of the Merger. The merger was a clever move by NNA. It will be a temporary source of funds that likely will allow NNA to survive through Q2 of 2019 (if the recent spike in MR and LR rates carries through to year-end). I continue to expect NNA to decline significantly, defined as 60 to 80% from current price levels, by June 30th, 2019.