A Rocky Road
The price of gold rose $26, and the price of silver rose $0.44. And bitcoin fell $560. Somebody should look into if the Fed and the Plunge Protection Team and the Bitcoin Banks are in cahoots to sell bitcoin naked-short…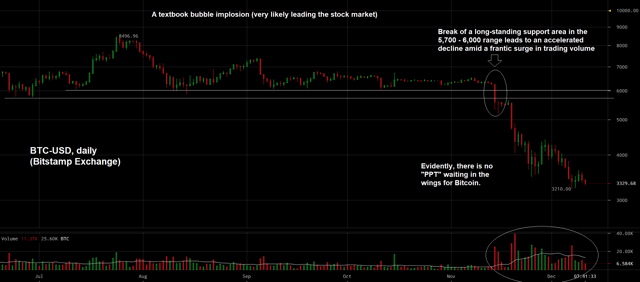 No PPT for Bitcoin - after breaking a long-standing lateral support level, the cryptocurrency went into free-fall. You may notice the little remark in the annotation at the top of the chart: we believe BTC is highly likely to continue to lead the stock market, as it has done since the turn of the year. This is because both markets are under the sway of the same driver, namely rapidly weakening money supply growth. [PT]
Anyways, on a serious note, the S&P index fell 122. So far, this is the scenario towards which we said we are leaning. When the next bust hits, obviously stocks will dive (when the debt is impaired, the equity should be worth zero).
And we said that after 7 years of a bear market, gold and silver are not likely much owned with leverage and therefore may not see price drops as they did in 2008 (which was after years of a bull market). And while equities have had a rocky road since the beginning of October, the price of gold has been in a slightly rising trend since then (silver, not so much).
Perhaps some of those Serious Right Thinking People will come to realize that they do need gold? Or maybe they will just buy it when next its price is obviously and significantly rising. You know, to make dollars (i.e. money). What else is good for? As Warren Buffett said, gold is "neither of much use nor procreative"…
That's sarcasm, by the way. We believe it is good for financing productive activity. Better than the dollar in certain businesses. We would hate to predict that our own actions will be a driver for the gold price, but in this case, we do. When the world sees the re-emergence of gold bonds for the first time in 85 years, this will likely spur lots of people to buy gold.
Fundamental Developments
As to today, let us look at the only true picture of the supply and demand fundamentals of gold and silver. But, first, here is the chart of the prices of gold and silver.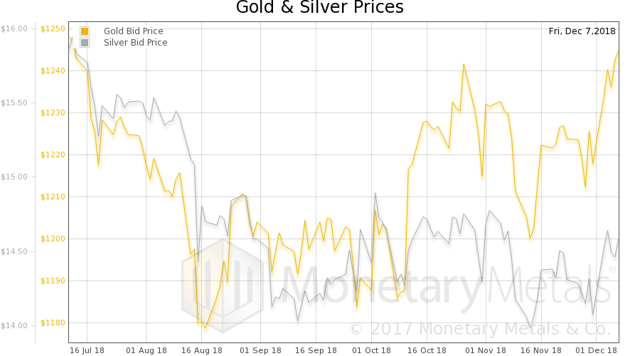 Gold and silver priced in USD
Next, this is a graph of the gold price measured in silver, otherwise known as the gold to silver ratio (see here for an explanation of bid and offer prices for the ratio). It fell this week.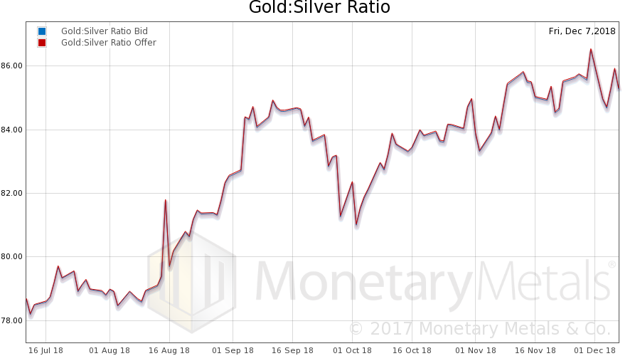 Gold-silver ratio
Here is the gold graph showing gold basis, co-basis and the price of the dollar in terms of gold price.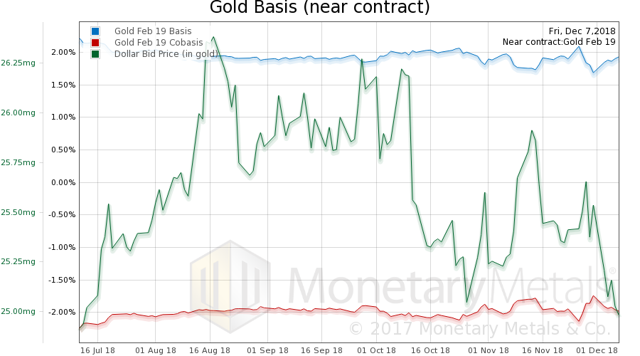 Gold basis, co-basis and the USD priced in milligrams of gold
We see a sizable drop in the price of the dollar (inverse of the price of gold, which rose). And a slight drop in the scarcity of metal (i.e., the co-basis).
The Monetary Metals Gold Fundamental Price fell another $6 this week to $1,293. This shows the value of the fundamental price. It shows that true supply and demand for the metal did not change much, even though the market price did.
Now let us look at silver.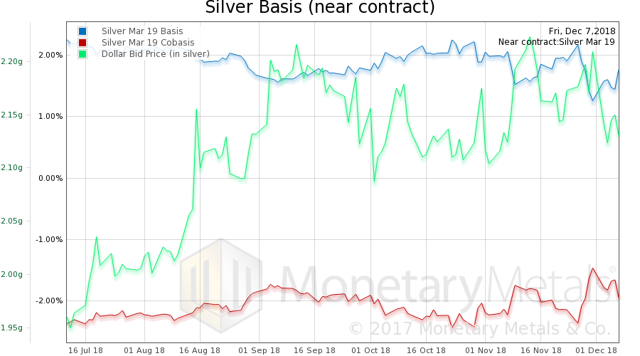 Silver basis, co-basis and the USD priced in grams of silver
In silver, we had an even bigger drop in the dollar price, proportionally. And a bit of a drop in scarcity of the metal, at the higher price of silver.
And unlike in gold, the Monetary Metals Silver Fundamental Price rose 13 cents, to $15.06.
Charts by: crytowatch.ch, Monetary Metals
Chart captions by PT