Introduction
In my opinion, the streaming/royalty segment of the precious metals market is the right place for a conservative investor interested in some exposure to precious metals. First of all, this sector is invulnerable to such classic mining risks as, for example, an operational risk associated with running a gold/silver mine, construction risk (development of an operating mine or construction of a new one) etc. Secondly, as the chart below shows, the streaming/royalty plays seem to outperform classic miners (represented by GDX, one of the most popular gold mining ETFs) in the long term: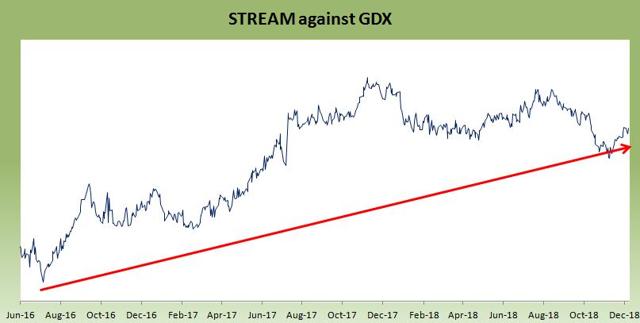 Note: The Stream index, replicating the price action of five big streaming/royalty plays (Wheaton Precious Metals, Royal Gold, Franco-Nevada, Osisko Gold and Sandstorm) was created by the author.
The red, up-sloping line depicts this outperformance, taking the beginning of the current gold cycle (January 2016) as a reference point.
Now, due to these two factors (low risk and outperformance), I decided to launch a regular coverage of the streaming/royalty sector on Seeking Alpha. It means that once a week, I am going to publish an article reviewing the latest developments in the sector. Oh, maybe with a minor exception – the sector is relatively small (it consists of around ten companies) so if there is no relevant news appearing, the article may be published a bit later (for example, within a span of two weeks).
Further, from time to time I am going to present the undervalued and overvalued streaming/royalty plays. To identify these plays I will use a simple discounted cash flow model. Let me start today's discussion with the first valuation survey.
Valuation
As mentioned above, the streaming/royalty sector is considered less risky than classic miners. Keeping this thesis in mind, I have calculated the equity value of the following streaming/royalty companies: Franco–Nevada (FNV), Wheaton Precious Metals (WPM), Royal Gold (RGLD), Sandstorm Gold (SAND), Osisko Gold Royalties (OR), Metalla Royalty and Streaming (OTCQX:MTAFF) and Maverix Metals (OTC:MACIF). Then, using these figures and current share prices, I have identified the undervalued and overvalued picks. Here is my methodology:
Firstly, I calculate the annual (the last four quarters, starting from Q4 2017) cash flow from operations excluding working capital issues.
Then, I divide the annual cash flow by a discount rate of 5%. If my basic assumption (a streaming/royalty sector is less risky than classic miners) is correct, a discount rate of 5% seems reasonable. Additionally I presume that, contrary to classic miners, the life of each company under my survey is unlimited.
As a result, I arrive at the core value of the streaming/royalty business; in other words, the value of this business is equal to the time value of money generated by the portfolio of streaming/royalty assets held by each company.
Then I calculate the equity value of each company using the following formula: equity value = core value of the streaming/royalty business + cash less debt (as at the end of Q3 2018).
Finally, I calculate the ratio defined as current market capitalization/equity value; if this ratio is higher than 1.0, a company is overvalued; on the other hand, if the ratio is lower than 1.0, it means undervaluation.
Note: In the case of Metalla and Maverix, the annual cash flow from operations is calculated taking the results delivered in 3Q 2018 (and multiplied by a factor of 4). Simply put, these two plays are growth companies, rapidly increasing their quarterly revenue.
I realize that it sounds a bit complicated so let me take Franco – Nevada, the world's largest streaming / royalty company, as an example.
Franco–Nevada
Over the last four quarters, Franco-Nevada delivered total cash flow from operations (excluding working capital issues) of $484.9M. Discounting this cash flow by a rate of 5%, I arrive at the net present value of Franco-Nevada's core business. It stands at $9,698M ($484.9M/5%).
Further, at the end of Q3 2018, Franco–Nevada held cash of $77M and had no debt. As a result, the company's equity value was $9,775M ($9,698M plus cash of $77M).
On December 7, 2018, Franco–Nevada shares were trading at $72.21 a share so the company's market capitalization was $13,434M. As a result, the company was overvalued by 37.4%, compared to its equity value:
Overvaluation = (Market cap of $13,434M/equity value of $9,775M) - 1= 37.4%
The sector
Applying the above discussed methodology to all sector plays, I have arrived at these results: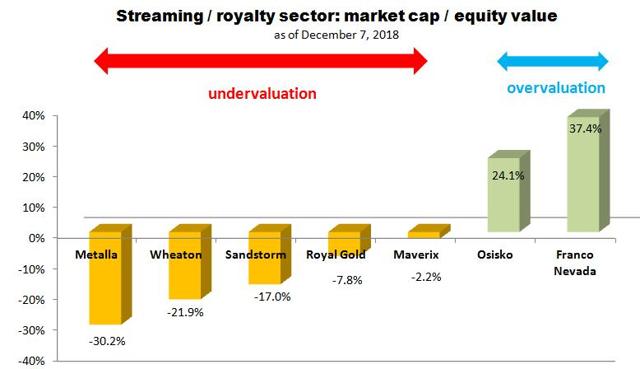 Source: Simple Digressions
As the chart above shows, the most undervalued play is Metalla, a relatively new but very ambitious company demonstrating a 30.2% undervaluation. Unfortunately, in my opinion, this small entity is more risky than its peers. Simply put, Metalla is poorly diversified – as much as 73% of its revenue is attributable to the Endeavour silver stream. On the other hand, it is a typical growth play – for example, in 2019, the company is supposed to receive the first cash from the Joaquin royalty (a 2% NSR royalty on gold/silver production delivered by the Joaquin underground mine owned by Pan American Silver).
The second undervalued play is Wheaton – I think that this giant streaming/royalty play has been punished due to:
Big exposure to silver (most recently strongly underperforming gold)

A legal dispute with the Canadian tax office
Sandstorm – in my opinion, this unorthodox play is even more undervalued than the 17.0% disclosed on the chart above. Apart from a classic streaming/royalty portfolio, the company owns a 30% stake in the Hod Maden gold project located in Turkey. When Hod Maden is online, Sandstorm plans to convert its equity stake into a large streaming asset, substantially increasing the streaming/royalty revenue. However, as of today this potential stream is not included into my calculations (hence, the company is more undervalued than a 17%).
Now, there are two overvalued plays but one of them, Osisko, is not a classic streaming/royalty company. Similarly to Sandstorm, Osisko owns a portfolio of mining assets at various stages of development. Today these assets do not deliver any stream, royalty or gold/silver production so the final intrinsic value of Osisko may be distorted using a discounted cash flow model based on streaming/royalty assets only. By the way, Osisko is a nice subject for another article…
Finally, the largest play, Franco–Nevada. In my opinion, the company's overvaluation is a permanent phenomenon. And I am not surprised because Franco-Nevada is a pioneer of the streaming/royalty sector, delivering strong and stable cash flow each year, no matter at what prices the gold and silver are trading. Hence, despite their overvaluation, Franco–Nevada shares are loved by the streaming/royalty investors.
Latest developments in the sector
Maverix
Last week Maverix closed a streaming agreement with Northern Vertex (OTCPK:NHVCF), a new gold/silver mining company operating the Moss mine in Arizona. According to Maverix:
"The Silver Stream now entitles Maverix to purchase 100% of the silver produced from Northern Vertex's operating Moss mine, until a minimum of 3.5 million ounces of silver have been purchased, after which Maverix will be entitled to purchase 50% of the life of mine production"
In other words, Maverix has paid $20M to acquire a stream entitling to purchase up to 3.5 million ounces of silver from Northern Vertex; the second part of the deal is optional (50% of the life of mine silver production).
Now, I have created a simple discounted cash flow valuation model for this transaction. Here are the basic assumptions:
Price of silver: $14.5 per ounce over the life of the stream.

Annual silver production – 8 years; according to the technical report for the Moss gold/silver project, the target production of 3.5 million ounces of silver should be achieved in the eighth year of operations.

Silver stream cost: Maverix has to make ongoing cash payments to Northern Vertex equal to 20% of the average price of silver ($2.9 per ounce).

Canadian corporate tax rate: 26%

Discount rate: 5%
Further, using these assumptions I have arrived at the after-tax net present value (NPV) of the Moss stream of $25.1M.
Summarizing – due to the fact that Maverix has paid $20M for the stream, the transaction should bring value to the company (NPV is higher than the consideration paid). What is more, it should bring value even at today's very depressed silver price. Good work, Maverix!
Franco–Nevada
Similarly to Wheaton, Franco-Nevada is in a legal dispute with the Canada Revenue Agency (CRA). As in the case of Wheaton, according to the CRA, Franco-Nevada should pay the additional tax on royalty income earned by the company in one of its foreign subsidiaries (in Mexico). To remind my readers, in October 2018 Cameco Corp. (CCJ), one of the world's largest uranium producers, won a similar case in a court of law.
Unfortunately, the CRA has filed an appeal so the case is not over yet. However, I think that the Cameco case may give some support for Franco-Nevada and Wheaton. On the other hand, lawsuits take a long time so I do not expect the end soon. Fortunately, the additional tax requested by the CRA is meaningless for Franco-Nevada ($12.1M).
Sandstorm
On December 6, 2018, Sandstorm amended its revolving credit agreement up to $225M. To remind my readers, this year, the company announced two share buyback programs to repurchase 20.8 million common shares. To complete these programs, the company needs more than $90M in cash but the current cash reserves ($20.2M at the end of September 2018) and cash flow from operations (around $47M a year) are too low to achieve this target. The amended loan should cover all spending needed to complete both programs. Additionally, the company should have sufficient liquidity to continue its aggressive growth policy.
Osisko
On December 10, 2018, the company announced a renewal of a share buyback program. This time Osisko wants to repurchase up to 10.5 million common shares, accounting for 6.7% of the shares outstanding. To remind, this year the company has repurchased 1.7 million common shares up to now.
Today Osisko shares are trading at a 12% discount to their book value so a buyback program sounds like a good idea (a buyback program makes sense when a company's shares are undervalued).
Summary
In my opinion, the streaming/royalty segment of the precious metals market is an interesting place for conservative investors looking for exposure to precious metals. What is more, although the sector is relatively small (there are around ten companies), it offers a variety of investment opportunities. For example, Franco-Nevada or Wheaton are big and stable plays. On the other hand, Metalla or Maverix may be classified as growth stories.
As a result, I decided to launch regular coverage of the sector, discussing the latest developments, identifying the undervalued and overvalued plays, explaining difficult issues, etc. I hope that this review will be of great help to Seeking Alpha readers and investors.
Final note
Did you like this article? If your answer is yes, please visit my Marketplace service, Unorthodox Mining Investing.
This article is an outline of the detailed coverage of royalty/streaming companies available on my Marketplace service. Very often, apart from a typical discussion of the transactions made by streaming / royalty plays, I am trying to evaluate the other party of the deal (a mining company).
Last but not least, now Unorthodox Mining Investing is available at a 5% discount.
Disclosure: I am/we are long CEF, GDX, KL, SAND, ARREF. I wrote this article myself, and it expresses my own opinions. I am not receiving compensation for it (other than from Seeking Alpha). I have no business relationship with any company whose stock is mentioned in this article.