In spite of all the turmoil besetting the toy industry this year – the death of Toys"R"Us, the threat of tariffs, and the meltdown of Kmart – 2018 is turning out to be a good year for toys. The main reason is that the economic situation for the majority of the U.S. population has clearly continued to improve.
These are the main parameters:
| | | | | | |
| --- | --- | --- | --- | --- | --- |
| Parameter | 2017 | Mth | 2018 | Mth | Source |
| Consumer Confidence Index | 123.1 | Dec | 137.9 | Oct | Conference Board |
| Unemployment Rate | 4.1% | Dec | 3.7% | Nov | NCSL |
| Average Hourly Wage | $22.31 | Dec | $22.95 | Nov | Trading Economics.com |
| Full Time Employees | 126 mm | Dec | 130 mm | Nov | Statista 2018 |
| Consumer Price Index | 246.5 | Dec | 252.9 | Oct | US Bureau Labor Statistics |
| U.S. Population | 325.5 mm | Dec | 326.8 mm | Nov | Dept Economic and Social Affairs |
Against this background, it is no miracle that consumer purchases were strong. According to the National Retailer Federation, spending between November and December is estimated at +4.8%. Online accelerated even more – according to Adobe Analytics, purchases grew by 18.6% between November 1 and December 6 or from $57 billion last year to $67.7 billion this year.
History tells us that discretionary spending tends to be more affected than overall retail sales in bad times and the opposite applies in good times. Toys very much fall into the discretionary category [even though parents would dispute this] and have followed this pattern both during the bad 2008 to 2012 period and the good 2014 to 2017 years.
Toy retail sales during October and November have very much performed to this norm and are estimated to have risen by slightly more than 4%. For the whole quarter, this is expected to accelerate to 4.5% or 5%.
All indications are hence that the fallout from the Toys"R"Us demise is history and the migration by the consumers to other retailers has pretty much taken place. All major toy retailers are the beneficiaries – Walmart (WMT) and Target (TGT) reportedly have seen growth well in excess of 20% in their toy sales during the first two months of this quarter. For the Specialty channel and the Department Stores, you are looking at a near doubling of sales, and Amazon (AMZN) [both First Party and Third Party] is up by more than 15%
This should, in fact, not come as a surprise. After all, more than 90% of all toy purchases are event-driven – Christmas, birthdays, hospital visits, visits by grandparents. There is no way that a parent will say to a child that there is no toy under this tree this Christmas because Toys"R"Us has closed. The parent just goes to another retailer or straight to Amazon instead.
This is not to say that there are no dislocations. One of them is that neither Wal-Mart nor Target reacted to this opportunity in the way people expected. They thought that both retailers would massively expand their toy shelf space and give it to the big toy companies in compensation for the space lost at Toys"R"Us. This did not happen.
Firstly, this is how the shelf space developed at the typical Target store and the Wal-Mart Supercenter since Toys"R"Us filed for Chapter 11: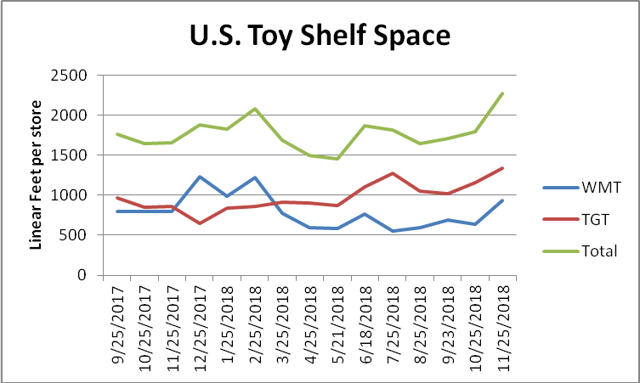 Source: Klosters Retailer Panel
(Incidentally, whilst this information will undoubtedly be redundant for most of my readers, the editors of Seeking Alpha insist that I explain how I get the data for the Klosters Retailer Panel quoted at the bottom of each of the charts. It is derived from my proprietary U.S. retailer panel consisting of ten individual stores - one Walmart, one Target, one Barnes + Noble (NYSE:BKS), one J.C. Penney (NYSE:JCP), one Kohl's (NYSE:KSS), one CVS (NYSE:CVS), one Walgreens (NASDAQ:WBA) and three Learning Express specialty stores. I will not provide any further identification given the confidential nature of the relationships.)
Whilst Target clearly ramped up the shelf space devoted to toys, Walmart is still significantly below what it was a year ago.
This is not to say that there is now less toy shelf space available for toys in the U.S. A significant number of non-traditional retailers have entered the toy space in response to Toys"R"Us's demise – Kohl's, J.C. Penney, Best Buy (NYSE:BBY), Foot Locker (NYSE:FL) and others. In fact, even Toys"R"Us is trying to do a comeback of sorts with its Geoffrey's Toy Box at Kroger (NYSE:KR) who will feature about 35 TRU-branded toys in its 600 stores. Others like Costco (NASDAQ:COST) and Party City (NYSE:PRTY) have expanded their toy space for the holiday season.
An interesting aspect of the shelf space moves undertaken by Walmart and Target is that some of the major toy categories – e.g. Action Figures and Fashion Dolls - in fact are getting less shelf space due to expansion by other and less conspicuous ones. These in particular are Learning, Preschool and Youth Electronics plus Outdoor products such as Blasters, Drones, Hover Boards and others. Also, within the major toy categories you are seeing a shift in the shelf space away from the best-selling brands to newcomers, particularly those that did very well in the Specialty channel.
As far as the brick-and-mortar retailers are concerned, to effectively attract the Toys"R"Us shopper [and to keep him or her away from the other retailers] is to offer the visceral excitement which only a strong presence of new, different and innovative product initiatives can provide.
This is how shelf space for four major toy categories compares between end of September last year [the last month in which Toys"R"Us was still in full operation] and the end of November this year: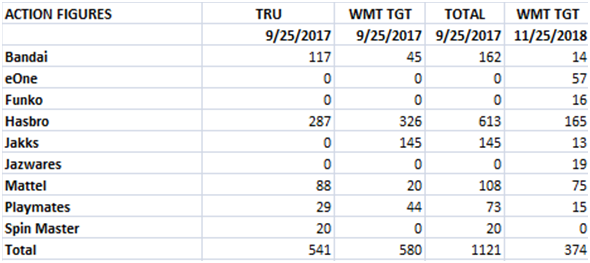 Source: Klosters Retailer Panel
Hasbro (HAS), JAKKS (JAKK) and Playmates (OTCPK:PMTYF) lost significant shelf space at Walmart and Target whereas Mattel (MAT) gained [thanks to Justice League and Jurassic World]. Roblox of Jazwares, P J Masks of eOne and Funko's (FNKO) POP not only gained shelf space but also have the sell-through to match.

Source: Klosters Retailer Panel
Again, here we see that the traditional category leaders Mattel and Hasbro took a beating whereas JAKKS gained because of Disney Princess and Fancy Nancy, MGAE because of LOL and Just Play because of JoJo Siwa, Hairdoarables and Vamprinia – all three companies that had done particularly well at Toys"R"Us.

Source: Klosters Retailer Panel
Nerf clearly gained shelf space but could not totally compensate for the Toys"R"Us loss. However, the "Others," mainly private label products, made significant inroads.

Source: Klosters Retailer Panel
LF/VTech (OTCPK:VTKLF) not only found it impossible to compensate for the Toys"R"Us loss, they also lost shelf space at Walmart and Target. The clear winner in all this continues to be Mattel.
In short, we are faced with a very confusing picture as far as the 4th Quarter toy space in the U.S. is concerned. We have a strongly growing economy and toy sales to match but yet you find that the traditional retailers providing the necessary brick-and-mortar shelf space for the leading toy companies are playing hard to get. You see a whole host of new retailers attempting to fill the gap at pretty much short notice without really knowing what they are doing.
The short answer is that you will have winners and losers this quarter because a rising tide does not lift all boats. The winners are those that on the strength of their innovative products have successfully migrated to the remaining retailers – both established and new. MGAE, eONe, Just Play, Jazwares, Funville and Funko come to mind. Then you have the losers which are pretty much the major players – notably Hasbro and Mattel - whose sell-through patterns so far this quarter have been flat to negative and are likely to remain so.
The good news is that the main dislocations caused by Toys"R"Us's departure are now behind us and this promises an even stronger toy market next year. However, it will no longer be business as usual. The void left behind by Toys"R"Us has fundamentally shifted, at least in the short term, leverage from the toy manufacturers to the retailers. This not only will mean sharper pricing and stepped-up advertising and promotion spending but also a much greater focus on product innovation. The race will go to the swift and nimble and the large toy companies will have to adapt to this if they hope to prosper next year. The 2019 Toy Fair will tell us whether they are succeeding in this task.
Disclosure: I/we have no positions in any stocks mentioned, and no plans to initiate any positions within the next 72 hours. I wrote this article myself, and it expresses my own opinions. I am not receiving compensation for it (other than from Seeking Alpha). I have no business relationship with any company whose stock is mentioned in this article.