On December 3, 2018, SSR Mining (SSRM) declared commercial production at the Chinchillas silver/lead mine in Argentina. I think it is the good news for the company's shareholders because Chinchillas is going to replace the former Pirquitas open pit mine, now nearly depleted. However, I think that the initial euphoria, mirrored in significant outperformance of SSRM shares, may vanish very soon. In this article, I am defending this thesis.
Introduction
Currently, SSRM operates four mines:
Marigold in Nevada - it is a big open pit mine with annual production of 200 thousand ounces of gold
Seabee - an underground mine located in Northern Saskatchewan, Canada. SSRM acquired this mine in 2016 as a result of a merger with Claude Resources
Pirquitas - a depleted open pit mine in Argentina. Currently, SSRM is processing its tailings
Chinchillas - an open pit mine in Argentina, located 42 kilometers from the Pirquitas mine and mill. The project is shared with Golden Arrow Resources (OTCQB:GARWF); SSRM holds a 75% stake. A few days ago, the mine declared commercial production.
Now, in my opinion, SSRM is a very decent miner producing 285-300 thousand ounces of gold per year (production guidance for 2018) at an all-in sustaining cost of production of $978 per ounce of gold (3Q 2018). What is important, two main assets are located in the U.S. and Canada, which are considered very safe mining jurisdictions.
Investment thesis
Since October 2018 (the green circle on the chart below), SSRM shares have been significantly outperforming the broad precious metals mining sector represented by one of the most popular ETFs, GDXJ: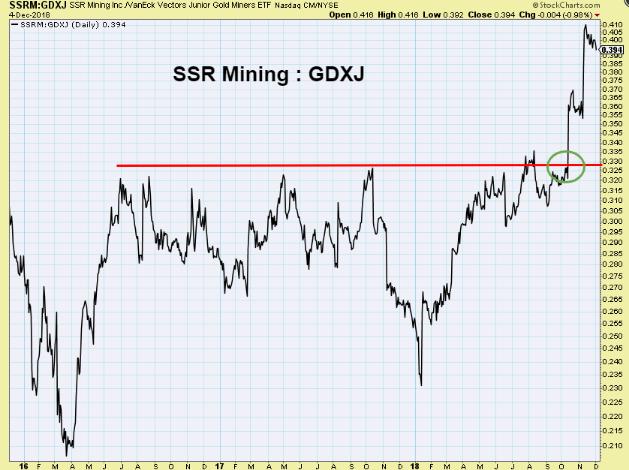 Source: Stockcharts
However, as discussed below, the shares of SSR Mining are overvalued. According to my valuation model, one share of SSRM is worth $8.9, while its market price fluctuates around $11.0 a share. As a result, I think that the current outperformance, most probably triggered by incoming commercial production at the Chinchillas mine in Argentina, is only temporary and sooner or later SSRM shares should revert to the mean. If I am correct, in the medium term, SSRM shares are supposed to underperform GDXJ.
Production profile
The table below depicts the company's production profile for the next thirteen years: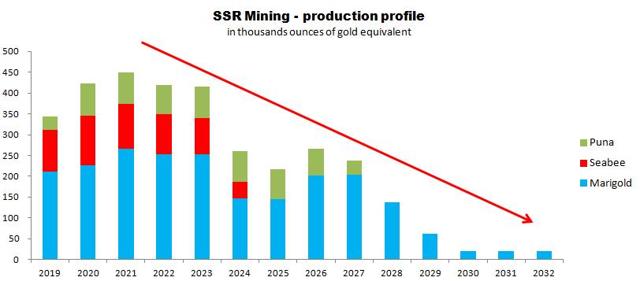 Source: Simple Digressions
Notes:
The figures are expressed in ounces of gold equivalent, using a gold/silver ratio of 85.
The gold/silver ratio of 85 was applied to recalculate production figures for Chinchillas (which is a silver/lead mine)
Puna (Chinchillas) production is disclosed as attributable to SSRM (75%)
I think it is easy to spot that over the next five years SSRM should produce around 410 thousand ounces of gold equivalent a year; then production is supposed to go steeply down driven by depleting Seabee mine, expiring Chinchillas and decreasing production at Marigold.
Summarizing - the next five years should be fine for SSRM, particularly, the first three ones (due to rising production at Marigold and Chinchillas). However, to fill the production gap expected in 2024 and later, the company should focus on exploration/development of a few projects it owns.
Valuation
SSRM has a very decent reporting system. For example, the technical reports/economic studies for each property are available on the company's website. Hence, it is possible to find SSRM value using a discounted cash flow model and this two-step approach:
Firstly, I have arrived at a net present value of operating assets; to do it, I have collected, making a few minor adjustments, all basic figures disclosed in technical reports for Marigold, Seabee, and Chinchillas
Then, I have arrived at the final net present value of the company
Note: the net present value for each project has been calculated using a discount rate of 5% and the following prices: $1,300 per ounce for gold and $19.5 per ounce of silver
Net present value of operating mines
As the table below shows, the three operating mines are supposed to deliver the total net present value of $932M: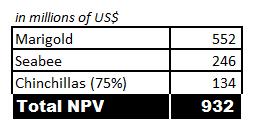 Source: Simple Digressions (based on the data disclosed by SSRM)
Comment:
Of these three properties, the Marigold mine is the flagship property, accounting for 59.2% of total value.
According to the technical report for the Seabee mine, its NPV stands at $292M. However, this figure takes into account the free cash flow delivered in 2018. I have excluded this year from my calculations; as a result, the adjusted net present value stands at $246M.
Chinchillas is a marginal operation (accounting for a mere 14.3% of total value). What is more, its net present value has been calculated using a relatively high silver price of $19.5 per ounce. Applying a more realistic price of $16.0 per ounce (plus a lead price of $0.95 per pound), the project is supposed to deliver an NPV of $75M (the red circle) or $56.3M attributable to SSRM: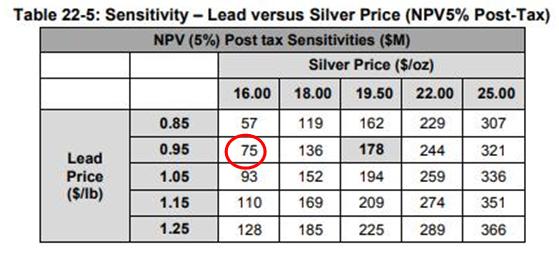 Source: SSRM
Definitely, this project is very sensitive to metal prices, and today, it does not look attractive. However, even at a silver price of $16.0 per ounce, the Chinchillas mine should deliver a very decent internal rate of return of 16%. Well, the point is that although Chinchillas is a very decent project, due to its small size, it is of marginal importance to the company.
Net present value of the company
Now, let me find the intrinsic value of SSRM shares. Here is the table presenting my calculations: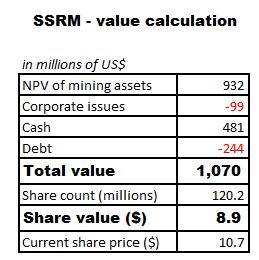 Source: Simple Digressions
Let me make a few comments. The line "Corporate issues" consists of administrative expenses the company incurs to keep the business going. In 3Q 2018, SSRM reported administrative expenses of $6M, but, in my calculations, I am using a bit lower figure ($5.5M). Simply put, SSRM consolidates the Puna joint venture, disclosing 100% of its costs. Now, assuming that each mine has an equal share in administrative expenses, Puna's share stands at $2M per quarter, of which $1.5M (75%) is directly attributable to SSRM. As a result, the annual administrative expenses attributable to SSRM stand at $22M or $99M after discounting these costs over the next 13 years (until 2032 when the Marigold mine expires), applying a discount rate of 5% and the Canadian corporate tax rate of 26%.
Further, at the end of September 2018, SSRM held cash of $481M and debt of $244M. As a result, the estimated total value of SSRM is $1.07 billion or, using the current share count, $8.9 per share.
Today, SSRM shares are trading at $11.0 share, so they are overvalued.
Catalysts
Growth potential
Every mining executive is sure that the assets he/she oversees have tremendous exploration potential. SSRM is no exception, so the company's management is confident that it will be able to replenish reserves/resources at each operation. I partly share this opinion. For example, in 2016, due to exploration success, the company added 360 thousand ounces of gold to Marigold mineral reserves. What is more, as a rule, open pit mines in Nevada are long-term operations demonstrating significant growth potential. So, definitely, there is a good chance that SSRM will replenish mineral reserves at Marigold (and then obtain all permits needed to extend mining operations). However, exploration success falls outside the scope of a discounted cash flow model.
Other projects
The company holds a number of mining projects at various stages of life cycle. If online, they can have a significant impact on an intrinsic value of SSRM. However, as of today, no project has been declared by the company as "under construction". Hence, I am not discussing this issue today.
Risks
Chinchillas
As mentioned above, the net present value of Chinchillas has been calculated using a silver price of $19.5 per ounce, which is well above the current market price. Therefore, the Chinchillas NPV is significantly overstated.
What is more, Puna has just started commercial production, so investors should carefully track the way the mine performs at this critical stage of its life cycle.
Finally, the government of Argentina intends to impose an export tax on gold, silver and metal concentrates. If that is the case, the Chinchillas' economics may be adversely impacted.
NPV values are inflated
The net present values for Marigold and Seabee have been calculated using a gold price of $1,300 per ounce. Today, gold is trading at $1,240 per ounce so, as in the case of Puna, these values are also inflated (fortunately, only a little bit).
Summary
As discussed in this article, SSRM shares are currently overvalued. According to my valuation model, one share of the company is worth $8.9, while the current market price is $11.0 a share. As a result, I expect that, in the medium term, SSR Mining shares are supposed to underperform the broad precious metals mining market, represented by GDXJ.
Final note
Did you like this article? If your answer is yes, please visit my Marketplace service, Unorthodox Mining Investing.
This month I launched the detailed coverage of royalty/streaming companies related to the precious metals sector (for example, Sandstorm, Metalla, Maverix etc.). During a precious metals market meltdown these stocks perform much better than classic miners.
Last but not least, now Unorthodox Mining Investing is available at a 5% discount.
Disclosure: I am/we are long CEF, GDX, KL, SAND, ARREF. I wrote this article myself, and it expresses my own opinions. I am not receiving compensation for it (other than from Seeking Alpha). I have no business relationship with any company whose stock is mentioned in this article.