I last looked at Standard Motor Products (SMP) in November, 2016 just after President Trump was elected. It hit my radar because of Trump's campaign stance on NAFTA and his insistence it must be renegotiated.
"Tell NAFTA partners that we intend to immediately renegotiate the terms of that agreement to get a better deal for our workers. If they don't agree to a renegotiation, we will submit notice that the U.S. intends to withdraw from the deal. Eliminate Mexico's one-side backdoor tariff through the VAT and end sweatshops in Mexico that undercut U.S. workers."
Two years later on November 30, 2018, Mexico, Canada and the United States signed the USMCA trade agreement in Buenos Aires, Argentina at the G20 Summit. USMCA will replace NAFTA.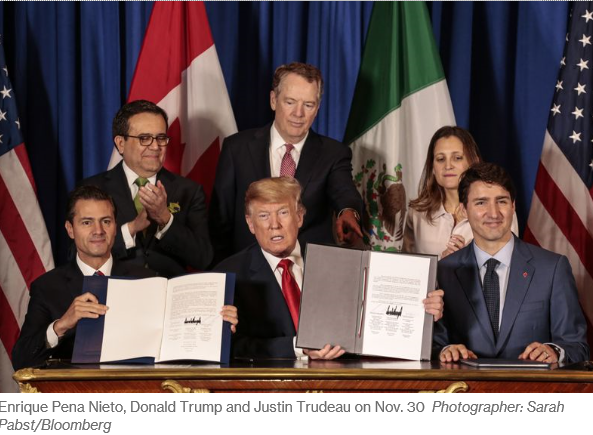 Source
The legislatures in all three countries will still need to ratify the document before it goes into effect. That could take weeks... or months.
For the United States, ratification could be akin to navigating a minefield. It is estimated Congress will, at least, wait until the U.S. International Trade Commission has reviewed the deal and its impact. This commission's report is expected around March, 2019. However, in January 2019, the Democrat party will assume control of the House of Representatives. A Democratic House is not likely to approve the pact sponsored by Republican Trump. Many still suspect President Trump will follow through on his threat to terminate NAFTA as a means of pushing ratification on USMCA.
Political ploys aside, it is prudent to determine whether Standard Motor Products will ultimately be impacted. Nearly half of the company's production facilities are in Mexico and Canada.
Standard Motor's North American Presence
Standard Motor Products is a replacement parts manufacturer and distributor for the automotive aftermarket industry. It operates in two segments – Temperature Control and Engine Management. Of its $845 million in sales through the third quarter of 2018, $600 million, over 70%, was generated by the Engine Management segment. Geographically, 89% of the company's sales in 2017 were generated in the United States. Its five largest customers account for 70% of its consolidated net sales and include O'Reilly Automotive, Inc., Advance Auto Parts (AAP), NAPA Auto Parts, and AutoZone (AZO).
Replacement parts should continue to be in strong demand in the United States. The average age of cars and light trucks on the road continues to creep higher and stood at 11.7 years in 2017. As well, the number of vehicles in use continues to increase, edging above 270 million in 2017 which resulted in approximately 3.2 trillion miles driven.
From 2014 through its projection for 2018, Standard Motor's sales will have grown at a CAGR (compound annual growth rate) of 2.75%.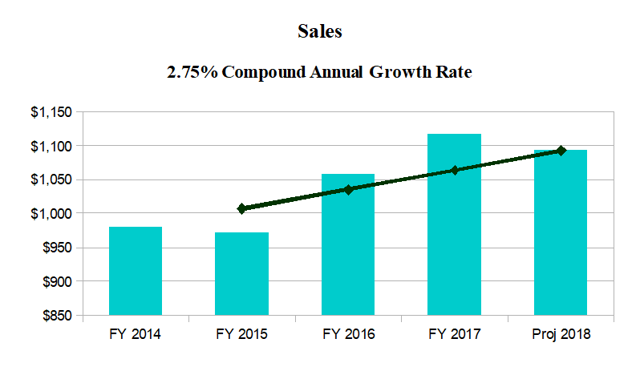 Source: Author-created from company data
However, due to the company's cost containment and continuous improvement, earnings will have grown at a much better CAGR of 9.3%.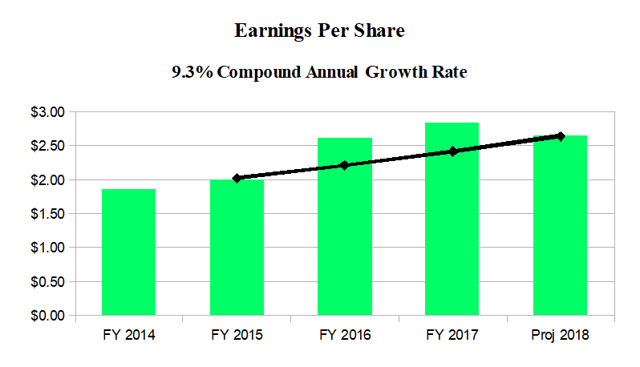 Source: Author-created from company data
The bottom line's better CAGR can be credited to Standard Motor's long-term three-pronged approach.
Increase the number of products manufactured in-house.

Manufacture in-house products in low-cost countries, at 80% at year-end 2017.

Source materials and supplies from low-cost suppliers, at 60% at year-end 2017.
Of the company's twelve manufacturing locations, three are located in the United States, one in Canada, four in Mexico and four overseas.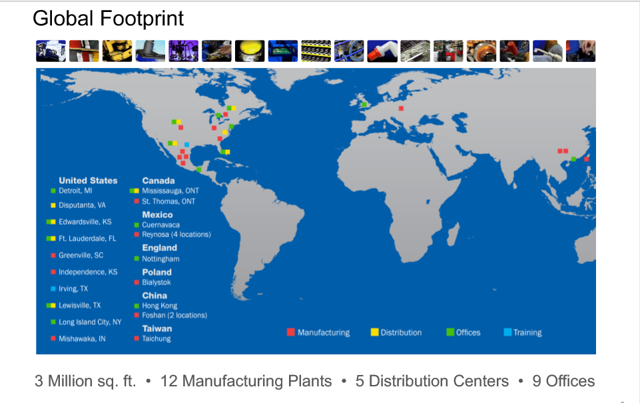 Source
Of its 4,200 employees, approximately ½ or 2,100 are production employees. Approximately 1,100 employees are covered by union agreements in Mexico. Thus, a North American trade agreement regarding production in Mexico could impact over 25% of Standard Motor's workforce.
USMCA Highlights
The USMCA trade agreement specifically addresses the automobile manufacturing industry. Rules of origin will require 75% of a vehicle's content be produced in North America. The updates are meant to incentivize manufacturing in the United States. It is hoped this additional production will add billions of dollars to the domestic economy.
Furthermore, 40% to 45% of the vehicle's content must be manufactured by North American workers making at least $16 per hour. The USMCA pact introduces an avenue for the three countries to address labor violations. Sanctions will be able to be invoked where it impacts trade. As a result, Mexico intends to enact legislation guaranteeing employees the right to not only form unions, but, to also be part of the labor contract negotiation process.
According to the White House, the trade agreement is modern and balanced.
"USMCA will cut red tape at the border, streamline trade, and reduce regulatory uncertainty."
USMCA Potential Impact On Standard Motor Products
Already mentioned, Standard Motor Products manufactures and distributes vehicle replacement parts. The manufacturer does have a small but expanding footprint in the original equipment (OE) market.

Source
"We are making inroads in the Original Equipment and OE Service business. We continue to broaden our product offering, such as increasing parts coverage for diesel engines, adding sensors for driver assistance & safety applications, and developing fuel injectors for compressed natural gas applications."
To be clear, Standard Motor does not provide OE parts to original equipment manufacturers but it does provide OE parts to original equipment service providers. This leg of the industry holds unique potential.
"In addition to new car sales, automotive dealerships sell OE brand parts and service vehicles. The products available through the dealers are purchased through the original equipment service ("OES") network. Traditionally, the parts manufacturers of OEMs have supplied a majority of the OES network. However, certain parts manufacturers have become independent and are no longer affiliated with OEMs. In addition, many Tier 1 OEM suppliers are disinterested in providing service parts requirements for up to 15 years after the OE model has gone out of production. As a result of these factors, there are additional opportunities for independent automotive aftermarket manufacturers like us to supply the OES network."
Because of this specific distinction, it does not appear the USMCA auto industry rules will directly impact Standard Motor.
But, it is important to recognize new legislation enacted in Mexico to adhere to the USMCA agreement regarding labor unions could have an impact. Some accuse U.S. companies of continuing to pay workers in Mexico at a poverty level. If workers in Mexico are granted the right to negotiate pay and working conditions, wages and operating costs could increase for American companies with operations there.
Standard Motor has already noted difficulty in hiring and retaining qualified candidates in its production geography.
"This [General Cable integration including plant relocation and consolidation] has been a major undertaking requiring the hiring of hundreds of employees, which comes with significant one-time costs in terms of training expense, lower productivity, duplicate functions and so on. Frankly, it's proven to be more challenging than expected, which has been impacted by a tightening labor market in Reynosa. This has caused higher turnover and, therefore, continuous hiring and training costs."
Thus, it is quite reasonable to expect the company, to enable staffing at necessary levels, to have to keep pace with other U.S. manufacturers in the region once reforms begin to be enacted. As well, it is just as reasonable to surmise Standard Motor is not paying its current workers in Mexico at a poverty level. Thus, even if labor costs do rise, the impact to Standard Motor will not be as severe.
In all of this, it will be critical for Standard Motor to assess the profitability of its products and product lines. And, it does appear such a mindset is already being adopted, as evidenced in the 2017 fourth quarter earnings call.
"Our OE business has really improved over the last many years partly in terms of sales growth but more in terms of the attractiveness of what we're pursuing, where we've really tried to get much more focused in areas where we think we have a competitive advantage, so that we're not just playing on price and finding ourselves in commoditized categories. And so the areas that we've been focusing on, one, has to do with fuel injection because it happens to be an area where there are very few players and getting into alternative fuels seems to be a nice niche, especially overseas, where they are adopting it much faster than they are here in the U.S."
Beyond North America
Beyond North America, trade tensions with China continue to weigh on manufacturing industries domestically. Standard Motor is no exception. It does import product from China. But, unlike other auto replacement part manufacturers, its North American imports number greater than its Chinese imports.
"We therefore are less reliant on China than others, which we think will help us in the long run."
To date, the company has been able to pass on the impact of tariffs directly to its customers.
"As you know, they are now in effect in three tranches of product categories covering $250 billion in U.S. imports. We have products in all three tranches across both of our divisions."
Beyond Trade
The company does face obstacles beyond the potential impact of trade negotiations.
For example, it has an ongoing obligation related to asbestos liability as a result of an acquisition in 1986 (and subsequently sold in 1998).
"Future legal costs, which are expensed as incurred and reported in earnings (loss) from discontinued operations in the accompanying statement of operations, are estimated, according to the updated study, to range from $44.3 million to $79.6 million for the period through 2060."
Because it has grown by acquisition and intends to continue to acquire bolt-on companies and vertically-integrated suppliers, Standard Motor is often dealing with integration tasks. In 2016, it opted to consolidate three factories into existing facilities. The undertaking was quite substantial and somewhat lengthy. In its 2017 annual report, the company expected synergies and cost savings to materialize in 2019.
"However, these are one-time costs, and will be coming to an end by the latter part of 2018. When the moves are complete and we return to historic efficiencies, we will be a far stronger company."
It reaffirmed the hypothesis as recently as the 2018 third quarter earnings call.
"While the first half of the year had various challenges which continue to be a drag on our year-to-date performance, the third quarter saw some of those issues sunset with others showing real signs of improvement. We obviously still have a lot of work ahead of us, but we believe that once we get these relatively short-term issues behind us with the ongoing favorable dynamics in the industry and our strong position in the market, we are optimistic about the balance of the year and the future as we enter our 100th year."
In April, 2019, Standard Motor Products will celebrate its 100th anniversary.
Numbers
Like many, shares of Standard Motor trended lower and lower in October to as little as $43.08 per share on October 24th. But, the stock price exploded 15% higher on October 26th after the company reported 2018 third quarter results. It reported a slight beat on the top line and reported earnings in line with analysts' average expectation. The stock price continued to creep upward and set a five-year high on November 1st at $56.54.
In this latest market correction, downturn, reset (whatever it turns out to be), Standard Motor's share price has held up well, comparatively. Recent prices in the $49 to $52 range are just 10% to 12% off the high. Yet, for the year, share price appreciation is still approximately 10% to 12%.
The company does pay a slight dividend of $0.84 annually. When the share price is above $49.40, this equates to a yield less than 1.7%. Since 2010, the company has bumped the quarterly rate by $0.02 per share. It would not be unreasonable, with a payout of just 32%, to expect the rate to increase in February, 2019 to an annual rate of $0.92 per share. Supporting this projection is the company's debt position. As of the 2018 third quarter, Standard Motor owed only $51 million in debt obligations resulting in a debt-to-equity ratio of just 9.7%.
In addition to its dividend, Standard Motor also has an active share repurchase program authorized. In 2017, the company repurchased approximately 540,000 shares at a cost of $24.8 million. At year-begin 2018, $5.2 million remained on that repurchase authorization. In May, 2018, the company authorized another $20 million. By the end of the 2018 third quarter, Standard Motor had repurchased $9.3 million more. This means nearly $16 million remains available in the buyback program.
Investment Considerations
It's often said investors flee to "safety" in the midst of market turmoil. Yet, determining what is actually a "safe" investment is the key.
At an average multiple of 15 and based on an average 2019 earnings estimate of $3.36, we calculate fair value of $50.40 per share. The stock is currently trading in line with our estimate of fair value. Standard Motor's share price stabilization lends credence to a classification of "safe".
As well, its commitment to shareholder return through dividends and share repurchase would support an investment decision. The company's relatively low debt position and clean balance sheet positions it to continue to withstand a bit of market turmoil and upheaval.
However, the auto replacement parts market outlook is not signaling a slowdown at all. Rather, an ongoing and growing need continues to materialize. With this as a foundation, Standard Motor does appear to be a "safe" company in a "safe" market.
Disclosure: I am/we are long SMP. I wrote this article myself, and it expresses my own opinions. I am not receiving compensation for it (other than from Seeking Alpha). I have no business relationship with any company whose stock is mentioned in this article.