I've been in and out of window and cabinet component manufacturer Quanex Building Products (NX) on a few occasions over the past few years - and that's probably the right way to play the stock. Quanex isn't a bad company - but it has a very tough business model. It's largely at the mercy of end markets in windows and cabinets; market share gains are possible, but high switching costs make the process slow and difficult.
Meanwhile, it's becoming abundantly clear across the building products space that higher input costs aren't getting passed to the end consumer - and need to be absorbed at least in part along the supply chain. Disappointing Q4 results from Quanex on Tuesday show the company isn't immune to that trend. Overall, external factors on both the demand and cost side can - and have - offset execution improvements and strategic efforts.
Certainly, the weakness in the stock, which fell 12% to a seven-year low on Tuesday, isn't a surprise given the extreme pressure seen across the construction space. And there is no shortage of candidates to play a thesis that revolves around the sector's sell-off being overblown. But NX is at worst one of those candidates - and at these levels, might be cheap enough even if the news is as bad as it seems. Meanwhile, if management's optimism holds up, NX should at least return to its long-held trading range - which suggests 25%+ upside.
The Wrong Time for a Bad Quarter
Quanex actually had performed reasonably well in FY18 (ending October), with the stock climbing double-digits after solid earnings reports for both fiscal Q2 and Q3: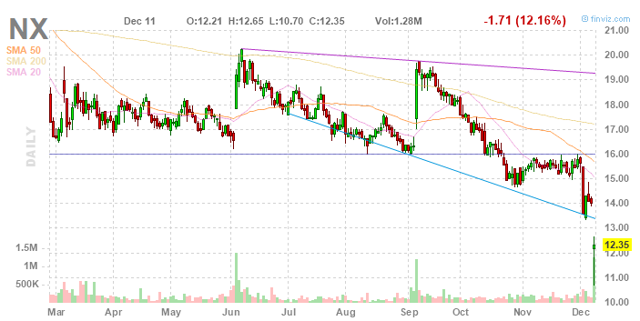 source: finviz.com
But each time, sector concerns swamped post-earnings relief rallies, one key reason why I exited the stock in September.
This time around, Quanex can't blame the industry - or at least not investor sentiment toward the industry. Q4 was a huge disappointment. After Q3, Quanex had pointed investors to the "mid- to upper range" of full-year revenue guidance of $890-$900 million, and to the low end of $103-$108 million in Adjusted EBITDA. Pegging revenue at $897 million, and EBITDA at $103 million, here's how the quarter played out relative to implied guidance:
| | | | |
| --- | --- | --- | --- |
| Metric | Q4 Implied Guidance | Q4 Actual | Delta |
| Revenue | $251.3M | $244.1 | (2.9%) |
| Adj. EBITDA | $37.3M | $25.2M | (32.5%) |
EBITDA margins compressed 400 bps year-over-year to 10.3%. Revenue did rise 6.1%, but with some help from pricing taken to offset raw material cost increases. In the context of the quarter, the capitulation in the stock makes some sense - because it looks as if the business itself finally has given way to the pressures facing the industry.
Taking a broader view, Q4 raises additional concerns. The company had to cut guidance last year after Q2, and now has missed for a second consecutive year. CEO Bill Griffiths was quoted in the Q3 release on September 6 - five-plus weeks into the quarter - as saying "underlying growth remains healthy" in the window businesses (which combined drive over 70% of revenue). Yet in the Q4 release, Griffiths said that net sales in August and September were "softer than anticipated" - and the cabinet segment had "a strong quarter all around", as the CEO put it on the Q4 call. It's not clear how those comments can be squared.
Looking back even further, Quanex at its June 2016 Analyst Day guided for "mid-cycle" revenue of $1.3-$1.4 billion and Adjusted EBITDA of $185 million-$210 million. Many (if not most) investors think "mid-cycle" has at least arrived - and Quanex is guiding for ~$930 million in sales and, at the midpoint, a little over $100 million in Adjusted EBITDA.
The results, then, seem to matter both from a fundamental and a qualitative standpoint. There's been more than a little overpromising from Quanex in recent years - and investors might not trust the outlook at this point. In fact, the reaction to the Q4 report pretty much proves that they don't.
The FY19 Outlook
As bad as the Q4 numbers look, FY19 guidance isn't necessarily that bad. Quanex is projecting revenue growth of 4-6%, which is better than consensus expectations of 3.8%. The Adjusted EBITDA outlook does look disappointing, admittedly: modeling guidelines from the Q4 call and the midpoint of the EBITDA range suggest FY19 EPS around $0.90, against Street expectations of $1.02.
Still, Quanex is guiding for growth next year, with Adjusted EBITDA expected to climb 7-18% and margins headed for a ~70 bps expansion to ~10.9% at the midpoint of the range. Griffiths spoke optimistically about taking pricing, and while admitting that new construction demand was headed for a slowdown, cited accelerating strength in R&R (renovation and replacement) - a category in which Quanex has greater exposure.
Even the Q4 results themselves seem somewhat explainable. Quanex saw a big jump in incentive accruals (up $11 million year-over-year) which are based on free cash flow - due to the fact that working capital help drove a monster quarter and year on that front. (FCF was $78 million for the year, and $51 million in the quarter, against a current market cap below $500 million.) A nearly $4 million increase in medical expenses, driven in part by unusual claims, contributed as well. Back out just the incentives, and EBITDA actually rose year-over-year; the two factors explain all of the 120 bps EBITDA margin compression seen in fiscal 2018, and at least a decent chunk of the profit shortfall in Q4.
In fact, Griffiths sounded rather sanguine on the Q4 call. Toward the end of his prepared remarks he told listeners, "So while there is currently some pessimism within the building products sector, our current view isn't quite as negative." He added moments later that "we are confident that we can pass these [rising logistics, benefits, and healthcare] costs on through pricing initiatives." In the Q&A, he pointed to recaptured business and increased outsourcing (due to labor shortages) as top-line drivers, and argued that an apparent ceiling in price for homebuilders wouldn't reach Quanex's spot "at the lower end of the food chain".
To be sure, that optimism needs to be taken with a grain of salt. Fundamentally, the problem with the impact of incentives and healthcare costs in Q4 is that it suggests much weaker underlying performance in FY19, even assuming guidance is hit. Incentives are being reset - but "the bulk" of a $4 million y/y increase in medical costs was largely one-time. At the midpoint of guidance, that $3M+ depression to the prior-year comparison represents about a quarter of the guided EBITDA increase in FY19 - and roughly half of the margin expansion. And, again, Quanex has been overoptimistic in recent years - which makes betting on what seems like a contrarian opinion from management seemingly risky.
A Sneaky Bull Case
There's a way to see NX in a very unappealing light. The high end of EBITDA guidance remains below FY16 levels. The 70 bps margin expansion guided this year still leaves the company about 100 bps shy of FY16's 11.9%. And if that guidance misses, the trend starts to look reasonably clear, with help from the 2015 acquisition of HL Plastics and operational improvements already baked in and industry pressures rising: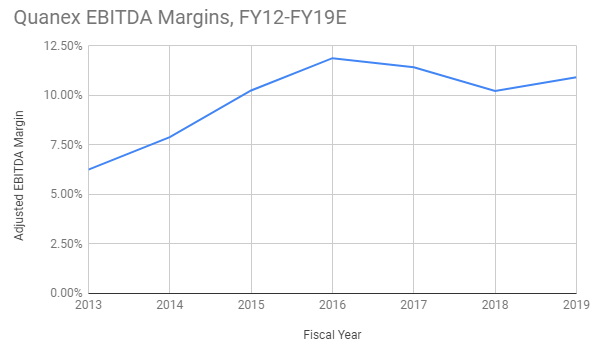 source: author from NX press releases. FY19 figure at midpoint of company guidance
Management has overpromised. The stock never showed consistent appreciation even during an eight-year recovery (it stayed stuck between $17 and $23 for nearly the entire 2010s until recently). The industry looks like an outright mess from the demand side, particularly in new construction, and the cost of raw materials, labor, and freight are increasing. There are plenty of contrarian housing-related bets (I'm long distributor GMS (GMS), for instance) out there at cheap prices, which might undercut any valuation-based arguments. If sector bears are right, Quanex probably can't adjust all that quickly (if it all) and another year of missed guidance is on the way. If they're wrong, other stocks look like more attractive plays (heck, even Home Depot (HD) is off 20% from its highs).
All that said, NX closed Tuesday near $12 (and spent much of the session below that level). And there is an intriguing bull case at that valuation from a fundamental standpoint.
For one, if management is right, NX can rebound in a hurry - and rebound big. The midpoint of FY19 EBITDA guidance suggests an EV/EBITDA multiple right at 6x. This is a stock that historically traded in the high 7s/low 8s, with a much more leveraged balance sheet (more on that in a moment). Even a one-turn haircut to that range based on near-/mid-term sector fears gets NX to $15.65 or so (at 7x the midpoint of guidance), nearly 27% upside (plus a 2.6% dividend yield). And if sector fears abate, it's true a number of stocks could rise. But 8x, say, $105 million in Adjusted EBITDA gets the stock to $20 assuming a small amount of debt paydown.
Again, it's unwise to blindly trust management (here or anywhere else, for that matter). But guidance aside, it's not as if Quanex has done nothing the past few years. It's deleveraged sharply from 3x+ to 2x, while executing two refinancings that have further cut interest expense. The company walked away from low-margin business in the window business last year (though it hasn't helped consolidated margins so far), after making a concerted effort to streamline its manufacturing process. Similar improvements on the cabinet side have led to sharp gross margin improvements the last two quarters (+225 bps in Q4) and should benefit 1H FY19 results as well.
Those improvements haven't helped overall results, to be sure. But that may be more of an industry problem than an execution issue. Window manufacturer JELD-WEN (JELD) is down 63% from its 52-week high, and cabinet maker American Woodmark (AMWD) 61%. Both companies are dealing with increasing margin pressure from rising lower-end demand (among other issues). It's difficult to tell from the outside whether Quanex's results have been disappointing - or decent, and maybe even solid, considering the states of its two end markets.
Secondly, price matters. And so does free cash flow. The combination makes NX look quite intriguing here. Earnings multiples don't look particularly attractive, with NX at ~14x implied EPS guidance (and 19x FY18 adjusted results). But depreciation and amortization are much higher than capital expenditures: D&A is guided to $51 million next year, while capex is projected to be $25-$30M (in line with the long-range outlook).
That both provides a tax shield and makes P/FCF multiples much more attractive. FY19 FCF guidance is for $50-$55 million, suggesting an 8-9x multiple - and that's without a repeat of the working capital tailwind that benefited Q4 numbers. Even assuming Quanex whiffs on the EBITDA range, the figure still clears $40 million and the multiple sits around 10x.
Those kind of multiples are available elsewhere in the sector. But generally not for companies that have a 2x net leverage ratio (which likely will come down in FY19 even without EBITDA growth) and the more stable R&R exposure that Quanex does. That combination creates a nice set of options for Quanex going forward. The dividend takes up about $10 million a year after being doubled this year; the remaining FCF can be used either to deleverage or to buy back stock. (The plan for FY19 appears to be both.)
Quanex did undertake a strategic alternatives review this year, and at the conclusion elected to go it alone (while ramping up shareholder returns). But it can go back to that process if the current lows hold - and a lighter balance sheet and the FCF profile could make it an interesting go-private option. (It's tougher to come up with a strategic acquirer, though likely not impossible.)
In short, the news in Q4 looks bad - but I'm not sure it's that bad. Given that NX already had tumbled heading into the report, even the 12% decline looks like a potential overreaction. There are risks here: a big miss in FY19, in particular, makes this look not only like a declining business, but one without any levers to pull for revenue growth or margin expansion. But even if management is overoptimistic again, NX still trades at ~10x cash flow with an increasingly safe balance sheet. And if management is right - or gets it right - a rebound to past levels could be on the way.
Disclosure: I am/we are long NX. I wrote this article myself, and it expresses my own opinions. I am not receiving compensation for it (other than from Seeking Alpha). I have no business relationship with any company whose stock is mentioned in this article.