Common measurements of financial conditions can give misleading results. We believe our new Financial Conditions Indicator (FCI) is a better gauge. Elga explains why.
U.S. financial conditions have tightened significantly since risk assets began to falter in the summer. Why does this matter for investors? Financial conditions describe how changes in financial asset prices impact economic growth. The more they tighten, the more they weigh on economic growth. The more they ease, the more they boost growth. But financial conditions are tough to measure.
Common gauges - which include interest rates, market volatility, and asset valuations - can give misleading results. This is because unadjusted financial asset prices tend to both reflect growth news as well as drive growth news. Take the following example: Rising U.S. growth expectations can push up yields and the dollar. This could lead to the deceptive conclusion that financial conditions are tightening and the growth outlook is deteriorating. Most common gauges account for the impact of the business cycle thus far on financial asset prices, but they do not account for the fact that current economic expectations also affect today's asset prices and hence financial conditions.
Financial Conditions Indicator (FCI)
Our latest Macro and market perspectives, A tale of tighter conditions, introduces our Financial Conditions Indicator (FCI) - a better gauge of financial conditions, we believe, than common measurements. Our new FCI seeks to avoid the problem of common gauges by fully stripping out the impact of growth news on asset prices from the underlying asset prices for government bonds, corporate credit, equity markets, and the exchange rate. Once the forward-looking factor is also removed, our FCI behaves more closely in line with economic theory. Case in point: an increase in interest rates and yields following better growth news does not lead to an assessment by our metric that financial conditions have tightened.
Our FCI provides a measure of the impact that financial conditions are exerting on the growth outlook - as proxied by the BlackRock Growth GPS - and not the impact of the current growth outlook on financial conditions. Its inputs include policy rates, bond yields, corporate bond spreads, equity market valuations, and exchange rates.
What is our new FCI telling us?
It shows financial conditions in the U.S. and in the eurozone are tightening. Moves in our FCI have historically led our growth GPS by around six months. Tighter financial conditions suggest that growth in the U.S. will likely decelerate in the coming twelve months. See the Tighter times chart.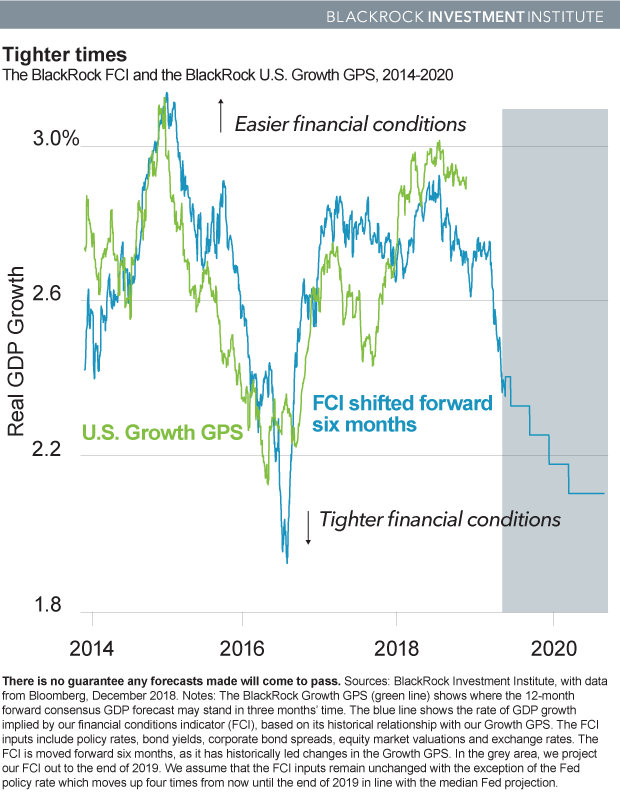 All other things equal, this implies slowing, but above-trend global growth in 2019, we believe. The sell-off in financial markets since the summer and ongoing Fed policy tightening would be consistent with U.S. gross domestic product (GDP) growth slowing to just under 2.5% next year from almost 3% now. The market sell-off since September has alone caused a tightening in financial conditions equivalent to a 35 basis point decline in the U.S. Growth GPS.
What does our FCI say about monetary policy?
In September, the median Fed projection was for four more rate hikes by the end of 2019. Our FCI suggests this would tighten financial conditions enough to arrive at 2% growth by 2020 - assuming that no other factors weigh on growth. But the fading fiscal stimulus boost - which alone could lower U.S. GDP growth by 25-75 basis points, according to our estimates - and elevated trade tensions will likely also weigh on growth, reducing the scope for Fed rate hikes, we believe. And another financial market sell-off could further tighten financial conditions.
We believe monetary policy tightening - beyond that priced by the market - would only be required to engineer a "soft landing" if no other headwinds slow growth down to around 2%. Growth at 2% is the level that we and the Fed believe to be sustainable because it is closer to the pace of growth of potential output.
In the eurozone, our FCI suggests a substantial slowdown in GDP growth to less than 1.5% next year - financial conditions are already tight enough for growth to moderate to a level close to potential. We believe this implies that the European Central Bank (ECB) may decide to keep interest rates at record lows for most of 2019. But fiscal stimulus by several member states could also support eurozone growth, potentially changing the picture for the ECB.
Bottom Line
Our FCI - like other daily gauges of financial conditions - is currently based on a small set of financial market variables so it can be updated on a daily basis. But financial conditions are also represented by other information that includes surveys of credit conditions, interest rates charged and paid by banks, and the amount of financing that is being made available to the private sector. These factors should also be considered in assessing financial conditions.
Investing involves risks, including possible loss of principal.
Fixed income risks include interest-rate and credit risk. Typically, when interest rates rise, there is a corresponding decline in bond values. Credit risk refers to the possibility that the bond issuer will not be able to make principal and interest payments. Non-investment-grade debt securities (high-yield/junk bonds) may be subject to greater market fluctuations, risk of default or loss of income and principal than higher-rated securities.
International investing involves special risks including, but not limited to currency fluctuations, illiquidity, and volatility. These risks may be heightened for investments in emerging markets.
This material is not intended to be relied upon as a forecast, research or investment advice, and is not a recommendation, offer or solicitation to buy or sell any securities or to adopt any investment strategy. The opinions expressed are as of December 2018 and may change as subsequent conditions vary. The information and opinions contained in this post are derived from proprietary and non-proprietary sources deemed by BlackRock to be reliable, are not necessarily all-inclusive and are not guaranteed as to accuracy. As such, no warranty of accuracy or reliability is given and no responsibility arising in any other way for errors and omissions (including responsibility to any person by reason of negligence) is accepted by BlackRock, its officers, employees or agents. This post may contain "forward-looking" information that is not purely historical in nature. Such information may include, among other things, projections and forecasts. There is no guarantee that any forecasts made will come to pass. Reliance upon information in this post is at the sole discretion of the reader. Past performance is no guarantee of future results. Index performance is shown for illustrative purposes only. You cannot invest directly in an index.
©2018 BlackRock, Inc. All rights reserved. BLACKROCK is a registered trademark of BlackRock, Inc., or its subsidiaries in the United States and elsewhere. All other marks are the property of their respective owners.
This post originally appeared on the BlackRock Blog.