Janet Yellen Continues To Make My Case For Gold
Includes:
DDM, DIA, DOG, DXD, EEH, EPS, EQL, FEX, FWDD, HUSV, IVV, IWL, IWM, JHML, JKD, OTPIX, PSQ, QID, QLD, QQEW, QQQ, QQQE, QQXT, RSP, RWM, RYARX, RYRSX, SCHX, SDOW, SDS, SFLA, SH, SMLL, SPDN, SPLX, SPUU, SPXE, SPXL, SPXN, SPXS, SPXT, SPXU, SPXV, SPY, SQQQ, SRTY, SSO, SYE, TNA, TQQQ, TWM, TZA, UDOW, UDPIX, UPRO, URTY, UWM, VFINX, VOO, VTWO, VV
by: Quoth the Raven
Summary
Less than 18 months after saying she believed a new financial crisis wouldn't happen in 'our lifetimes', Janet Yellen has changed her tune.
Yellen was out Monday night detailing 'gigantic holes in the system' that could cause another financial crisis.
The Fed appears to me to be clueless. I believe this is a great time to continue to own gold.
Those of you that read me regularly know that I am a strident critic of both our Federal Reserve and of monetary policy as a whole.
The most recent (front page, CNBC) headlines concerning Janet Yellen are exactly why my tone toward policy and those who institute it in this country is skeptical.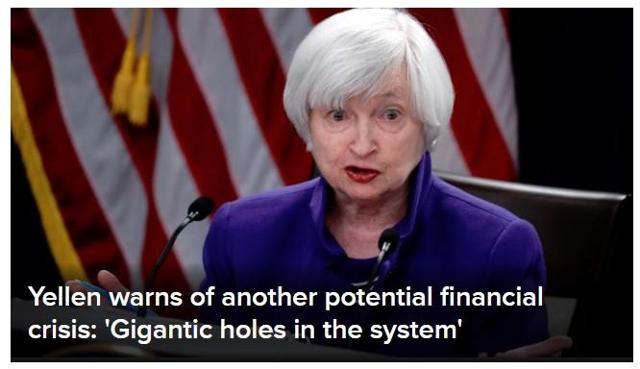 (Source: CNBC.com)
For those of you that need a reminder, Janet Yellen famously came out about 18 months ago and said that she didn't believe there would be another financial crisis in our lifetimes. For my visual learners, that headline looked like this:

(Source: Business Insider)
And yet, here we are, not even finished with 2018 - not long after Yellen has finished her term, and she is already changing her tune on this statement, in a big way. It was reported Tuesday morning that on Monday night of this week, Yellen made comments during a dinner (that, of course, fellow Fed-advocate Paul Krugman moderated) that she was concerned about leveraged loans and that she could see holes in the financial system.
"I think things have improved, but then I think there are gigantic holes in the system. The tools that are available to deal with emerging problems are not great in the United States," Yellen reportedly said.
Of course, this is not only what skeptics, and those stemming from the Austrian school have been arguing for years now, but it is also seemingly the polar opposite of what Yellen said while she was still head of the Federal Reserve.
Whether or not she just had this revelation overnight, or she was waiting to disclose it until she wasn't the one in charge is irrelevant - both situations, in my opinion, are indicative of incompetence. How do you miss these 'gigantic' holes 18 months ago? Surely then, they were still 'moderately' sized holes that could have been noticed. This reminds me of Bernanke completely missing the housing crisis months before it sent the markets into turmoil.
And certainly, I had my fair share of critics in a series of podcasts you can listen to here when I suggested that heads of the Federal Reserve may even understand the damage they're doing, but they may just simply be hoping to get out of the way before the big shoe drops.
One of my recent guests, Bill Fleckenstein, vehemently disagreed with me on this. But whether or not they knew then, or they know now, is also not relevant. What is relevant is that Yellen is right in the sense that this problem is going to have to be dealt with at some point. Putting aside the fact that I am fascinated that she is acknowledging it only now, I wanted to point out a couple of articles where I suggested that this tone would eventually be adopted and that all we were doing over the last decade was setting ourselves up for a larger crisis than the one we had in 2008.
I've previously written about my disapproval of the Fed and how policy could affect markets in articles like these:
Not only that, but alternative media sites have consistently been tracking the leveraged loan problem that Yellen referenced in her speech Monday night. Back in November, Zerohedge, referencing a Bloomberg article, said that "October was on course for the highest loan issuance since June, while junk bond sales are the slowest since 2009."
The article included these two visual diagrams. Neither seems to show a 'gigantic' problem just showing up overnight, but rather a long, predictable trend.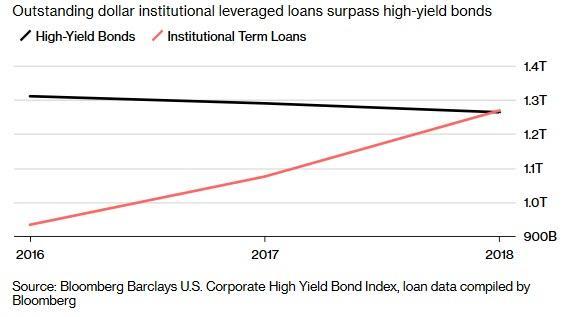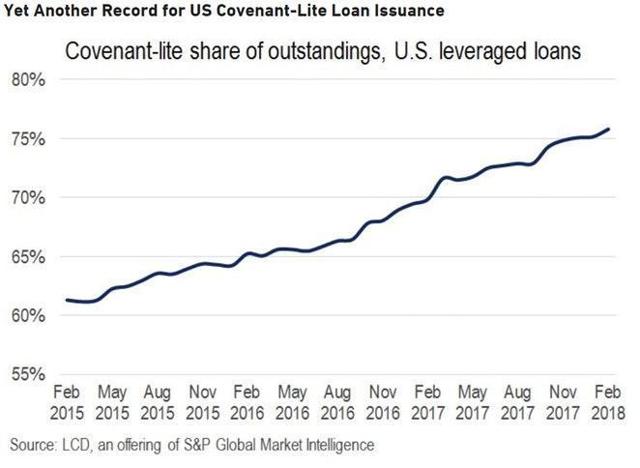 As the bubble has been growing, it has appeared to me that few in the mainstream media have addressed these potential issues - at least, before Yellen's comments on Monday night.
Make no doubt about it, this bubble will burst. The one in leveraged loans as well as most of the outstanding debt bubbles we have in things like consumer credit, student loans, and subprime. They will either burst or will need to be monetized (my guess when it comes to student loans).
We are already in an extremely precarious situation with the way that the market has responded to relatively mundane interest rate hikes and Jerome Powell's constant inability to make up his mind regarding the neutral rate. From there, the question is what we are going to do about it. This is the number one thing I think about when making my long-term investment decisions today.
Gold is extremely well known for providing systemic hedges. It is also held in reserve by central banks to increase confidence in "the system" and provide hedges against inflation that are supposed to protect the purchasing power of that bank's corresponding currency.
My thought process continues to have me believing that gold is a worthwhile investment. I plan on adding to an already established gold position this week by purchasing GDX and GLD LEAPS.
For those of you that missed it, I gave a speech in May 2018 about why I thought gold was one of the best possible long-term (10 years plus) holds that anybody could put on here. If you missed it, here's the video:
Because what's going to happen when the problem that Yellen talks about winds up getting too big to control?
Undoubtedly, we will go through another round of quantitative easing.
Undoubtedly, inflation will rise.
But what the real uncertainty stems from is how long the market is going to believe that quantitative easing works. With the threat of inflation very real, in my opinion, and the clock counting down on how long we continue to give the Fed and the stock market our confidence, owning something like precious metals - or at least having a little exposure to precious metals in an environment that is growing increasingly volatile - seems like a common sense method to invest at this point.
It was much harder to argue that precious metals were a good idea as we were forging new all-time highs every day, and volatility was at all-time lows. However, don't just take it for me anymore, take it from Janet Yellen herself:
"I think there are gigantic holes in the system"
Furthermore, if you don't want to own gold as a hedge against a financial crisis, why not do what I do: own it as a hedge against what I believe to be the Federal Reserve's arrogance and hypocrisy.
Disclosure: I am/we are long GOLD. I wrote this article myself, and it expresses my own opinions. I am not receiving compensation for it (other than from Seeking Alpha). I have no business relationship with any company whose stock is mentioned in this article.