A few weeks ago, I started my "Preparing for the end of the cycle" series writing about great companies which can become a great investment under the premise of a declining stock price. In November, I already wrote about the financial services company Mastercard (MA) and now I will cover the major player in that business segment - Visa Inc. (V). Visa was founded eight years before Mastercard and with 3.3 billion Visa cards, 53.9 million merchant locations, and 15,900 financial institution clients, it has an even bigger and denser network than Mastercard.
Our central premise for every company covered in this series - great business, but still overvalued - is also applying for Visa. In a first section of this article, we, therefore, describe why Visa is an outstanding company and a great long-term investment: we look at the business model, the numbers (margins, performance, growth), and Visa's economic moat. In a second part, we will look at the fair and intrinsic value for the business and determine an entry point at which we are willing to buy.
Business Description
The business model of Visa is very similar to the business model of Mastercard (and a look at the Mastercard article could be useful). Mostly, Visa is providing transaction processing services (authorization, clearing, and settlement) to Visa's financial institution clients and merchant clients. Similar to Mastercard, Visa is also providing value-added services like fraud and risk management or consulting and analytics.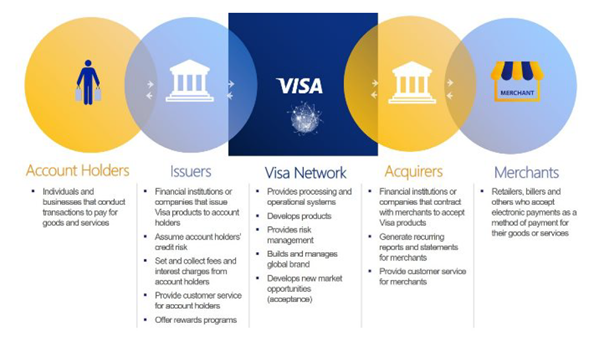 (Source: Visa 10-K)
Visa's network is a four-party model consisting of account holders (individuals using Visa cards to shop and buy items), issuers (the financial institutions that issued the credit cards to account holders), acquirers (financial institutions that contract with the merchants), and merchants (retailers, billers and others who accept electronic payment). Similar to Mastercard, Visa is not a financial institution and doesn't issue cards and the company, therefore, doesn't have any credit risk. Visa also doesn't set any rates or extends credit. The company is "only" providing the network and technology for all four parties to authorize, clear and settle transactions, and enable them to pay in an easy way all over the world.
Visa is reporting its revenue in four different segments: service revenues, data processing revenues, international transaction revenues, and other revenues. Similar to Mastercard, Visa is also subtracting a category called "client incentives" from the total revenue.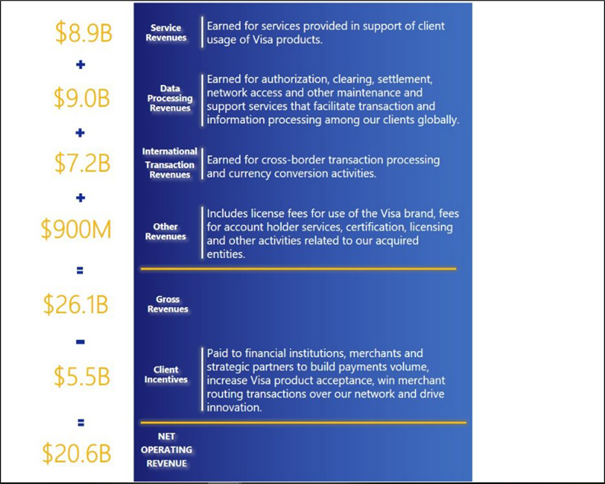 (Source: Visa 10-K)
Growth is well distributed over all the different segments. While overall revenue grew 37% during the last two years (in total, not annually), the "service revenue" segment grew "only" 32%, but the data process revenue (+44%) and the "international transaction revenue" (+55%) were the drivers of growth.
Visa's fees are usually split up in two parts: on the one side a fixed fee for every transaction and on the other side a percentage of the cash volume of every transaction. Therefore, the total nominal payments volume and the cash volume of Visa are the main drivers of growth for the credit card company. In 2018, the total nominal volume (including cash volume, consumer credit, and consumer debit volume) increased 10% overall while the US segment grew 9% and the international segment grew 11%. In 2017, overall total nominal volume increased 35% which was driven mainly by international growth (54%). The reason for the international growth was the acquisition of Visa Europe, which had been a separate company before. Additionally, the processed transaction for Visa increased 34% in 2017 and 12% in 2018.
Over the past decade, Visa could report extraordinary growth rates. Revenue was steadily growing every single year. Free cash flow as well as earnings per share fluctuated a bit and didn't grow every single year, but the overall trend is upwards and the annual growth rates are impressive. Visa increased its revenue about 12% annually and since 2010, free cash flow increased about 22% annually (I left out 2009 because the cash flow was extraordinarily low) and earnings per share increased even 33% every single year.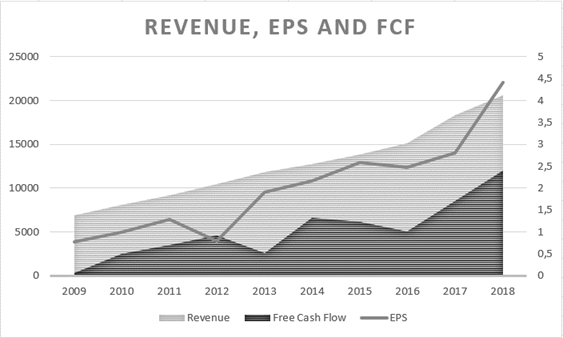 (Source: Own work)
Gross margin stayed pretty stable over the last decade. Operating margin could even increase over the last decade (with the exception of 2012 where margin dropped to under 20%). Aside from stable (or improving) margins, RoE, as well as RoIC, were also pretty impressive. While 2012 is again the exception, RoIC has fluctuated between slightly above 10% (in 2009) and almost 25% (in 2018).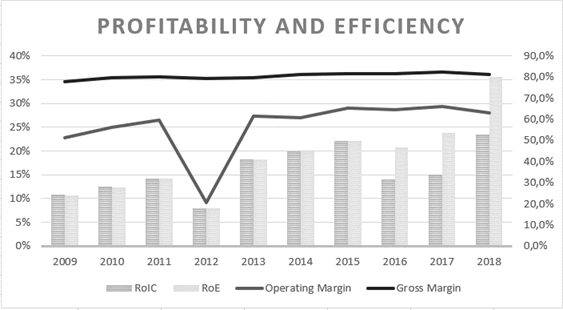 (Source: Own work)
Until 2015, RoE and RoIC have been identical as the company had no debt on its balance sheet. In 2016, Visa completed the acquisition of Visa Europe Ltd. which had been a separate company before. To pay for the acquisition, Visa had to issue senior notes and has about $16,630 million in long-term debt right now. In 2021, Visa has to repay $3 billion, in 2022 it has to repay $1 billion and in 2023, the company has to repay $2.25 billion. The last payment of $750 million is due in 2047.
Currently, the company has about $8.2 billion in cash and would be able to repay half of its debt immediately. Additionally, Visa is generating an operating income of $16 billion every year and I don't see any reason to be worried about Visa's debt levels. Even in the worst (realistic) scenarios, imaginable Visa would still be able to repay its debt.
Dividend
Similar to Mastercard, Visa is paying a dividend which was increased every single year. However - also similar to Mastercard - the company is paying out only a small fraction of earnings as dividend and has a rather low payout ratio. In the last years, the payout ratio was about 20% and the dividend yield is about 0.7% right now.
Visa is certainly no company that is interesting for a dividend investor (although the dividend was raised 26% on average annually during the last decade). Visa might become interesting for a dividend investor because the low payout ratio enables the company to raise the dividend quite a bit. But right now, Visa should use the free cash flow in better ways - to invest in its own business or for strategic acquisitions. Nevertheless, I expect Visa to increase the dividend at least in the double digits in the years to come.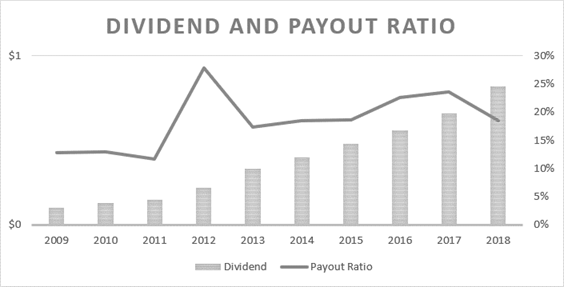 (Source: Own work)
Extremely Wide Moat
Similar to all the other companies I covered so far - like Facebook (FB), Moody's (MCO), or 3M (MMM) - Visa has a very wide moat and competitive advantage that will most likely ensure above-average profits for the years and decades to come. When describing the moat of Visa, we could only refer to the description of Mastercard's wide moat and would have a rather accurate description because both companies gain the competitive advantage from very similar sources.
Similar to Mastercard, Visa's competitive advantage is stemming from the brand name - although this is not the main source of the economic moat. According to Brand Finance, Visa is on the 60th spot among the most valuable brands in the world. It is worth mentioning that Visa is listed 57 places above Mastercard and that could be a hint that Visa has an advantage compared to Mastercard. When looking at the Brand Strength Index (BSI) calculated by Brand Finance - an index that is considering metrics like marketing investment, stakeholder equity and business performance - Visa is listed second on that list. The brand name, however, is not really reducing search costs and I doubt the customers are willing to pay more for Visa than for other credit cards. I think we can conclude, that the brand is a valuable asset for Visa, but as it doesn't reduce search costs for the end customer and doesn't increase the willingness to pay a higher price, it is not the main source of a competitive advantage.
The reason why Visa has such a powerful economic moat is the network effects that come into play and lead to a competitive advantage. Visa's network is particularly strong for several different reasons. First of all, Visa (like Mastercard) is controlling the payment flow. There is no chance for customers or merchants to use the network but settle the transactions somewhere else which are forcing all participants to keep using the network and Visa will continue to collect fees. Additionally, we are dealing with a highly fragmented network on the supply side as well as the demand side. While the supply side is characterized by some dominant players, the demand side is extremely fragmented. That high fragmentation makes it extremely difficult to replace or reproduce the network. Finally, the network is so strong as it is densely interconnected. We are not only looking at a fragmented network with many nodes (making it a very complex network), but we are also looking at a network with an extremely high number of connections (as everybody can shop almost everywhere and pay via Visa). And while nodes are certainly important for a network, the connections are what makes a network really strong and - in case of a densely interconnected network - really difficult to replace and reproduce.
Both companies - Mastercard and Visa - don't have to fear much competition from the outside as the extremely powerful network effects make the barriers to enter very high. Both companies rather have to fear each other and companies like American Express or Diners Club. However, Visa seems to be ahead of all the other companies for one simple reason: it has the biggest and densest network.

(Source: Visa 10-K)
We have often emphasized, that the size of a company or being industry leader is by itself not the source for a moat. But in that case, we can witness a "winner-takes-it-all-effect" which is favoring Visa much more than Mastercard. However, this effect is softened by the effect that no credit card company seems to be able to avoid "multi-tenanting" on the supply or the demand side. This basically means, that no credit card company seems to be able so far to become the only credit card company. Customers use different credit cards and often several credit cards at the same time. And retailer, as well as merchants, are almost forced to accept all the major credit cards because different customers have different cards. So far, there is no reason that is standing in the way of using several credit cards simultaneously and that is softening the "winner-takes-it-all-effect".
Intrinsic Value Calculation
Now that we have established Visa is a great company with an extraordinary business model and a wide moat, we have to look at the intrinsic value for the stock as well as the price we are willing to pay. As usual, we calculate the intrinsic value by a rather simple two-step discount cash flow model for which we need three basic "ingredients" - an amount of free cash flow we assume as realistic for the current/next year, a growth rate for the short timeframe (often 10 years) and a growth rate for perpetuity.
Before we think about what numbers might be realistic, we have to consider a more general problem. Looking at the data of the last decade can be misleading. Depending on the time of the year when a company releases its annual numbers, the figures of the last ten years (for example reported by Morningstar) don't reflect the effects of a recession anymore. Hence, we are looking at ten different years (and a rather long timeframe), but these numbers are not representative for the long-term development of a company anymore. We are experiencing a special form a bias which we can witness very seldom. In most cases, 10 years reflect an entire business cycle (credit expansion and contraction) and these 10 years can be used as a good measure for long-term performance. But right now, we are only looking at the data of ten bullish years of credit expansion and low interest rates and a distortion of reality (as the economy is not only boom but also bust).
This leads to two very specific problems:
In every intrinsic value calculation, we need a free cash flow as "basis" for the calculation and when we just take the free cash flow from the last 10-K (or the free cash flow of the last four quarters), we most likely use an unrealistic high number as this number might be taken from the peak of the cycle (or at least very close to the peak).
Aside from a free cash flow number, we need a growth rate for the next few years (mostly ten years). Very often we look at the last ten years and calculate an average growth rate for the last decade and as ten years is a long timeframe, we can assume this is representative for the long-term growth and we might use a similar growth rate for the next ten years. Right now, the numerator is not only calculated by using a very high free cash flow from last year. The bigger problem is, that the denominator might be extremely low as ten years ago we just were in a recession and the reported free cash flow might be extraordinarily low. This together might lead to unrealistic high growth rates.
Taken both factors together, the risk of calculating with unrealistic numbers that lead to an unrealistic intrinsic value is very high.
First of all, we have to ask ourselves what a realistic free cash flow could be as basis for our calculation. In the last two years, Visa could increase its free cash flow from $5,051 million in 2016 to $11,995 million in 2018. Like I already wrote above, I wouldn't use last year's free cash flow as we are probably at the end of a long bull market with rather high cash flows that make a reversion to the mean more likely. All the credit card companies - like Visa or Mastercard - are dependent on consumer spending and generating revenue by small transactions customers make when buying groceries, shopping online or buying a cup of coffee or going to a restaurant. In case of a recession, consumer spending is usually slowing down resulting in fewer transactions for Visa as well as a lower amount per transaction. Both of these factors have a negative effect on Visa's revenue. But during the last recession, Visa's revenue didn't decline - growth only slowed down. To be on the safe side, however, I will calculate with a free cash flow 20% below last year's free cash flow.
The second step is to determine a realistic growth rate for the shorter timeframe (normally I use 10 years) and for perpetuity. During the last decade, Visa could increase its revenue about 13% annually, net income increased almost 18% and free cash flow increased even 22%. But once again I wouldn't calculate with such high growth rates for the next decade. Similar to my Mastercard intrinsic value calculation, I would assume 10% growth rate for the next decade is realistic and also considering the negative effects of a potential recession (and a potential free cash flow decline). Following that decade, I would calculate with 5% growth for perpetuity and due to the very wide moat, I think this should be a realistic long-term goal. Although I think Visa could very well grow more than 5% for the next few decades, we have to factor in uncertainties what will happen in 20, 30 or 40 years from now. While we can be pretty confident to calculate realistic growth rates for the next few years, you either have to a crystal ball or be absolutely nuts to be certain about growth rates for the next decades. This high level of uncertainty is reflected by a more conservative growth rate.
When putting all the numbers from above in our calculation, we come up with an intrinsic value of $127.75 for Visa. Like for Mastercard, I would also include at least 20% margin of safety. In case of Visa, this should especially reflect the risk of calculating with too high growth rates (as 10% growth over ten years could be unrealistic high). In the end, this leads to an entry point of $102.20.
Conclusion
Similar to my conclusion in the article about Mastercard, we are once again looking at one of the best business models of all companies trading at the stock exchange (maybe even better than Mastercard because of the bigger and denser network). Similar to Mastercard, Visa will stay on our watchlist for now as the current price is not an acceptable entry point for me, but we will keep a close eye on Visa as the stock is closer to our preferred entry point than Mastercard's stock.
I am happy not being forced to decide between Mastercard and Visa because I really couldn't decide which company is the better investment. In the end - if the price is right - I probably will split my position between the two companies and buy both.
Disclosure: I/we have no positions in any stocks mentioned, and no plans to initiate any positions within the next 72 hours. I wrote this article myself, and it expresses my own opinions. I am not receiving compensation for it (other than from Seeking Alpha). I have no business relationship with any company whose stock is mentioned in this article.