Introduction
In this article, I will provide a weekly review of CEFs that invest in senior loans. Considering the risk and return, senior loans are positioned between investment grade corporate bonds and high-yield bonds. Usually, they have a floating rate feature and are expected to be less rate-sensitive. In the current market environment of the flattening yield curve, there are many funds that trade at a discount to NAV. The use of leverage in closed-end funds and the fact that they are mostly targeted and used by retail investors make them much more volatile, which offers various opportunities for investors and traders like us.
The Benchmark
During this week, the sell-off in senior loans resumed. The benchmark Invesco Senior Loan ETF (BKLN) opened at $22.68 and finished the week at $22.47 making a new low and losing 0.21 points.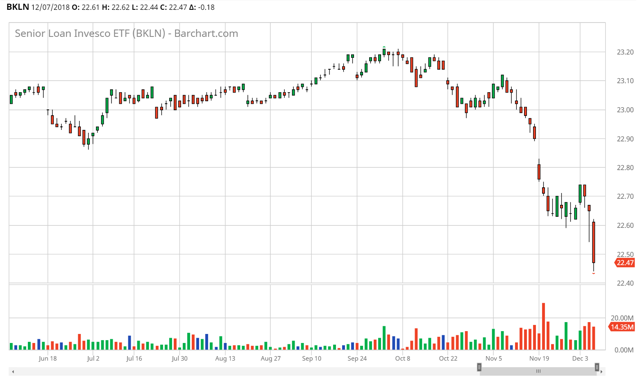 Source:Barchart.com - BKLN daily chart (6 months)
Along with BKLN, investors may look to the passive index-based Highland/iBoxx Senior Loan ETF (SNLN). SNLN tracks the Markit iBoxx USD Liquid Leveraged Loan Index, which consists of the largest, most liquid leveraged loans. This week, the ETF started the week at $17.77 and closed the week at $17.65 losing 0.12 points.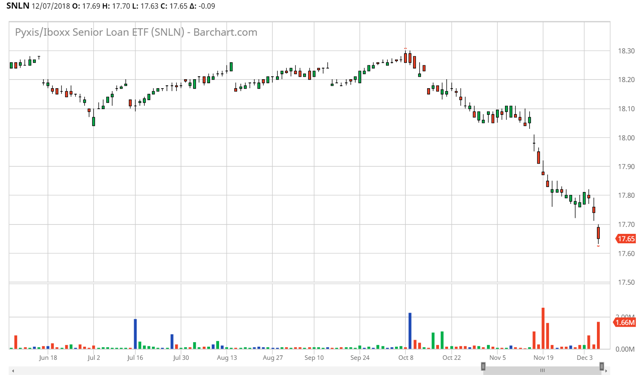 Source: Barchart.com SNLN daily chart (6 months)
Senior loan ETFs, as an asset class, offer an opportunity for diversification because they do not have a strong correlation with investment-grade bonds or US Treasuries. One of the reasons for this is that they use the LIBOR rate as a component for the floating rate calculation. The three-month rate for December 07 was 2.77106 %.

Source: global-rates.com
The News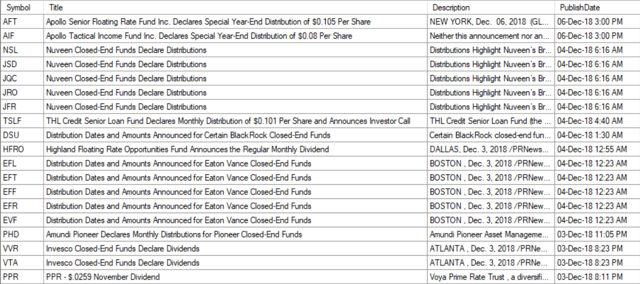 Source: Yahoo Finance
This week, several funds declared monthly distributions:
1. Highest Z-Score
We use the Z-Score to find statistically undervalued or overpriced funds in the sector. If the value of Z-Score is negative, it signals a "buy" opportunity. Conversely, if you are looking for a "sell" candidate, you should be interested in a positive Z-Score value. We use a one-year basis to see how many times the current discount deviates from its mean for that period.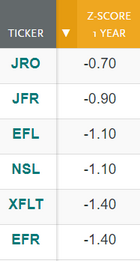 Source: CEFConnect.com
At this point, there are no funds with positive Z-Score, which means that based on statistics we cannot consider short trades.
2. Lowest Z-Score
Here, the things look a little bit different. As we see from the table above, there are plenty of undervalued closed-end funds. In other words, here, we can choose several "buy" candidates, which we can add to our portfolios. Of course, we should not forget that this is only from a statistical perspective, and we are scratching the surface here. So, before entering a trade, deeper research should be done.

Source: CEFConnect.com
There is one more fund in this group, which I am unable to add to the cefconnect.com screener, so I will mention its Z-Score and discount. Apollo Tactical Income Fund has -1.8 Z-Score and -12.75% discount.

Source: CEFConnect.com
Its portfolio is as follows: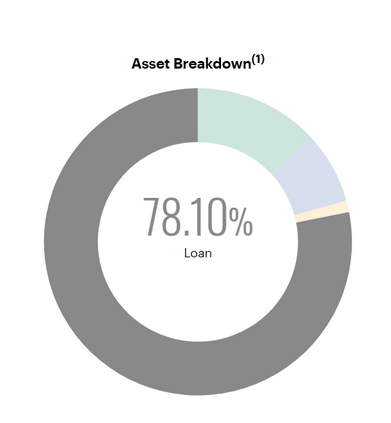 Source: www.agmfunds.com
The average 1-year Z-Score for the sector this week is -1.94 with AIF included (last week, the average 1-year Z-Score was -2.02).
3. 5-year Annualized Return on NAV
The aim of the below ranking is to show us the senior loan funds with the higher yields based on the net asset value. Combination of the return with the other metrics that we have is a foundation of our research for potential "long" candidates. The average return on NAV for that period is 4.13% (AIF included). Below are the funds with performance above average.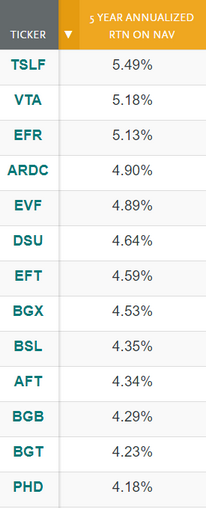 Source: CEFConnect.com
Apollo Tactical Income Fund also has a place in the table with its 5.06% 5-year return on NAV.
4. Highest Premium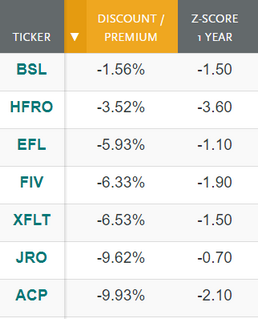 Source: CEFConnect.com
This week, there are no funds trading at a premium. So, we cannot choose short trade candidates based on this factor.
5. Biggest Discount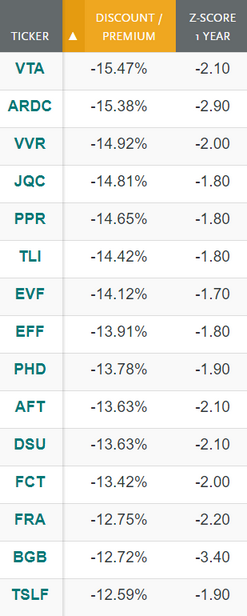 Source: CEFConnect.com
Here, we have the usual picture for the sector - too many candidates to choose from. The market environment is more suited for short trades, but there are no candidates based on the statistic. Maybe there is also some tax loss selling pressure in the sector.
Two of the funds - Invesco Dynamic Credit Opportunities Fund and Invesco Senior Income Trust - are at top of the discount table and have announced distribution increase but I will not consider them as long trade candidates because a portion of the distribution is estimated to be from a return of principal rather than net income. Also, there is a statement that
The monthly distribution rate for December is increased to meet certain Internal Revenue Service (IRS) requirements. The rate will decrease in January to approximate the earnings of the Fund.
Eaton Vance Senior Income Trust continues to trade at an attractive discount and if there is a reversal in the sector this fund can be a long trade candidate. Below, you can see the asset breakdown.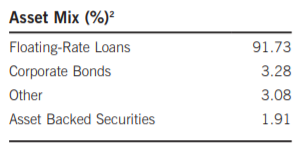 Source
And, this is the credit quality.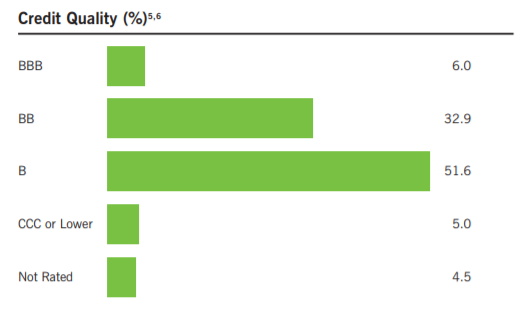 Source:
Here, the reader can see what the price to NAV for Eaton Vance Senior Income Trust looks like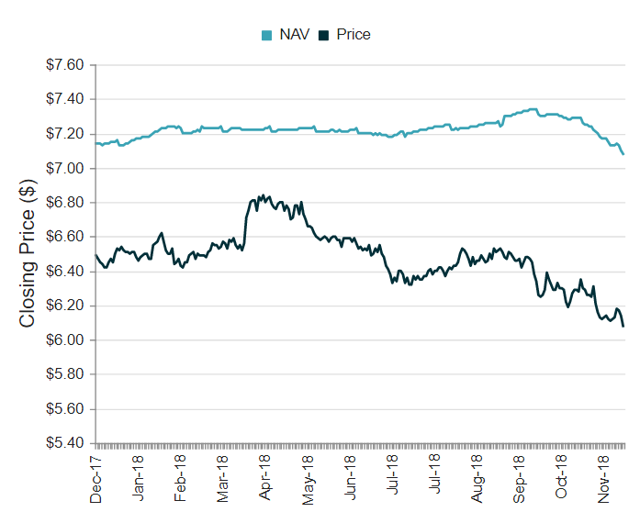 Source: CEFConnect.com
The chart translated in numbers.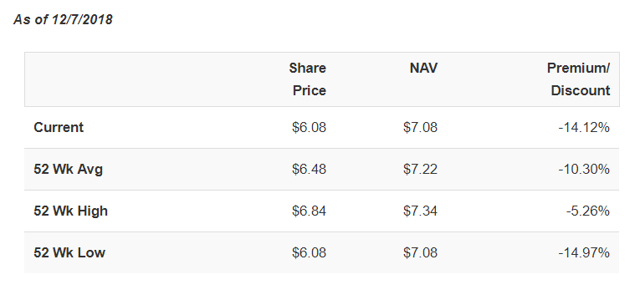 Source: CEFConnect.com
The fund trades at -14.12% discount (-1.70 Z-Score), which means that there is 3.82% profit potential if the fund returns to its 52-week average discount.
The fund has a good correlation with its brothers - the Blackrock Floating Rate Income Trust and the Blackrock Floating Rate Income Strategies Fund. This means that these funds can be used as a hedge if the short expenses are affordable.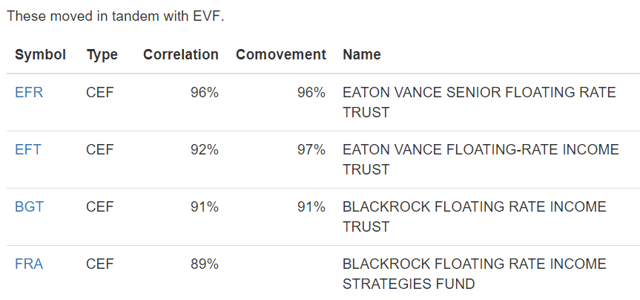 Source: cefanalyzer.com
6. Highest Distribution Rate
The table shows the funds with the highest distribution rate on price. Additionally, I have included here the distribution rate based on the net asset value. Most of the market participants find the second metric to be more important.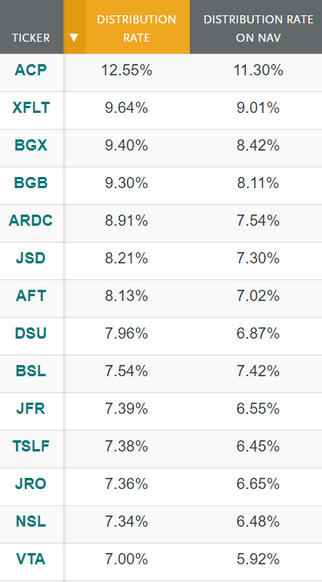 Source: CEFConnect.com
The average distribution rate on price for all Senior Loan CEFs is 7.36% (AIF included in the calculation).
7. Highest Effective Leverage
From a leverage perspective, we have one closed-end fund whose effective leverage is equal to zero - Highland Floating Rate Opportunities Fund. The average percent of effective leverage in the sector is about 32.96%. Below, I have shown the funds which have above the average effective leverage. Do not underestimate the effect of the leverage and be sure it is included in your analysis.

Source: CEFConnect.com
Conclusion
While some of the senior loan CEFs still look attractive for long trades, do not forget that rising rates will affect the ability of companies to pay their debt. Also, most of these CEFs use leverage and the rising rates will increase their already high expenses. If you try mean-reversion trades, my advice is to start small and be patient. Also, it's good to have short-sale candidates (working as hedging reaction) in case problems in the sector become severe.
Note: This article was originally published on Dec. 09, 2018, and some figures and charts might not be entirely up to date.
At Trade With Beta, we also pay close attention to closed-end funds and are always keeping an eye on them for directional and arbitrage opportunities created by market price deviations. As you can guess, timing is crucial in these kinds of trades; therefore, you are welcome to join us for early access and the discussions accompanying these kinds of trades.
Disclosure: I/we have no positions in any stocks mentioned, and no plans to initiate any positions within the next 72 hours. I wrote this article myself, and it expresses my own opinions. I am not receiving compensation for it (other than from Seeking Alpha). I have no business relationship with any company whose stock is mentioned in this article.