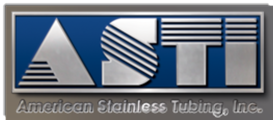 Quick Take
Synalloy Corporation (SYNL) announced that it has agreed to acquire American Stainless Tubing for up to $28 million.
AST manufactures specialty stainless tubing products in the US.
SYNL is continuing to acquire businesses to build out its Metals division. The stock has likely been buffeted by trade tensions. For investors who believe those tensions will be resolved in the near term, the stock may present an intriguing entry point.
Target Company
Troutman, North Carolina-based AST was founded in 1994 to provide stainless tubing products in various shapes, sizes, lengths, and finishes.
Management is headed by President Maria Haughton Roberson, who has been with the firm since its inception and is also President at Lake Norman Humane.
Company major customers include:
Carver Yachts
Detroit Tube Products
P&P Artec

Tampco
Market & Competition
According to a market research report syndicated by ReportsnReports, the stainless steel pipes and tubes market is projected to grow at a CAGR of 3.55% between 2017 and 2022.
The main drivers for this expected growth are growing energy demand and production of vehicles.
Major vendors that provide stainless steel pipes and tubes include:
ArcelorMittal (MT)
United States Steel Corporation (X)
Tata Steel (TATASTEEL.NS)
Ratnamani Steel and Pipes
Jindal Saw (JINDALSAW.BO)
Choo Bee Metal Industries (CHOO.KL)
Kobe Steel (5406.T)
Acquisition Terms and Rationale
Synalloy disclosed the acquisition price as $27-28 million, including contingent earn-out payments over three years post-close.
According to the 8-K filing, the initial purchase price component will be $21 million in cash and will be funded 'with a draw against its asset based line of credit, which will be increased to a borrowing capacity of $100 million prior to closing, and a new 5-year $20 million term note, both with Synalloy's current lender, Branch Banking and Trust Company.'
Additionally, Synalloy will sell ASTI's real estate for $5 million and execute a lease-back with its partner Store Capital (NYSE:STOR).
Management did not provide a change in financial guidance as a result of the transaction.
A review of the firm's most recent 10-Q filing indicates that as of September 30, 2018, it had $1.9 million in cash and equivalents and $138.6 million in total liabilities, of which long-term debt accounted for $62.8 million.
Free cash flow during the nine months ended September 30, 2018, was a negative ($18.8 million). The major component contributing to the negative free cash flow result was an increase in inventories of $42.2 million during the period.
Synalloy is acquiring American Stainless for its premium ornamental welded stainless steel tube products, used in the marine, automotive, food service, and other industries.
As Kyle Pennington, President of the Synalloy Metals division, stated in the deal announcement,
It has been Bristol Metals' ultimate goal to become the preeminent manufacturer of stainless steel pipe and tube in North America. For the last few years, Synalloy Metals has grown our business through product line extensions into heavy wall stainless welded pipe, seamless carbon distribution with Specialty Pipe & Tube and into stainless steel tubing and galvanized products. ASTI is a good strategic fit with Synalloy Metals' growth objectives.
In the past 12 months, SYNL's stock price has risen 24% vs. the S&P 500 Index's 0.92%, as the chart below indicates: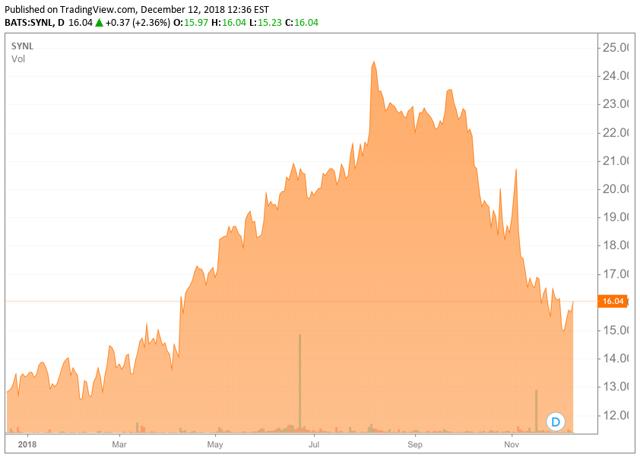 Source: Seeking Alpha
The ASTI acquisition will become part of the Metals division with Synalloy, which provides a range of metal products to industries worldwide, although focused on North America.
The firm has worked to expand its offerings in the stainless steel tubing and galvanized products areas in recent years.
Analyst coverage on Synalloy is tiny, with only one analyst providing a rating (Strong Buy - $11.00 price target).
The stock has performed quite well over the past 52-week period despite trade tensions which have likely negatively impacted its price since its recent highs in August/September.
If you believe that a near-term reduction in trade friction between the U.S. and its major trading partners will result in positive news flow for Synalloy, the current price of around $16 per share may be an enticing entry point.
Thank you for reading. I write about IPOs and M&A deals, though I focus most of my time on IPOs. If you're interested in investing smarter in IPOs, you should check out IPO Edge.
Disclosure: I/we have no positions in any stocks mentioned, but may initiate a long position in SYNL over the next 72 hours. I wrote this article myself, and it expresses my own opinions. I am not receiving compensation for it (other than from Seeking Alpha). I have no business relationship with any company whose stock is mentioned in this article.