The year comes to an end, and it's high time to evaluate fundamentals of the offshore drilling market. This topic is especially interesting after drillers' stocks got lambasted following the rapid decline in the price of oil. In this article, we will focus on the drillship market segment.
The fundamental situation in this segment is important for investors and traders in companies with drillships in their fleet – Transocean (RIG), Ensco (ESV), Rowan (RDC), Diamond Offshore (DO), Noble Corp. (NE), Seadrill (SDRL), Seadrill Partners (SDLP), Pacific Drilling (PACD). As usual in this type of work, I will use Bassoe Offshore database for information on the rigs and their current status. Without further ado, let's dive into the topic!
Currently, there are 129 drillships in the world. This is the same number as in early September, when I last wrote on the fundamentals of the drillship market segment. Out of this number, 57 are drilling, 34 are warm stacked, 18 are cold stacked and 20 rigs are under construction. It's worth noting that 115 of 129 drillships have been built after 2006, so almost the whole remaining fleet is modern.
As we can see, no scrapping was done since September. I see two reasons for this. First, the number of old rigs is small (and four of them are still drilling!) so the number of obvious scrapping candidates is limited. There are eight old rigs which are cold stacked:

Source: Bassoe Offshore
I recently wrote an article on Fred Olsen Energy (OTCPK:FOEAY) troubles – the company was trying to sell the only modern drillship it had, Bolette Dolphin, and failed. The second drillship, Belford Dolphin, was not expected to be a part of Fred Olsen Energy fleet under any restructuring scenario, so it could soon see it scrapped (assuming the company reaches some deal with its creditors).
The biggest holder of old drillships is Transocean, which postpones scrapping them solely due to accounting consequences as eliminating these rigs from the fleet will cause a write-down on the balance sheet. While the timing of scrapping these drillships is interesting from a theoretical point of view, the real practical interest lies in the other group – cold stacked modern drillships. Let's take a look at them:

Source: Bassoe Offshore
Several rigs from this list are obvious scrapping candidates. Ocean Rig Paros, whose poor technical condition was acknowledged by Transocean, and its sistership Sertao are out of the game in all likelihood. Noble Corp. also previously impaired Noble Bully I and indicated that it was not a very competitive rig. I believe that just like Paros and Sertao, Noble Bully I won't work again.
Whether Ensco (Ensco DS-3, Ensco DS-5) and Transocean (Ocean Rig Apollo, Ocean Rig Athena, Ocean Rig Mylos, Ocean Rig Olympia) will be able to reactivate their cold stacked drillships remains a big question. There is a lot at stake: Bassoe values cold stacked Ensco rigs at $423 million - $468 million, and Transocean rigs (excluding Paros) at $1 billion - $1.15 billion. While I do not doubt that both companies will try to bring these rigs back to the market (especially Transocean which has just acquired them), it will not be very easy to do: 34 rigs are warm stacked and waiting for jobs, 32 of these rigs are modern.
This is a very material fleet sitting on the sidelines, waiting for jobs to appear. In addition, 28 rigs of those rigs that are currently in drilling mode have their contracts end by the end of the next year. This means that a total of 60 rigs will stand in front of cold stacked drillships for contracting in 2020 and beyond (no one expects cold stacked rigs to get jobs in 2019). Also, we should not forget about 20 rigs under construction, most of whom will ultimately appear in the market.
In my opinion, the picture is clear – the drillship market segment remains clearly oversupplied. Meanwhile, the pick up in demand remains timid. Among recent indications, Rowan decided to transfer a contract from Rowan Reliance to Rowan Resolute in order to save on reactivation costs.
Without a major push in demand and the magnitude of supply, it's not surprising that dayrates remain weak. Latest drillship contracts that were announced, West Capella (here) and West Carina (here), are currently estimated at $145,000 per day and $175,000 (an upward revision of $10,000 compared to the previous estimate) per day respectively. In the light of the recent downside in oil prices, it's hard to expect material positive movements on the dayrate front in the first half of 2019.
The segment was clearly gaining steam in the second half of 2018, but it looks like the recent oil price downside caused some material damage. In my opinion, the conditions for dayrate upside in 2019 have not formed.
I'm also getting increasingly skeptical on the validity of asset price upside which is reflected in Bassoe's estimates and in enthusiasm expressed by a number of drillers during the third-quarter reporting season. While the top rigs may indeed be getting to $350 million valuation (although Bolette Dolphin did not sell for $340 million in Fred Olsen restructuring), the upside in lower-tier rigs is especially dubious. Let's look at the bottom of Bassoe Offshore drillship valuation estimates (excluding rigs who are assigned scrap value):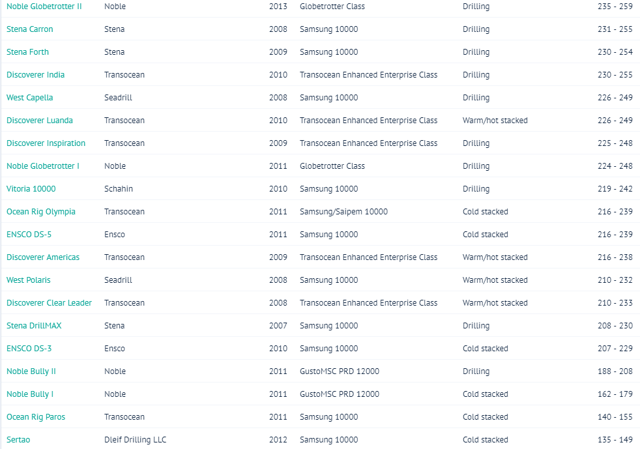 Source: Bassoe Offshore
As highlighted above, Noble Bully I, Ocean Rig Paros and Sertao are most likely scrap, which means their collective valuation is about $15 million (scrap value) rather than ~$450 million. The valuation of other lower-tier rigs is also under question, in case they are warm stacked and especially cold stacked. Given the magnitude of the downturn, failure to find work in time may lead to a permanent impairment of the full value of the rig as it will be unable to return to the market again.
To sum it up, the drillship segment enters 2019 in a better condition than at the beginning of 2018, but major challenges remain. I strongly suspect that asset price upside, while confirmed by rare individual asset sales like the sale of Deepsea Metro I for $262.5 million and sale of West Aquila and West Libra for $296 million, may prove elusive for lower-tier unemployed rigs.
The magnitude of drillship oversupply points to the fact that modern rigs will have to go off the market permanently for supply/demand balance to be achieved, so the ultimate valuation of a number of rigs will be $5 million vs $200+ million they are theoretically having right now. Transocean has the most risk of asset value compression. The reason for this is clear – the company purchased plenty of cold stacked rigs from Ocean Rig, risking failing to reactivate them in time and also risking cannibalizing its existing rigs that do not yet have jobs.
Based on the information that is available to us right now, the year 2019 will be another challenging year for the drillship segment. In my opinion, tangible recovery should be expected to begin in late 2019 – early 2020 at best. From a practical point of view, it means that offshore drilling stocks will remain speculative and volatile in 2019, more suitable for trading than to buy and hold investing.