Summary
I'll detail the main pros and cons of owning physical gold and physically-backed gold ETFs.
I will mainly focus in the physically held gold ETFs, talking about its differences: fees, vault location, tracking error and particularities.
Currently, there are ETFs with partial exposure to physical gold along with other precious metals or currency hedged.
The main argument against the gold ETFs, even the physically-backed ones, is that you are just buying 'Paper Gold;' I think that this critique is overstated.
This is the third of a series of articles about my vision of the gold sector, if you want to read the previous ones:
In this article, I will focus on:
Owning Physical Gold: pros and cons.
Physically Held Gold ETFs: pros/cons and the differences between the main non-leveraged ETFs.
Paper Gold: sharing my view of the reliability of the physically-backed gold ETFs.
In my opinion, the ETFs offer fewer complications than owning physical gold, and provide an affordable and reliable opportunity to have exposure to the physical gold in your portfolio, but the investors should focus on their expense ratio, bid-ask spread and tracking error.
If you are a conservative - or maybe skeptical - investor you'll probably prefer the security of owning physical gold.
The two gold investment options are not exclusive but complementary.
Owning Physical Gold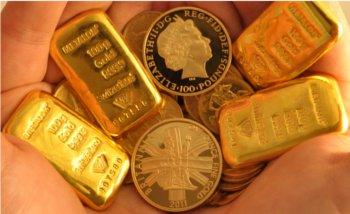 - Source: bullionbypost
Let me go straight to the point:
Pros:
Tangible asset: The gold coins provide security in times of economic collapse and can be traded during extreme situations (hyperinflation, Internet blockage, power outages...).
Portable: you can carry thousands of dollars in your pocket, but watch the customs duty if you are traveling to a foreign country.
No counterparty risk: you don't have to rely on third parties, unless you use a bank's safe deposit box or similar, of course.
Cons:
Premium/Fees: Dealers charge significant premium prices for gold bullion or coins. They could also charge expedition/insurance fees in case that you need delivery.
Legislation: some government could 'copy' the Executive Order 6102, banning the physical possession of gold bullion or coins. Improbable, but possible, especially in developing countries.
Liquidation spread: Dealers will offer you a discount over the spot price.
Storage: It's not a good idea to have an important amount of gold in your house due to the theft risk, so you may need to store your precious investment in a bank's safe deposit box, paying a fee for the service and carrying counterparty risk!
Taxation: Depending on your location, you may be required to pay capital gain taxes.
Physically-Backed Gold ETFs
Pros:
Affordability/Efficiency: You do not pay premium or delivery fees and you can buy small amounts, starting with one share of the iShares Gold Trust ETF (IAU) for $11.96 as of December 7, 2018 (Plus broker fees and an annual expense ratio of 0.25%). Besides, you do not have to worry about the storage.
Liquidity: You can easily trade while the market is open, as long as the Internet/Servers/Brokers/Banks are working, of course.
Leverage: Related with the previous point, you can trade with options over the most liquid ETFs.
Cons:
Paper Gold: You don't own the metal. I will dedicate a section to go deeper into this point.
Counterparties Risk: Related with the previous point, the gold-backed ETFs carry counterparty risk, you rely on third parties that could file for bankruptcy. For example, the SPDR Gold Trust ETF (GLD) Custodian is HSBC UK, but they also use subcustodians such as: Bank of England, The Bank of Nova Scotia-ScotiaMocatta, ICBC Standard Bank London, JPMorgan Chase Bank and UBS AG (NYSE:UBS) (Source: 10-K).
Taxation: Same as for the physical gold, depending on your location.
These are the main non-leveraged physical gold ETFs, ordered by Average Daily Volume for the last 30 days:

- Source: Author; Bloomberg; ETF.com; Eric Balchunas
I've omitted 'tiny' or highly illiquid ETFs like the Physical Asian Gold Shares (OTCQB:AGOL) and gold futures ETFs.
If we look at the returns from the two largest physical gold ETFs, the iShares Gold Trust ETF clearly outperformed the larger SPDR Gold Trust, returning a 180.3% versus 166.1% since its inception. Fees matter, especially in the long term: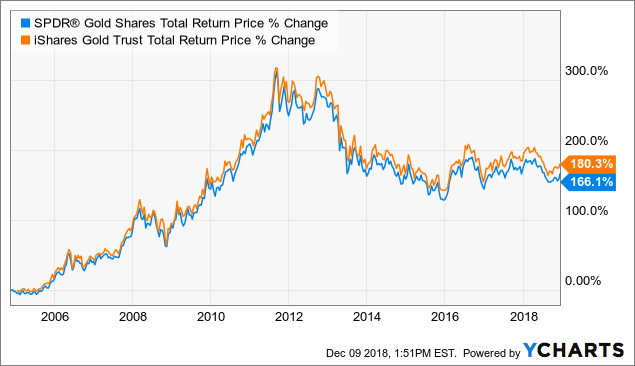 The iShares Gold Trust ETF also has the lowest tracking error for the last 12 Months, according to the data from etf.com, overperforming SPDR Gold Trust by 12 basis points.
Besides, in the last years the Assets Under Management of the iShares Gold Trust increased almost 500% versus a mere 40% in the SPDR Gold Trust: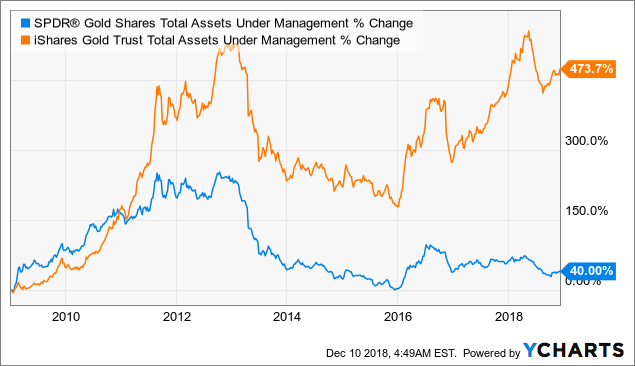 But, in the coming years this trend could change because since August 2017 there were three ultra-low-costs ETFs launches, along with the Physical Swiss Gold Shares ETF (SGOL) that reduced its expense ratio by 22 basis points - from 0.39% to 0.17%, as Aberdeen Standard Investments announced the past December 3, 2018. Fees matter.
A record 97% of the $400 billion in passive flows this year has gone into products charging 0.20% or less: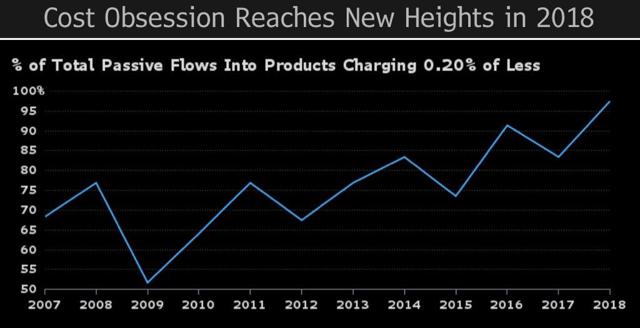 - Source: Eric Balchunas
As in any ETF investment, you should take into account the total expenses - not just the expense ratio - like the brokerage fees, that are usually determined by:
Fixed and/or variable fee, depending on your broker
Bid-Ask Spread: The lowest spread is a 0.01% in the SPDR Gold Trust, followed by a 0.02% in the Aberdeen Standard Physical Swiss Gold Shares and the GraniteShares Gold Trust ETFs.
Number of shares: some brokers charge a fee for each share that you purchase.
But, it's not all about costs, let's compare the differences between the ETFs:

- Source: Author; Bloomberg; ETF.com; Eric Balchunas
Vault location: most of them are located in London, but it could be a good idea to diversify locations by investing in other locations like Switzerland or the Government-backed Australia.
Currency Hedged: SPDR offers the only hedged ETF, but it comes with the highest expense ratio of the compared ETFs. I will go deeper into this matter later.
Doorstep Delivery: the Pert Mint Physical Gold or the VanEck Merk Gold Trust ETFs offer delivery for retail investors, but the minimum fees are considerable: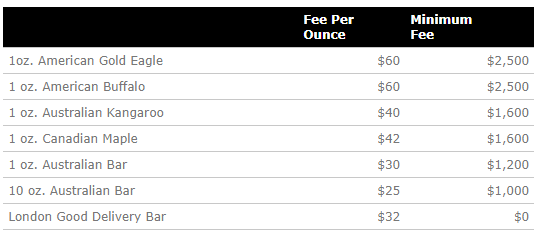 - Source: ETF.com
The delivery fees look expensive, but they are really in line with the premium that the gold dealers charge to their clients:

- Source: ETF.com (Assuming 50 oz. are exchanged at a spot price of $1296.80/oz. Shipping and insurance to the continental U.S. are included.)
Regarding the currency hedged SPDR Long Dollar Gold Trust (GLDW), this is the description from its fact sheet:
The SPDR® Long Dollar Gold Trust offers investors an innovative way to access the gold market by removing the potential negative influence of a strong U.S. dollar on the price of gold.

GLDW seeks to track the daily performance of a long position in physical gold and a long position in the US dollar against a basket of non-US currencies.
But, is it worth the higher expense ratio?
Since its inception in January 2017, this hedged ETF was unable to outperform the bigger SPDR Gold Trust until the last weeks, thanks to a stronger dollar. Fees matter: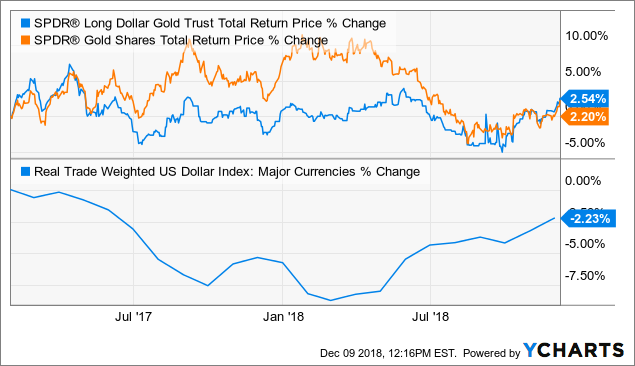 As I've previously mentioned in an article, one of the main catalysts for a gold bull market is the weakness of the US Dollar, so if you are long in gold, this hedged ETF would be counterproductive.
Precious Metals ETFs
I've only found two liquid options to invest in ETFs with partial exposure to gold:

I would directly discard the Invesco DB Precious Metals Fund (DBP) due to its higher expense ratio and wider average spread, besides, it is not physically-backed.
Regarding the Aberdeen Standard Physical Precious Metal Basket Shares (GLTR), it has a portfolio composition of:
59% gold
25% silver
11% palladium
5% platinum
So, it could be a good option if you want to have exposure to these metals in your portfolio, but watch the expense ratio, which is significantly higher than the physical gold ETFs, concretely 20 basis points over the SPDR Gold Trust fee of 0.40%, the more expensive of the compared gold ETFs.
Paper Gold

- Source: Gold IRA Guide
The reliability of the physically backed gold ETFs seems to be always in question, and I think that there always will be detractors and supporters. I will try to summarize the available data of the different gold holdings:
The Bank of England (BoE) reports its gold holdings with a minimum of 3-month lag. The latest reported data at the end of August was 163,330,0000 troy ounces or 5,200 tonnes of gold: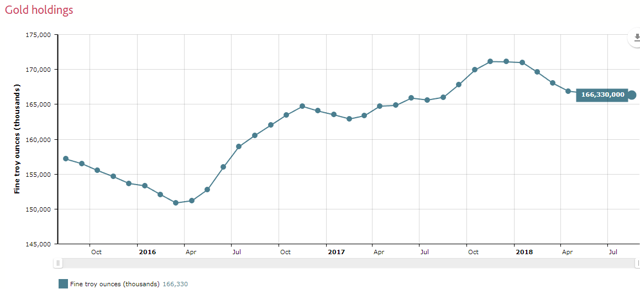 Fortunately, the LBMA also reports their London Precious Metals Vault Holdings, which were 7,528 tonnes of gold at the end of August. This data includes the BoE holdings, so the London Vaults ex-BoE hold about 2,328 tonnes of gold.
I've made my own numbers of the gold held by the ETFs that I've compared in the article, and the total would be about 1,052 tonnes, representing the 45% of the gold stored in the London Vaults ex-BoE.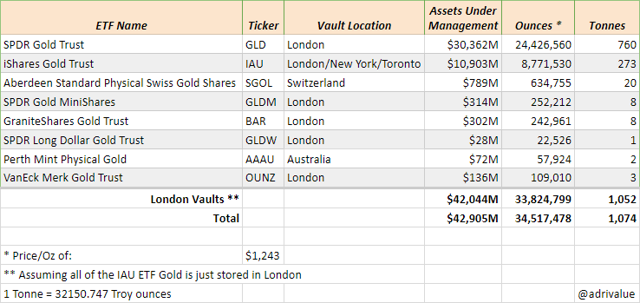 Using a different source, according to the data compiled by Gold Charts'r Us, the global ETFs hold about 1,549 tonnes or 67% of the total gold stored in the London Vaults ex-BoE: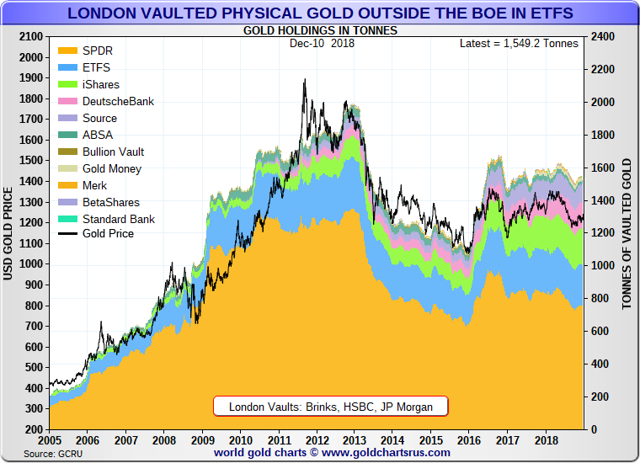 - Source: Gold Charts'r Us
The physical holdings of precious metals held in the London vaults underpin the gross daily trading and net clearing in London.

- Source: LMBA
Summarizing, sounds fair enough to me that the Global Physically-backed ETFs in London represent 67% of the Vaults Holdings ex-BoE:

- Source: Author using the mentioned sources.
Using a global view, the World Gold Council tracks the data from around 124 global investment vehicles approximately, including ETFs, closed-end and mutual funds, investment trusts, etcetera. The latest reported Assets Under Management at the end of November 2018 are about 3,583 Tonnes or gold, graphically: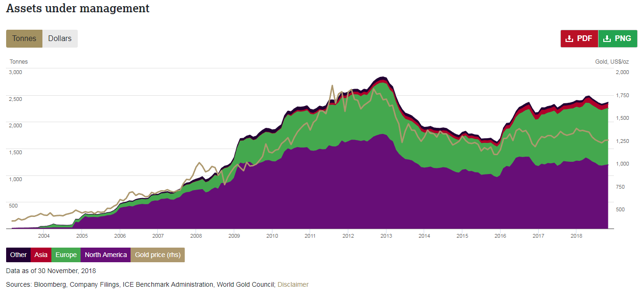 - Source: World Gold Council
If you want to read a different and skeptical opinion, I'd recommend you to check this article written by Ronan Manly, analyst in BullionStar, but take into account that they're selling physical gold and his opinion may be partial - just like mine.
Conclusion
The physically-backed ETFs offer an affordable and reliable exposure to gold. The recent launches of ultra-low-cost ETFs also offer additional savings, especially for the long-term investors.
A gold investor might prefer the security of owning the physical gold and another one could choose to stay invested just in ETFs, and both may be right. The two options are complementary, the diversification would minimize the inherent risks of each type of investment.
Don't forget to draw your own conclusions.
Disclosure: I/we have no positions in any stocks mentioned, and no plans to initiate any positions within the next 72 hours. I wrote this article myself, and it expresses my own opinions. I am not receiving compensation for it (other than from Seeking Alpha). I have no business relationship with any company whose stock is mentioned in this article.
Additional disclosure: This article does not represent any kind of investment recommendation or advice.