It has been a long road (a lot longer than we, or the market, anticipated), but Adamis Pharmaceuticals (ADMP) is at last on the verge of a meaningful breakout. Symjepi, the company's epinephrine injector product, will be reaching customers early next year.
Sandoz, the generics subsidiary of Novartis (NVS), is leading the rollout of Symjepi. Besides the initial press release announcing this partnership in July, Adamis and Sandoz offered precious few updates about the commercial launch. That silence was broken on December 6th, when the partners announced that the launch is imminent. In fact, Symjepi should be hitting shelves in early Q1.
This small drug developer is about to start making money on its first significant commercial product - and the stock is poised for a big 2019.
Let's discuss the forthcoming launch and what it portends for Adamis next year.
Countdown to Launch
Adamis has become somewhat notorious for its lack of investor communication, but its December 6th press release was pleasantly informative, if brief:
"Adamis has continued to work closely with Sandoz Inc., a Novartis division, which has exclusive rights to market and distribute Symjepi in the U.S., to prepare for the U.S. market introduction of this life-saving treatment. Manufacture of commercial batches has been completed and Adamis will begin shipping to Sandoz distribution centers during December to ensure the appropriate supply for launch."
Adamis CEO Dennis Carlo also chimed in with an upbeat outlook on the imminent commercial launch:
"We are confident that together with Sandoz, we are ready to take on the market challenges in this disease space and have the resources and capabilities in place to provide access to this important product. We believe Symjepi will be a value-add to the U.S. healthcare system, providing an affordable treatment option for those at risk of acute allergic reactions."
Clearly, Adamis is gearing up for a launch in a big way. The company had been building inventory of Symjepi for months in anticipation of a partnership agreement, but evidently Sandoz needs a lot of inventory to push. New batches have already been manufactured and begun to ship.
In its own concurrent press release, Sandoz offered further information about the launch:
"Sandoz...plans to launch SYMJEPI™ (epinephrine) 0.3 mg Injection in the US in early Q1 2019 for the emergency treatment of allergic reactions (Type 1), including anaphylaxis...We are actively preparing for the US market introduction of SYMJEPI, and with manufacturing completed, we are well underway to ensure appropriate supply of this life-saving medicine for healthcare professionals and patients in need of a new treatment option."
The launch date is set for early 2019. We expect a sales push to begin in January. But how will the market receive Symjepi?
Undercutting the Competition
Since its inception, Symjepi has been positioned as a potential low-cost alternative to Mylan's (MYL) EpiPen. Despite recent political fallout from repeated price increases, Mylan still enjoys dominant market share. Mylan is a big player, but Sandoz - which can draw on the might of Novartis - is more than capable of competing on an even footing. CEO Carlo pointed this out back in July:
"We are very excited about our collaboration with Sandoz. They are among the top pharmaceutical companies in the world and we believe they have the commercial presence and proven track record to maximize the value of SYMJEPI."
Sandoz does not have to contend with Mylan alone. In November, Teva (TEVA) launched its generic EpiPen; it remains to be seen how many Mylan customers switch over to this lower cost generic. Sandoz is well aware of the situation and has priced Symjepi accordingly:
"Our planned wholesale acquisition cost (WAC) for a two-pack of SYMJEPI 0.3 mg Injection is $250, which is about 16.5 percent less than the WAC of Mylan's authorized generic EpiPen and Teva's generic EpiPen."
Sandoz has evidently committed to the low-cost strategy, looking to undercut the currently available generic EpiPens. This should be a strong selling point.
There is another challenge facing Sandoz: Convincing doctors and patients to accept the new delivery mechanism. While the brand-name and generic EpiPens are auto-injector mechanisms, the Symject injector is a pre-filled syringe.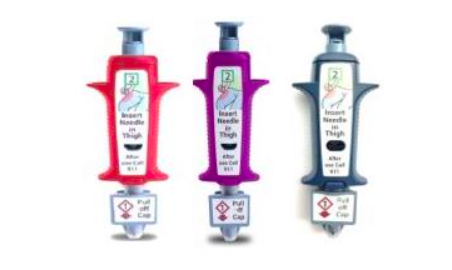 Convincing people to change can be challenging. However, there is already solid evidence that the Symject injector is actually more intuitive and user friendly than existing auto-injectors. CEO Carlo condensed the findings of a human factors study thus:
"Symjepi was studied in trained and untrained adults, adolescents and caregivers. The results definitively showed Symjepi to be an easy to use, small and intuitive device."
Symjepi will find an audience among consumers. But it may find even greater uptake among physicians, hospitals, and first responders. Compact, easy to use, and not prone to misdosing, Symjepi makes an arguably superior tool to healthcare professionals.
Investor's Eye View
Adamis should benefit tremendously from the Symjepi rollout. While the level of market uptake remains to be seen, the new kid on the epinephrine injector block should find a ready audience. The market opportunity is big, with an addressable market worth more than $1 billion. That market is set to grow considerably over the next several years, with the global epinephrine injector market projected to have a compound annual growth rate of 15% by 2021.
Even a small slice of the market would mean big returns for Adamis thanks to the unexpectedly generous terms of its deal with Sandoz. The smaller partner will receive a whopping 50% of net sales, which is remarkably high. We addressed this point in a prior research note:
"The deal is better than most analysts anticipated, including our own model. 50% of sales is huge for a small developmental biotech, especially when the deal is with a much larger pharmaceutical company. Oftentimes, these deals only include low-double-digit rewards for the developer, with the lion's share going to the bigger player that does all the marketing and sales work. It is thus no surprise that the few analysts following the stock have already upped their price targets."
Adamis should start seeing significant revenues from Symjepi sales during 2019. It appears that Sandoz is planning to make an aggressive push, but it will likely take some time to gain serious traction. Still, expected revenues in the coming quarters should prove significant to Adamis' bottom line. At the end of Q3, Adamis had $32 million in cash. That amounts to about three quarters of runway. Recurring revenues should reduce that burn significantly in 2019.
Despite the rollout set to commence in short order, the market is still wary. The stock has not moved a whole lot since the commercial launch announcement. With shares still sitting under $3, Adamis is valued at just $140 million. That represents opportunity.
Imminent revenues from a commercial product, a serious pharma partner to do the heavy lifting, and a maturing pipeline of other products should all contribute to share price growth in the year ahead.
Adamis looks seriously cheap.
Disclosure: I am/we are long ADMP. I wrote this article myself, and it expresses my own opinions. I am not receiving compensation for it (other than from Seeking Alpha). I have no business relationship with any company whose stock is mentioned in this article.