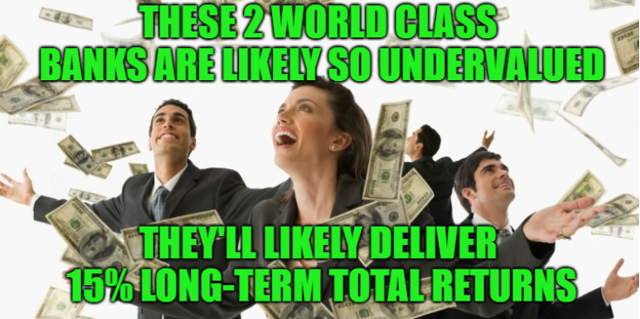 (Source: imgflip)
Thanks to Warren Buffett's amazing track record at Berkshire (BRK.B), 26% CAGR total returns since 1965, many investors consider the Oracle of Omaha the greatest investor of all time. And since Berkshire happens to own one of the world's biggest stock portfolio's ($193.3 billion today) investors are naturally interested in knowing what major buys or sells his company makes each quarter (tracked via SEC 13-F filings).
Berkshire's latest filing indicates that Buffett was a huge buyer of banks, with $13.2 billion of total net stock purchases in Q3. This brought Berkshire's portfolio exposure to banks (nine in total) to about 40% and indicates a highly bullish long-term view on the industry in general. $9.8 billion or 74% of those purchases were in just two banks, Bank of America (NYSE:BAC) and JPMorgan Chase (NYSE:JPM).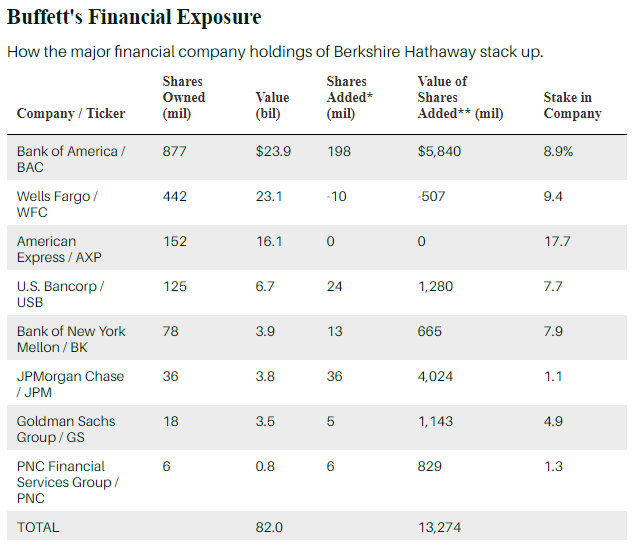 (Source: Barron's)
Now it's important to realize that while Berkshire's investing goals are the same as all long-term investors' (maximize gains over time), its time horizon and risk profile are very different. Thus I generally don't recommend trying to mirror any famous investor's buys or sells based on 13-F disclosures. However, in this case, I think looking at Buffett's big buys and sells might be useful, for two main reasons.
First, Berkshire's investing strategy is one that investors should try to emulate, focusing on wide-moat companies, in necessary industries (that will likely be around forever). Buffett is also a fundamentals-driven investor who looks for high-quality blue-chips, with industry-leading management teams, strong balance sheets, and that he believes will be able to handle any unexpected economic/industry downturns in the future. Thus these big bets on JPMorgan and Bank of America are a strong endorsement of the quality of these banks, as well as their much lower risk profiles relative to some of their smaller peers.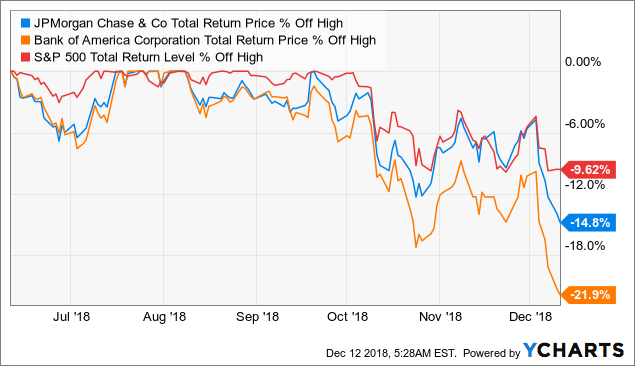 The other reason to consider buying these two Grade A banks today is the fact that the second correction of the year has caused JPMorgan to fall into a correction, while Bank of America is now in a full-on bear market. As Buffett likes to say "it's better to buy a wonderful company at a fair price than a fair company at a wonderful price". This means that Berkshire is always looking to buy quality banks at what it considers fair price or better.
Thanks to the 13-F filing we can see what average price Berkshire bought these large amounts of banking shares.
| | | | |
| --- | --- | --- | --- |
| Bank | Average Price Berkshire Paid In Q3 2018 | Current Price (Dec 11th Close) | Discount To Buffet Price |
| JPMorgan | $111.77 | $100.37 | 10% |
| Bank Of America | $29.49 | $24.78 | 16% |
(Sources: Berkshire 13-F, Morningstar)
Given the size of the buys, we can assume that the average price Berkshire paid in Q3 was what Buffett considered a significant discount to fair value. And given that both stocks are now significantly lower, I consider it a great time for income growth investors interested in big banks to add both Bank of America and JPMorgan to their portfolios.
Let's take a closer look at why Buffett is such a big fan of these companies, and why you should be too. Because even with another recession inevitably coming, both banks are likely to prove sources of safe dividends, and from today's prices, also probably deliver about 15% long-term total returns.
Why Buffett Is Betting Big On JPMorgan
JPMorgan Chase is America's largest bank with branches in nearly every state and a presence in over 100 countries.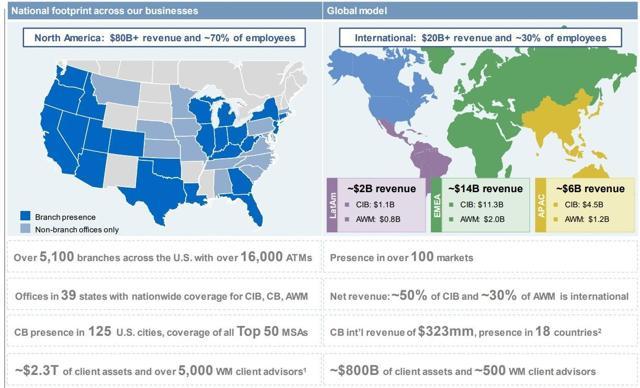 (Source: JPMorgan Investor Presentation)
JPM's scale and dominance in banking is impressive and includes:
deposit base of $1.4 trillion (29% of which pays zero interest)
the largest credit card issuer in the US (and second largest acquirer of credit card accounts)
world's largest investment banking fee generator
the world's largest bond, currency, and commodity trader
As a result of being so diversified and having the largest scale of any US bank JPMorgan is able to deliver impressive profitability.
| | | |
| --- | --- | --- |
| Metric | JPM Q3 2018 | Industry Average |
| Return On Assets | 1.3% | 0.9% |
| Return On Equity | 14% | 8.7% |
| Efficiency Ratio (Operating Costs/Revenue) | 57% | Over 60% |
(Source: earnings supplement, Gurufocus)
The rule of thumb in banking is that you want to see ROA of at least 1% and ROE of at least 10%. Most banks fall short of these benchmarks, but JPMorgan's profitability is among the best in the industry. The efficiency ratio is the percentage of revenues consumed by non-interest operating costs and is a good proxy for how efficiently a bank is running. JPMorgan's ratio is among the lowest of any US bank's and is expected to fall to 55% by 2022 thanks to continued growth and cost-cutting. That's not just from greater economies of scale, but from a shift towards digital banking.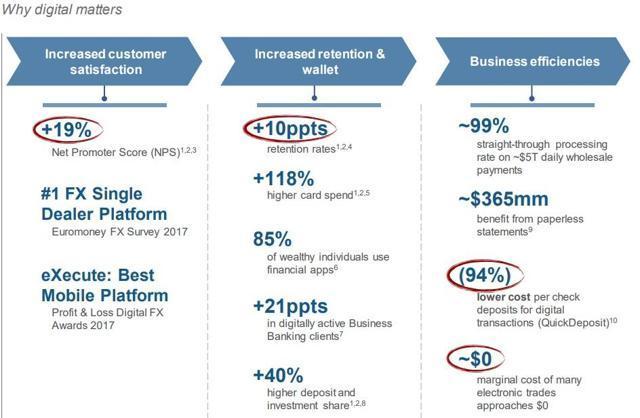 (Source: JPMorgan earnings supplement)
Digital transactions have zero marginal cost, and even factoring in overhead reduce processing costs by 94%. They also help boost retention due to higher convenience and make a bank's overall ecosystem more sticky, widening its moat and making long-term growth easier.
But JPMorgan's impressive size and profitability isn't an accident. It's courtesy of its incredible management team and conservative corporate culture, created and honed by CEO Jamie Dimon. Dimon has 36 years of industry experience and has worked at Travelers Group, Citigroup, and Bankone. Dimon became COO in 2004 when JPM bought Bankone and was promoted to the top spot in 2005. He helped the bank avoid the worst of the Financial Crisis. In fact, thanks to his insistence on safe banking practices, during 2008 and 2009 JPM still reported nearly $20 billion in profits (one of just two major banks to remain profitable during the crisis). The company had zero need for a bailout and was forced by the government to take part in that program (that way no one would know which banks were actually insolvent), which is why the dividend was slashed.
What's even more impressive about JPMorgan is that despite its massive size, the bank is still delivering very strong growth in both its top and bottom line.
| | | |
| --- | --- | --- |
| Metric | Q3 2018 | YTD 2018 |
| Revenue Growth | 7% | 9% |
| Net Income Growth | 24% | 26% |
| EPS Growth | 33% | 34% |
| Dividend Growth | 43% | 43% |
(Source: earnings supplement)
That strong growth was driven by the company firing on all cylinders and reaping the benefits of the strongest economic growth in 13 years:
core loans up 6%
consumer deposits up 4%
mobile users up 11%
credit card sales up 12%
credit card volumes up 14%
bond services fees up 12%
commercial banking up 6%
asset management revenue up 3% (AUM up 7%)
Net Interest Margin rising from 2.37% to 2.51% (despite flattening yield curve)
But of course, strong growth can be driven by lax lending standards. Maybe JPMorgan is enjoying blockbuster growth by making steadily less safe loans? Actually, that's not true either, the company's dedication to underwriting discipline remains as strong as ever. That's why the net charge-off rates in Q3 were:
0.95% on consumer loans (down from 1.1% in Q3 2017) - industry average 2.27%
0.11% on commercial loans (up from 0.6% in 2017) - industry average 0.26%
Basically, JPMorgan is not just the biggest bank in the country, but also capable of growing at one of the fastest rates, while maintaining some of the highest credit standards too. And most importantly, when it comes to its balance sheet, what sunk so many banks during the financial crisis, JPMorgan is once more an industry leader.
| | | |
| --- | --- | --- |
| Metric | JPMorgan | Regulatory Minimum |
| Fully Phased CET1 Ratio | 12.9% | 9.5% |
| Supplementary Leverage Ratio | 6.5% | 6.0% |
(Source: earnings presentation)
There are two critical bank safety metrics to know. The first is the Common equity tier 1 capital ratio or CET1. CET1 measures a bank's capital (shareholder net assets, retained earnings and Tier 1 assets like highly liquid risk-free Treasury bonds) against risk-weighted assets (loan book). This is the new gold standard of banking safety metrics and measures a bank's ability to absorb unexpected losses. Under the new Basel 3 banking standards (fully in effect in 2019) the minimum CET1 for global banks is 7%. The Fed actually sets this higher 9.5% requirement for strategically important US banks like JPM and BAC.
The other important safety metric is the supplementary leverage ratio or SLR. This measures a bank's equity against its total risk-weighted assets, including off-balance sheet ones. Under Basel 3, the minimum for global banks is 5% and 6% for megabanks like JPM and BAC. JPMorgan's CET1 of 12.9% and SLR of 6.5% shows that it can withstand not just a future recession, but even a catastrophic one far worse than the Financial Crisis (more on this later).
When you add it all up JPMorgan is, simply put, the king of US banks. It's not just the largest, but also the highest quality based on management track record, corporate culture, profitability, and a balance sheet as safe as its bank vaults. Thus it's not hard to see why Buffett would initiate a stake in the company, to the tune of $4 billion.
Of course, while that's an impressive size position for Berkshire to take in one quarter, Buffett's ownership in Bank of America is nearly six times larger. Let's take a look at why Buffett loves Bank of America so much, and why you too might want to consider owning it.
Why Berkshire Loves Bank Of America
There's a good reason that Berkshire's stock portfolio is 11% in Bank Of America right now. Under CEO Brian Moynihan the bank has made a total 180 compared to its wild casino gambling days pre-financial crisis when it was one of the biggest players in sub-prime mortgage-based investments. That's thanks to disastrously timed acquisitions of Countrywide Financial and Merrill Lynch (under former CEO Ken Lewis who left in September 2009).
Under Moynihan Bank of America has focused on two key things. The first was becoming one of the safest banks in America, by selling or closing down the units that had contributed to the financial meltdown. The sub-prime fiasco that caused the financial crisis resulted in over $243 billion in banking fines, with BAC being on the hook for $76 billion, or 31% of that.
Not only does Bank of America now avoid such toxic assets and dangerous businesses, but its overall lending is also incredibly conservative. For example, while the average US FICO score recently hit an all-time high of 704 (on a range of 300 to 850), according to Morningstar's Eric Compton, Bank of America's loans are mostly made to consumers with scores of 750+.
Moynihan's other big focus has been on some of the industry's most aggressive cost-cutting. That includes shutting down 25% of the bank's branches since the financial crisis and trimming headcount by about 75,000.
(Source: Bank of America earnings presentation)
This is what has allowed the bank's operating leverage to improve for nearly four consecutive years, driving steadily improving profitability.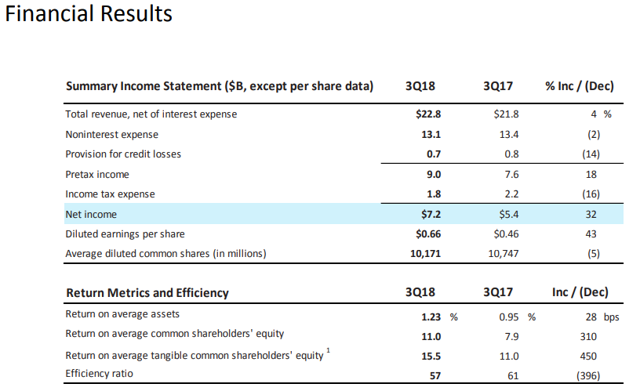 (Source: Bank of America earnings presentation)
You can see that in BAC's impressive decrease in its efficiency ratio over the past year, which is now well below the industry benchmark of 60%. And that has been steadily declining thanks to the bank's combination of rising revenue and falling expenses.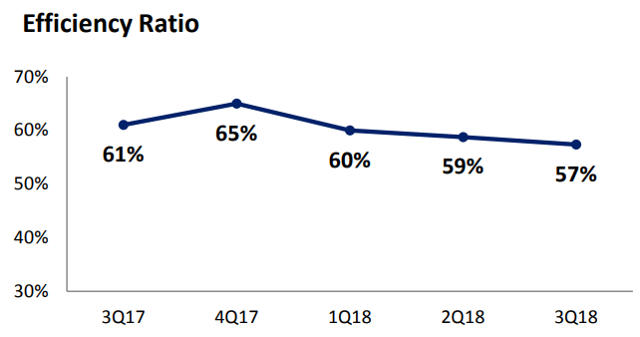 (Source: Bank of America earnings presentation)
More importantly, Bank of America's returns on assets and returns on equity are now firmly above 1% and 10% benchmarks for a quality bank and far better than the 0.9% and 8.7% industry averages, respectively.
In Q3 Bank of America reported solid top-line growth of 4%, driven by:
loan growth of 3%
net interest income up 6%
fee-based revenue up 2%
The bank's deposit base increased 4%, operating expenses fell 2%, and the net charge-off ratio (loan losses) was a low 0.4%. Even factoring out tax reform (a permanent but one-time earnings boost) operating income was up a very strong 18%, operating EPS was up 23%, which is why the bank rewarded income investors with a 25% dividend hike this year.
But most importantly for Buffett and all long-term investors is the fact that Bank of America's balance sheet is also excellent.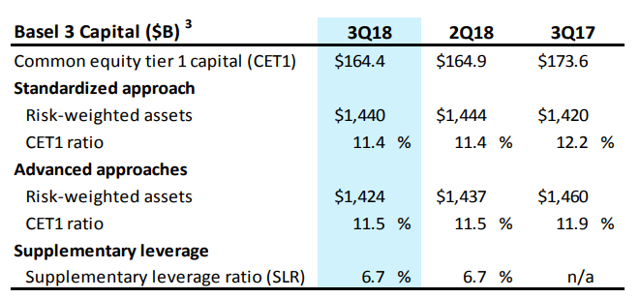 (Source: Bank of America earnings presentation)
As you can see BAC's fully phased in CET1 is 11.5%, far above the 9.5% requirement the Fed thinks is required to avoid another bailout even during a severe recession. Similarly, the bank's SLR is nicely above safe levels (6%).
What about the worries that a flattening yield-curve will cause the bank's lending to become less profitable? Well in reality Bank of America's strong access to low-cost borrowing (mostly checking accounts) and solidly profitable loan mix, means that its net interest margin has been rising over the past year, despite the yield curve crashing to its lowest level in 11 years.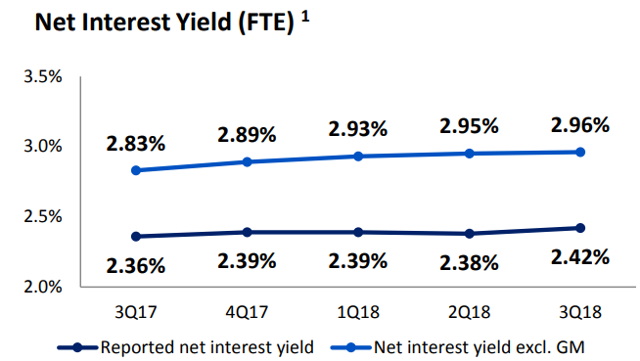 (Source: Bank of America earnings presentation)
Basically, Bank of America has gone from being one of the world's riskiest banks to one of the safest and fastest growing in the US (from an earnings perspective). This is why, Buffett, who is a long-term bull on America's economy, trusts nearly 11% of Berkshire's portfolio to the capable hands of Brian Moynihan.
Ok, so maybe JPMorgan and Bank of America are much safer today and generating rivers of fast-growing profits. But what about the coming recession? Won't that devastate the profits of both banks and cause earnings, dividends, and share prices to crater? Well actually, probably not.
The Next Recession Is Likely 2+ Years Away AND...
There are two important things to remember about the next recession. First, it's probably still a long way off. I track no less than seven economic models and meta-analysis of leading indicators each week in my economic updates. Here I'll briefly summarize why the macroeconomic fundamentals don't point to an imminent downturn.
First, let's look at the 19 leading economic indicators have proven to be good predictors of recessions (the last four times).
(Source: Economic PI)
David Rice, aka Economic PI, tracks these each week on his Baseline and Rate of Change or BaR economic grid. He both looks at how much they are above historical baseline and how quickly they are changing, in either a negative or positive direction. This allows him to compute a "mean of coordinates" or MOC.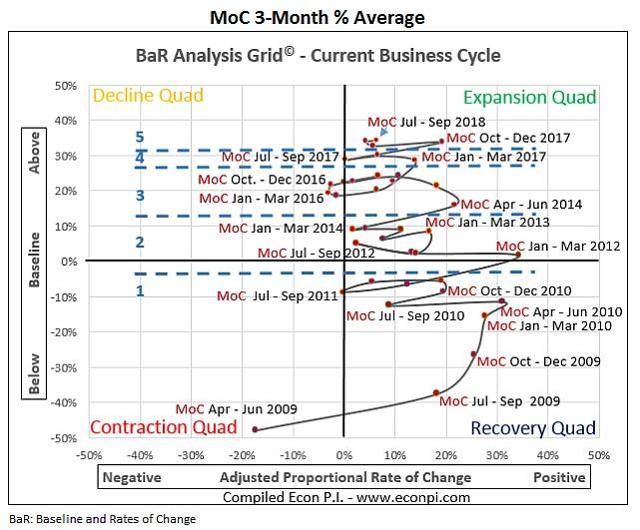 (Source: David Rice)
Throughout the expansion, the MOC has generally been climbing higher above baseline.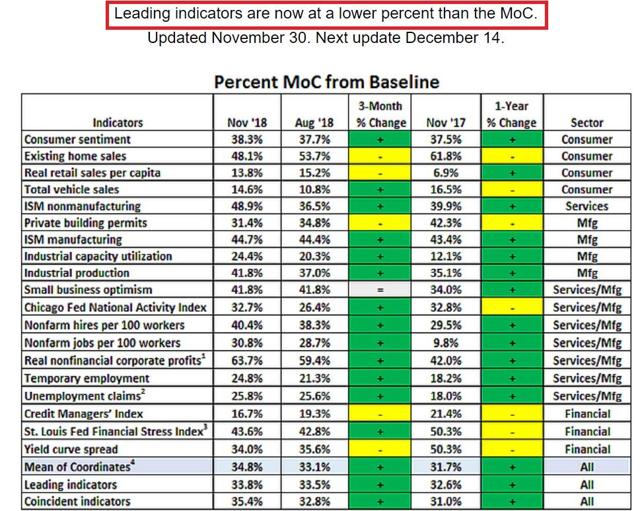 (Source: David Rice)
The bad news is that with the mean of the leading indicators now dipping below the MOC it appears that economic growth has peaked. But the good news is that slower growth (which most economists were expecting in coming years) is still positive growth. And even if we are headed for recession, according to Rice, the last four recessions generally took two years to start after growth peaked.
What about the flattening of the yield curve? Well, it's true that last week two of the curves (5y-2y and 5y-3y) inverted. And the 5y-3y curve is a "warning curve" because over the last 40 years its inversion has always preceded the more famous 10y-2y curve inverting within a few months.
However, according to an August 2018 study by the San Francisco Fed the most accurate recession predictor ever discovered, is not the 10y-2y curve.
"The best summary measure is the spread between the ten-year and three-month yields."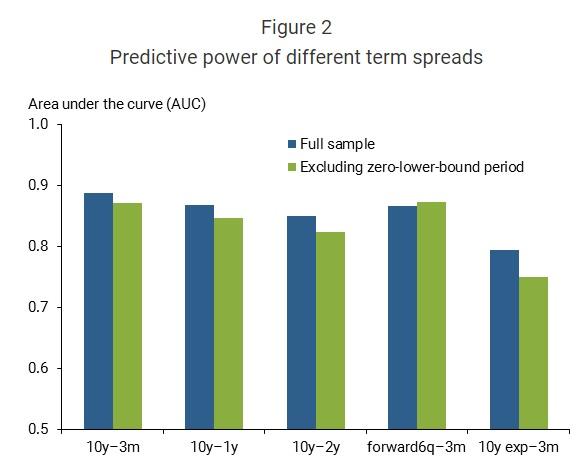 (Source: San Francisco Federal Reserve)
This is because the larger the duration difference between the bond yields used, the stronger the recession predictive power of that curve. This is why, according to the October 2018 Dallas Fed banking survey, the 10y-3m curve is the yield curve being closely monitored by most banks that affect their lending decisions (and creates the causal link between a 10y-3m inversion and the recession it predicts).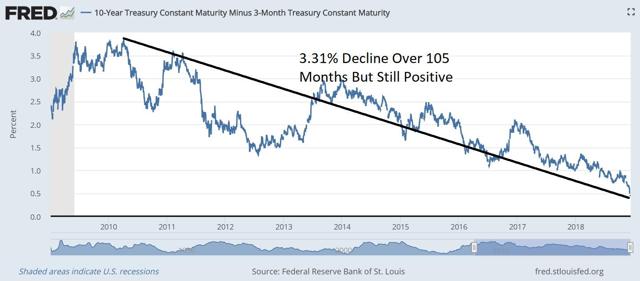 The 10y-3m curve has been steadily falling for nearly nine years now, at an average rate of 3.15 basis points per month. But with the curve still at 0.48% if the long-term trend holds then it will take another 16 months to invert.

At which point, going off the three most recent recessions, we'd have nine to 16 months before the recession actually begins. That means that using the most accurate recession predictor ever discovered, and its long-term rate of flattening, it appears that the next recession is still 23 to 32 months away. That correlates with a start date of November 2020 to August 2021.
Which not just lines up nicely with what David Rice over at BaR is saying, but also Blackstone's (BX) forecast of no recession to begin until 2021 at the earliest. Similarly, Deutsche Bank's most recent economic update is forecasting slowing but still positive growth for the next three years:
2018: 3.1% GDP growth
2019: 2.4% growth
2020: 1.8% growth
2021: 1.6% growth

(Source: Deutsche Bank)
By the end of next year, Deutsche estimates that the 3-year recession risk will have risen to 80% but the bank's analysts aren't expecting a recession until at least 2022.
That would also explain why Buffett is making such big bets on banks now and has 40% of Berkshire's portfolio in this highly economic sensitive industry. Ok, so maybe an economic downturn isn't likely to start anytime soon. BUT when it finally does hit then banks are going to get crushed right? Actually, that too is likely to prove an overblown fear. That's because US banks are now far better capitalized than they have in the past, and will be able to withstand the coming economic downturn far better.
...Banks Are Far Better Prepared To Handle Future Recessions
According to Mike Mayo, a banking analyst with Wells Fargo:
"Banks are less cyclical than they have been in decades and have more resilient earnings streams because of improved financial discipline and risk control."
Today's US banks are safer thanks to far stronger regulations since 2008 including now being overseen by the Fed. Each year the strategically important financial institutions or SIFIs (too big to fail) undergo both annual stress tests as well as must submit their proposed dividend and buyback plans to the Fed under the Comprehensive Analysis And Review or CCAR. The Fed also requires each SIFI to submit detailed "living will" plans outlining how they could be safely dissolved in a crisis.
This heavy oversight of the largest banks is designed to ensure that even in a recession far worse than 2008-2009, not only would banks not fail but wouldn't require a bailout. To know whether or not banks are adequately capitalized and safe the Fed performs an annual stress test of the SIFIs to both a realistic (historical) and extremely strong recession scenario.
2018 Stress Test Severe Scenario Assumptions

(Source: Bank of America 2018 Dodd-Frank Act Mid-Cycle Stress Test Results Presentation)
The Fed's hypothetical deep recession scenario is actually more severe than what occurred in 2008-2009. For example, it models GDP plunging 9% over nine quarters compared to just 5.1% during the Great Recession, which occurred over six quarters. A 9% recession would be the most severe America has seen since 1945.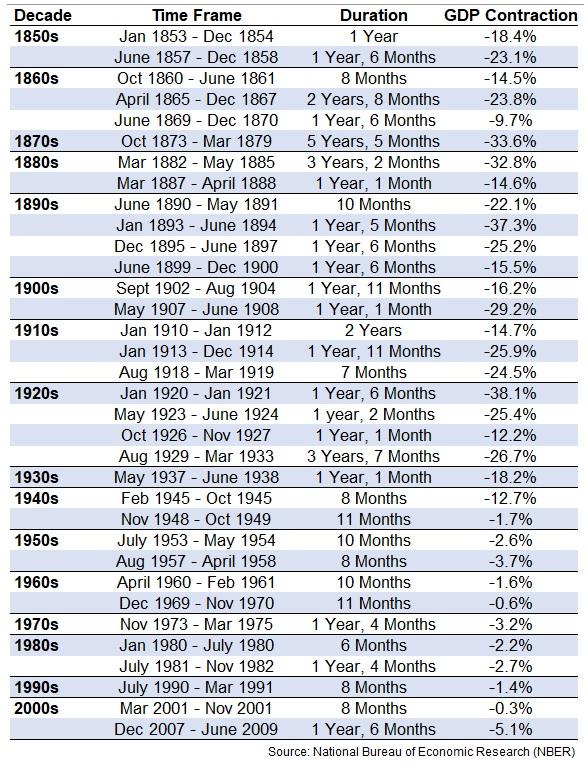 It also assumes another housing meltdown, and a stock market crash of 60%, which is worse than the 57% we saw during the worst financial panic since the Great Depression. Keep in mind that collapse was because the entire global financial system was, at the time, teetering on a house of cards that included leverage of up to 40X at some banks. That was on hundreds of trillions of toxic derivatives backed by home loans made to subprime borrowers that sometimes had no jobs, no assets, and no income (the infamous NINJA mortgages).
Today's banks still hold hundreds of trillions in derivatives, but those are mostly for interest rate and currency hedging purposes (Berkshire Hathaway uses derivatives for these purposes too). Neither JPM nor BAC (or any major US bank) is sitting on large amounts of derivates that Buffett previously called "financial weapons of mass destruction".
But even under this unlikely, worst-case recession scenario, both JPMorgan and Bank of America hold up very well.
| | | |
| --- | --- | --- |
| Metric | JPMorgan | Bank of America |
| CET1 Minimum | 8.0% | 7.8% |
| CET1 Minimum Requirement | 4.5% | 4.5% |
| SLR Minimum | 5.1% | 5.1% |
| SLR Minimum Requirement | 3.0% | 3.0% |
| Peak Pre-Tax Losses (Over 9 Quarters) | $15.3 billion | $46.3 billion |
(Sources: Stress Test Presentations)
Ok, so maybe banks, in general, would be fine, and JPM and BAC, in particular, would not face an existential threat. But surely a recession would mean earnings fall and thus at the very least, the dividends would be slashed right? Actually there too I have confidence that income investors will see these banks' dividend survive the coming economic downturn, whenever it finally arrives.
Dividend Profiles Point To Safe Payouts Even During Recessions And 15% Long-Term Total Returns
The most important part of any income investment is the dividend profile which consists of three parts, yield, safety, and long-term growth potential (in line with earnings growth). Combined with valuation, this is what tends to drive total returns over time.
| | | | | | |
| --- | --- | --- | --- | --- | --- |
| Bank | Yield | TTM Payout Ratio (40% Or Below Is Safe) | 10-Year EPS Growth Expectations (Analyst Consensus) | Total Return Potential (No Valuation Change) | Total Return Potential (No Valuation Change) |
| JPMorgan | 3.2% | 29% | 10.6% | 13.8% | 14.9% |
| Bank Of America | 2.4% | 21% | 9.2% | 11.6% | 14.7% |
| S&P 500 | 2.0% | 38% | 6.4% | 8.4% | 0% to 7% |
(Sources: Simply Safe Dividends, Gurufocus, Fast Graphs, Morningstar, BlackRock, Vanguard, Yardeni Research, Multipl.com, Gordon Dividend Growth Model, Moneychimp)
Both JPMorgan and Bank of America offer attractive dividends that are superior to the S&P 500's. More importantly, those dividends are likely safe, both now and in a recession. There are two parts of the dividend safety formula, a strong balance sheet and a reasonable payout ratio (for the industry).
We're already seen how both banks have very strong balance sheets that will easily survive future recessions, even one worse than the Financial crisis. And with very modest payout ratios, even with the Fed now no longer capping them at 35%, this shows that management at both companies is returning capital to investors with an eye towards sustainability throughout the economic cycle.
Simply Safe Dividend Safe Scores
JPMorgan: 75/100 (safe)
Bank of America: 82/100 (very safe)
That's why Simply Safe Dividends (where I'm an analyst) rates both dividends as among the safest of any US bank.
What about long-term growth potential? Well in the past few years investors have been spoiled by sensational dividend growth. That was due to payout ratio inflation combined with tax reform slashing corporate tax rates and creating an epic earnings boom in 2018. Over time, and accounting for the next recession arriving in a few years, analysts expect strong but more modest earnings growth. Given the cyclical nature of the industry, investors should expect dividend growth to track earnings (as will the share price over time) but no further payout ratio increases.
The good news is that the combination of yield + long-term EPS/dividend growth (Gordon Dividend Growth Model) should still deliver 12% to 14% total returns over time, even assuming both companies' valuations never recover. That's far above the market's 9.2% CAGR historical total return. It's also far superior to the 8.4% the GDGM is predicting for the S&P 500 over the next decade. And when we adjust for valuations then JPM and BAC look even better.
I expect the S&P 500 is likely to deliver just 6% to 7% total returns in the coming years from today's valuations, while Morningstar, BlackRock, and Vanguard are even more bearish (0% to 5%). In contrast, JPMorgan and Bank of America, from today's prices, should deliver about 15% long-term CAGR returns, or at least double the market's future returns.
Valuations: World Class Banks Trading At Great Prices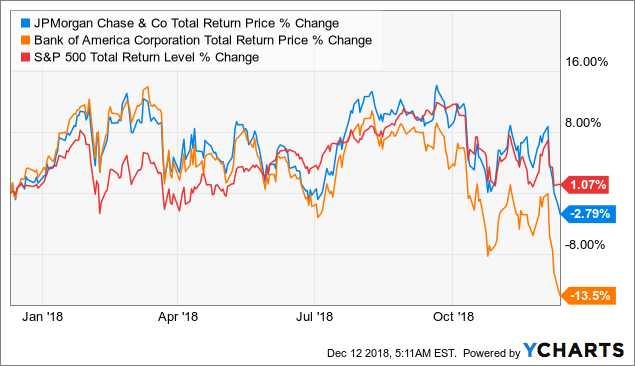 It's been a rough few weeks for both JPM and BAC, with both stocks falling hard due to worries about a slowing economy and flattening yield curve. But that means that today is likely a great time for value investors to add both banks to their portfolios.
Now there are lots of ways to value a company, but three are most popular when it comes to bank stocks. The first is price/book value, the estimated net asset or liquidation value of the company.
| | | |
| --- | --- | --- |
| Bank | Price/Book Value | 13 Year Median Price/BV |
| JPMorgan | 1.89 | 1.7 |
| Bank Of America | 1.42 | 2.0 |
| Industry Average | 1.33 | NA |
(Source: Gurufocus)
Both JPM and BAC are trading at premiums to the average bank but that's warranted by their superior safety, profitability, and faster growth. Thus many investors like to compare the price/BV to their historical norms, which makes JPM look slightly overpriced and BAC look highly undervalued. But remember that before the financial crisis BAC was (temporarily) rolling in subprime mortgage profits that led to much higher P/BV multiples that inflate that historical figure.
Since the banking world is forever changed since 2009 (and for the better) we need to consider a different valuation approach.
| | | |
| --- | --- | --- |
| Bank | Forward PE | 5-Year Average Forward PE |
| JPMorgan | 10.1 | 11.1 |
| Bank Of America | 8.8 | 11.8 |
| Industry Average | 10.3 | NA |
| S&P 500 | 15.4 | 16.4 |
(Sources: Simply Safe Dividends, FactSet Research)
I consider the PE ratio compared to its five-year average a useful tool for this very reason. Now due to the cyclical nature of banking most companies in the industry trade at a low earnings multiple. But even accounting for that today JPM and BAC are looking extremely underpriced. That's because both are trading at a lower forward PE than the industry average, despite the objective fact that both banks are Grade A industry leaders that deserve a premium valuation.
But to determine just how undervalued they are I turn to Morningstar's three-stage discounted cash flow or DCF model. Banking is a complex business but Morningstar's 100% long-term, fundamental-driven, and conservative analysts are usually a good source for intrinsic value estimates.
| | | | | | |
| --- | --- | --- | --- | --- | --- |
| Bank | Morningstar Fair Value | Discount To Fair Value | Upside To Fair Value | Long-Term Valuation Boost | Valuation-Adjusted Total Return Potential |
| JPMorgan | $113 | 11% | 12% | 1.1% | 14.9% |
| Bank Of America | $33 | 26% | 35% | 3.1% | 14.7% |
(Sources: Morningstar, Gordon Dividend Growth Model, Moneychimp)
I've read the reports on both companies and believe Morningstar's growth assumptions (which factor in NIM over time, efficiency ratios, profitability, and the next recession) are reasonable. Thus I can endorse the firm's fair value estimates which say that JPM is 11% undervalued and Bank of America is trading at a 26% margin of safety.
Those deeply discounted shares are likely to outpace future earnings growth (over the next 10-years) as valuations return to fair value, resulting in solid valuation boosts. Add those valuation boost figures to the yield and long-term earnings growth rates (which shares will track over time) and you get my estimated 15% total returns for both stocks.
That is why I consider JPM to be a strong buy and BAC a very strong buy (due to the bigger margin of safety) for anyone looking to own a world class bank and who is comfortable with their risk profiles.
Risks To Consider
While I consider JPMorgan and Bank of America to be some of the lowest risk banks you can own, there are still important risks to be aware of. Three, in particular, come to mind.
The first is that the gameplan both banks have used to achieve their incredible cost-cutting and high-quality earnings growth is going to become more challenging over time. Specifically, this far into the credit cycle competition for quality business, both on the consumer and business sides, are ramping up. Today banks are having to offer higher interest rates on checking and savings accounts, as well as better perks for top-end credit cards. This is likely to soon cap their NIMs and slow future growth.
And while digital banking and ever-improving economies of scale will likely allow both banks to bring their efficiency ratios down over time, there is a limit to how low they can eventually fall. That's because the banking sector is one of the most regulated in the world. Since both JPMorgan and Bank of America are strategically important banks, they will face not just higher compliance costs than smaller peers, but also potential future regulatory risks.
One of those is the potential for much higher capital requirements in the coming years, which would drastically reduce big bank leverage and thus profitability.
According to Minneapolis Fed President Neel Kashkari:
"We have repeatedly learned that it is almost impossible for governments to spot financial crises before they strike. But the data tell us that American taxpayers are still on the hook today...After witnessing the economic devastation from the 2008 financial crisis, I am committed to working with other policymakers to strengthen our financial system and reduce the danger of a future crisis." - Neel Kashkari (emphasis added)
In early 2018 the Minneapolis Fed revealed its Plan To End Too Big To Fail, which it estimates would reduce the 100-year risk of another 2008 style meltdown from 67% to just 9%. The plan specifically calls for two things that would be highly detrimental to JPM and BAC:
Requiring banks with over $250 billion in assets to issue equity equal to 23.5% of risk-weighted assets (heavy shareholder dilution).
Increase capital requirements over time to 38% for strategically important banks (another 14.5% dilution over three years)
Now it's important to realize this is merely one proposal from one Fed bank, and there is no indication that this will even become official Fed policy. But the point is that regulatory environments can shift over time, and a future crack down on "too big to fail" banks like JPMorgan and Bank of America might end up turning their sizes (currently an advantage) into a major growth headwind.
Finally, investors in either bank need to remember that while the next recession is likely to be far milder than the Great Recession, and likely allow for their dividends to remain intact, that doesn't mean that either stock is likely to avoid gut-wrenching volatility. Not just would dividends likely be frozen during the recession, but all bank stocks tend to have above average volatility.
| | | |
| --- | --- | --- |
| Beta (Volatility Relative To S&P 500 Over Time) | JPMorgan | Bank of America |
| 1-Year | 0.87 | 1.09 |
| 3-Year | 1.12 | 1.73 |
| 5-Year | 1.10 | 1.27 |
| 10-Year | 1.42 | 1.52 |
(Source: Ychart)
And keep in mind that volatility can increase immensely during corrections and recessions.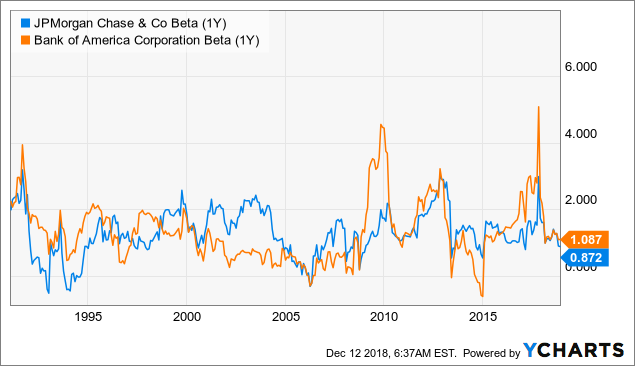 For example, over the past 30-years, JPM has seen its one-year beta soar to as high as 3, while Bank of America's has been as high as five. This means that anyone owning these stocks must realize they are NOT sleep well at night or SWAN stocks. At least not unless your only focus is dividend safety and you are comfortable totally ignoring share prices that can plunge hard and fast during a bear market.
Bottom Line: Today Is A Great Time To "Be Greedy When Others Are Fearful" About These World Class Banks
Don't get me wrong, I totally understand why some investors remain skeptical about all banks, but megabanks in particular. Memories of the worst financial crisis since the Great Depression might make some investors swear off this industry entirely.
However, as a fundamental focused investor what I care most about is recommending quality companies with top-notch management, strong balance sheets, and great long-term growth potential. JPMorgan sailed through the financial crisis with ease, and under Brian Moynihan Bank of America has become the mirror opposite of its reckless and dangerous pre-crisis self.
I'm confident that the steps undertaken by both banks in the past decade mean that not just will they avoid another financial meltdown during the next recession, but will likely remain highly profitable and continue to maintain their dividends (though those may be frozen during the downturn). And while Buffett's primary focus isn't safe dividends across the economic cycle, Berkshire's massive purchases of these banks last quarter (at far higher prices) is a strong endorsement that the Oracle of Omaha agrees that these are some of the best banks you can own.
And thanks to overblown recession fears, (the next recession is likely to be 2+ years away) today you can buy both JPM and BAC at good to great discounts. From their current valuations, I expect both banks to deliver long-term total returns (even factoring in a coming recession) of about 15% CAGR over the coming decade. That should be at least double what the S&P 500 generates.
I may not own either bank today (this correction has left my elephant gun empty), but if I had any dry powder left you can rest assured I'd be an aggressive buyer of both JPMorgan and Bank of America for my dividend growth portfolio.