Scorpio Tankers, Inc. (NYSE:STNG) is a product tanker pure-play company that owns, leases, or charters in 109 vessels as of November 2018 with an average age of 3.3 years. The fleet listing may be found here. Please note that 7 of the TC-in vessels are on 2007 and 2008 Ice Class Handymaxes that have purchase options expiring December 2018 and TCs expiring March 2019. Management's actions on these vessels will provide important insight into its fleet management strategy for 2019 and 2020.
The stock price graph below contains companies that are significant operators of tanker assets, but are not true comparables due to differing mixes of tanker types or, in the case of Navios Maritime Acquisition Corp. (NYSE:NNA), a significantly greater amount of leverage relative to the age and tonnage of its assets. Nordic American Tankers Ltd. (NYSE:NAT) exclusively operates Suezmaxes. DHT Holdings, Inc. (NYSE:DHT) is 97% VLCCs. Euronav NV (NYSE:EURN) owns 45 VLCCs, 26 Suezmaxes, and 1 LR2. The two companies that own mostly VLCCs, DHT and EURN, performed better over the last 12 months. The holders of smaller vessels, NAT, NNA, and STNG, have underperformed. Accept this as an anecdotal data point only and realize that truly understanding why these stocks performed differently would require a deeper dive into each company. It is also not an exhaustive list of companies in the sector.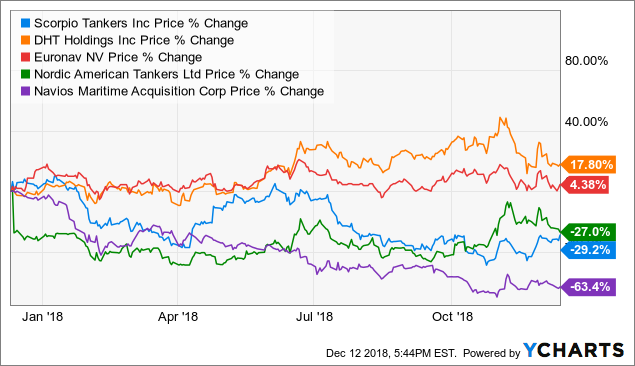 Background
I have published several articles on NNA and one on Navios Europe I that provide insights on the very difficult tanker rate environment that was experienced during 2018. The most recent NNA article includes a discussion about the recent spike in product tanker rates. These articles serve as a primer for the discussion on product tanker rates that follows below and I encourage you to read them.
STNG - Recent Events
STNG's management has been working aggressively to improve the financial position of the company and address the upcoming implementation of the IS0 2020 emissions protocol that will require the installation of scrubbers or consumption of very low suffer diesel fuel. Recent steps taken by management to increase liquidity, push out debt maturities, ride out the bottom in tanker rates, and address the emission protocols included:
$319.7 million net proceeds equity offering completed October 10th, 2018.
Refinancing 9 credit facilities that resulted in an increase in liquidity of $321.7 million.
Several announcements regarding the installation of scrubber systems on 90 of the 109 vessel fleet.
Reverse stock split proposal.
Brutally Dilutive Common Stock Offering
The low product tanker rates during 2017 were followed by even lower product tanker rates during 2018 (see the graphs for MR rates on page 1 in this recent Weber Tanker Weekly Report). It left highly levered companies with exposure to the tanker sector in dire financial straits and needing to address the negative cash flow that was eating them alive. STNG chose to issue a massive amount of equity to provide a financial runway that it believes will be sufficient to carry it well into 2020 in anticipation of a rebound in product tanker rates.
In total, STNG issued 182.2 million shares (including 20 million shares from the underwriters' greenshoe) at $1.85 per share for net proceeds of $321.7 million. In its October 30th earnings release (discussed in greater detail below), STNG estimated its Unrestricted Cash and Marketable Securities at $648.8 million. The net proceeds from the common stock offering comprise almost 50% of this amount.
The offering was a bit controversial because $100 million of the offering was purchased by Scorpio Bulkers (NYSE:SALT) (J Mintzmyer covers the controversy from the SALT shareholders perspective). From an existing shareholder perspective, the dilution was massive (approximately 50%), but there was no attractive alternative. Stated another way: it was the least bad alternative. Management made the only decision that was really available to it, and current and prospective shareholders now have the opportunity to realize the upside of the assets during the next product tanker rate swing. The great thing about the tanker market, for better or worse, there is always another rate swing lurking around the corner.
Upcoming Challenges
Adjusted EBITDA for Q3 2018 was $29.25 million. Assuming that Convertible Note Accretion, Amortization of Deferred Financing Fees, Writeoff of Deferred Financing Fees, and Accretion for Fair Valuation Measure of Acquired Debt all flow through the Finance Expenses line of the Income Statement, Q3 cash interest expense was around $35 million (it could be slightly higher, but it is a decent ballpark estimate for now). This means that Adjusted EBITDA was insufficient to cover cash interest expense for Q3 and that STNG was cash flow negative after Dry Dock and Special Survey CapEx, and normalized principal payments (i.e. excluding repayments due to refinancing).
Beginning in November, Q4 2018 product tanker rates began a spike upwards that took them beyond 2016 and 2017 Q4 seasonal highs. During its December 11th Investor Presentation, STNG provided an update on QTD rates on page 41.
The improvement in TCE rates from:

Q3-18 Actual Rates compared to the Q4-18 guidance as of October 30, 2018, translates to $22 million in incremental cash flow in Q4 2018

Q3-18 Actual Rates compared to the Q4-18 guidance as of December 9, 2018, translates to $40 million in incremental cash flow in Q4 2018
The translation is that the spike in rates, if sustained through year-end, would increase incremental cash flow by $18 million over its expectations at the Q3 Earnings Release on October 30th. This would bring the total incremental cash flow for Q4 when compared to Q3 to $40 million. This is a pretty substantial increase, and it was due to STNG having approximately 50% of its Q4 days floating at October 30th. $40 million of incremental cash flow for Q4 versus Q3 would likely result in STNG being almost able to cover its cash interest expense and debt principal payments (estimated at $47.3 million of quarterly debt amortization on various Credit Facilities and Finance Leases). It will not, however, be able to cash flow the $22.4 million of Q4 CapEx estimated on page 43 of the Investor Presentation. Relative to quarterly results for 2017 and 2018 YTD, this would be a great quarterly outcome for STNG. The bar chart on page 42 provides a sense of the level of sustained average annual rates needed for STNG to be cash flow positive after principal payments and DD/SS CapEx during 2019. I will explore this further in Part II of the STNG analysis.
Unsecured Debt Maturities
The other big hurdle facing STNG is the $421.7 million in debt maturities occurring during 2019. Approximately $219 million of this amount will be quarterly and semi-annual principal payments due on the Credit Facilities and Finance Leases secured by vessels. Approximately $202.5 million, however, will be on the Unsecured Notes and the Convertible Notes.
In the Q3 earnings press release, STNG estimated its cash and marketable securities at $648.8 million as of October 30th. As discussed above, Q4 Cash Flow from Operations after principal payments and CapEx is likely to be mildly negative even with the spike in product tanker rates during Q4. A conservative estimate of Q4 2018 cash and marketable securities between $620 million and $635 million seems reasonable. This should provide STNG ample liquidity to fund the repayment of the $57.5 million of Unsecured Notes in Q2 2019 and the $145 million of Convertible Notes in Q3 2019 as well as fund the shortfall of CFFO after principal payments on the Credit Facilities and DD/SS CapEx.
Debt Restructuring Initiatives
In anticipation of the negative cash flow that it will likely experience during the first several quarters of 2019, STNG negotiated increased flexibility under its Credit Facilities. It eliminated the interest coverage test covenant and negotiated lenient leverage tests.
In September 2018, the Company entered into agreements with certain of its lenders who are party to credit facilities with the Company, to permanently remove the minimum interest coverage ratio financial covenant from the terms of each facility. As a result, the Company is no longer required to maintain a ratio of EBITDA to net interest expense on any of its secured credit facilities or lease financing arrangements.

As part of these agreements, and for certain of the facilities (as detailed below), the minimum threshold for the aggregate fair market value of the vessels as a percentage of the then aggregate principal amount of each facility was revised to be no less than the following:

| | |
| --- | --- |
| Facility | Minimum ratio |
| KEXIM Credit Facility | 155% |
| 2017 Credit Facility | 155% |
| 2016 Credit Facility | 145% through June 30, 2019, 150% thereafter |
| ABN Credit Facility | 145% through June 30, 2019, 150% thereafter |
| DVB Credit Facility | 145% through June 30, 2019, 150% thereafter |
Since it has ample liquidity to make the quarterly and semi-annual principal payments on its Credit Facilities and Finance Leases, STNG will be able to pass this covenant test without issue well into 2020.
Scrubber Initiative and BWTS
The implementation of the IMO 2020 emission protocols has created a certain amount of risk regarding the cost and availability of low sulfur fuels to meet the new emissions standards. Given its relatively high leverage, STNG has chosen to mitigate the cost of fuel risk by moving forward with a plan to install scrubbers on at least 90 vessels. With the installation of scrubbers, STNG will be able to continue to use lower cost but higher sulfur bunker fuel. The per vessel cost of installation on the first 52 scrubbers is approximately $1.53 million based on the following excerpt from the press releases:
It has entered into an agreement with third parties to purchase exhaust gas cleanings systems for 42 of its vessels in 2019 and for 10 of its vessels in 2020. The total value of these agreements is estimated to be $79.6 million. The systems that are being fitted are of 'hybrid ready' design, which allows them to be upgraded to a 'closed loop' configuration at a future date.
IMO expects around 3,800 vessels to be fixed with scrubbers by 2020. This will be a relatively small percentage of the global fleet. STNG's decision to de-risk future fuel costs is therefore an advantage relative to other companies. The economics (an IRR based on fuel savings versus capital investment) should be quite high.
STNG also entered an agreement to install Ballast Water Treatment Systems as disclosed in a press release dated July 24th. "Installations are expected to begin in the fourth quarter of 2018 and continue to the end of 2022." BWTS installation is required at the next DD/SS scheduled for the vessel. Given the relative youthfulness of its fleet, the BWTS requirement is spread out over several years.
Reverse Stock Split
STNG will hold a Special Shareholder Meeting on January 15th, 2019, to approve a reverse stock split proposal. Many institutions are prohibited from owning stocks with a market price less than $5. By executing a reverse stock split, STNG is likely trying to broaden the market for its securities amongst institutions. Reverse stock splits can sometimes have a negative impact on stocks, but STNG has already taken its bitter medicine with the stock offering in October. With more than 500 million shares outstanding and an Equity Market Value in excess of $1 billion, STNG could easily do a 1 for 5 reverse split and keep its stock at or above the $10 level.
Conclusion
This is the Part I of a two part analysis of STNG. There are a number of positives working in the stocks favor:
Sufficient liquidity to survive well into 2020 based on rates at or above the 2018 average (this will be explored further in Part II).
A very young fleet with an average age of 3.3 years.
Tremendous financial leverage to a recovery in product tanker rates.
A scrubber installation plan (reflected in its CapEx projections for 2019) for all its vessels, with the exception of the Handymaxes, that will mostly be executed by the 1H of 2020.
A BWTS installation plan to meet regulatory requirements.
A pure play on the product tanker sector.
If you have been a shareholder for the last 12 months, there is a lot to be grumpy about since the stock is down 29.2%. If you are a prospective investor looking for a longer-term play in the product tanker sector, STNG will likely be worth a hard look beginning late in Q1 2019.
Disclosure: I/we have no positions in any stocks mentioned, and no plans to initiate any positions within the next 72 hours. I wrote this article myself, and it expresses my own opinions. I am not receiving compensation for it (other than from Seeking Alpha). I have no business relationship with any company whose stock is mentioned in this article.