REIT preferreds are out of favor, trading at large dividend yields, and in many cases, steep discounts to par. Higher positioning in the capital stack with significant equity underneath lends a margin of safety to certain REIT preferreds. We believe the discount has become too extreme with the combination of current yield and capital appreciation potential providing outsized reward for the risk.
Valuing preferred shares
Preferred valuation is significantly different from common stock valuation and I think certain aspects are being overlooked. In particular, I think there is far too much emphasis on current yield with other aspects being overlooked. There is a massive difference between a 10% coupon preferred trading at 10% compared to a 6% coupon preferred trading at a current yield of 10%. Some would look at this and see 2 different 10% yielding preferreds, without realizing how much better the positioning of the 6% coupon discounted preferred is.
3 things happen when a preferred becomes discounted to par.
The carrying yield increases

Capital appreciation potential increases

Bankruptcy/liquidation becomes less risky
The first 2 are self-evident, but the third may be less obvious. We are not meaning that discounted preferreds are less likely to be a part of the bankruptcy, but rather that they perform better through it. In the event the issuing company goes bankrupt, the preferreds will recover somewhere between $0 and $25 per share. For preferreds trading at par, this is strictly a downside event in that the best possible outcome would be a break-even. However, for a discounted preferred bankruptcy actually can result in gains.
If there are not enough liquidation proceeds to go around, the preferreds may recover only $20 a share. This is an ugly outcome for a preferred trading at par, but if that same preferred is trading at $15, the outcome of the bankruptcy is a 33% gain.
It can be the case that preferreds trade down when the market is worried about bankruptcy, in which case discounts could be correlated with bankruptcy risk, but a majority of the presently discounted REIT preferreds have sizable asset bases beneath them that make a full recovery of liquidation preference look likely.
The magnitude of capital appreciation potential and bankruptcy risk mitigation is directly proportional to the severity of the discount and right now, the discount is quite severe for REIT preferreds.
Below is a basket of REIT preferreds that are trading at opportunistic discounts.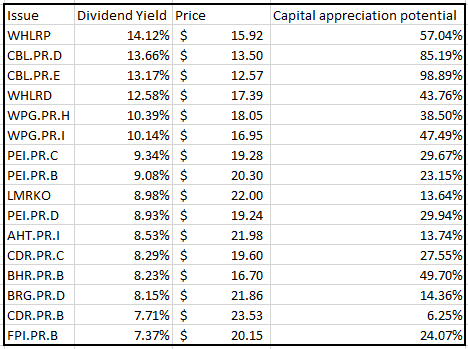 Market data as of 12/11/18
The most discounted are the CBL Properties (CBL) preferreds. Each dollar invested in CBL-D or CBL-E buys nearly a $2 claim on CBL's assets. Including dividends, the CBL preferreds have the potential to double an investor's money. While there is some risk here, our analysis suggests that the risk is nowhere near as high as what is priced in.
The Wheeler (WHLR) preferreds offer the highest carrying yield with WHLRP coming in over 14% and WHLRD over 12.5% now with a ramp up provision that will take the yield even higher down the road. The expensive cost of these preferreds leaves little capital left for common shareholders, but with the Southeastern Grocers problems getting resolved through replacement tenants, we see it as likely that the preferred dividends will remain covered.
Significantly discounted preferreds of Pennsylvania REIT (PEI) and Washington Prime (WPG) suggest to me that there is just a broad selldown of the retail REIT preferreds in a somewhat indiscriminate fashion. Both companies have conservative FFO payout ratios on their common dividends and many things would have to go wrong before the preferred dividends become threatened. We generally view the retail REIT selloff as overblown, but with the extra layer of protection from being higher in the capital stack, I find the disaffected preferreds to be particularly opportunistic from a reward/risk perspective.
Even outside of retail there are some sizable discounts. Ashford Trust (AHT) Preferred I (AHT-I) has fallen precipitously along with Braemar Hotels (BHR) Preferred B (BHR-B) which is run by the same management team. For these particular preferreds, I think the market has been correct to sell them off. While the financials look fine and our outlook for hotels remains positive, Ashford Inc (AINC) is simply an unpredictable manager. Fundamental analysis goes right out the window when odd things happen. Perhaps the assets could be stripped right out from underneath one of these preferreds to be spun into a new REIT. After breaking AHT into what is now BHR, AHT and AINC, I don't trust that there won't be further financial engineering which could potentially shift value away from the preferred holders. The yield is enticing, but I am steering clear for now.
Bluerock Residential (BRG) is also managed by a team of which I am not fond. However, their sins are more along the lines of continuous equity raises which, while dilutive to common shareholders, are actually beneficial to preferred holders as it increases the asset base that funds the dividends. High quality multifamily properties are generally quite stable assets and this sort of stability bodes well for the preferred portion of the capital stack. The 8.23% yield from BRG-D is far higher than typical yields in multifamily and I believe it is favorable relative to the risk.
Farmland Partners (FPI) has been labeled as volatile due to the huge swings in the price of its common shares. The Series B preferred has fallen along with the common as I believe this volatility has been misconstrued as fundamental risk. Preferred ownership gives the investor a contractual claim on the assets and FPI's asset base consists of farmland which has historically been among the most reliable assets, perpetually appreciating. Importantly, the value of FPI's farmland, even using pessimistic assumptions about the near-term outlook for farmers is worth far more than its debt, so it seems quite unlikely that a scenario would manifest in which the liquidation preference of the preferred is not covered in full. In addition to the 7.37% current dividend yield, the Preferred B comes with a Farmland Appreciation Factor that increases its liquidation preference proportionally with the value of its farmland. Based on normal rates of inflation, this takes the functional yield north of 8%.
Preferred Arbitrage
While the yield of the Cedar (CDR) preferreds is not all that interesting for retail REIT preferreds, there is a tremendous rift between the 2 issues that is worth examining. As far as I can tell, the CDR-C is a pareto superior investment to CDR-B.
CDR-C has higher current yield (8.29% compared to 7.71%)

CDR-C has higher upside to par (27.5% compared to 6.25%)

CDR-C has better bankruptcy risk mitigation due to lower cost basis at today's prices

The 2 securities are pari-passu

CDR-C should have more liquidity due to being a much larger issue

Source: SNL Financial
I don't find CDR-C to be particularly opportunistic, but it looks far better than CDR-B. Unfortunately, due to the difficulty of borrowing shares of CDR-B it is challenging and probably not practical to actually execute the arbitrage, but its existence and magnitude speaks volumes about REIT preferreds in todays environment: mispricing is rampant.
The Bottom Line
One can take advantage of the rampant mispricing with a diversified basket of REIT preferred that has significant capital appreciation potential in addition to an attractive carrying yield.
Disclosure: 2nd Market Capital and its affiliated accounts are long WHLRP, CBL-D, CBL-E, WPG-H, WPG-I, BRG-D and FPI-B. I am personally long CBL-E and FPI-B . This article is provided for informational purposes only. It is not a recommendation to buy or sell any security and is strictly the opinion of the writer. Information contained in this article is impersonal and not tailored to the investment needs of any particular person. It does not constitute a recommendation that any particular security or strategy is suitable for a specific person. Investing in publicly held securities is speculative and involves risk, including the possible loss of principal. The reader must determine whether any investment is suitable and accepts responsibility for their investment decisions. Dane Bowler is an investment advisor representative of 2MCAC, a Wisconsin registered investment advisor. Commentary may contain forward looking statements which are by definition uncertain. Actual results may differ materially from our forecasts or estimations, and 2MCAC and its affiliates cannot be held liable for the use of and reliance upon the opinions, estimates, forecasts and findings in this article.Positive comments made by others should not be construed as an endorsement of the writer's abilities as an investment advisor representative.
Conflicts of Interest. We routinely own and trade the same securities purchased or sold for advisory clients of 2MCAC. This circumstance is communicated to clients on an ongoing basis. As fiduciaries, we prioritize our clients' interests above those of our corporate and personal accounts to avoid conflict and adverse selection in trading these commonly held interests.
Disclosure: I am/we are long CBL.PE, FPI.PB. I wrote this article myself, and it expresses my own opinions. I am not receiving compensation for it (other than from Seeking Alpha). I have no business relationship with any company whose stock is mentioned in this article.