Market Intro


CNBC: 11:05AM EST
After a let-down session on Wednesday, where US stocks (SPY, DIA, QQQ, IWM) forfeited most of their gains, the action is mixed on Thursday morning.
Even so, there has been some batting around of different levels, as suggested by the difference between the CNBC headline about the Dow featured above and the actual gain just an hour or so later.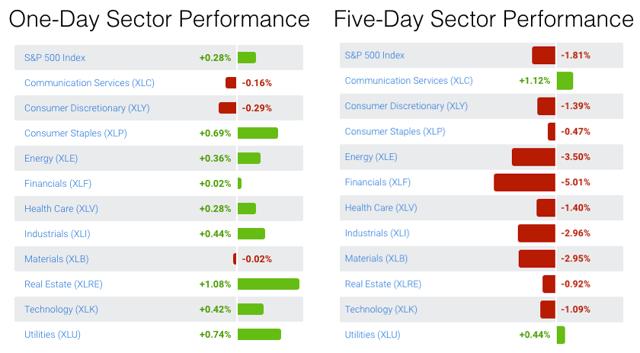 Sector SPDR
The five-day sector performance chart demonstrates that stocks have suffered a pretty rough week amidst all the movement. Financials (XLF) had led in losses, while Tech (XLK) has calmed some.
Volatility is down modestly today, with spot VIX lower by about 3%.
Thoughts on Volatility

Don't mistake a rally for continued volatility. One of the most important ideas to cling to here is that volatility is by definition a symmetric concept. It is the "average distance from the average" and, in its purest form, is agnostic to whether that average happens to be positive or negative.
Seen through this prism, the gains that were quickly swept away from yesterday is not some kind of "failure of bulls", but rather just indicative of what vol is. This is especially so when intraday volatility is high, as it most certainly is at present.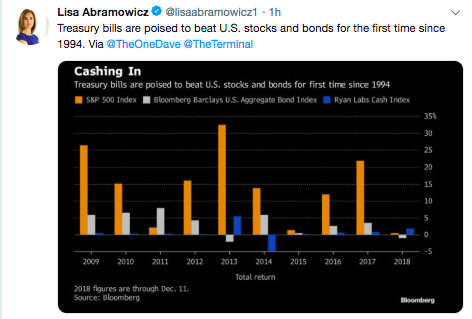 This is great news. Why invest in any asset class if it stands no chance of winning sometimes? Remember, all these assets have to co-exist alongside one another, and that means that T-bills really should have periods, sometimes meaningful periods, of outperformance over other assets.
It is likely the case that the long bull market in bonds has obscured this reality for at least one generation of investors.

Maybe the prior chart demonstrates that there's already been some panic on this topic.
In any event, I think that what happened this past September could end up being helpful as a way to think about a market response to ECB policy. No response at all for a couple weeks (Sept. 18-30), and then came October.
I do think that central bank policy has been arguably the reason market action has gotten a lot choppier. But investors are more likely to be interested in any changes to messaging than well telegraphed intentions.
Term Structure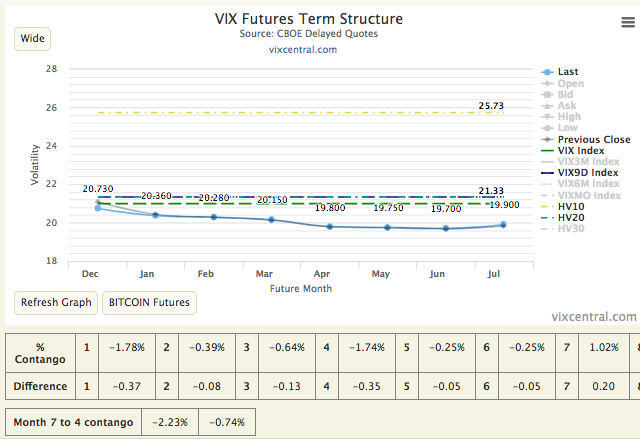 SPX HV10 oversees the entire term structure, as well as VIX and VIX9D, all of which are huddled in the 19-21 region. VX futures are in modest backwardation, sloping gently lower until the June-July gap.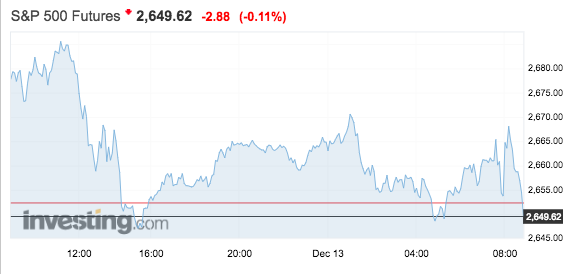 It's rather impressive really that vol is as low as it is (SVXY, ZIV) when one considers the implications of intraday realized volatility over the past couple weeks (the highest month in five years by this account).
I think it reasonable to pump up the range for spot VIX here in the 18-26 region, which is to say that holding short positions in the futures can get very dicey if and when VIX breaks into the lower end of that spectrum, as we clearly saw last week.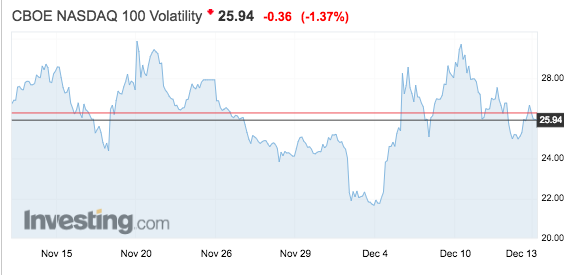 For those looking for a more constructive tone in equities, I think there's a mixed bag here. NASDAQ vol was arguably the culprit for much of the general commotion in stocks for October and November. Not that we're out of the woods on that count, but the torch looks to have been passed for the time being onto Financials (XLF), where valuations are more sound.
While tech and financials are the largest components of the S&P, I think that at least so far as the US economy is concerned, tech is far more vulnerable than financials. As such, this transmission can be viewed as a positive for broader market recovery.
Conclusion
If this is your first time reading Market Volatility Bulletin, thanks for giving it a try. If you're a regular, I thank you for your ongoing contributions in the comments section.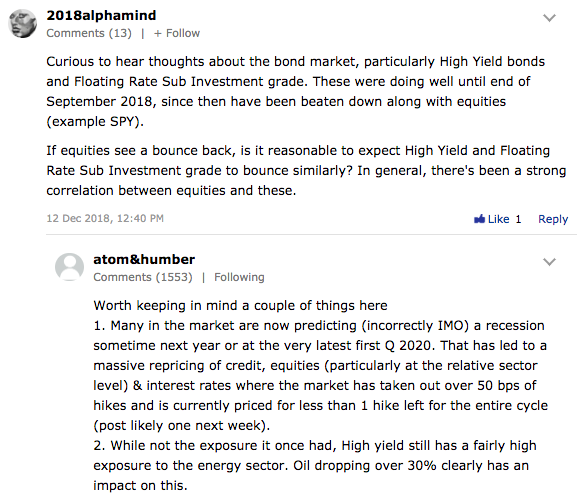 I've truncated atom&humber's full and thoughtful response (read it here), but I very much appreciate this kind of back and forth between readers. On that count, the last MVB had some wonderful discussion on Brexit and its implications, as well as talk about dip-buying and some other topics.
I know I always say thank you for reading and for commenting, but I really want to go out of my way today and truly thank you so sincerely for what you do as commenters to make this community special. You are, in my view, the very best of what SA has to offer, and I appreciate you a great deal.
Please consider following.
Disclosure: I/we have no positions in any stocks mentioned, and no plans to initiate any positions within the next 72 hours. I wrote this article myself, and it expresses my own opinions. I am not receiving compensation for it (other than from Seeking Alpha). I have no business relationship with any company whose stock is mentioned in this article.
Additional disclosure: I actively trade the futures and options markets, potentially taking multiple positions on any given day, both long and short. I also hold a more traditional portfolio of stocks and bonds that I do not "trade". I do believe the S&P 500 is priced for poor forward-looking returns over a long timeframe, and so my trading activity centers around a negative delta for hedging purposes.