In previous articles, we have already discussed the fundamentals of the drillship segment and of the semi-sub segment of the offshore drilling market. In this article, we turn to the jack-up segment. The situation in this segment is important for companies with jack-up presence: Ensco (ESV), Noble Corp. (NE), Rowan (RDC), Seadrill (SDRL), Borr Drilling (OTCPK:BDRLF). As usual for this type of work, Bassoe Offshore database is used to get the data. Without further ado, let's look at the numbers.
Currently, there are 565 jack-ups in the world. Out of these rigs, 301 are drilling, 122 are warm stacked, 64 are cold stacked, 2 are undergoing repair/SPS and 76 are under construction. For the jack-up market, age of rigs is an important differentiator as the multitude of newbuilds have been ordered to replace older jack-ups, something that has yet to happen. In this light, I'll divide jack-ups in two broad groups - the ones that have been built before 1990 ("older jack-ups") and after 1990 ("newer jack-ups").
Currently, there are 198 older jack-ups in the market. Out of these rigs, 111 are drilling, 40 are warm stacked and 47 are cold stacked. In my opinion, a cold stacked status for an older jack-up is a death sentence - these rigs are not returning back to the market. For those rigs that are warm stacked, the key to survival is to return back to drilling status as fast as possible.
In the newer jack-ups segment, there are 367 rigs. Out of them, 190 are drilling, 82 are warm stacked, 17 are cold stacked, 2 are undergoing repair/SPS and 76 are under construction. If we define marketed utilization as drilling rigs + warm stacked rigs, current marketed utilization for older jack-ups is 74% for older jack-ups and 70% for newer jack-ups. These numbers do not mean that older jack-ups are "more popular" than more modern rigs. The explanation for this phenomenon is simple - there is no sense for the driller to keep old rig in a marketed state for a long time if it does not get work, so the process of getting it out of the market is rather fast.
There are two key questions for the market balance - when the older rigs will leave the scene and when the newbuilds enter the market. In a hypothetical situation, when all older jack-ups go to scrap, the market would have already been in balance: there are 367 newer rigs, including newbuilds, with roughly 300 needed for drilling right now. However, it looks like the process of retiring older rigs will take some years. As per the latest Bassoe Offshore report, 38 jack-ups have been sold for retirement or conversion this year, while a total of 97 rigs left the market since the beginning of the downturn in 2014: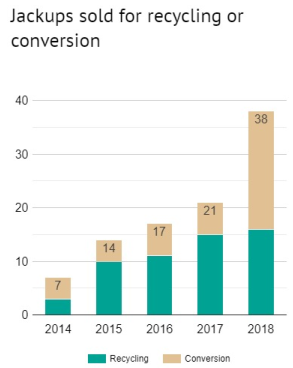 Source: Bassoe Offshore
As for the newbuild rigs, it remains to be seen how they can find their way back to the market. The only major project so far has been Borr Drilling, which bought jack-ups from shipyards and has already started to put them into the market. Currently, Borr Drilling has 9 jack-ups that are still under construction. These rigs have high chances to appear in the market. As for the remaining 67 rigs, their fate is not clear. Some may appear in single transactions like the one we've recently seen from Noble Corp., but I don't expect the mass appearance of newbuild jack-ups anytime soon.
Current marketed utilization for the whole jack-up market segment appears to be about 71%, which is not good enough to trigger dayrate upside, but top rigs could see some upward movement in dayrates. In my opinion, the recent downside move in oil prices had less negative effect on jack-ups compared to floaters due to the cheaper cost of shallow water operations and their shorter payback times. I expect that the fundamental situation in the jack-up market will improve in 2019. Some older rigs will leave the market, likely at the same speed as in 2018, while newbuilds will be slow to enter. If there's an increase in contracting activity which should not be ruled out despite recent oil price pullback, marketed utilization has a chance to increase materially, helping dayrates for the top-tier rigs. In short, I'm more optimistic on jack-ups than on floaters in 2019.
Disclosure: I/we have no positions in any stocks mentioned, and no plans to initiate any positions within the next 72 hours. I wrote this article myself, and it expresses my own opinions. I am not receiving compensation for it (other than from Seeking Alpha). I have no business relationship with any company whose stock is mentioned in this article.
Additional disclosure: I may trade any of the above-mentioned stocks.