There have been many articles describing Brookfield Property Partners (BPY) and its investment merits. We will, therefore, focus in this article on what we believe is behind the massive underperformance of the shares in recent months.
It is important to mention that BPY has an equivalent REIT called Brookfield Property REIT (BPR) that started trading after the acquisition of GGP. Both BPY and BPR should provide the same level of dividends and are designed to be economically equivalent, except one in the form of a REIT and the other as a partnership.
For those new to the company, it is worth reading their reports and investor presentations to get familiarized. Brookfield Property has some of the highest quality real estate assets in the world, literally. These include iconic office buildings in New York, Canada, and London.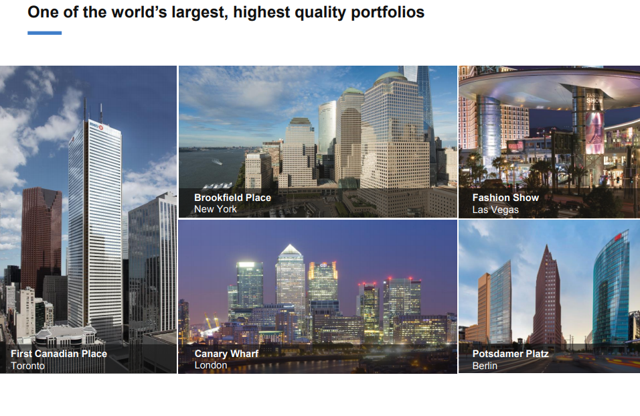 Source: Company's investor presentation
The mystery we are trying to solve is how shares went from yielding an average of ~5%, to a surprising ~7.5% with the share price trading at record lows.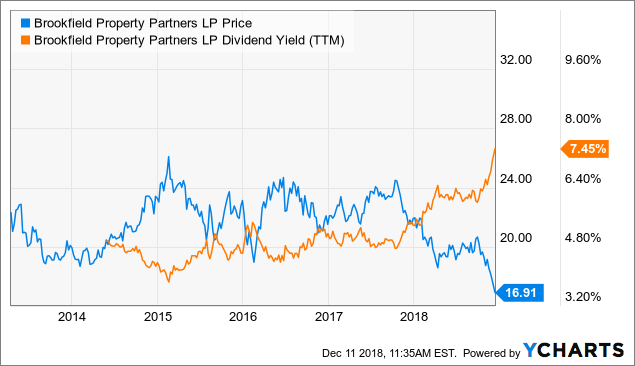 More surprisingly, this has happened during a period of time where REITs have been relatively stable and are outperforming the market.
This is despite the company delivering significant growth in cash flows and distributions.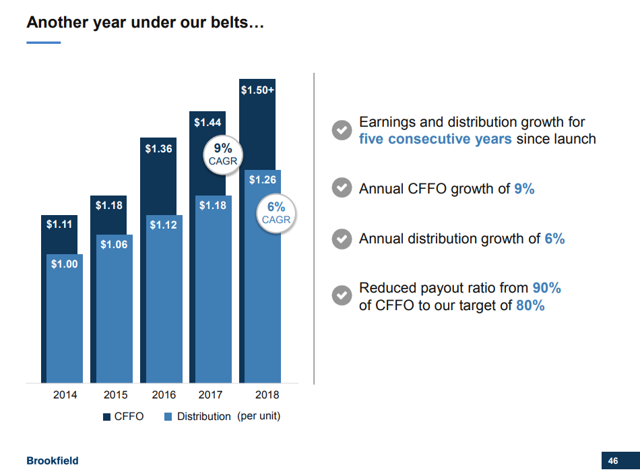 Source: Company's investor presentation
Financial results for the most recent quarter were not spectacular but within expectations. Net income per unit was significantly higher due to gains from selling properties at a profit; however, these dispositions contributed to lower company FFO per unit. There were also foreign exchange headwinds and impacts related to the completion of the GGP acquisition. We expect next quarter to have less noise in it, but we don't think the results this past quarter explain the share price weakness.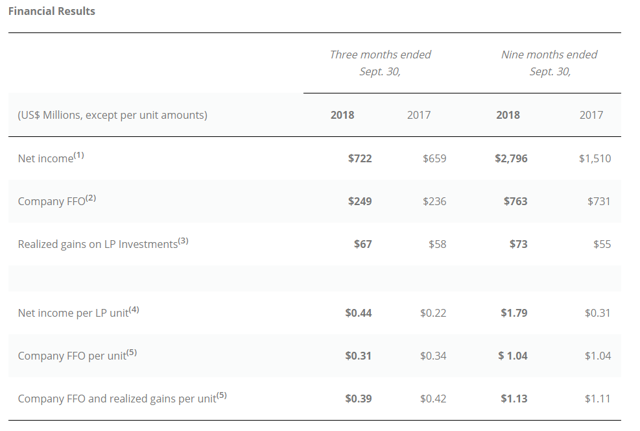 Source: Company earnings announcement
We find a more likely explanation in the forced disposition of shares by funds that were invested in GGP and had to sell after converting into BPY as well as real estate investors not interested in being significantly invested in mall REITs.
The number of institutional investors in Brookfield Properties had been relatively stable until the GGP acquisition, where it suddenly had a significant increase and then a huge drop. The increase likely reflects all the new investors that came with GGP, many of which were either forced to sell or were never interested in being invested in Brookfield Properties. Surprisingly, the number went below the level before the acquisition.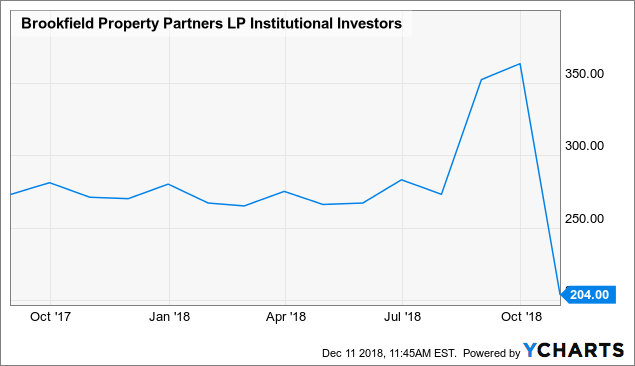 Not only did the number of institutional investors go down, but the number of shares owned by them collectively decreased dramatically.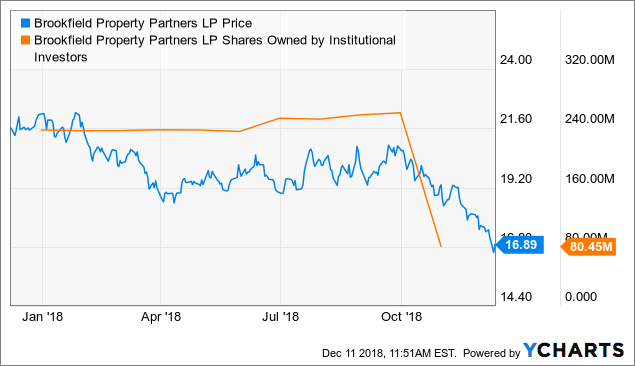 It is likely that many of these institutional investors were forced to sell if they follow a real estate index. For example, many real estate ETFs cannot invest in partnerships.
While BPR would seem to solve this, it is possible some indexes have yet to add BPR, and others are likely weighting BPR in the index based on BPR's market capitalization and not that of the whole of Brookfield Properties (e.g. including BPY). This appears to be the case with the massive Vanguard Real Estate ETF (VNQ), which is market cap weighted. In their portfolio holdings, they show a position in BPR, but it is 3-4x what would be expected if the weight was based on the entire Brookfield Property capitalization. Instead, they seem to have given it a weight based on BPR's capitalization only.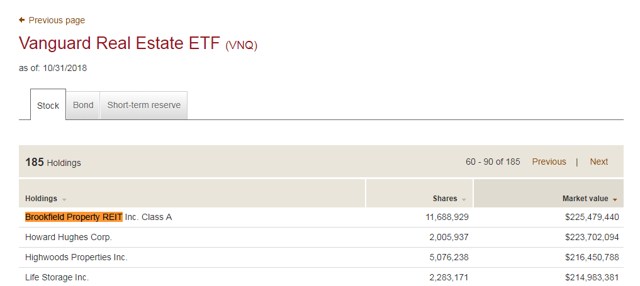 Source: VNQ website
Another important real estate ETF, the iShares U.S. Real Estate (NYSEARCA:IYR) showed a significant position in GGP at the end of July 2018.


Source: IYR website
However, it does not currently show a position for either BPR or BPY, which means it was removed from its index. It is difficult to know the exact reason since index providers use a lot of different criteria. An index could decide not to include a company because of size, structure, voting rights, etc. It is likely that other ETFs using the same or a similar index had to sell as well.
While the number of shares sold short did increase significantly after the GGP acquisition, it is likely that many were related to arbitrage positions. The fact that the number of shares short has decreased significantly appears to corroborate that thesis.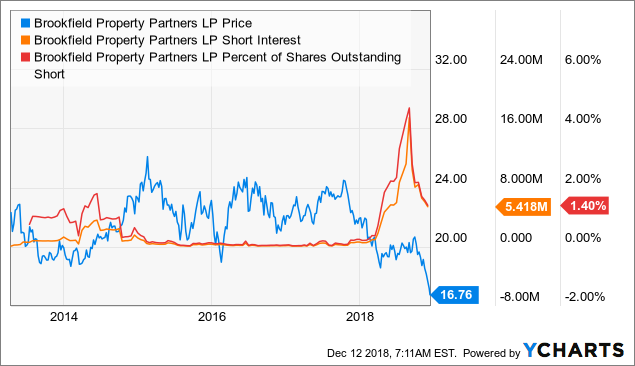 Even if much higher than usual, the percentage of shares outstanding short is relatively small at less than 2% for BPY and less than 1% for BPR.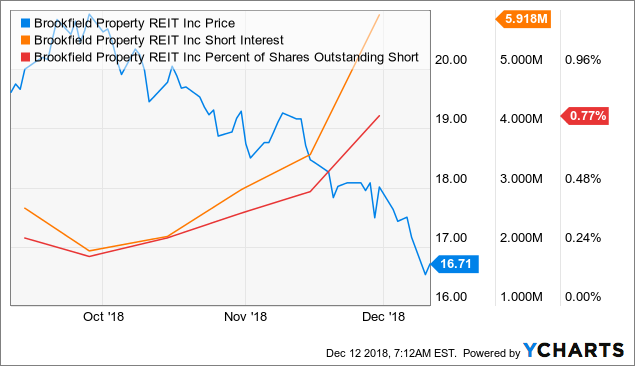 A factor that does appear to be having a strong effect in the last couple of months is the uncertainty created by Brexit.
While only ~11.7B of the ~90B of assets are in Europe, the fact that Canary Wharf is so well known and Brexit is so much in the news is probably having a disproportionate impact on investor behaviour. This can be seen in the mounting correlation between Brookfield Property Partners and the iShares United Kingdom ETF (EWU).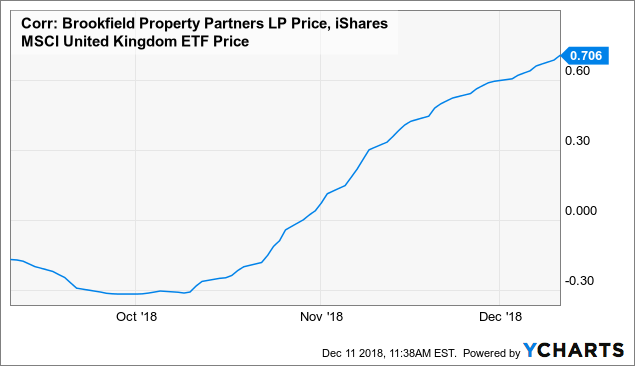 Takeaway
It appears that the weakness in the share price of Brookfield Property Partners has been caused by forced selling by institutional investors following the GGP acquisition, with many likely forced to sell due to their mandates. This was further exacerbated by general market weakness and Brexit fears.
While Brexit and the state of the economy are real risks that have to be monitored, we believe the factors discussed have created a rare opportunity to purchase extremely undervalued shares that went down in large part for non-fundamental reasons.
(Tipranks: BPY: Buy)
Disclaimer: The information contained herein is for informational purposes only. Nothing in this article should be taken as a solicitation to purchase or sell securities. Before buying or selling shares, you should do your own research and reach your own conclusion or consult a financial advisor. Investing includes risks, including loss of principal.
Disclosure: I am/we are long BPR, BPY. I wrote this article myself, and it expresses my own opinions. I am not receiving compensation for it (other than from Seeking Alpha). I have no business relationship with any company whose stock is mentioned in this article.