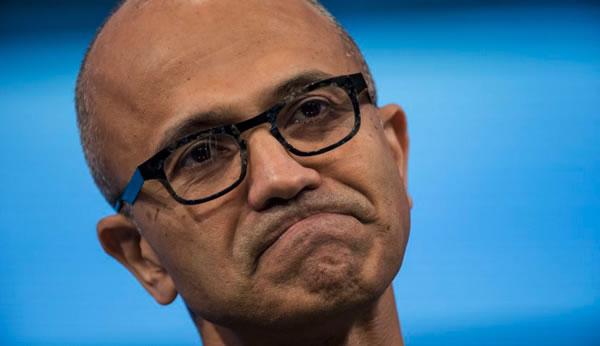 When I started to write this article, I calculated that, since November, Seeking Alpha had 12 articles dedicated to Microsoft (MSFT) and they all positively described the company. In most cases, special emphasis was placed on Microsoft's success on the cloud market and Satya Nadella's talents. You know, I totally agree with that. But for all that, my article will stop a series of positive articles about Microsoft.
Based on my experience, a company's capitalization is rarely in a fundamentally balanced state. It's either overvalued, when a company develops faster, or undervalued, when a company's accelerated development slows down and there comes a period of stable growth rates. In other words, there's a cycle in which a company's capitalization moves from overvalued to undervalued state, depending on whether its growth slows down or accelerates.
Let me to show my idea by example of Microsoft using the revenue as the key indicator of the company's growth.
The following graph shows the relationship between Microsoft's annual revenue growth rate (x-axis) and the P/S multiple (y-axis) which in this case reflects the company's relative market value. Three stages stand out here: The negative revenue growth in 2016, the acceleration in 2017 and 2018, and the expected onset of a slowdown starting from 1Q 2019: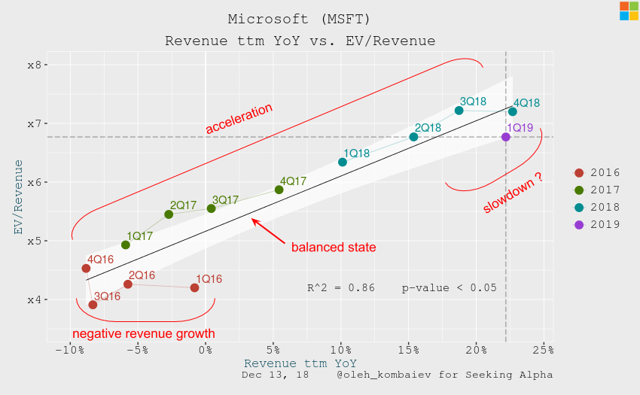 Note that in Q1 2016, Microsoft's annual revenue growth rate was about zero, and the P/S multiple was at ~4.25. In Q3 2017, the annual revenue growth rate also hardly differed from zero, but at the same time the P/S multiple exceeded 5.5. As you can see, the acceleration phase that had begun made it possible for the P/S multiple to grow even at a zero annual revenue growth rate in Q3 2017 as the company's capitalization came to an overvalued state.
You also can observe a similar cycle of capitalization transition from an undervalued state to an overvalued one by analyzing Microsoft's two-, three-, and four-year revenue CAGR:
But let's return to the analysis of Microsoft's annual revenue growth.
In the last quarter, Microsoft's annual revenue growth rate showed no acceleration for the first time in the last nine quarters. It can be argued that this fact does not mean the beginning of a slowdown phase, but forecasts are not encouraging either. So, according to analysts' average expectations, Microsoft's revenue in 2019 will be $124.4 bn, showing growth of 12.7% YoY. And according to maximum expectations, Microsoft's revenue growth in 2019 will be 14.7% YoY. As you can see, no one expects a return to the 20% growth rate:

Source: Yahoo! Finance
Now let's mark Microsoft's maximum expected revenue growth rate in 2019 in the first graph: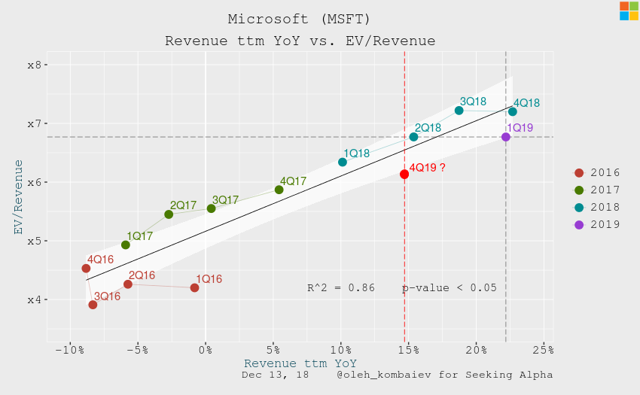 As we see from the prevailing relationship, this growth rate corresponds to the P/S multiple at 6.5. But considering that the phase of slowdown in the revenue growth rate has begun, the actual P/S is likely to be below the balanced state, i.e. somewhere at 6. Multiplying this figure by the value of the expected revenue in 2019, we get Microsoft's capitalization equal to ~ 760 bn, which is 80 bn less than its current value.
Bottom line
Once again, I do not want to speak badly of Microsoft. The company has courageously gone through a rough spot in the technology sector and this means a lot. But on the other hand, it's very likely that Microsoft's accelerated revenue growth phase is over, which means that the company will not be able to maintain the current value of the P/S multiple in the near future.
Disclosure: I/we have no positions in any stocks mentioned, and no plans to initiate any positions within the next 72 hours. I wrote this article myself, and it expresses my own opinions. I am not receiving compensation for it (other than from Seeking Alpha). I have no business relationship with any company whose stock is mentioned in this article.