Summary
U.S. liquids production likely to grow +2 mb/d in 2019.
But the issue around crude quality will likely worsen.
With global medium/heavy oil production falling, and the global refinery diet geared towards sour crude, U.S. shale light oil may hit a refinery wall in 2019/2020.
Welcome to the crude quality issue edition of Oil Markets Daily!
U.S. liquids production registered +3 mb/d in August according to the EIA 914 report, and for oil bulls, U.S. liquids production in 2019 are likely to eclipse +2 mb/d again y-o-y.

Source: HFI Research
One of the reasons why we have U.S. liquids production growing another +2 mb/d y-o-y is because we believe U.S. oil production today is likely already at 12 mb/d. Why? Because the only way you can get the recent changes in U.S. crude storage is if you plug in a production figure higher than 12 mb/d.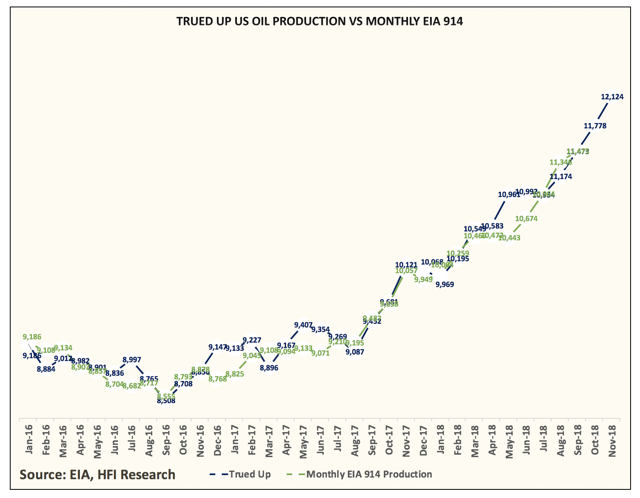 Now if you assume U.S. oil production exits 2018 at 12 mb/d, and even if you assume it to be flat for the first half of 2019, you will still get a y-o-y delta of +1.8 mb/d. Needless to say, it's likely that U.S. production will surprise again versus most estimates.
But even when we use such a bullish U.S. oil production growth scenario, we have the global oil markets in deficit contrary to what's being published out there. In our view, this is what sets our current oil market outlook different from others.
However, there's another issue that needs to be discussed in the coming months, and that's the crude quality issue. As our friend, Anas Alhajji, has said repeatedly over the last 12-months, the complacency in the market around the issue of crude quality may exacerbate the incoming crisis. He recently wrote a wonderful piece on FT on this issue.
What exactly is the crude quality issue?
To put it simply, U.S. shale is producing oil that's well above what the global refineries are accustomed to run. Global refineries run an average API gravity of 31.5 to 33, while most of the growth in U.S. shale production is in API gravity 40-45. Here are two charts illustrating this:
API <40 vs API 40>

API 40-45 vs API 45>

You can see here clearly that most of the growth over the recent years have been entirely concentrated in the API 40-45 range.
Why does this matter?
Because U.S. refineries are hitting a cap on how much U.S. shale light oil it can take in considering that U.S. refineries have a crude diet of API ~32.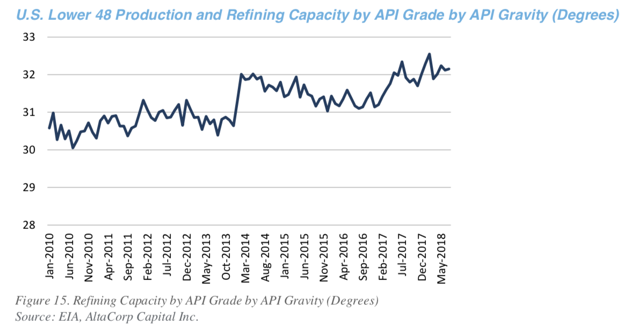 Source: EIA, AltaCorp
Crude imports by type into PADD 3 have also trended towards medium to heavy barrels: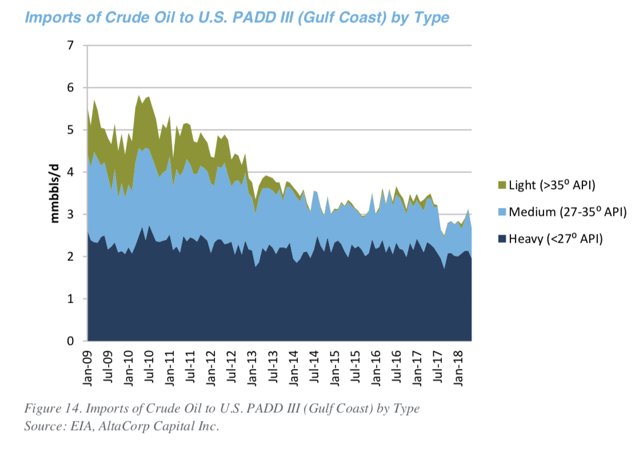 But the issue doesn't stop here. If there was growing medium/heavy oil production around the world, then global refineries may absorb the excess U.S. shale light oil, but it's not!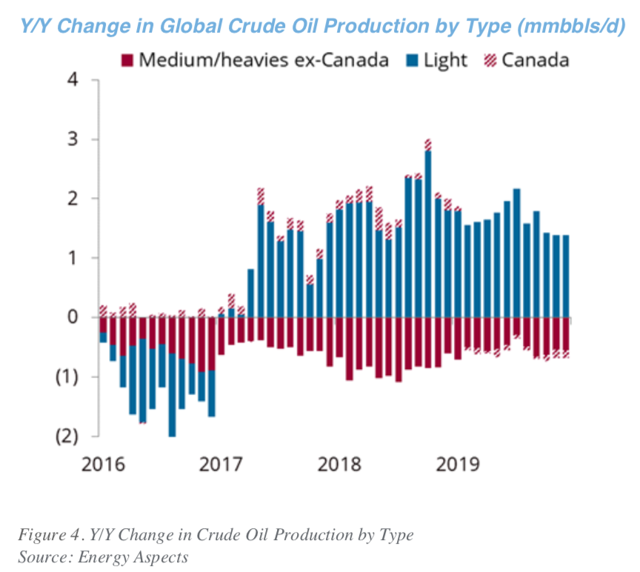 With Canada now registering negative y-o-y growth in 2019 due to takeaway capacity issues, global medium/heavy oil production will fall rather than climb. That's exactly the opposite of what's needed here for an oil market that's increasingly showing a higher appetite for medium/heavy oil.
We also see this with end user demand in gasoline vs diesel:

In essence, the crude quality issue is likely to exacerbate the shortage we see in the oil markets going forward.
Over the weekend, we published our 2019 oil market global supply and demand model. We have made it available via excel format for subscribers to change assumptions and see the outcome of the global balance. If you are interested in our service, see here for more info.
Author's note: Thank you for reading this article. If you found this article insightful, please leave a "Like" below.
Disclosure: I/we have no positions in any stocks mentioned, and no plans to initiate any positions within the next 72 hours. I wrote this article myself, and it expresses my own opinions. I am not receiving compensation for it (other than from Seeking Alpha). I have no business relationship with any company whose stock is mentioned in this article.