For many months, there was nowhere to hide. The stock markets did not like that interest rates were going higher. Over the last few years, perhaps the greatest threat to stocks was bonds. And when bond yields move higher, that obviously brings down bond prices, and the stocks also took that expected hit. Market makers also did not like the potential effect on higher-yielding "safe haven" dividend stocks such as utilities/pipelines and the new utilities - Telcos. For retail investors, savings account rates and offerings on CDs started to become more than serious competition for those big juicy dividends. The utilities and telcos can carry massive amounts of debt, and those higher rates can put pressure on profitability and overall financial health; the higher rates can push on both ends of the string.
There is also the general fear of course that when the Fed starts to raise rates, it will overact and douse the economy and the stock markets. So many assets started to react to the "rising rate environment". Of course, over the longer term and over the next few months and years, no one knows where rates will go.
(From January 1, 2018, to the end of April 2018) Portfolio 1 is the S&P 500 (IVV), Portfolio 2 is the broad based bond fund (AGG) and Portfolio 3 is the Utilities Index Fund (XLU). The chart is courtesy of portfoliovisualizer.com.
I also experienced this decline with my pipelines of Enbridge (ENB), TransCanada (TRP) and telcos Bell Canada (BCE) and Telus (TU).
In fact, my 4 safeties took a sizeable hit. Portfolio 1 is ENB and TRP 50/50. Portfolio 2 is BCE and Telus 50/50. The assets are in Canadian dollars as traded on the TSX Toronto Stock Exchange. US investors can access these stocks via US exchanges and, of course, would face currency exposure.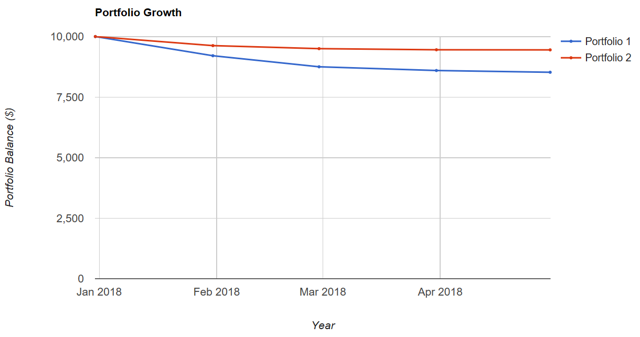 But then, from May 1, 2018, to end of November 2018, the group started to "roar" back with some energy. The market has absorbed the short-term news and original whipsaw effect.
From the National Post, December 5.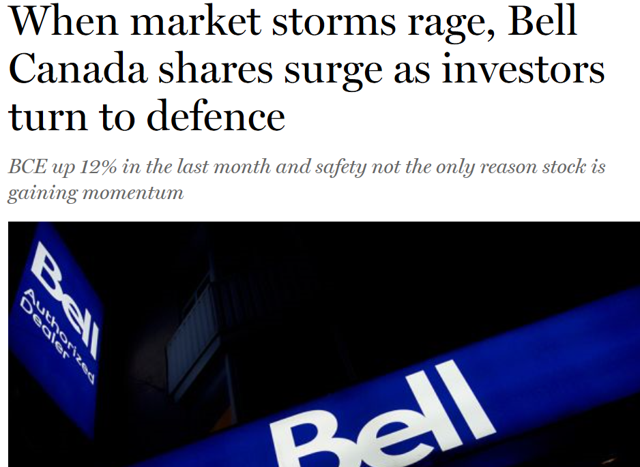 Once again, we see the importance of ignoring all of the short-term noise and volatility. Leave the reactionary asset shifts to those who appear to react to every headline and every presidential tweet. Remember why you bought an asset. For me, the pipelines and telcos are in the portfolio to deliver growing income. I'll take and harvest some capital appreciation if or when the opportunity presents itself, but for now, I want durable dividends.
Here's how those two groupings have delivered on that front from 2013.
Pipes income - Portfolio 1. Telco income - Portfolio 2. Below is based on an initial $10,000 with dividend reinvestment.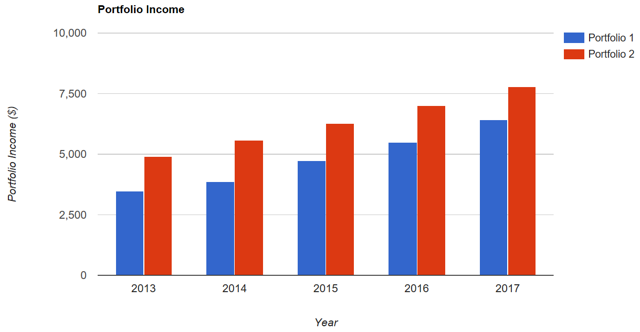 There is ample growing dividends with these stocks. And 2018 has been no exception; all are increasing their dividends on schedule. To suggest that bond yields are competition for these generous and growing dividends is, well, silly. Bond yields are low and they can remain low for many years and decades. There's already (meaningless) talk of rate increases being (normalized and) over soon, and perhaps "over now" in Canada - at least for the foreseeable future.

And here's how the largest US telcos have moved over the last several months as the market digests the higher yields. Portfolio 1 is …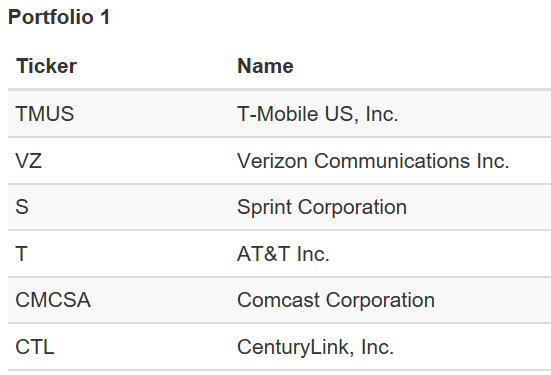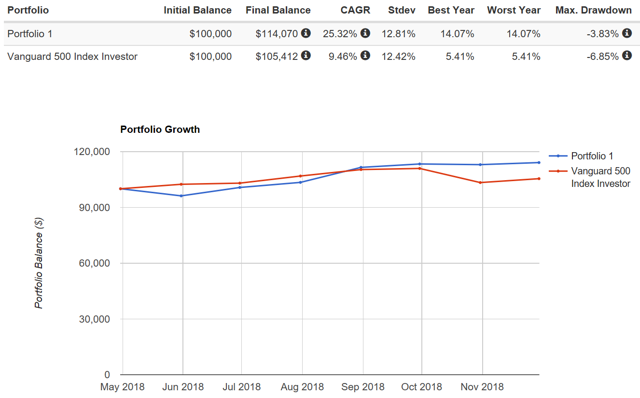 And of course bond yields will move based on much more than overnight rates. If bonds moved by formula, we would not have an inverted yield curve. Of course, as you can imagine in concert with ignoring the asset shifts of very overactive managers, I also penned Don't Fall Into The Yield Curve Trap, It's Like Hotel California. The notion here is that once you start reacting to news and predictions and yields, where and when does it stop?
You can check out any time you like, but you can never leave.
In that article, I had suggested that investors might ignore all, go Zen-like, and to borrow from the Eagles, once again invest and get that Peaceful Easy Feeling.
Find your asset mix and stay the course.
Investing can be so easy and relatively stress free when you focus on what you can control. Can you control interest rates? Bond yields? Trump tweets? Brexit (here we go again)? Trade wars? Stock prices? Nope. Here's a lovely image and reminder from Carl Richards and the Behaviour Gap.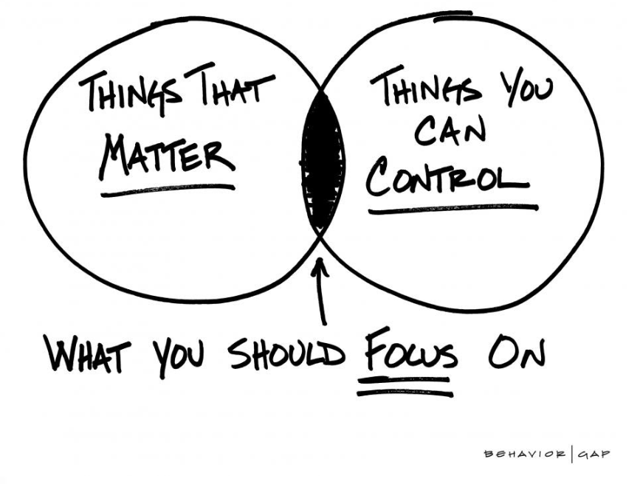 I've had to ignore those falling prices from the telcos and pipes for quite some time. Well, I actually did not ignore those lower prices; I embraced them. While in the accumulation stage, I was able to load up on more shares and bigger dividends for those 4 companies. I am now enjoying those bigger dividends in my semi retirement new work-life stage.
Here's Stock Price Goes Down, Dividend Yield Available Goes Up.
Once again, I could not control those stock prices, but because the prices were falling, it simply offered bigger dividends, while I was making my last few purchases before this new life stage.
It was actually a benefit that these big dividend payers were under price pressure the last few years heading into my retirement years.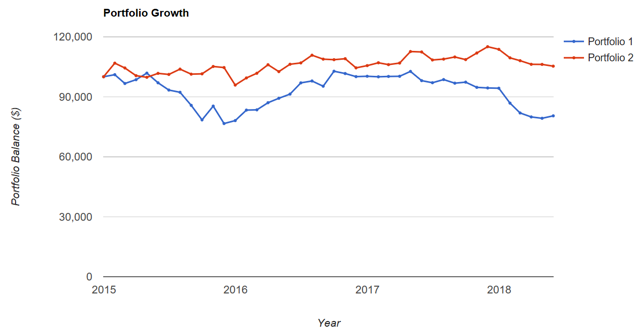 Had the stock prices been on a tear to the upside, I would have less income today. We can't control the market, but we can take what it's offering.
There were good reasons to not worry about falling stock prices over the last few years; there are good reasons to not worry about the stock prices today. While it's interesting to watch how and why utilities and other big dividend payers might respond due to the asset shifts and "maneuverings" of the active managers, it's out of our control. Over the longer term, the actual performance of the companies will overpower the short-term forces and educated guess work of the market makers. As the saying goes, over longer periods, the stock market becomes a weighing machine. You can't keep a good stock down.
And while I am happy to collect those dividends, I'll admit to wanting to see higher share prices one day. As my readers know, I am not averse to also making those homemade dividends.
Disclosure: I am/we are long BNS, TD, RY, AAPL, NKE, BCE, TU, ENB, TRP, CVS, WBA, MSFT, MMM, CL, JNJ, QCOM, MDT, BRK.B, ABT, PEP, TXN, WMT, UTX, BLK. I wrote this article myself, and it expresses my own opinions. I am not receiving compensation for it (other than from Seeking Alpha). I have no business relationship with any company whose stock is mentioned in this article.