Apple (AAPL) stock is getting little respite from Wall Street. There have been numerous downgrades by analysts which has put a bearish sentiment around the stock. My first article in mid-March 2017 mentioned some of the challenges facing the company with an underperform rating at $140. Since then, the stock has had a good bullish run till the latest earnings call. I believe a major part of the bullish momentum was supported by external factors like tax reform, weaker dollar from 2017 to mid-2018 and heavy buybacks.
We should see a lower valuation for the stock as YoY comparisons become difficult. The management also needs sufficient time to build future growth verticals like streaming which is a very tough business with a number of strong challengers. The benefit of a lower stock price is that the company would be able to reduce the share count at a much faster pace. Investors looking for a good entry point should wait for the current correction to play out. An ideal entry point would be at EV/FCF ratio of 10-12 or $130 to $150 range.
Benefits of lower valuation
One of the direct benefits of a lower valuation multiple is the bigger share count reduction it can provide. A stock trading at $150 can allow the company to make 50% more buybacks compared to $230. In the last one year, Apple has reduced its share count by over 6% while putting $72 billion in this program. During this time, the stock price ranged from $155 to $230 with an average price around $190.
If Apple continues to accelerate its buyback program while the stock price remains modest, we could see close to 10% reduction in share count in the current fiscal year. Apple is still generating loads of free cash flow. Hence, it does not have to dip into a lot of cash reserves. At the current pace, it would be another 3 to 4 years before the company reaches a cash neutral position. Since the start of the buyback program, Apple has reduced its share count by 23.3%.
Another big advantage of a lower valuation multiple is the overall lower burden to meet aggressive targets. If Apple was trading at $250, it would need to hit home runs in all the major verticals. However, at $150, the management has a lot more room to build a long-term growth model, especially in new services it is exploring.
The streaming business is very promising but it also has a number of challenges. Apple would need to compete with big giants like Amazon (AMZN), Netflix (NFLX), Disney (DIS), AT&T (T) and others. This would not only require heavy capital investment but also a bigger learning curve. It could take several quarters before an ideal streaming model is perfected by Apple. During this time, there could be margin contraction due to investments in expensive streaming projects. A lower valuation multiple provides the company enough cushion to experiment while investing in future growth verticals.
Ideal entry point
A common comment on Apple is that its valuation multiple is much lower than the broader S&P index. However, this would be a wrong comparison because the growth potential of every stock is different. A better option would be looking at Apple's valuation since the iPhone growth picked up.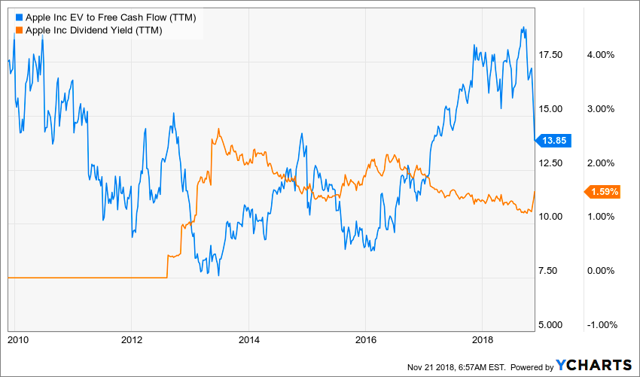 Fig: EV/FCF ratio and dividend yield of Apple in the past 10 years
Apple has seen two negative swings in the last few years. One was in the 2012 cycle when Apple was forced to start a massive capital return program. Another was in early 2016 when the unit sales of iPhones started falling dramatically from the year-ago period. In the first swing, Apple's EV/FCF ratio went below 8 and in the second dip it went below 9.
Apple will stop reporting the unit sales data of its products. This would increase the importance of outside estimates which can lead to increase in bearish sentiment towards the stop. Despite a heavy buyback program, it is likely that we would see a dip to below 10 times EV/FCF ratio in the current fiscal year. Apple's operating margin had been declining for the past eleven quarters. This trend was broken in the latest quarter. As lower-priced iPhone XR sales increase, there could be a further decline in margins. Without a unit sales data, this metric will become more important in putting further pressure on the stock price.
At 10 to 12 EV/FCF ratio, Apple's stock would be trading in the range of $130 to $150. At this point, the yield will also improve to over 2%. Value investors looking for a reasonable entry point should wait for the stock to complete the current correction.
Investor takeaway
The current bearish sentiment in Apple's stock can last some time. As more analysts downgrade their ratings, Apple's stock will be under continuous pressure. The next cycle is not looking very promising as Apple would not have 5G capability while all the other major players will start launching their flagship devices on 5G. This can end up delaying the purchase of iPhones and further elongate the upgrade cycle of iPhones.
Most of the analysts are having a US-centric view which gives a wrong picture of Apple's strength and pricing power. Many international regions are facing slowing economy, currency devaluation and also have much more vibrant competitive environment due to heavy presence of Chinese OEMs. Apple's stock could fall below $150 which would put it in the range of 10 to 12 times EV/FCF range with a dividend of over 2%. Apple's brand equity is still strong. Value investors looking for long-term buy and hold strategy can look at Apple's stock once the current correction is completed.
If you enjoyed reading this article, don't forget to hit the "Like" button at the bottom of this article. You can also receive updates for my upcoming articles by hitting the "Follow" button at the top.
Disclosure: I/we have no positions in any stocks mentioned, and no plans to initiate any positions within the next 72 hours. I wrote this article myself, and it expresses my own opinions. I am not receiving compensation for it (other than from Seeking Alpha). I have no business relationship with any company whose stock is mentioned in this article.