By Nick Childs
As the credit cycle progresses, Agency MBS could present compelling opportunities for fixed income investors. Portfolio Manager Nick Childs explains why.
Key Takeaways
As we progress toward the latter stages of the credit cycle, the historically countercyclical and uncorrelated return profile of agency MBS to traditional risk assets increases the appeal of the asset class.

While tight spread levels and increasing illiquidity may create challenges for corporate credit, strong liquidity, attractive fundamentals and dampened interest rate volatility put agency MBS in a positive light.

For investors seeking to reduce credit risk but still garner income, an allocation to agency MBS may offer compelling risk-adjusted return opportunities.
Agency mortgage-backed securities (MBS) provide investors a countercyclical and historically uncorrelated return profile to equities and credit, which we believe has significant relevance as we progress toward the latter stages of the credit cycle. The asset class has also offered excess spread over U.S. Treasuries with little to no credit risk, thanks to the government's backing of agency securitizations. With the backstop from the U.S. Treasury, agency MBS have exhibited lower volatility relative to corporate credit as shown by an analysis of their excess return stream. This has been particularly acute during periods of market stress as depicted in Exhibit 1. In a robust market environment, similar to the last 2+ years, agency MBS typically underperform more volatile assets. However, we believe we are broaching a period when credit assets will underperform.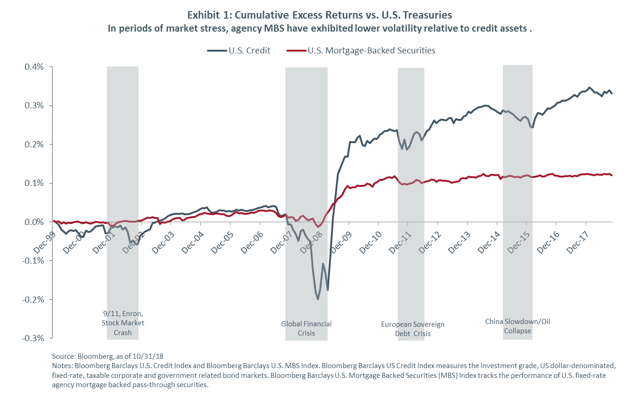 Against a backdrop of global quantitative easing, elevated corporate leverage and heightened bank regulation, it is our view that liquidity premiums are not sufficiently compensating investors as major central banks shift to removing liquidity from the system and the end of the credit cycle draws closer. We expect, as we've seen historically, that heightened uncertainty will result in a market-induced liquidity premium on less-liquid assets and contribute to credit spread widening. Exhibit 2 highlights the spread divergence between the Intermediate Investment-Grade (IG) Credit Index and the 5-year investment-grade credit default swap index (CDX). While similar in both credit and default risk, the divergence - which becomes more significant in periods of market stress - is driven by the fact that the IG Credit Index consists of individual securities, securities that may become more difficult to trade when liquidity is challenged, as opposed to the single contract of CDX.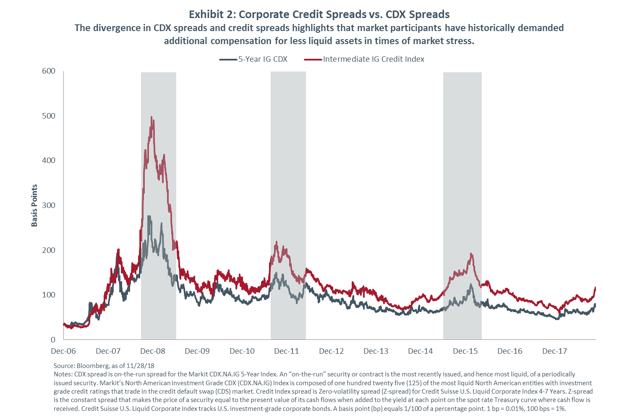 Due to this phenomenon, in combination with the fact that spread over Treasuries on most fixed income spread product sits near all-time tight levels, we expect limited credit spread appreciation in the months ahead and would argue that it's actually skewed to the downside. In contrast, agency MBS spreads appear fair from a fundamental perspective. While the asset class may experience downside, we expect drawdown to be limited as agency MBS carry credit quality equivalent to that of U.S. government securities. Further, trading over $200 billion daily, agency MBS is the second-most-liquid U.S. fixed income market after Treasuries.1 As the environment shifts, and the upside to expected returns for assuming additional risk wanes, the importance of higher-quality assets and portfolio liquidity should grow. Given the increasing uncertainty, investors may benefit from rotating credit exposure toward agency MBS.
Agency MBS do, however, carry uncertainty as to the timing of principal payments or prepayments. Homeowners carrying a mortgage have the option to prepay that mortgage whenever they wish and may do so to take out cash, relocate, upsize, downsize or refinance. The asset class has offered investors enhanced yield over Treasuries to compensate for the partial uncertainty around prepayment timing. The biggest driver of mortgage prepayments is lower interest rates. Refinancing risk is highest when rates are falling and in volatile rate environments when fluctuating rates provide borrowers with a greater number of opportunities to prepay. Therefore, agency MBS tend to underperform in periods of higher interest rate volatility.
Historically, low interest rates have been prevalent in the mortgage market since the Global Financial Crisis. Consequently, the majority of U.S. borrowers have little to no incentive to refinance now that rates are rising. As depicted in Exhibit 3, only 7% of the agency MBS universe is currently refinanceable. Additionally, interest rate volatility has a tendency to decline when the Federal Reserve (Fed) is raising interest rates given that the Fed tends to hike in a fairly predictable and well-telegraphed manner. Although the Fed may pause if the stability of economic growth comes into question, we ultimately anticipate the Fed will continue hiking in 2019. All else being equal, this should extend cycle dynamics and dampen volatility, leading us to expect a sideways trend in interest rate volatility over the medium term.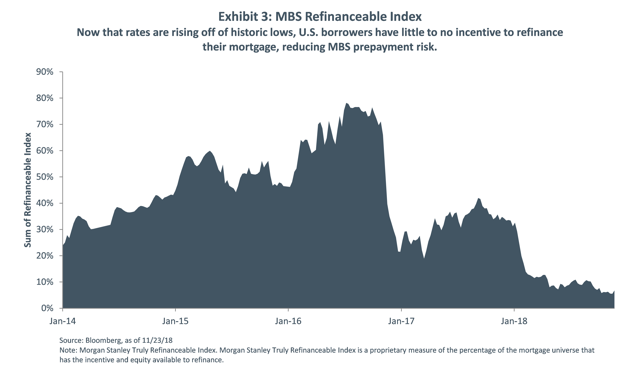 The aforementioned factors have created a unique paradigm in which agency MBS prepayment risk is encroaching on historic lows while credit risk is heightened. Positive fundamentals and a supportive environment for dampened rate volatility provide an attractive backdrop for agency MBS. For investors seeking to garner income but reduce credit risk and mitigate drawdown as the credit cycle turns, an allocation to agency MBS may offer compelling risk-adjusted return opportunities.
1Source: Securities Industry and Financial Markets Association (SIFMA), as of 12/31/17
Fixed income securities are subject to interest rate, inflation, credit and default risk. The bond market is volatile. As interest rates rise, bond prices usually fall, and vice versa. The return of principal is not guaranteed, and prices may decline if an issuer fails to make timely payments or its credit strength weakens.
Mortgage-backed securities (MBS) may be more sensitive to interest rate changes. They are subject to extension risk, where borrowers extend the duration of their mortgages as interest rates rise, and prepayment risk, where borrowers pay off their mortgages earlier as interest rates fall. These risks may reduce returns.
Credit Spread is the difference in yield between securities with similar maturity but different credit quality.
Quantitative Easing (QE) is a government monetary policy occasionally used to increase the money supply by buying government securities or other securities from the market.
Index performance does not reflect the expenses of managing a portfolio as an index is unmanaged and not available for direct investment.
C-1218-21112 12-15-19
Please consider the charges, risks, expenses and investment objectives carefully before investing. Please see a prospectus or, if available, a summary prospectus containing this and other information. Read it carefully before you invest or send money.
The opinions and views expressed are as of the date published and are subject to change without notice. They are for information purposes only and should not be used or construed as an offer to sell, a solicitation of an offer to buy, or a recommendation to buy, sell or hold any security, investment strategy or market sector. No forecasts can be guaranteed. Opinions and examples are meant as an illustration of broader themes and are not an indication of trading intent. It is not intended to indicate or imply that any illustration/example mentioned is now or was ever held in any portfolio. Janus Henderson Group plc through its subsidiaries may manage investment products with a financial interest in securities mentioned herein and any comments should not be construed as a reflection on the past or future profitability. There is no guarantee that the information supplied is accurate, complete, or timely, nor are there any warranties with regards to the results obtained from its use. Past performance is no guarantee of future results. Investing involves risk, including the possible loss of principal and fluctuation of value.
Janus Henderson Investors ©2001-2018. All rights reserved.