Cronos (NASDAQ:CRON) became the second cannabis company to receive a major equity investment from a tobacco/alcohol giant. Altria (NYSE:MO), the owner of Marlboro, announced a $1.8 billion investment in the Canadian cannabis company last Friday, just a few months after Constellation (STZ) invested $4 billion in Canopy (CGC). The news broke out on the Friday of a week that was being roiled by the Aphria's (APHA) short report that set off a sector-wide selloff. However, we remain suspicious of the merits of this deal and we think Altria has placed a risky bet as it enters the cannabis sector in a major way. We have long been critical of Cronos and our fundamental view on the company remains the same. We are upgrading Cronos to Neutral on the basis that the transaction and resulting cash balance will provide Cronos with unparalleled access to domestic and international growth opportunities.

Altria's Investment
On Friday, the tobacco giant Altria announced that it is acquiring 45% of Cronos for $1.8 billion dollars at a price of C$16.25 per share. The deal also included warrants for Altria to acquire an additional 10% at C$19.00. It is important to know that media already reported on the talk between Cronos and Altria on Monday. Cronos shares rose 10.7% on the news on Monday and the shares continued to climb and ended the week 39.8% higher. We would think that the premium that Altria paid was more in the 40% range.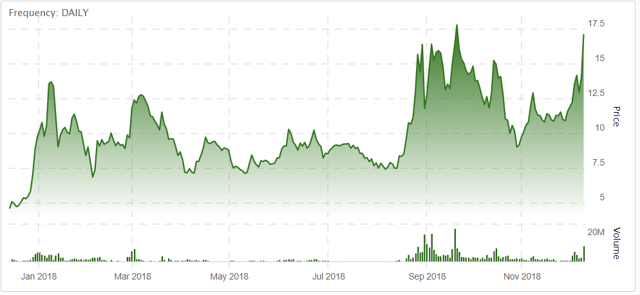 (Source: TSX Website)
The deal resembles the $4 billion investment made by Constellation into Canopy Growth but there are also several differences. First of all, Altria acquired 45% of Cronos at once whereas Constellation started with a much smaller investment in Canopy and only in August boosted its stake to 38% with warrants to up its stake to more than 50%. Secondly, the premium Constellation paid was 51.2% over the last closing price whereas Altria paid close to 40% of unaffected share price. Both Altria and Constellation will nominate 4 of the 7 board members at the cannabis companies. Besides the obvious difference in the size of the investments, we think the alcohol and cigarette giants made very similar deals in both cases.
Why Altria Made The Deal?
We wrote "Why A Deal Between Altria And Aphria Makes Sense" in October when the rumor first came out regarding Altria's interest in making an investment in the cannabis space. It was later reported that Altria has also talked with other producers including Tilray (TLRY) and CannTrust (CNTTF). In our October article, we discussed several reasons why Altria would invest in a cannabis company which is summarized:
Altria is a diversified holding company and has been diversifying away from cigarettes into smokeless products and wines. For example, Altria already holds a 10% stake in AB InBev (BUD)
Altria's underlying tobacco business is facing challenges as the global tobacco consumption has been in decline for years. Worse, it is widely accepted among industry participants that demand for tobacco products will continue to decline in the coming years. Altria desperately needs a growth engine to prepare for the gradual decline of its core tobacco business.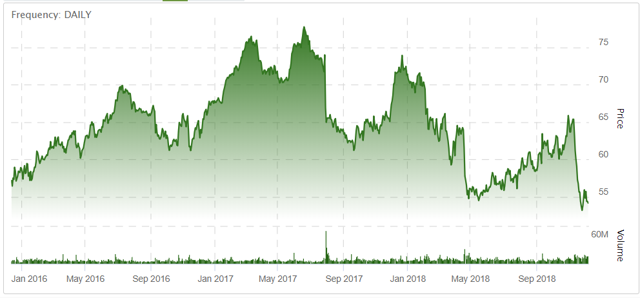 (Source: TSX Website)
Why Cronos Isn't Best Choice
Our long-time readers would know that we have been critical of the execution by Cronos management so far. We have highlighted some of our key concerns for the stock in our recent article "Cronos: Another Weak Quarter Reinforces Our Cautiousness" which included three main arguments:
Slow progress in Canada including one of the slowest capacity buildout timelines and its lack of success in securing provincial contracts
No proven success outside Canada either. Cronos claims to have operations in Israel which are tiny in size. Its distribution agreements are nothing special and have not produced meaningful revenue. The LATAM assets are likely to be a loss leader for the years to come.
Expensive valuation: Cronos remains one of the most expensive stocks in the Canadian space, only rivaled by the bubbly Tilray (TLRY). As of Tuesday close, where Cronos is trading close to the price Altria paid, the stock is trading at 201x its annualized Q3 revenue which is twice as expensive as the industry leader Canopy and three times the multiple of Aurora (ACB).

Conclusion
The bottom line is that Cronos management did a great job to negotiate an awesome deal for the company. Credit is given where credit is due, we applaud Cronos for this huge accomplishment. However, for the reasons discussed in this article, we continue to have difficulty understanding why Altria picked Cronos versus its competitors. Altria bought into one of the two most expensive large-cap stocks in the cannabis space and in return, it received one of the least developed asset portfolios in Canada and internationally. We do not rate Altria as we are not experts in their tobacco business, however, our judgment tells us that the Altria management might have grossly overpaid for a not-so-good investment. Only time will tell but in the interim, we are upgrading Cronos to Neutral from Underperform as its business prospects have been improved dramatically after the Altria deal.